This No Bake Double Chocolate Cookie Pie brings all the nostalgia of a dirt cup but with a grown up twist of deep chocolate flavor!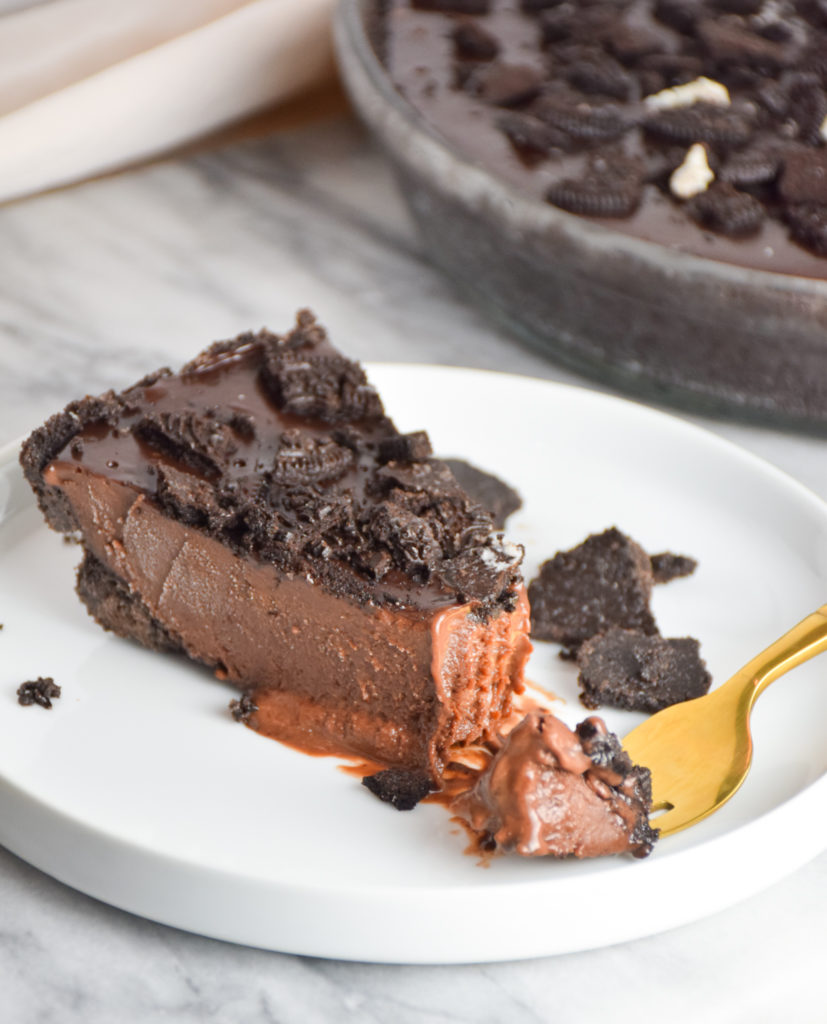 True life confession: I really love Oreos! They are one of the very small amount of foods that I loved during childhood and still enjoy today! Cookies & Cream is far and away my favorite ice cream flavor and I love a good Oreo Blizzard every now and again. Recently I was talking with a friend about our love of dirt cups from childhood. Do you remember those? The chocolate pudding with crumbled Oreos and gummy worms? Well, this pie is inspired by those kiddie desserts but I made it all grown up with homemade pudding with a deep chocolate flavor and of course a big dose of Oreos!
This post contains affiliate links. If you purchase a product through these links I may earn a few pennies. Thanks for keeping this free blog going!
No Bake Double Chocolate Cookie Pie
I was about to write that pie season is almost upon us but then it got me to thinking that summer and fall are really both pie season, right? All those stone fruit pies, strawberry pies and super easy galettes make their appearances all summer and then we switch over to classics like pumpkin, pecan and even S'mores Pie in the fall!
During this transitional season between summer and fall, and if I'm being one hundred percent honest anytime of year, no bake pies are my jam. They are quick to put together and give me all the dessert-y satisfaction of a baked sweet and ice cream at the same time! Pretty perfect, right?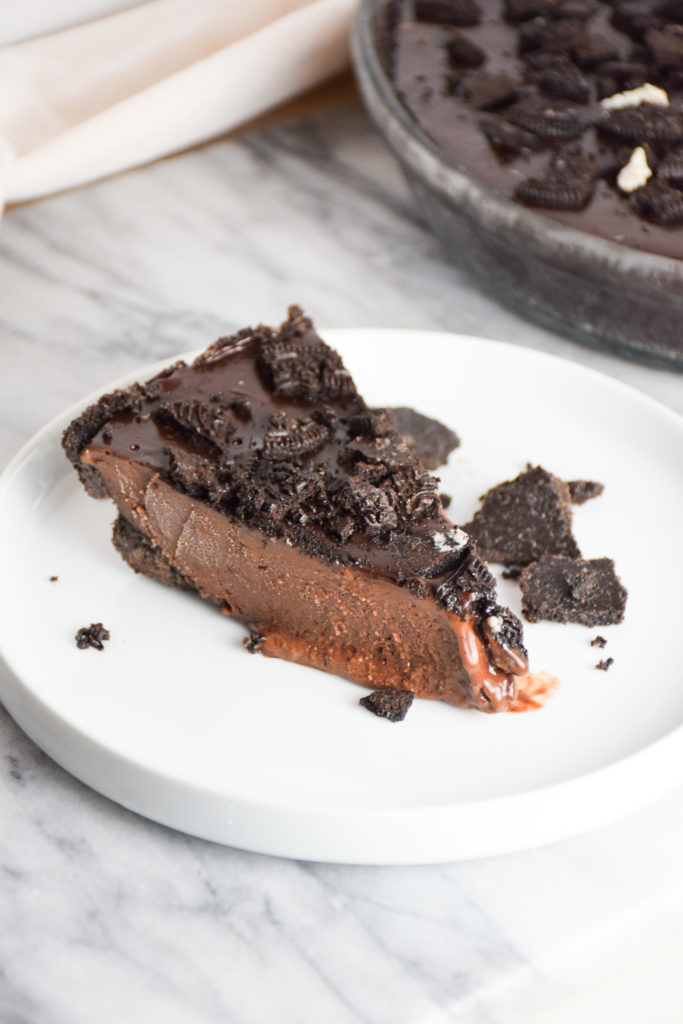 No Bake Oreo Icebox Pie
This rich chocolate pudding pie has a great depth of flavor from dutch processed cocoa powder
and instant espresso. Espresso, or coffee, really brings out the richness of chocolate. It's interesting because the coffee flavor disappears but provides that really nice depth to the chocolate without it being overly sweet. It provides that perfectly balance of depth and sweet that makes chocolate so craveable!
Of course there is also the Oreos which everyone loves right? I don't think I've ever met anyone who doesn't love an Oreo every now and again. Tell me what you think of this pie and don't forget to leave a 5-star review!
You Might Also Love 
Best Ever Mini Chocolate Chip Cookies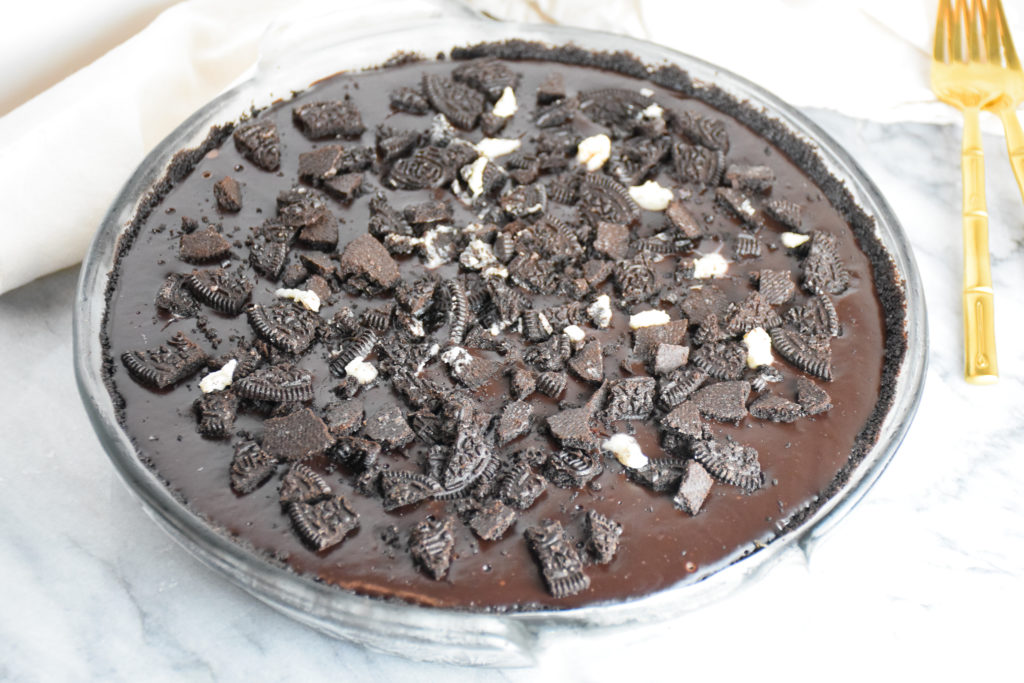 No Bake Double Chocolate Cookie Pie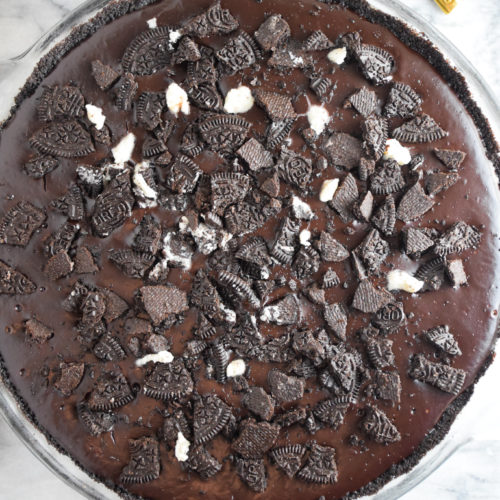 No Bake Double Chocolate Cookie Pie
This No Bake Double Chocolate Cookie Pie brings all the nostalgia of a dirt cup but with a grown up twist of deep chocolate flavor!
Ingredients
Crust
30

Oreos

divided (6 for crumble topping)

4

tbsp

unsalted butter

melted
Filling
1

cup

sugar

½

cup

cocoa powder

1/4

cup

cornstarch

½

tsp

salt

2

tbsp

instant espresso powder

3

cups

whole milk

2

tbsp

butter

2

tsp

vanilla

¾

cup

heavy cream
Instructions
Crust
Melt butter and set aside.

In a food processor, pulse Oreo cookies, including center filling, until crumbly like a sand texture. Add melted butter and pulse until well combined.

Press cookie mixture into bottom and sides of 9 inch pie plate. Set aside. (I like to prepare the pan and grease it or spray with non-stick spray to ensure no possibility of sticking.)
Filling
Whisk sugar, cocoa, espresso powder, cornstarch and salt together in a medium to large pot.

With pot over medium heat, slowly add milk while stirring until smooth with no lumps remaining.

Bring it to a boil over medium heat for two minutes as it starts to thicken to a pudding like texture. Stir constantly.

Add butter and vanilla and whisk until well combined.

Remove from heat and whisk in cream (it is important to remove from the heat or the cream will split.)

Pour thickened filling into pie crust. Place crumbled Oreos all over top. The crumbles should sit on top of the filling and not sink.

Place pie into the freeze for 4 hours or up to over night. Do not cover or steam and icicles will form. After the pie is completely cold, you can cover to store in the freezer for longer periods of time.

Before serving allow pie to sit out for about 5 minutes, this will make cutting into slices easier. Enjoy!
Nutrition
Calories:
360
kcal
Carbohydrates:
45
g
Protein:
5
g
Fat:
19
g
Saturated Fat:
10
g
Cholesterol:
42
mg
Sodium:
261
mg
Potassium:
237
mg
Fiber:
2
g
Sugar:
32
g
Vitamin A:
495
IU
Vitamin C:
1
mg
Calcium:
92
mg
Iron:
3
mg