The Best Ever Mini Chocolate Chip Cookies are perfect for parties and get togethers! These tiny chocolate chip cookies are just as delicious as the big ones but minis!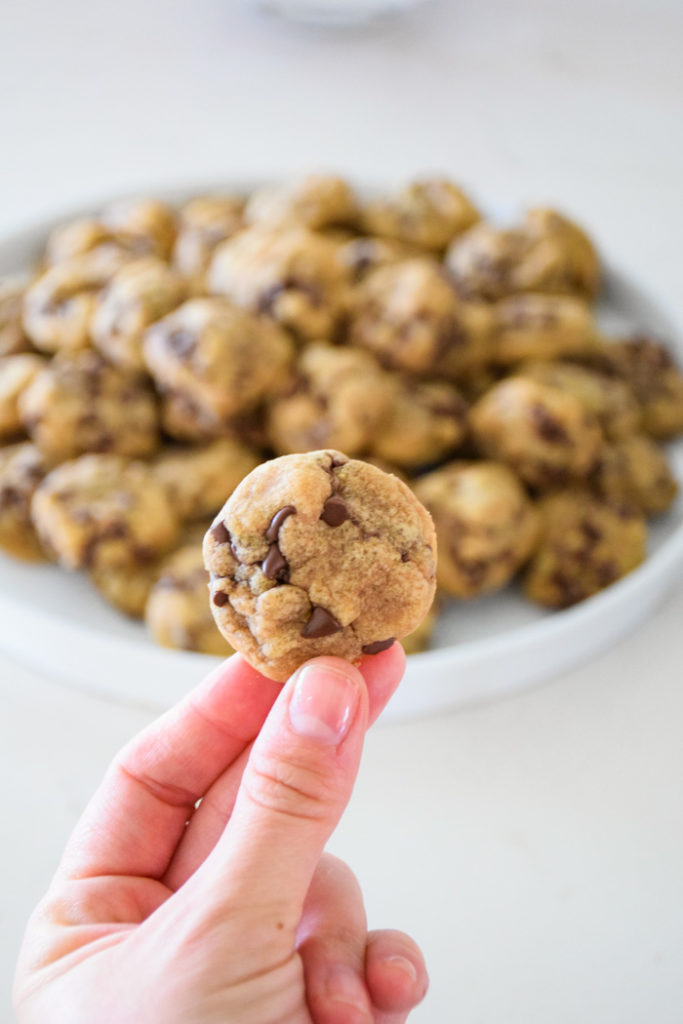 Ahhh I am so excited about this recipe! Seriously. Is it weird that I get so excited about this kind of stuff? Probably not, considering I am a food blogger after all! This is a recipe that I have been dreaming up for quite some time. After I finally found the Best Soft Chocolate Chip Cookies recipe, I had a thought that I wanted a mini version. While I love a big ol' chocolate chip cookie, sometimes, especially when entertaining, I want a mini version that is just as delicious but easier to eat. Thus the Best Ever Mini Chocolate Chip Cookies were born!
This post contains affiliate links. If you purchase a product through these links I may earn a few pennies. Thanks for keeping this free blog going!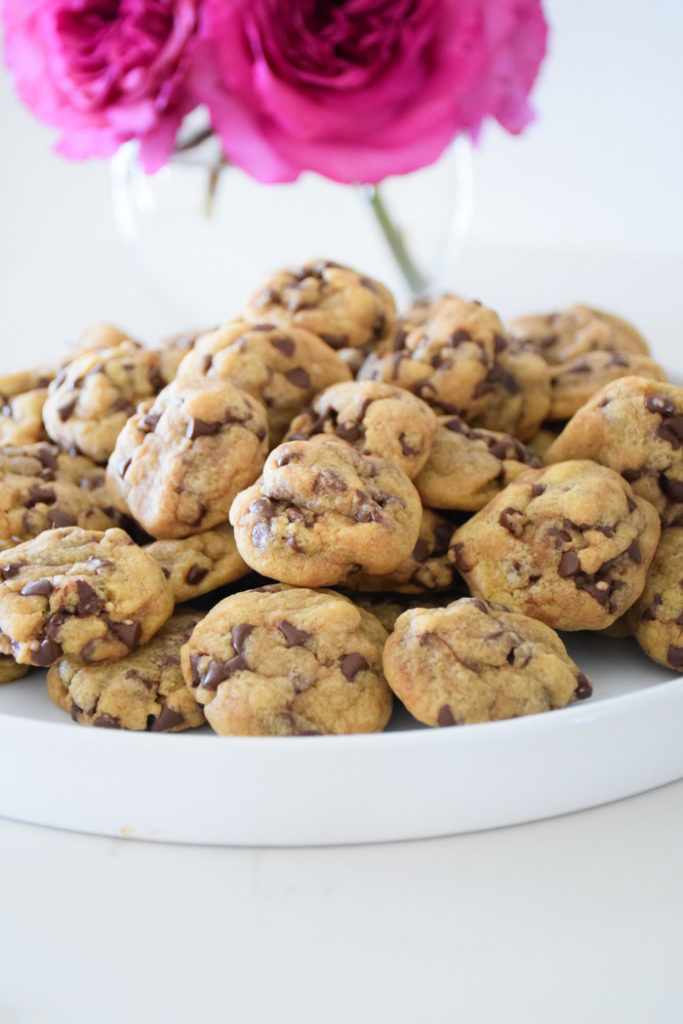 Tiny Chocolate Chip Cookies
Yes! Tiny chocolate chip cookies that are just as satisfying and delicious as the big ones from the bakery! Y'all know I love to throw a good party and what I've realized over the years is that mini foods are way better than regular sized foods when there is no sit down meal. Grazing is where it's at. While cookies will always get lots of love at a party, mini cookies will get loads and loads of love!
They are easier to eat and I'll say it, they are so cute! I mean just look at these little babes. However, when searching for the perfect mini cookie recipe, I realized that most mini cookies tend to be dry or crumbly. That is not what I was looking for. I wanted a cookie that was just as delicious as a big soft chocolate chip cookie with all the dense texture.
That's when I realized if I wanted a cookie like this, I was going to have to create it myself. So that is exactly what I did. Luckily, I had a great recipe to go from and with a few small tweaks I had just what I was looking for!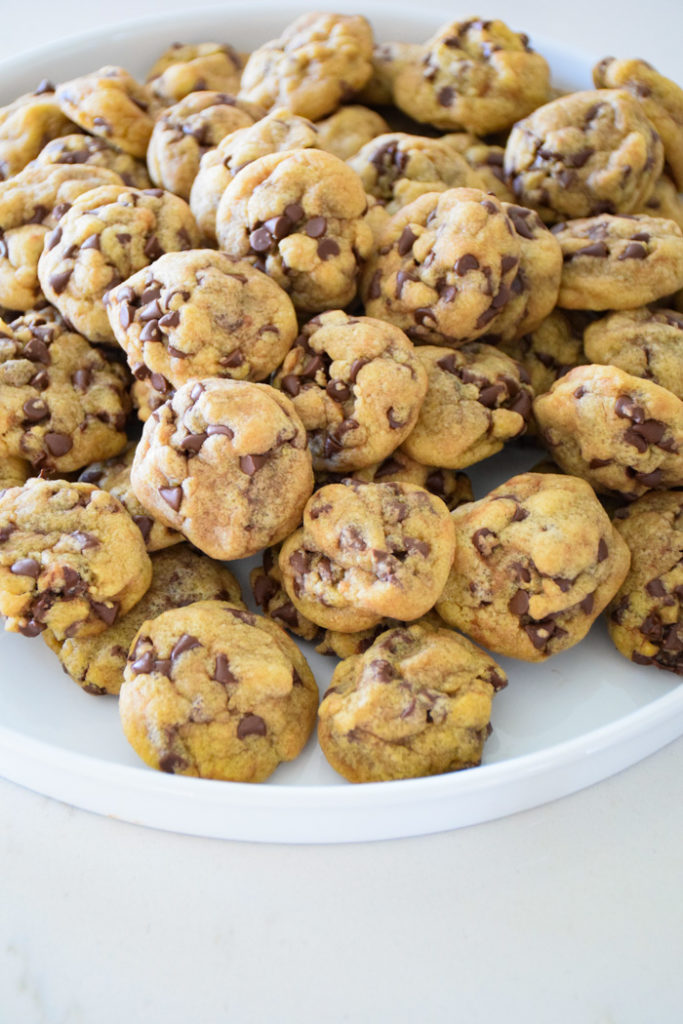 Tips for The Best Ever Chocolate Chip Cookies
These are a few quick tips you can use anytime you're making chocolate chip cookies!
When in doubt, under bake. You can always bake another minute more but you can't un-bake.
Parchment paper is best IMO for keeping cookies from sticking. I prefer to use it over cooking spray.
The kind of chocolate chips you use matter. From size to texture to brand. For a traditional  chocolate chip cookie, I like Hershey's. If you're wanting something more chunky and gourmet, go for Ghiradelli. In these Mini Chocolate Chip Cookies, use mini chocolate chips to get the right dough to chocolate ratio.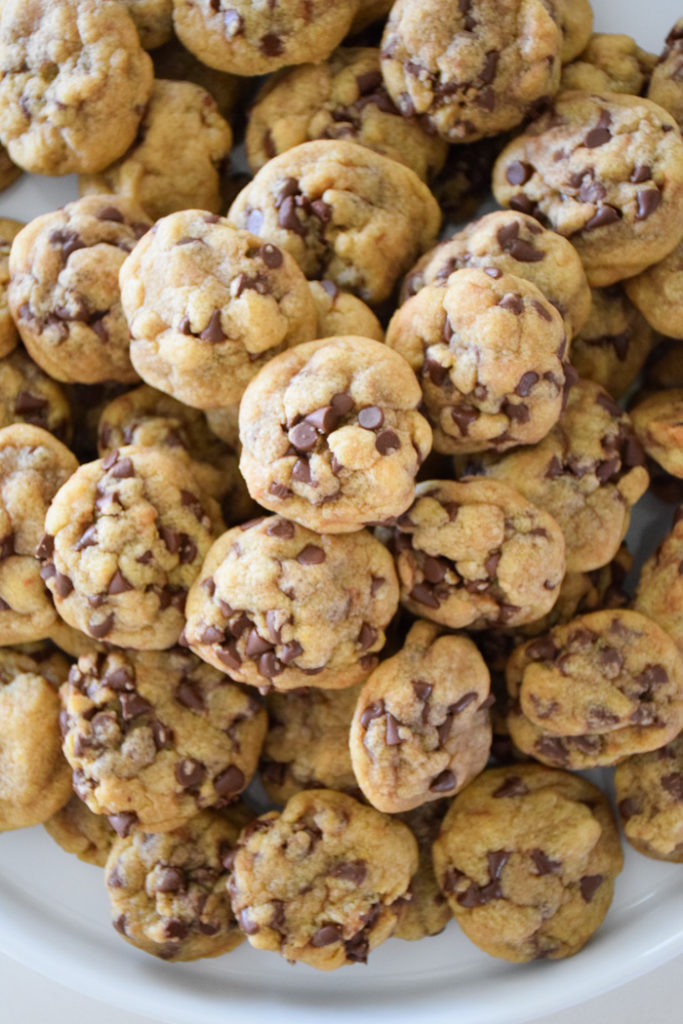 The Best Ever Mini Chocolate Chip Cookies
Makes 64 Tiny Chocolate Chip Cookies
Ingredients: 
1 ¾ cups all-purpose flour
½ teaspoon baking soda
14 tablespoons unsalted butter
½ cup granulated sugar
¾ cups brown sugar
1 teaspoon kosher salt
2 teaspoons vanilla extract
1 egg
1 egg yolk
12oz mini semisweet chocolate chips
Directions: 
Preheat oven to 350 degrees. Line baking sheets with parchment paper. Whisk flour and baking soda together in medium bowl; set aside.
Heat butter in a skillet over medium-high heat until melted, about 2 minutes. Continue cooking, swirling pan constantly until butter is dark golden brown and has nutty aroma, 1 to 3 minutes. Remove from heat and let cool 5 minutes.
Add both sugars, salt, and vanilla to bowl with butter and whisk until fully incorporated. Add egg and yolk and whisk until mixture is smooth with no lumps remaining, about 30 seconds. Let mixture stand 3 minutes, then whisk for 30 seconds. Repeat process of resting and whisking 2 more times until mixture is thick, smooth, and shiny. Using rubber spatula or wooden spoon, stir in flour mixture until just combined, about 1 minute. Mix in chocolate chips and ensure no flour pockets remain.
Divide dough into 64 equal portions or about 0.6 ounces per cookie.
Bake cookies 1 tray at a time until cookies are golden brown and still puffy, and edges have begun to set but centers are still soft, about 6 minutes. Transfer baking sheet to wire rack and let cookies cool completely before serving (if you can wait that long!)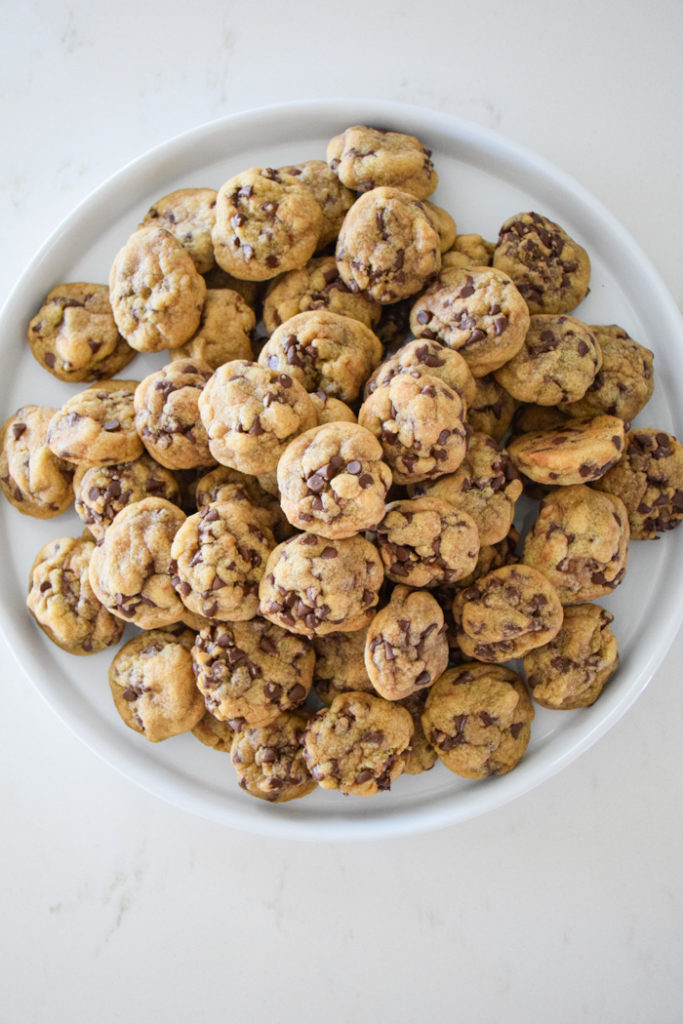 How to Freeze Unbaked Chocolate Chip Cookies
One of my favorite indulgences is to have warm chocolate chip cookies on demand. Like as in I want a warm cookie NOW and not in 3 hours with a delivery fee that cost more than the cookie. Enter freezing the cookies and then just popping them into the oven and BOOM 9 minutes later… warm cookie for me!
Here is how you do it!
To Freeze Unbaked Chocolate Chip Cookies:
Get the cookies to step 4 above.
Then instead of baking the cookies, place them into a pan or onto a sheet and "par-freeze" them or partially freeze them. This takes about an hour in a fridge freezer. The cookies shouldn't be touching but they can be close together.
After the cookies are frozen on the outside, this just ensures that they won't freeze together in big lump, then transfer then into a freezer storage bag to make the most of your freezer space. I like to write the date and baking instructions on the bag so just so I never forget.
Bake the cookies on a prepared baking sheet at 375 degrees for 9 minutes from frozen or 6 minutes if thawed.
Enjoy!! I love just popping two into the oven after dinner sometimes. It's such a little treat!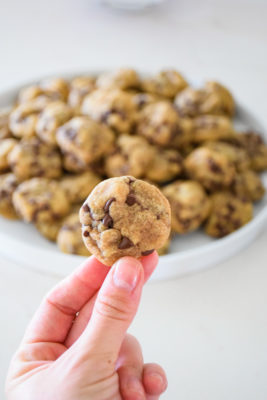 The Best Ever Mini Chocolate Chip Cookies
The Best Ever Mini Chocolate Chip Cookies are perfect for parties and get togethers! These tiny chocolate chip cookies are just as delicious as the big ones but minis!
Ingredients
1 ¾

cups

all-purpose flour

½

tsp

baking soda

14

tbsp

unsalted butter

½

cup

granulated sugar

¾

cups

brown sugar

1

tsp

kosher salt

2

tsp

vanilla extract

1

large

egg

1

large

egg yolk

12

oz

mini semisweet chocolate chips
Instructions
Preheat oven to 350 degrees. Line baking sheets with parchment paper. Whisk flour and baking soda together in medium bowl; set aside.

Heat butter in a skillet over medium-high heat until melted, about 2 minutes. Continue cooking, swirling pan constantly until butter is dark golden brown and has nutty aroma, 7 to 9 minutes. Remove from heat and let cool 5 minutes.

Add both sugars, salt, and vanilla to bowl with butter and whisk until fully incorporated. Add egg and yolk and whisk until mixture is smooth with no lumps remaining, about 30 seconds. Let mixture stand 3 minutes, then whisk for 30 seconds. Repeat process of resting and whisking 2 more times until mixture is thick, smooth, and shiny. Using rubber spatula or wooden spoon, stir in flour mixture until just combined, about 1 minute. Mix in chocolate chips and ensure no flour pockets remain.

Divide dough into 64 equal portions or about 0.6 ounces per cookie.

Bake cookies 1 tray at a time until cookies are golden brown and still puffy, and edges have begun to set but centers are still soft, about 6 minutes. Transfer baking sheet to wire rack and let cookies cool completely before serving (if you can wait that long!)
Nutrition
Calories:
84
kcal
Carbohydrates:
10
g
Protein:
1
g
Fat:
5
g
Saturated Fat:
3
g
Cholesterol:
13
mg
Sodium:
49
mg
Potassium:
39
mg
Fiber:
1
g
Sugar:
6
g
Vitamin A:
88
IU
Calcium:
7
mg
Iron:
1
mg