This S'mores Pie is the ultimate chocolate treat! It has a rich chocolate filling with homemade toasted marshmallowy meringue topping!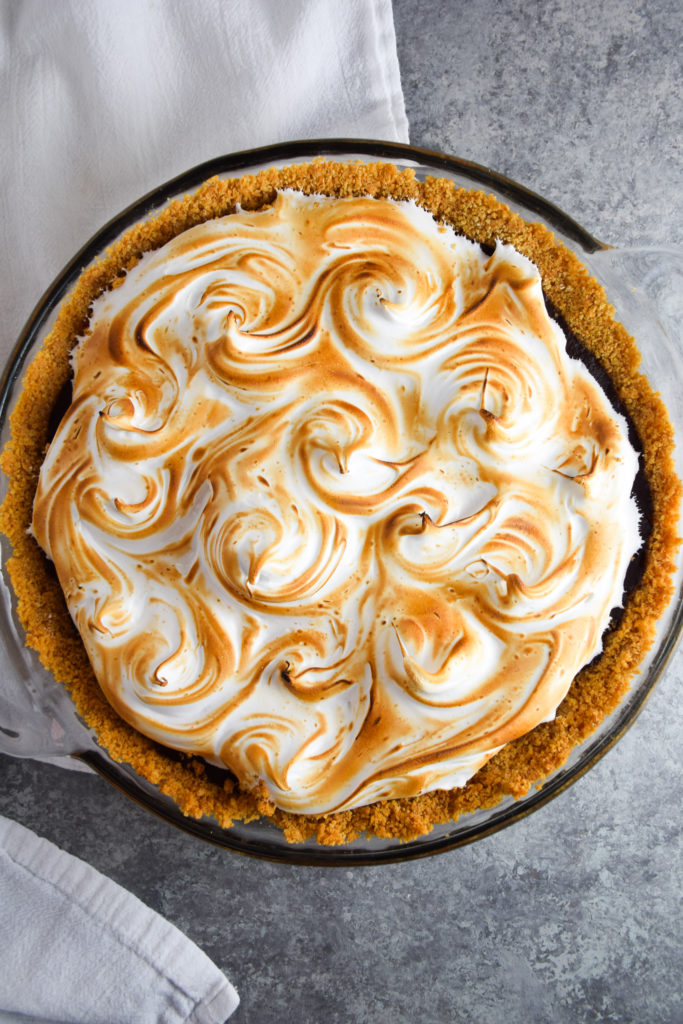 If you are looking for an *almost* no bake, easy pie then this is the recipe for you! This chocolate marshmallow S'mores pie looks like a masterpiece but is so easy to make. It's prefect for a beginner pie maker or an easy pie to add to any dinner or feast!
This post contains affiliate links. If you purchase a product through these links I may earn a few pennies. Thanks for keeping this free blog going!
S'mores Pie
Confession time. I've never been super in love with chocolate. I know, I know you're thinking how crazy I must be. Like how can I possibly be someone who blogs about pies and sweets and doesn't love chocolate. Well in my defense, I have met others like myself. There aren't many of us, but we are out there lurking among the regular chocolate lovers of the world, ordering lemon desserts and avoiding M&M's like the plague.
Surprisingly enough, every now and then I will get a craving for a piece of dark chocolate. I guess all that chocolate hating has made me a little bitter. Haha see what I did there? Ok, maybe a little too much. Alright next confession, I've only been camping once and it was terrible. I won't go into too many details but it involved over 100 degree temperatures and a really, really long drive.
Easy Make Ahead Chocolate Pie
Ok where am I going with all this? Despite being an alien chocolate hater and being slightly scared of ever going camping again, I really, really like s'mores! What! Even though camping freaks me out, when I think of the possibility of making  s'mores around a camp fire, I get a weird nostalgic feeling about how fun camping could be…maybe. Just maybe. But s'mores man, life changing! Ooey, gooey marshmallows smeared on graham crackers with a little of chocolate, I'm in!
While it may be s'mores may usually be reserved for the summer camping season everywhere else in the US, it is way too hot  in Texas. So my dreams of ooey, gooey marshmallows and chocolatey desserts are best enjoyed in pie form! Great things about this pie include that you can choose the sweetness of your chocolate and no campfire is needed to achieve marshmallow dreams! Rejoice! I used a combination of bittersweet chocolate and semi-sweet chocolate, but you can go all semi-sweet chocolate or mix in some dark, totally up to you! Now go make this pie and get a taste of the campfire without all the hassle!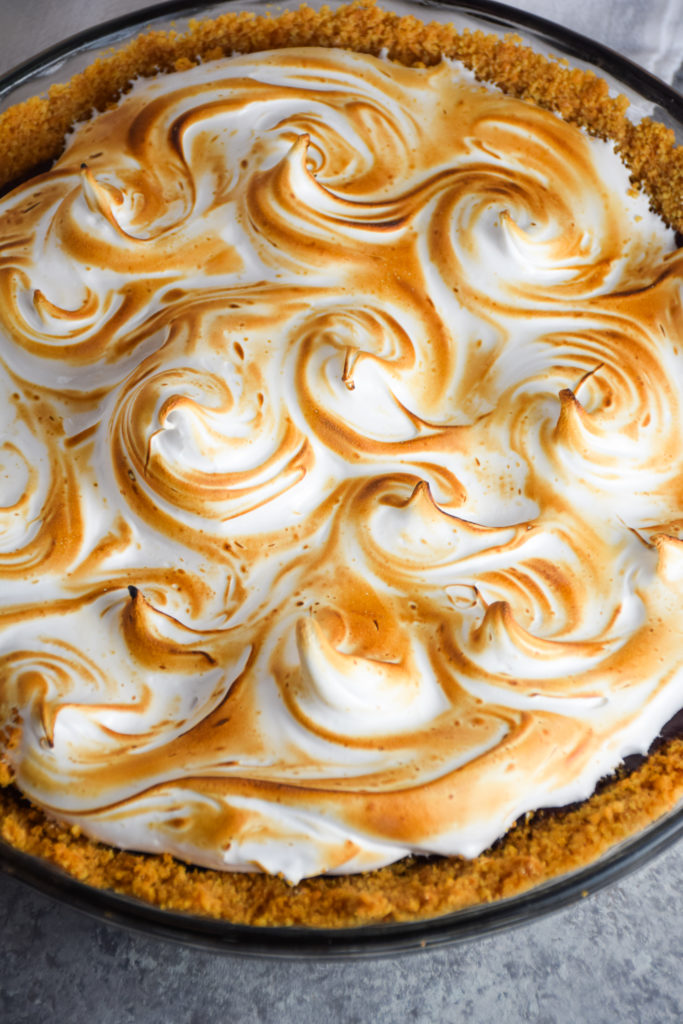 S'mores Marshmallow Meringue
I am sharing a few tips for making marshmallow meringue! The meringue in this recipe is soft, melty marshmallow texture. Much like what you would expect when you roast marshmallows over a fire for s'mores!
Meringue can come in different textures so I wanted to make sure that you are aware of what we are trying to achieve in this recipe. I have tried "roasting" the meringue topping using the broiler in my oven and using a kitchen torch
. Both work for achieving the taste and texture we are hoping for.
However, the kitchen torch method gives you a lot more control and ability to highlight all those swirls without burning the tops of your meringues. For this reason, I prefer the torch method. Plus, it is just a lot of fun to use!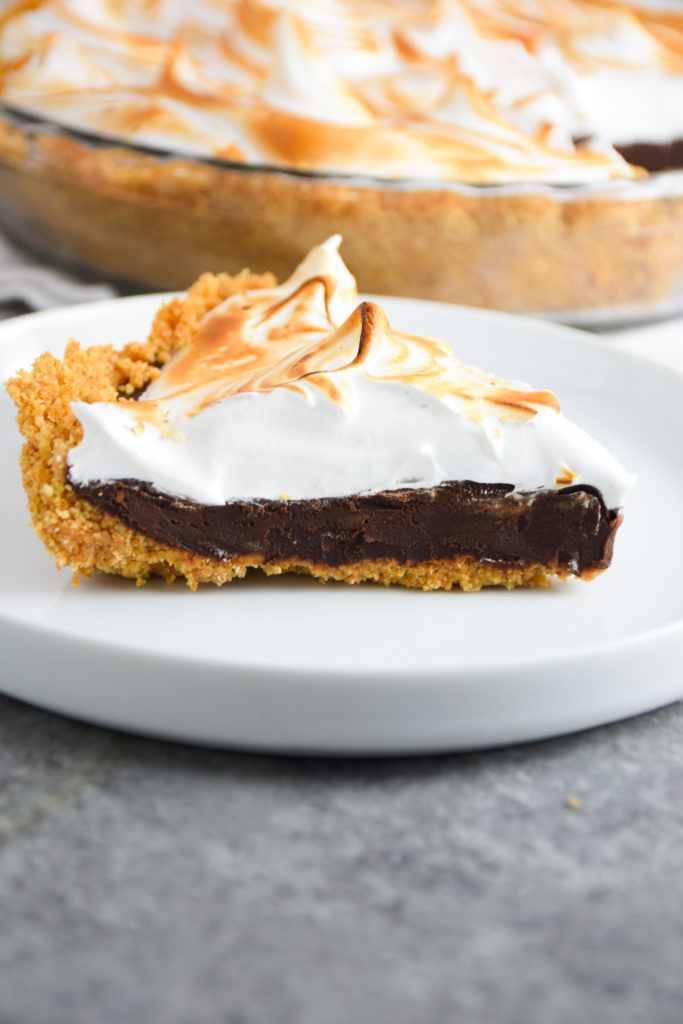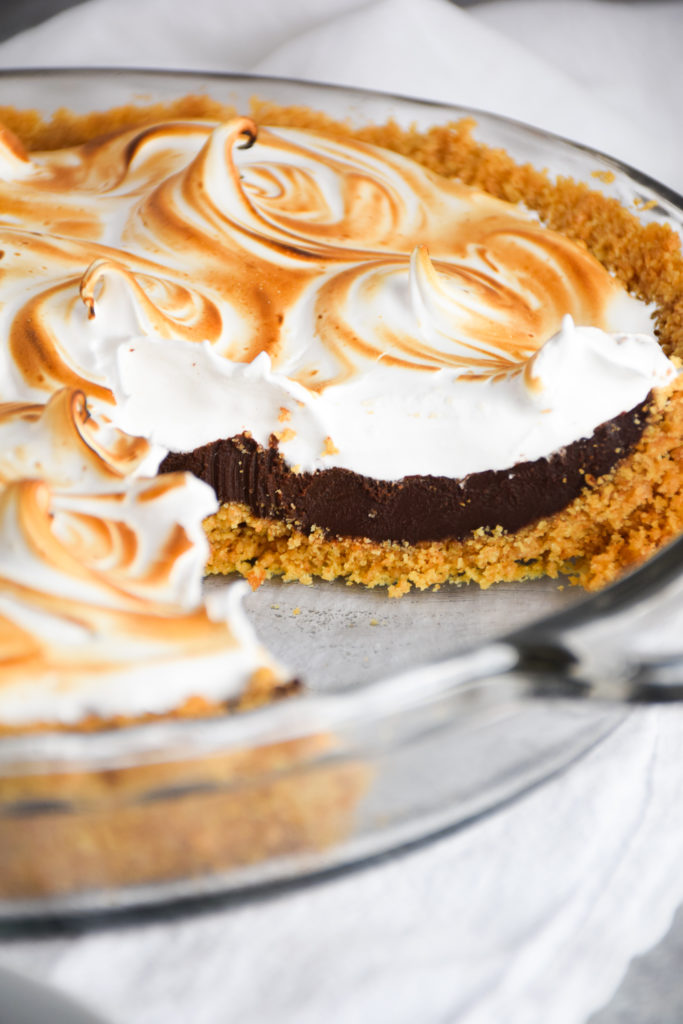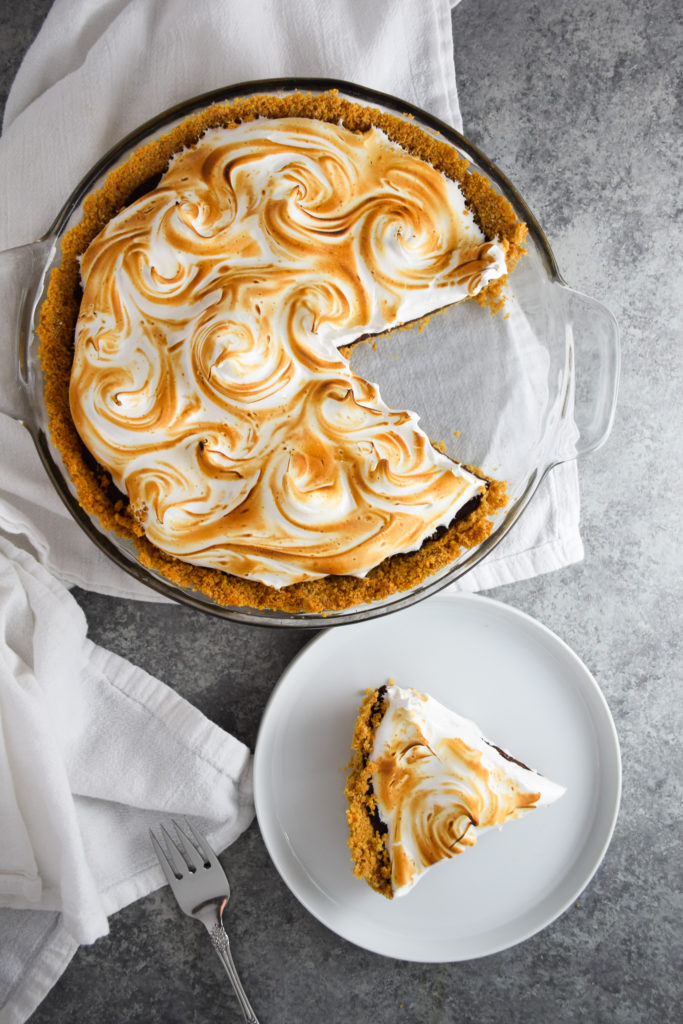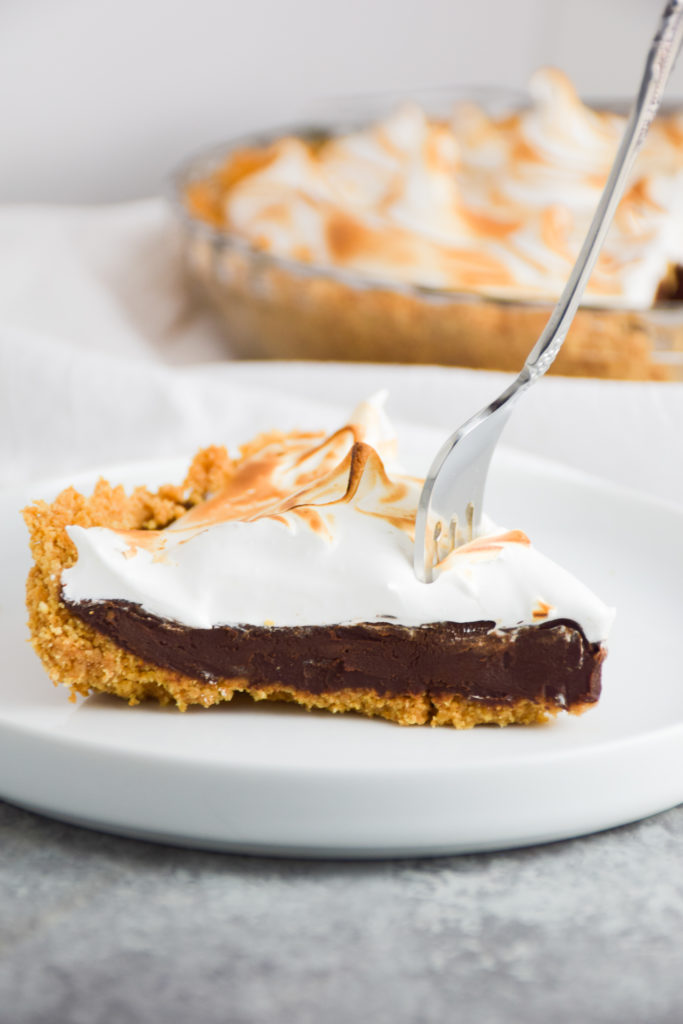 Tips for Cutting Pie
If you are hoping to get super clean edges like these when you slice pie, be sure to wipe the knife clean between slices! That is how you get those clean edges. It's an extra step but if you want a picture perfect slice then that is how it's done!
This pie can be made ahead and stored in the fridge covered for up to a week ahead of time. It is easier to cut when chilled but I prefer to eat it when it is closer to room temperature. You can pre-slice the pie if you wish or leave it on the counter while you enjoy dinner and then slice it afterwards. That would be the perfect temperature in my opinion!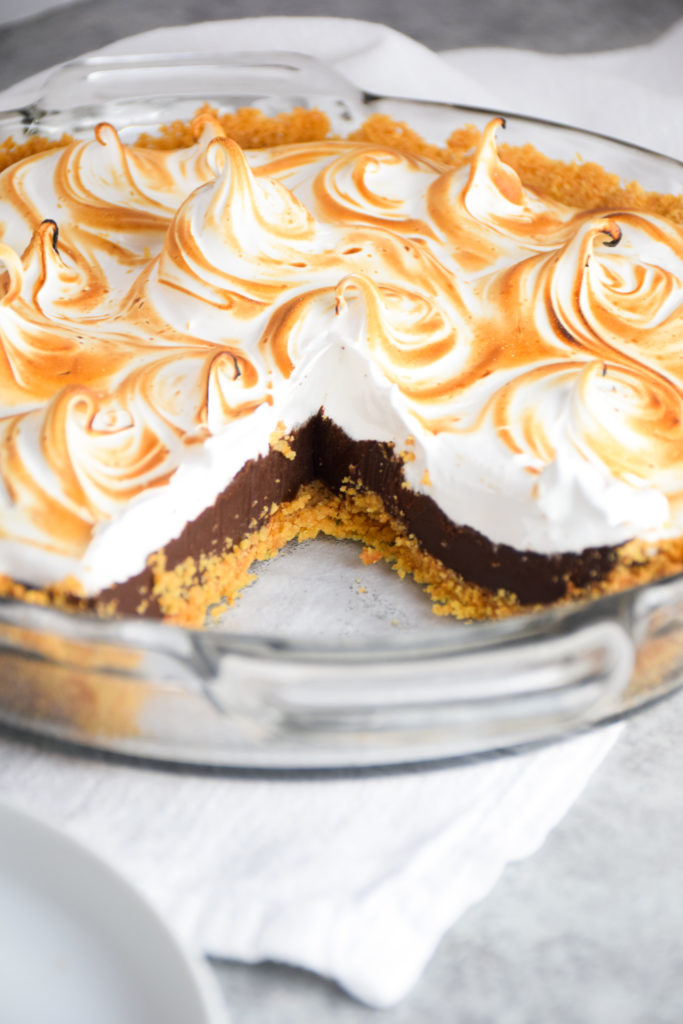 You Might Also Love
No Bake Double Chocolate Cookie Pie 
Chocolate Hazelnut Cinnamon Rolls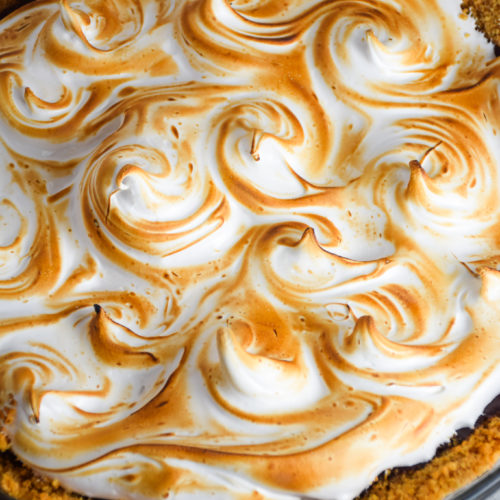 S'mores Pie
This S'mores Pie is the ultimate chocolate treat! It has a rich chocolate filling with homemade toasted marshmallowy meringue topping!
Ingredients
Graham Cracker Crust
2

cups

graham cracker crumbs

about 12 graham crackers

7

tbsp

unsalted butter

melted
Chocolate Filling
6

oz

semi-sweet chocolate

finely chopped

6

oz

bittersweet chocolate

finely chopped

2

tbsp

unsalted butter

2/3

cup

heavy cream
Marshmallow Meringue Topping
3

large

egg whites

3/4

cup

granulated sugar

1/8

tsp

cream of tartar

1/2

tsp

vanilla extract
Instructions
Combine graham cracker crumbs with melted butter. Press firmly into 9 inch pie pan along bottom and sides. Bake at 350° for 9-10 minutes.

While the crust is baking, warm cream over medium heat in a small saucer until bubbles begin to form around the edges of the pot being careful not to over heat and curdle the cream.

Next, combine butter, semi-sweet and bittersweet chocolates with cream in mixing bowl. Stir until well combined. The heat from the cream should melt ingredients together.

Pour chocolate mixture into crust. Cover and let cool in the fridge for 45 minutes.

Meanwhile, combine egg whites and sugar in a heatproof bowl over a pot of boiling water. Stir constantly until mixture reaches 160°. Use a candy or meat thermometer to measure temperature.

Remove from stove, add cream of tartar and vanilla and beat mixture in a stand mixer, or with a hand mixer, for 7-9 minutes, on medium high speed, or until stiff peaks form.

Spread meringue over chocolate pie.

Toast topping in oven under broiler on high until slightly brown, about 3-5 minutes but vary depending upon oven. Alternatively, you can toast the tops of the meringue with a kitchen torch.

Pie will keep for 2-3 days in the fridge.
Nutrition
Calories:
598
kcal
Carbohydrates:
58
g
Protein:
6
g
Fat:
39
g
Saturated Fat:
22
g
Cholesterol:
64
mg
Sodium:
173
mg
Potassium:
321
mg
Fiber:
4
g
Sugar:
39
g
Vitamin A:
712
IU
Vitamin C:
1
mg
Calcium:
59
mg
Iron:
4
mg