Teaching you the simple steps to making these gorgeous Chocolate Covered Ice Cubes! Plus, a Whiskey Coffee Cocktail to go with them!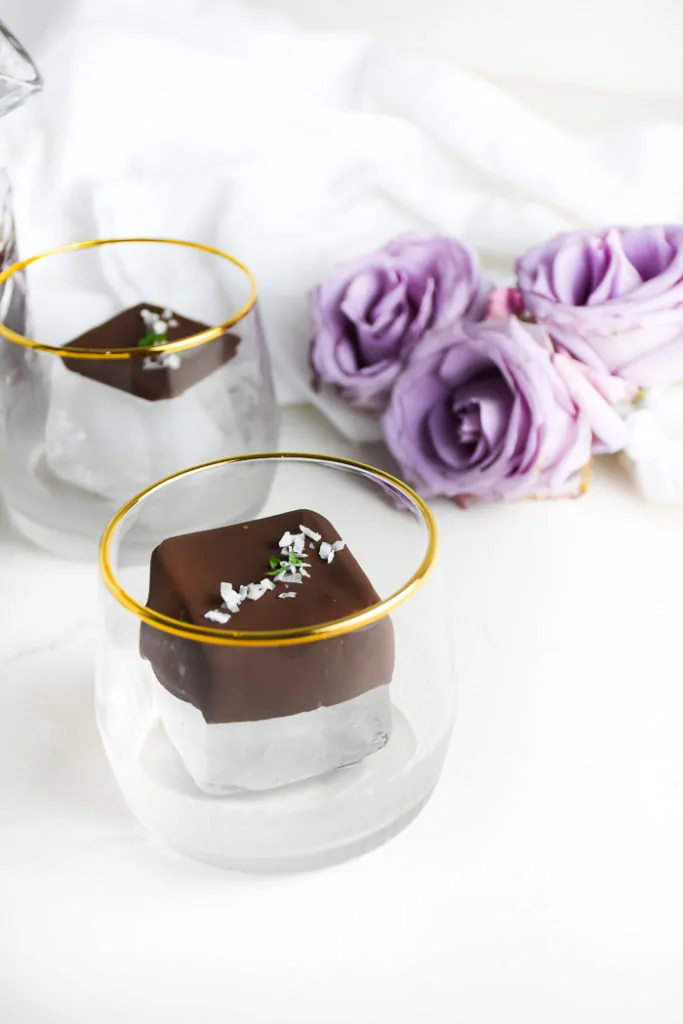 Ok I know y'all may think I am crazy but Chocolate Covered Ice Cubes can totally be a thing! I was first introduced to the concept at this amazing bar in Florence. They brought out the gorgeously adorned chocolate covered ice cube and a tiny espresso pot and brewed the iced espresso with whiskey over dry ice and then served the drink. It was pure magic and I've been wanting to recreate the experience ever since our trip!
There are definitely a few tips and tricks to getting this right. If you know much about cooking, then you know that chocolate and water do NOT mix… so scroll on to read my tips for making these gorgeous cocktails happen at your house!
This post contains affiliate links. If you purchase a product through one of these links, I may earn a few pennies. Thanks for keeping this free blog going.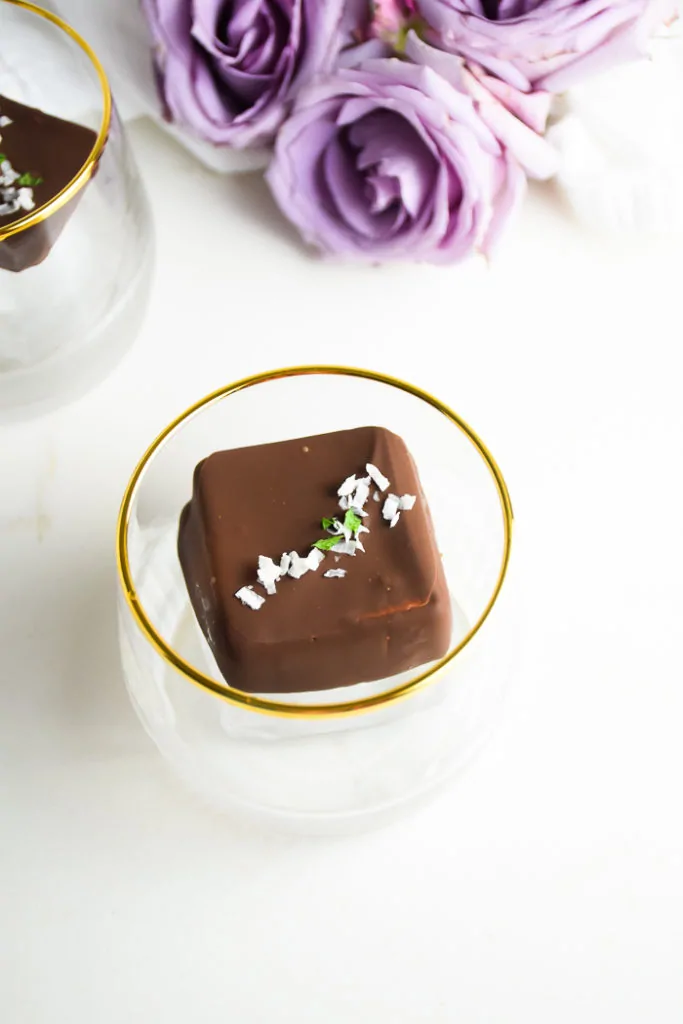 Chocolate Covered Ice Cubes
Yes, Chocolate Covered Ice Cubes can totally be a thing! They instantly upgrade any cocktail or mocktail. They look so elegant, don't ya think? I garnished my cubes with unsweetened shaved coconut flakes and tiny pieces of mint leaves. If you can get your hands on some currants, one or two of those on top would look absolutely fabulous. That is actually what they did at the bar in Florence. I have a hard time finding currants in Austin, so coconut flakes and mint it was! Lavender would be beautiful as a garnish as well.
You can definitely make these chocolate covered ice cubes ahead of time and store them in the freezer until you are ready to serve them.
How to Make Chocolate Covered Ice Cubes
Now there are a few tips for getting these Chocolate Covered Ice Cubes to work. Like I said before, chocolate and water do NOT mix. Water will ruin your chocolate. I repeat water will ruin your melting chocolate. And ruined, clumpy chocolate is just sad. So here is how you avoid that.
Step 1: Pre-make your ice cubes ahead of time. We use these molds
.
Step 2: Have your ice cubes in the freezer but loosened from the molds so they are easy to get to. Have a tray lined with parchment paper in your freezer ready to place the cubes after they are covered in chocolate.
Step 3: Gently melt dark chocolate according to the packaging, either in the microwave or on the stove. Have your garnishes ready to go, ex: coconut flakes, mint, lavender, etc.
Step 4: Now, here is where you need to pay attention! Spoon a small amount of melted chocolate over the top of the cube, using a butter knife or better yet a frosting knife, smooth the chocolate over the top and allow to drip down the sides. You need to smooth it quickly because the chocolate will harden very quickly. Never dip your ice cube into the chocolate. The water will melt and ruin your chocolate.
Step 5: Quickly top your chocolate covered ice cube with the garnishes and place back into the freezer on the parchment lined tray. Repeat until all cubes are finished. Store cubes in the freezer until ready to serve! Scroll down for the cocktail recipe!

Whiskey Coffee Cocktail with Chocolate Covered Ice Cubes
These Chocolate Covered Ice Cubes pair particularly well with a Whiskey Coffee Cocktail!
Makes 1 cocktail
Ingredients: 
2 ounces very smooth whiskey – I like Blonde Whiskey
2 ounces coldbrew coffee – I like Chameleon Concentrate Black 
1 Chocolate Covered Ice Cube
Directions: 
Place Chocolate Covered Ice Cube into a wide mouthed lowball glass.
Pour whiskey around the bottom of the ice cube, then repeat with the coldbrew coffee. Careful not to pour over top, preserving the look of your gorgeous Chocolate Covered Ice Cube longer!
Enjoy immediately — well, maybe take a quick photo and tag me on Instagram!
** For a mocktail, leave out whiskey. Coldbrew on its own works really well or you can add a bit of sweetness with a touch of simple syrup or almond milk.
I had so much fun making these! BMW thought this was one of my crazier ideas and he wound up actually loving the cocktail! He said it was so smooth and gets even better as the chocolate slowly melts. These ice cubes can last a while if its not hot, so you can even have another round with the same cube!
If you make these, be sure to snap a pic and tag me and let me know how they turned out! Can't wait to see y'all's creations!