This Homemade Ritz Cracker Munchies Mix is a craveable snack that is perfect for everything from game watching to holiday gifts!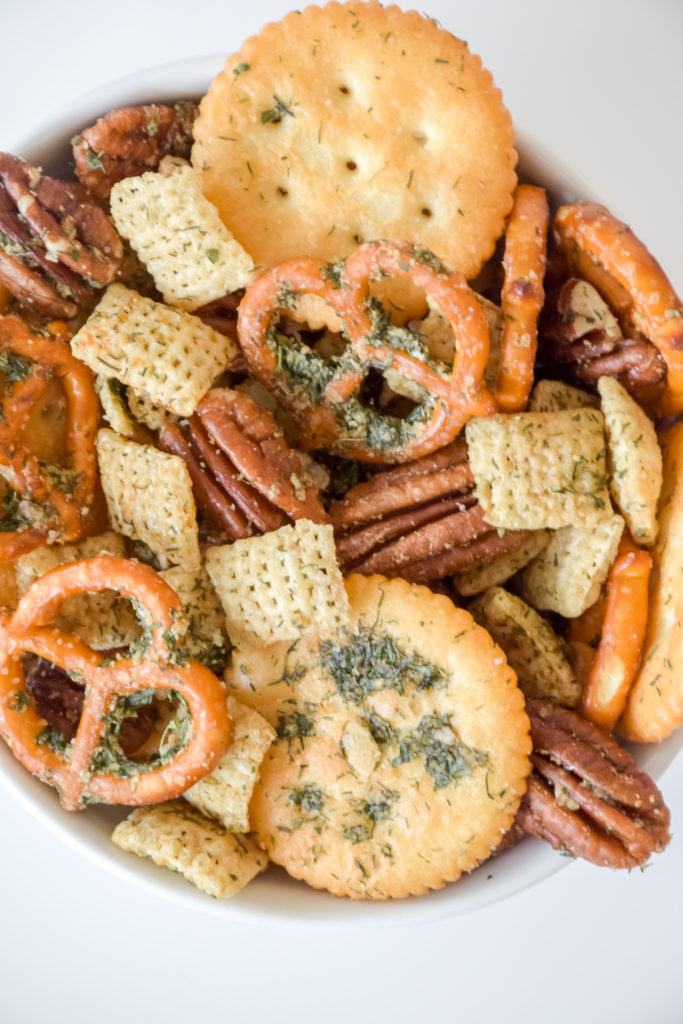 I've been craving a yummy, salty, snack lately. I wanted something like chips but not chips, ya know? Over the holidays, I made these Spicy Ranch Snack Crackers and I wanted something like that but a little different. I don't know how it came to mind but do you remember those Munchies snack bags? I think they were a mix of Doritos, Cheetos, Chex and probably some other stuff? Well, I wanted something like that but homemade. So that is how I came up with this snack mix! It's so easy to make and honestly better than the bagged stuff!
This post contains affiliate links. If you purchase a product through these links I may earn a few pennies. Thanks for keeping this free blog going!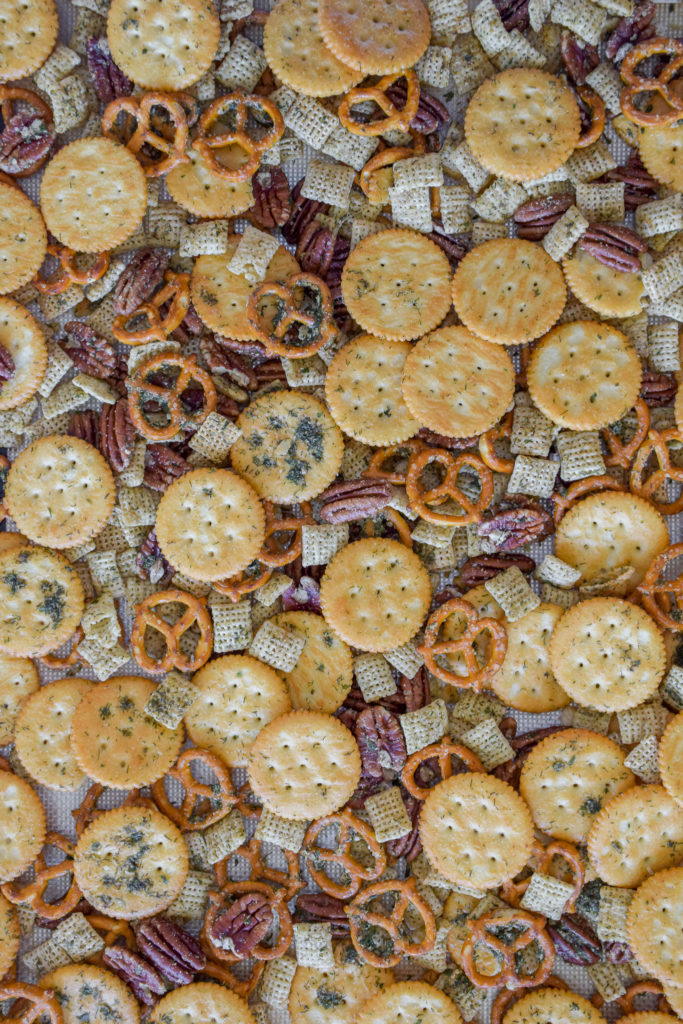 Homemade Ritz Cracker Munchies Mix
This snack mix is packed with lots of herby flavor! I loaded up on the seasoning because well that's the best part right!? I am one of those people who cannot be trusted with a bag of yummy chips because I will eat them all! Who else has a tendency to dig around in the bag to look for the most flavorful chip? Does anyone else do this? Please tell me I am not alone!
That's why when I made this mix, I put in lots of dried herbs to make sure each bite has plenty of flavor. I also have a renewed love for Ritz Crackers
! I hadn't had them in so long but something was making me crave them. So I gave into the craving and I am really glad that I did. Those buttery, crispy little crackers are so dang good!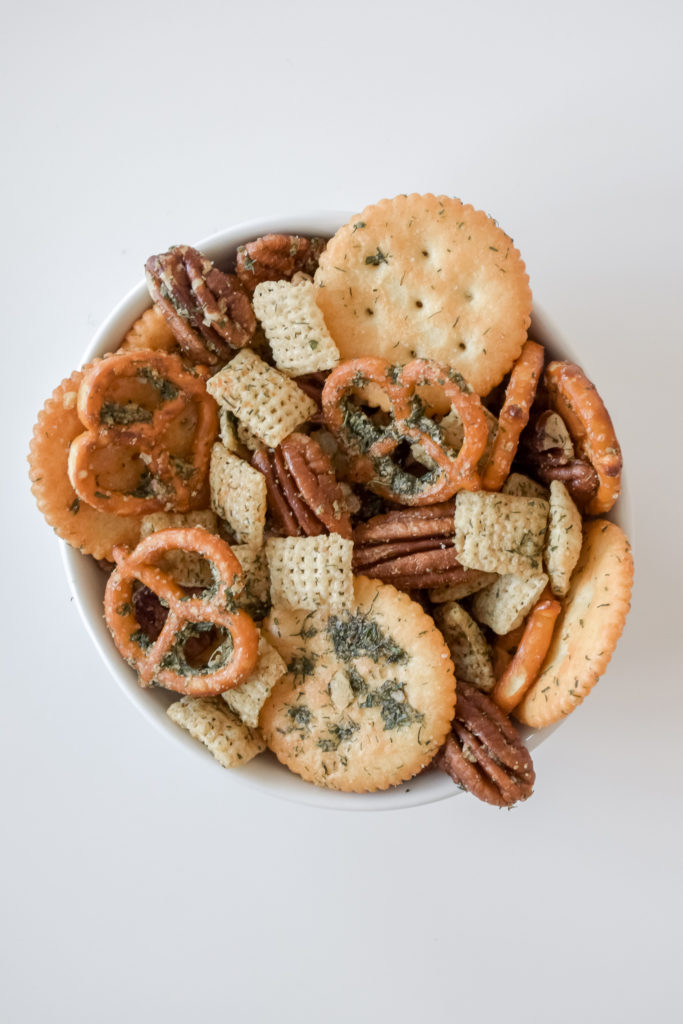 The Best Snack Mix
Back in the days when we used to host lots of dinner parties, I was always looking for the perfect snack to get things started. I do really love a big cheese board but sometimes I wanted something quick and well possibly less filling. This snack mix would be perfect with a nice cold beer or cocktail.
A great way to host a happy hour or start a meal. I am so ready to entertain again! Can't you tell! Anyways, this snack mix is perfect for just you at home too. Watching a game or maybe when that late afternoon hunger craving hits. I also recommend this Chili Lime Popcorn too if you're looking for a good snack!
For Super Bowl, we usually host a group over to watch the game every year. This year of course is different. Since we won't be hosting friends, I decided instead to make a bunch of this snack mix and put it into mason jars
and take to friends! If we can't actually be together then maybe we can at least be snacking on the same thing.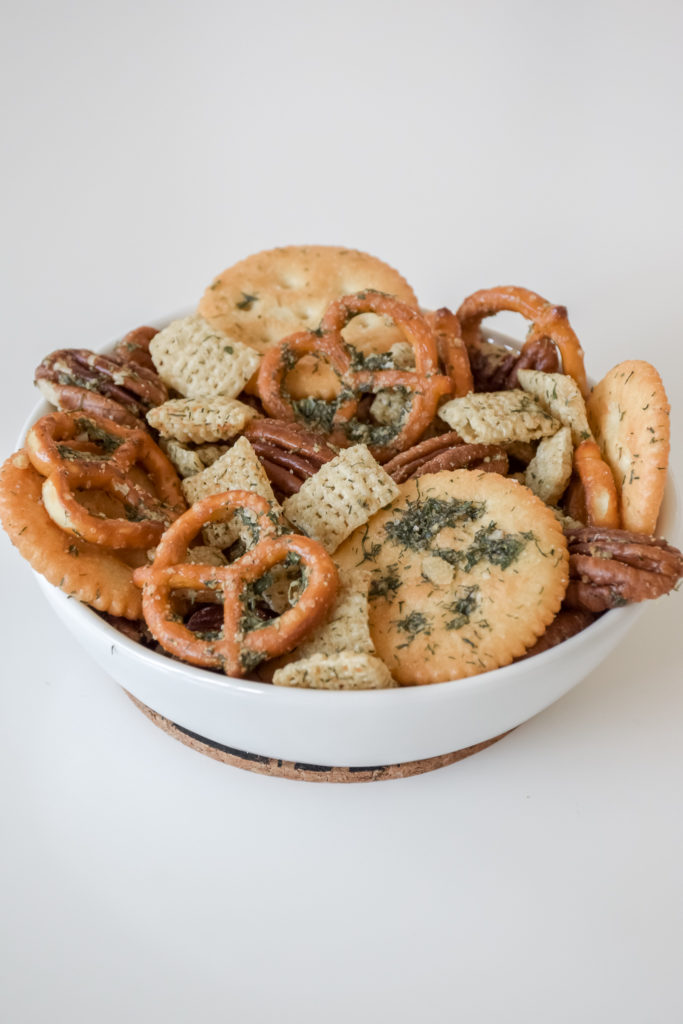 Easy Herby Snack Mix
Like I said before, this snack mix is packed with flavor! I did not hold back on the seasoning and neither should you! What I love about this mix is how versatile it is. So if you need to make adjustments based on dietary restrictions or what you have in your pantry then go for it.
I used pecans because those are my favorite but peanuts or cashews would work perfectly too. If you're avoiding nuts, then replace them with something that has a nice crunch like maybe Fritos or popcorn. I think nearly any pretzel shape would work in this mix. Although the classic twist or waffle shape will hold the most herb mix so I suggest those shapes if you can.
Obviously Ritz Crackers are really great in this mix, hence the name 😉 I used the classic size Ritz but if you want to used mini cheese Ritz those would be great too! In case you are wondering, I used the rice Chex mix.
I recommend baking this for 20 minutes because that will turn everything a nice golden brown and allow the herb mixture to really soak into the pieces. And everything will be nice and crunchy!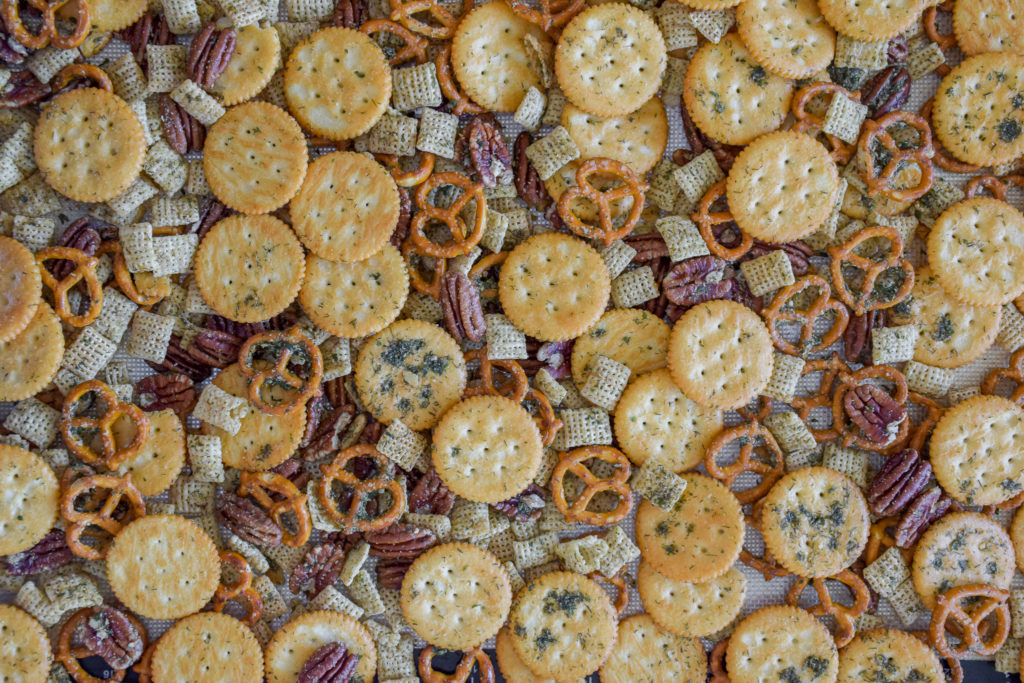 You Might Also Love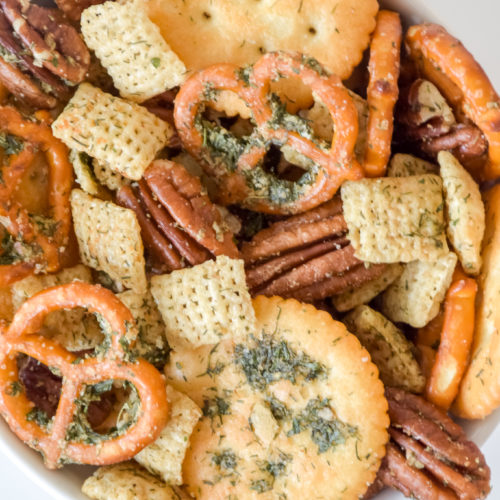 Homemade Ritz Cracker Munchies Mix
This Homemade Ritz Cracker Munchies Mix is a craveable snack that is perfect for everything from game watching to holiday gifts!
Ingredients
6

tbsp

unsalted butter

1.5

cups

pecans

62

Ritz Crackers

about 2 sleeves

3

cups

mini pretzel twists

3

cups

Chex Mix

1.5

tsp

dried dill

1

tsp

onion powder

1

tsp

garlic powder

1

tsp

dried parsley

1/2

tsp

kosher salt

reduce by half is using table salt

1/4

tsp

black pepper
Instructions
Being by melting butter. Pre-heat oven to 300° and line a large baking sheet with parchment paper or a silicone baking mat.

In a small heat proof bowl, whisk together dill, onion powder, garlic powder, parsley, salt and pepper. Then whisk in melted butter until well combined.

In a large mixing bowl, toss together Ritz crackers, pretzels, pecans and Chex Mix. Then pour in about a third of the herb mix and toss together to coat. Then add the next third of the herb mix and toss, then the last of the herb mix and tossing until all pieces are well coated.

Spread mix over a large baking sheet and bake for 20 minutes, tossing mix after 10 minutes. Let cool for 5 minutes and then enjoy!
Nutrition
Calories:
263
kcal
Carbohydrates:
29
g
Protein:
4
g
Fat:
15
g
Saturated Fat:
4
g
Trans Fat:
1
g
Cholesterol:
11
mg
Sodium:
447
mg
Potassium:
102
mg
Fiber:
2
g
Sugar:
2
g
Vitamin A:
142
IU
Vitamin C:
1
mg
Calcium:
35
mg
Iron:
2
mg