The Best Halloween Snack Mix recipe for that sweet and salty crunch!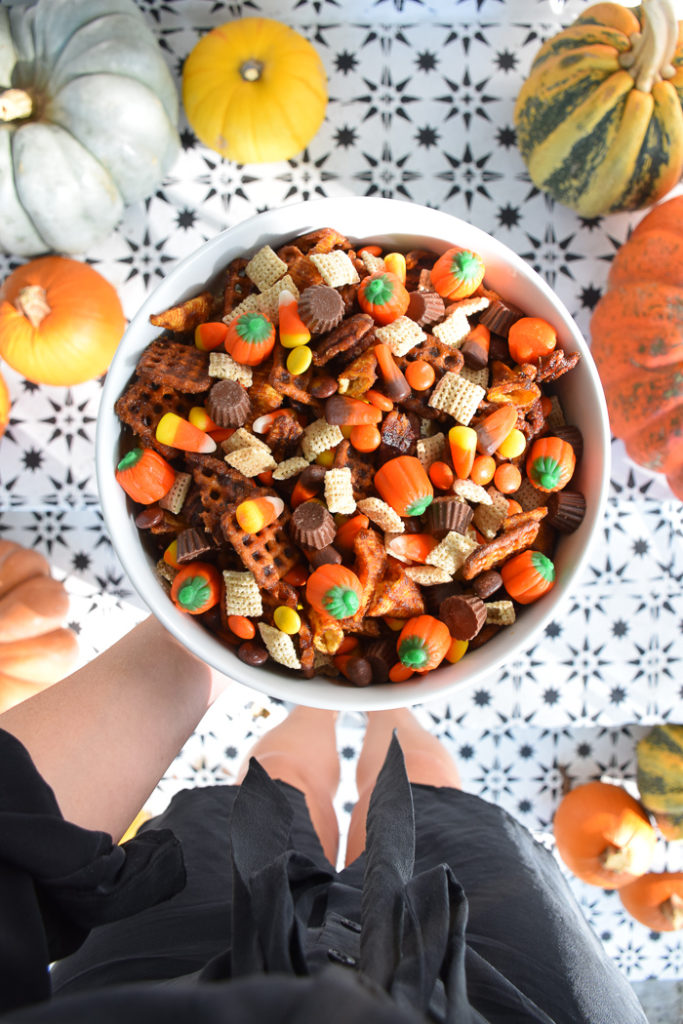 Can't. Stop. Eating. This. Halloween. Snack. Mix. Seriously, the sweet + salty combo is so addictively good! I took it a step further with this snack mix and instead of just tossing all the ingredients together, which you can totally do and would still be delicious, I made a special Pumpkin Spice Sauce. Yeah, you heard me right! All those salty bites get a little Pumpkin Spice treatment and it really takes this snack mix to the next level!
This post contains affiliate links. If you purchase a product through these links I may earn a few pennies. Thanks for keeping this free blog going!

Pumpkin Spice Snack Mix
When is a good time to eat this Pumpkin Spice Halloween Snack Mix you might ask? Well, when watching Harry Potter movie marathons comes to mind. When passing out candy on Halloween. When you're feeling the spooky spirit and want an afternoon treat.
It also makes a great hostess gift I might add! Make up a big batch of this and keep half for yourself and divide the rest into glass mason jars
, tie on cute ribbons and boom! Hostess gifts done.

The Best Halloween Snack Mix
The thing I love about snack mixes like this one is that they are easily adaptable. Don't like candy corn? Leave it out. Want to make it gluten-free? Use gluten-free pretzels. Need it done it quick? You can skip the Pumpkin Spice Sauce… but don't skip it if you have the time!
I also just love having seasonal snacks around now that we are spending so much time at home. I've always been one to go for salty snacks but lately, ok ever since bébé, I'm all about those sweet nibbles! In the afternoons, I am either reaching for this snack mix or a comforting chai latte. Both of these just scream fall to me and y'all know I am all about that fall season!
Fall can be a tricky season in Austin since we usually have an extended summer but we make the most it with all the yummy fall flavors! I want to know, what are your favorite fall flavors? Or better yet, what is the thing that makes you feel like fall is here? Tell me in the comments!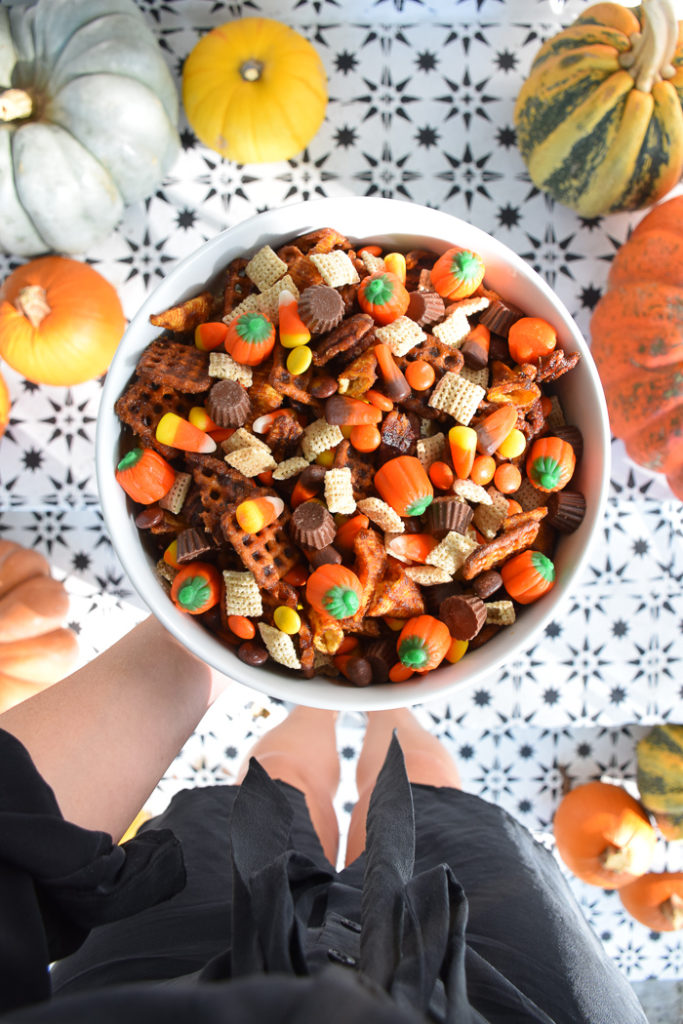 You Might Also Love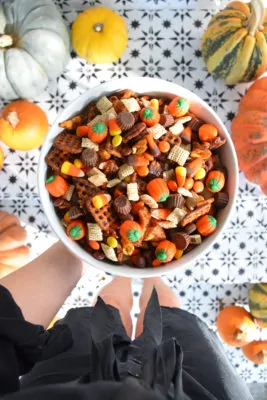 The Best Halloween Snack Mix
Ingredients
2

cups

pretzels

2

cups

Bugels

yes Bugels!

1

cup

pecans

1

cup

rice Chex cereal

1/2

cup

Reese's pieces

1/2

cup

Reese's mini cups

1/2

cup

candy corn

1/4

cup

candy corn pumpkins
Pumpkin Spice Sauce (optional):
1

cup

brown sugar

1

cup

pumpkin purée

1/4

teaspoon

ground cinnamon

1/4

teaspoon

ground nutmeg

1/8

teaspoon

ground cloves

1/8

teaspoon

salt
Instructions
In a small pot, combine brown sugar, pumpkin puree, cinnamon, cloves and salt over medium low heat. Stir frequently until sugar dissolves and everything is combined. Toss pumpkin mixture with bugels, pretzels and pecans until evenly covered. Spread onto baking sheet lined with parchment paper and bake for 15 minutes at 350° F. Let cool to room temperature.

Toss the bugels, pretzels and pecans with the candies. Enjoy immediately or store in air tight container for a week!
Nutrition
Calories:
307
kcal
Carbohydrates:
48
g
Protein:
4
g
Fat:
12
g
Saturated Fat:
3
g
Cholesterol:
1
mg
Sodium:
289
mg
Potassium:
158
mg
Fiber:
3
g
Sugar:
29
g
Vitamin A:
2423
IU
Vitamin C:
1
mg
Calcium:
57
mg
Iron:
2
mg
What Halloween snack traditions do you have? Tell me in the comments!