This Chile Lime Popcorn is an addictively spicy popcorn that is perfect as an easy appetizer or movie watching snack that everyone will love!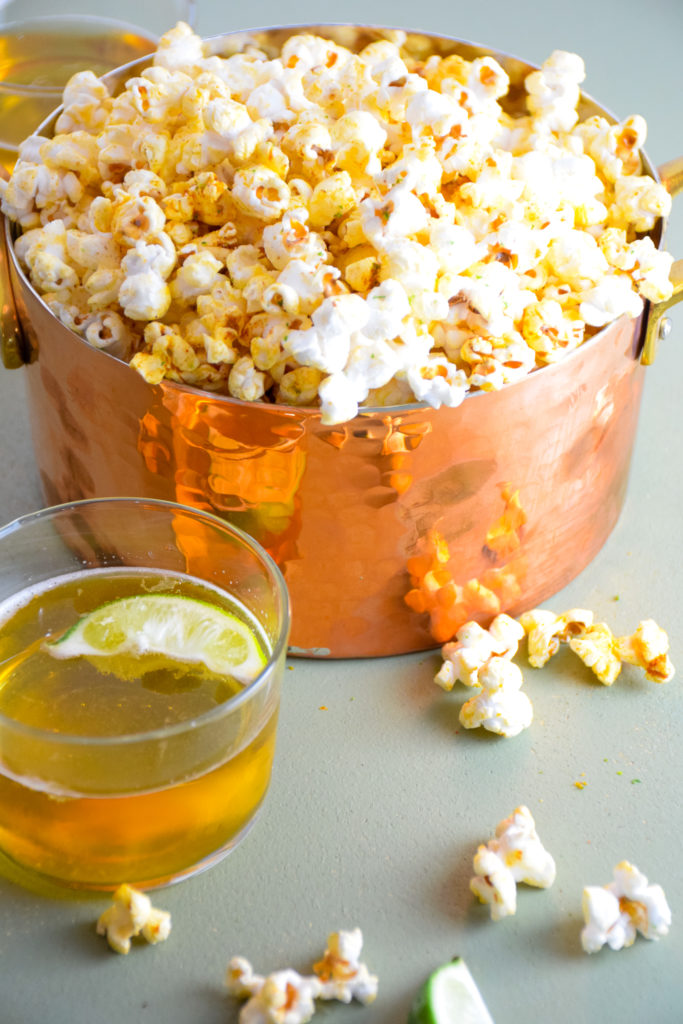 Let's talk about popcorn. I am low key super into popcorn. It's great as a snack, perfect for movie or game watching but also love it as a little snacky to go with a drink or as an appetizer that is super quick and easy! This version of popcorn has a slight hint of spice that pairs perfectly with zesty lime making it a deliciously craveable snack!
This post contains affiliate links. If you purchase a product through these links I may earn a few pennies. Thanks for keeping this free blog going!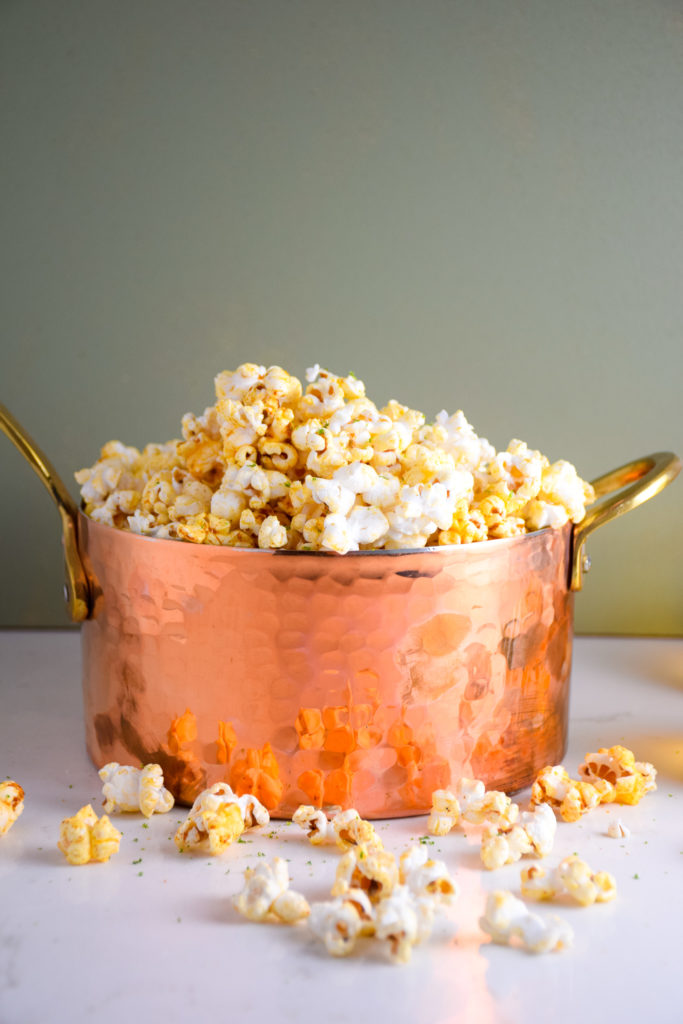 Chile Lime Popcorn
I love making big meals that start with delicious cheese boards and move onto a big salad and oodles of noodles. But sometimes I want a snacky bit that pairs well with a pint of beer or is great for a light starter. Enter popcorn! I've enjoyed savory and sweet popcorn as a bar snack or even in place of chips and salsa as the start to a meal.
Popcorn is great because it's so easy to make and you can easily make it ahead of time. This version calls for spices and lime zest that means it comes together quick with hardly any prep! I kept this version nice and light without a heavy amount of butter. If you like your popcorn extra butter-y you can double the amount of butter and spices in this recipe.
Don't skip the lime zest! It may seem a little different but fresh lime zest adds lots of aromatic flavor that really brings the spices to life.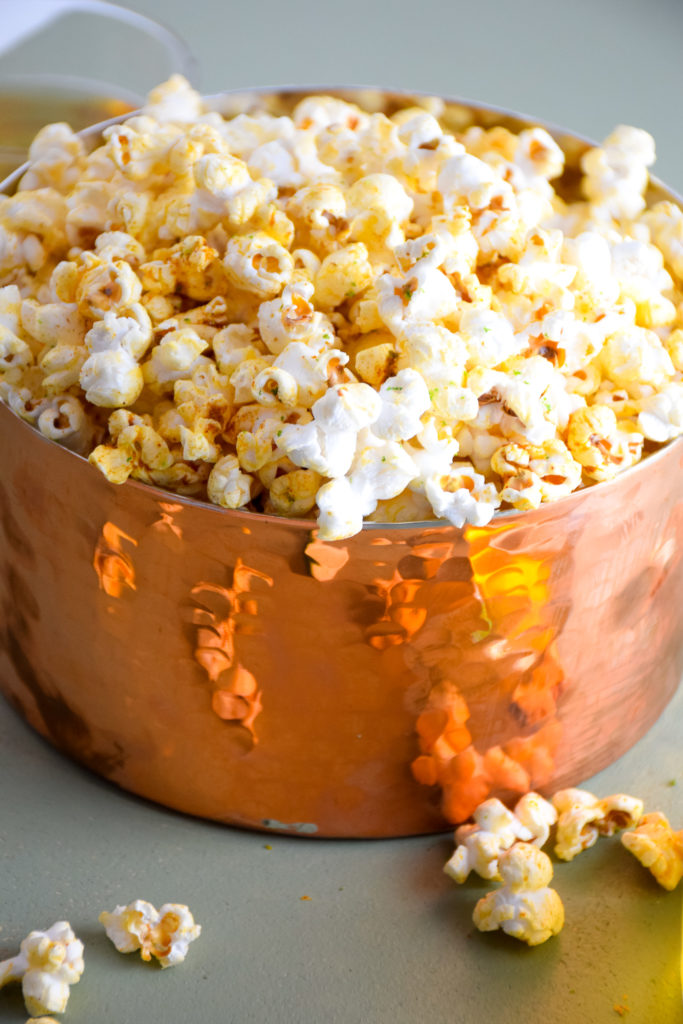 Easy Stove Top Popcorn Recipe
Years ago, when I moved into my first apartment by myself, the apartment didn't come with a microwave and I decided to skip getting one. The one thing I was worried about was how the heck was I going to make popcorn!
Come to find out making popcorn on the stove top is shocking easy and so much healthier! After I started making my own popcorn on the stove top, I never went back to the microwave version. Here are my tips for making stove top popcorn!
Tips for Making Stove Top Popcorn
Use a large, heavy bottomed pot like a dutch oven. The heavy bottom helps the pot heat more evenly. Be sure you have a lid!
Make sure the pot is large to give the popcorn lots of room. You'll be surprised how much popcorn a few kernels can make.
While popping the kernels, use a high heat oil like coconut. Butter will burn and olive oil goes rancid when heated too high. Use butter and olive oil as drizzle or flavoring agents after the kernels are popped.
Don't be afraid to use salt! It really gives the popcorn tons of flavor. I like using this kosher salt because it's slightly flakier than other kosher salts and adds lots of flavor without making recipes too salty.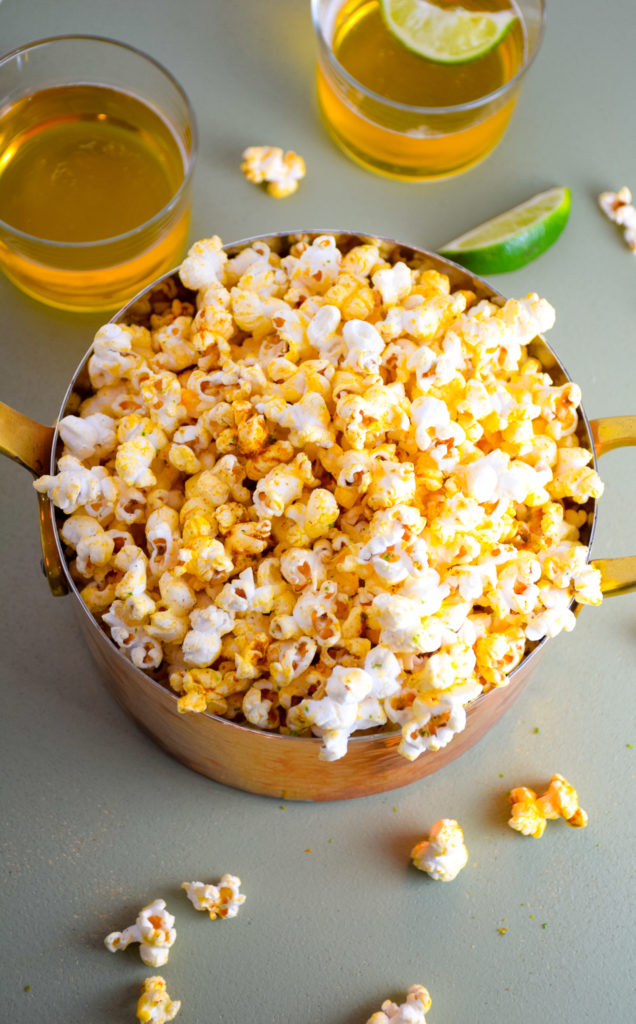 You Might Also Love 
Shrimp and Avocado Spring Rolls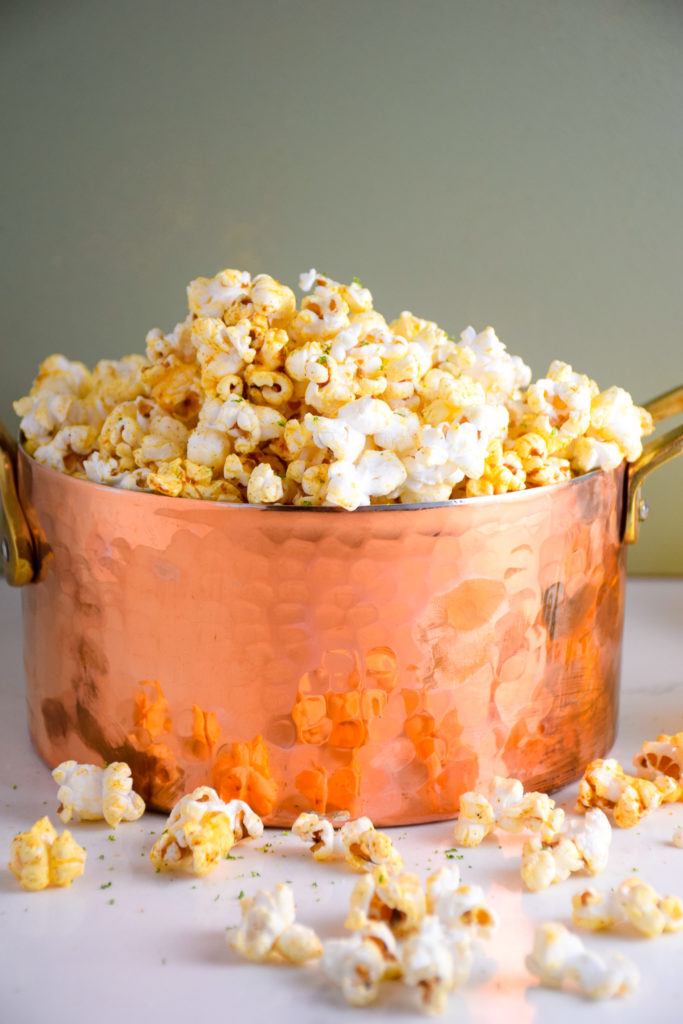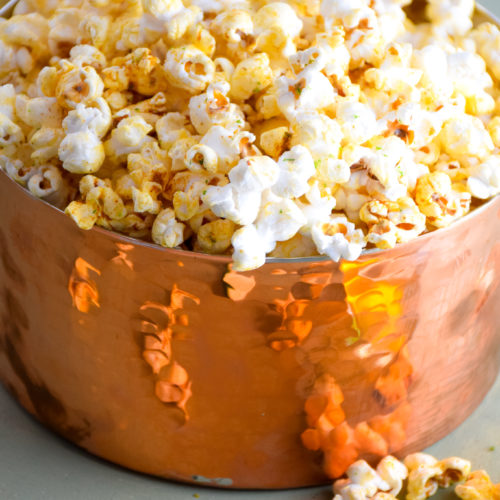 Chile Lime Popcorn
This Chile Lime Popcorn is an addictively spicy popcorn that is perfect as an easy appetizer or movie watching snack that everyone will love!
Ingredients
1/2

cup

popcorn kernels

1

tbsp

coconut oil

or other high heat cooking oil like vegetable oil

4

tbsp

unsalted butter

melted

1

tsp

kosher salt

1/2

tsp

ground coriander

1/2

tsp

chili powder

1/4

tsp

garlic powder

1/4

tsp

ground cumin

1/8

tsp

cayenne powder

1

small lime

zest
Instructions
In a large heavy bottomed pot or stove top popcorn device, like a Whirley Pop, melt coconut oil and add kernels over medium high heat.

Cover pot and let kernels pop, about 5-7 minutes, until popping slows down being careful not to leave the pot too long to prevent burning.

Meanwhile, melt butter in a small sauce pot and stir in salt, coriander, chili powder, garlic, cumin, cayenne and lime zest.

Once popcorn is done popping, pour melted butter and spice mixture over top and begin stirring with a heat safe spatula trying to coat every piece. Some pieces will have more seasoning than others but that is ok.

Transfer to large bowl or serving bags and enjoy! Popcorn can be kept in an air tight container or bag for up to one week.
Nutrition
Calories:
56
kcal
Carbohydrates:
4
g
Protein:
1
g
Fat:
4
g
Saturated Fat:
3
g
Cholesterol:
8
mg
Sodium:
157
mg
Potassium:
15
mg
Fiber:
1
g
Sugar:
1
g
Vitamin A:
121
IU
Calcium:
1
mg
Iron:
1
mg