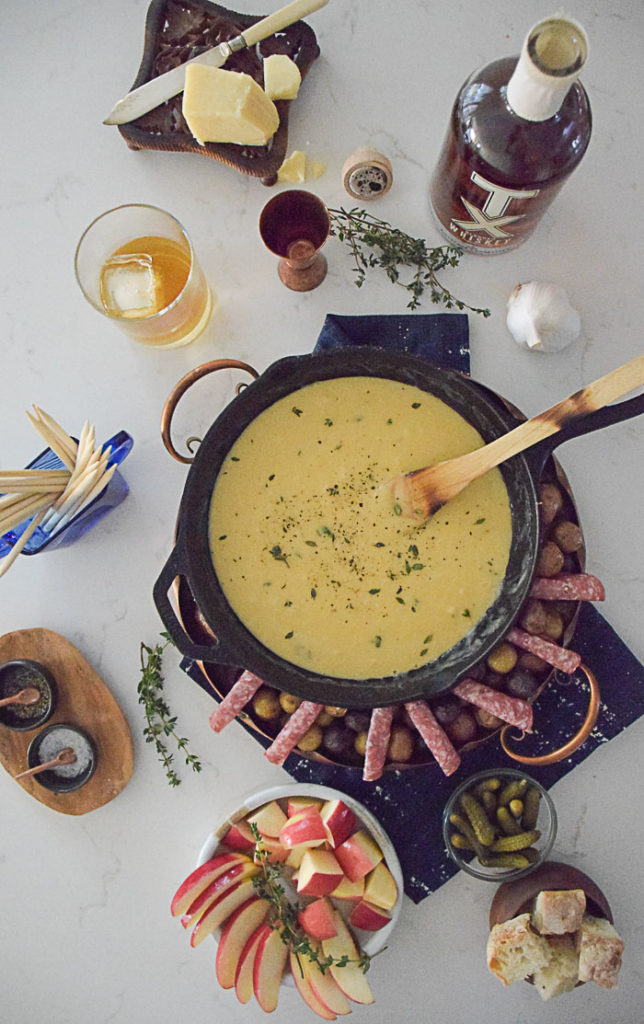 The holidays are upon us and I've been racking my brain to come up with new, festive recipes to serve at our upcoming parties. In Texas, we love our queso but I wanted to add in something a little different than queso or a cheese plate. That's where this Whiskey Cheddar Fondue comes in! I must say, I was always scared of fondue because I thought it would be difficult to make or serve and I honestly could not have been more wrong. This came together so easily and was delicious and of course fun!
This post is sponsored by Firestone & Robertson Distilling Co. Thank you for supporting the companies that keep this blog going!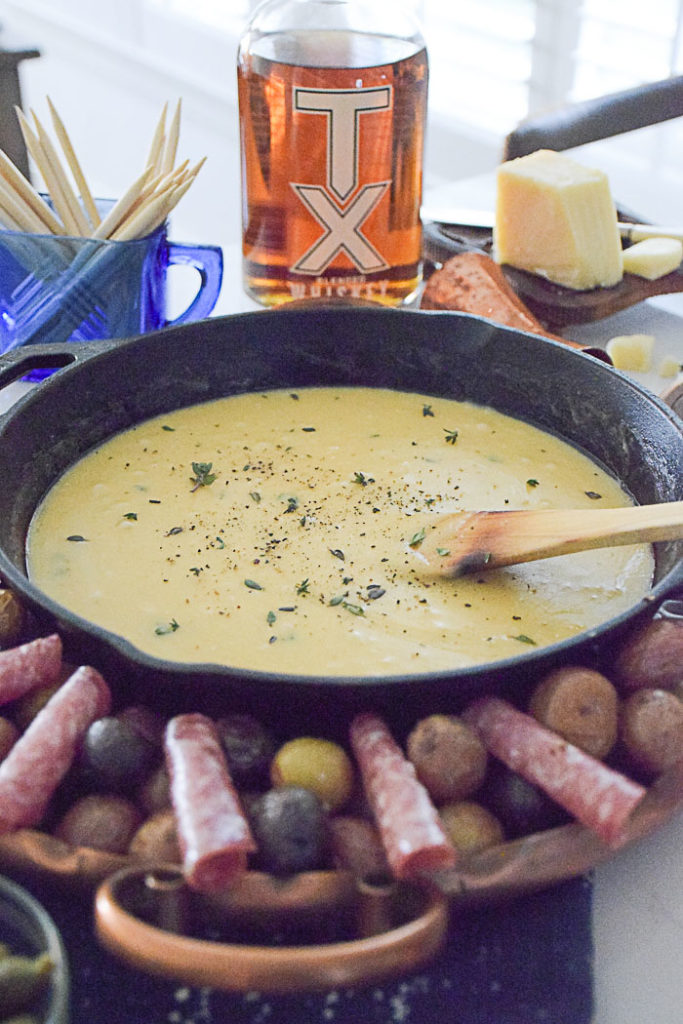 As I was researching fun fondue recipes, I was excited to learn that I wouldn't need to buy any fancy fondue sets to get my party started. All I needed was a cast iron, or really any skillet, to get things going! My recommendation would be to use a skillet or pot that is shallow and easy to dip out of, and that can also be reheated. That way if the cheese begins to cool and harden, you can reheat it and get it nice and melty quickly.
The majority of alcohol will cook out of this recipe if that is a concern to you. You can also add a touch more whiskey than the recipe calls for if you'd like a stronger whiskey flavor.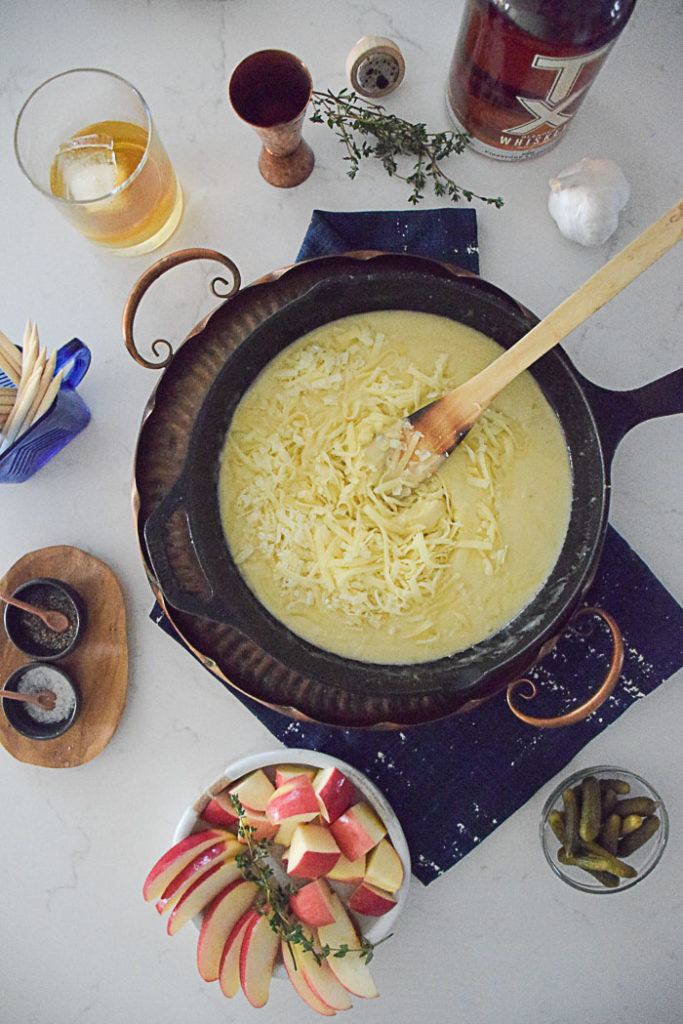 I love the flavor profile of a sharp white cheddar cheese for this fondue! It pairs nicely against the whiskey. I love adding garlic and fresh herbs like thyme and black pepper to give the fondue a bolder flavor. Gouda, Gruyere and Emmentaler all work well in fondues if you are looking to change it up. Don't skip on this wine in this recipe as it adds a nice acidic element and helps to keep the cheese creamy.
For dipping, you can get creative! Crusty bread, small potatoes, and apples are always favorites. I liked adding sliced meats, like salami, and cornichons to the mix. Really anything that will fit on a stick could work!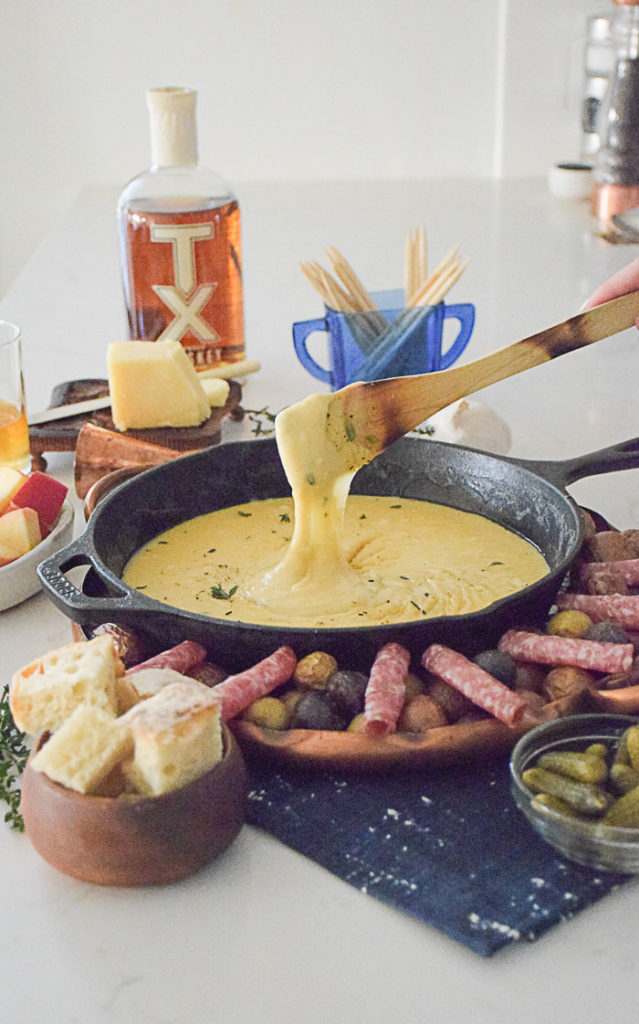 Whiskey Cheddar Fondue
Ingredients:
24 ounces of sharp white cheddar, grated
4 garlic cloves, minced or pressed
1 cup dry white wine
2 tablespoons TX Whiskey
1 tablespoon cornstarch or arrowroot powder
1 teaspoon paprika
1 teaspoon thyme leaves
Directions:
1.Toss grated cheese with cornstarch and set aside.
2. Sauté garlic in cast iron skillet over medium heat until just fragrant, about 30 seconds.
3. Stir in white wine and let reduce slightly, about 90 seconds.
4. Add grated cheese to skillet, about a cup at a time, stirring until melted. Repeat until all cheese is incorporated.
5. Add whiskey and stir until combined.
6. Stir in thyme and paprika. Add black pepper if desired.
7. Serve with roasted potatoes, bread, meat, apples and/or pickles. Gently reheat as necessary to keep cheese melted. Serve hot.
What are some of your favorite and fun appetizers to serve at parties?