Showing you how to make Shrimp and Avocado Spring Rolls! These are a restaurant favorite that are super easy to make at home!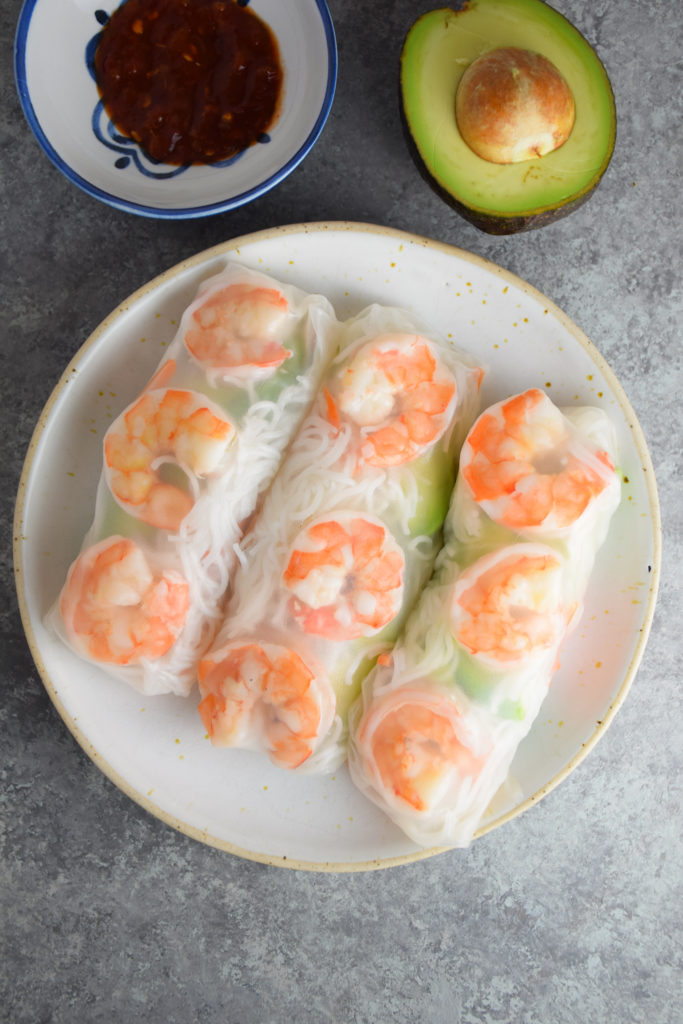 These Shrimp and Avocado Rolls are inspired from many, many visits over the years to one of my favorite restaurants in Austin Elizabeth Street Cafe. Whenever I am dining there, these are almost always what we start with. They are such a crowd pleaser. Juicy shrimp, fresh avocado, and some cilantro, carrots and cucumber and you've got yourself a winner! While I still love ordering these from ESC, they are really easy to make at home!
This post contains affiliate links. If you purchase a product through these links I may earn a few pennies. Thanks for keeping this free blog going!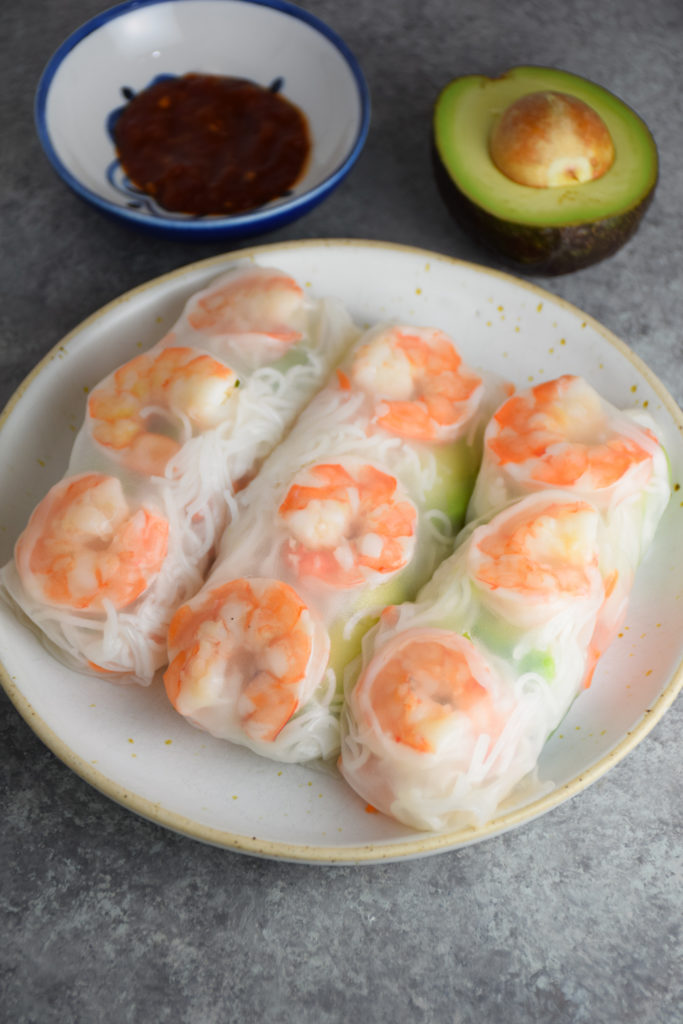 Shrimp and Avocado Spring Rolls
While I love ordering spring rolls at restaurants, they always seemed intimidating to make at home. After a few tries at making my own at home I found that they are pretty easy! I like to make things at home because I have complete control over the ingredients. That way I know exactly what is going into what I am eating.
I can get my organic, wild-caught seafood and sustainable avocados and things like that. Plus, I love that these spring rolls are fun to make! It makes a dinner a little more interactive and sometimes we can all use a little fun at the end of the day.
The rice paper can take a little getting used to so I suggest handling a piece or two before making your spring roll. This way you can get a feel for how quickly the paper dries out. This will vary depending on how hot or cold your environment is and how much humidity there is in the air, etc. So it would behoove you to do a test run before wasting any additional ingredients.
Watch my video of How to Make Shrimp and Avocado Spring Rolls!
This video will walk you through everything you need to know about making Shrimp and Avocado Spring Rolls!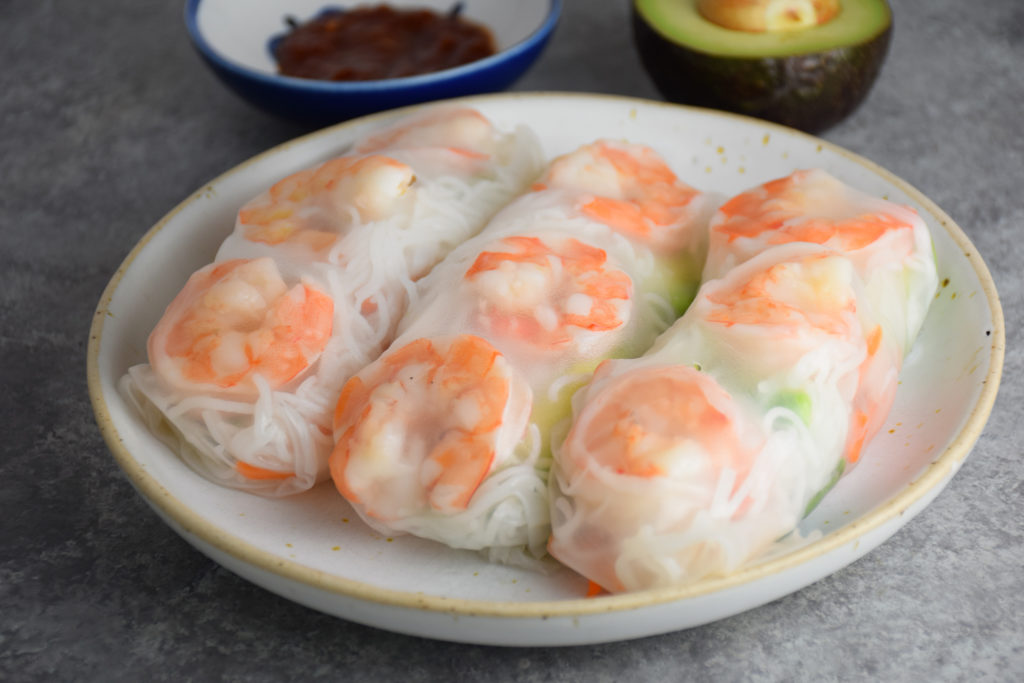 You Might Also Love 
Grilled Chicken Coconut Noodle Bowls 
Vermicelli Bowls with Filet and Nuoc Cham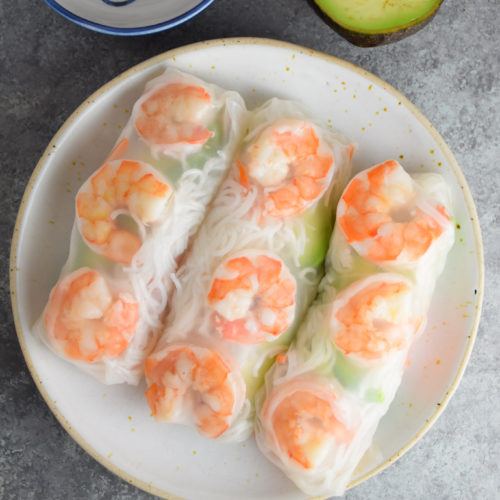 Shrimp and Avocado Spring Rolls
Showing you how to make Shrimp and Avocado Spring Rolls! These are a restaurant favorite that are super easy to make at home!
Ingredients
12

shrimp

peeled, deveined, tails removed

1-2

avocados

2 avocado slices per roll

18

cucumber matchsticks

about 1/2 a large cucumber sliced into 4 inch long strips, seeds removed

1/4

cup

cilantro leaves

1/4

cup

carrot matchsticks

thinly sliced carrots, can usually find these already prepared in produce section

1

cup

rice noodles

cooked, rinsed

6

rice paper discs
Spicy Dipping Sauce
3

tbsp

low sodium soy sauce

1

tsp

sriracha
Instructions
Boil the prepared and cleaned shrimp until pink and cooked through. Rinse and set aside to cool.

Boil the rice noodles according to the package, about 3 minutes. Rinse and set aside.

Prepare the avocado, cilantro, carrots and cucumber. Have these set aside and ready to go.

Fill a bowl large enough to fit a rice paper with warm water. Have a clean surface ready. Dip the rice paper into the warm water and move around with your fingers until it has softened. Place onto a smooth, clean surface. Have water bowl near in case you need it to keep rice papers hydrated.

Begin filling the rice paper by placing three shrimp in a line down the center of the rice paper. Then add avocado slices, then rice noodles. Next add carrots and cucumber then cilantro leaves.

Wrap the ends of the rice paper around the filling like a burrito. Complete rolling up, dipping your fingers into the water bowl if the rice paper begins to get sticky or dry out.

Serve with sriracha and soy dipping sauce or another other dipping sauce of choice.
Video
Nutrition
Calories:
375
kcal
Carbohydrates:
67
g
Protein:
12
g
Fat:
7
g
Saturated Fat:
1
g
Cholesterol:
32
mg
Sodium:
298
mg
Potassium:
1441
mg
Fiber:
10
g
Sugar:
13
g
Vitamin A:
1633
IU
Vitamin C:
33
mg
Calcium:
165
mg
Iron:
3
mg