These Spicy Ranch Snack Crackers are quick and easy to throw together for a snack anytime! I love having homemade snacks on hand!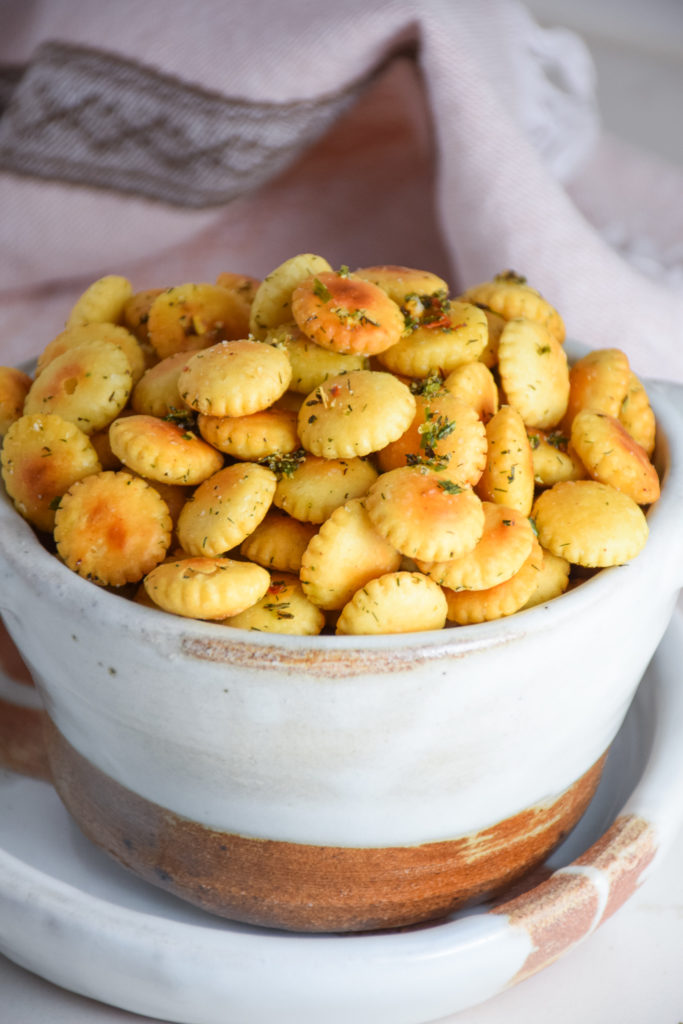 I love a good homemade snack! Especially a salty one. I've always been one to go for a good potato chip, which makes me realize I definitely need to make a good homemade potato chip recipe. In the meantime, I will be snacking on these spicy ranch crackers! They are so easy to make and a perfect little snacky bit anytime of day.
This post contains affiliate links. If you purchase a product through these links I May earn a few pennies. Thanks for keeping this free blog going!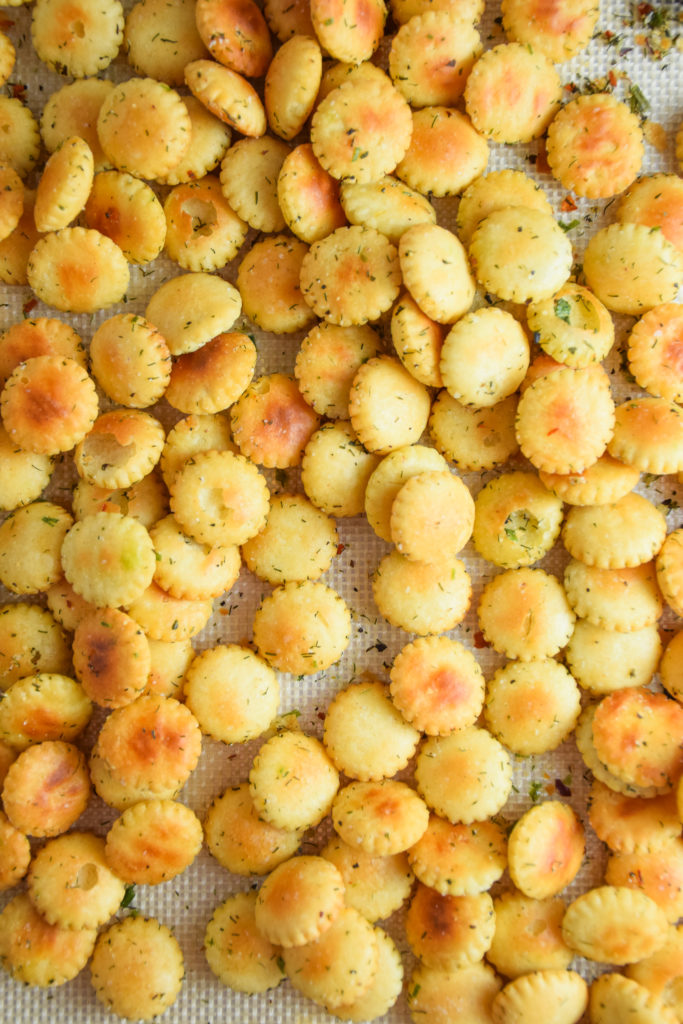 Spicy Ranch Snack Crackers
These crackers get their ranch flavor from a handful of dried and powdered spices, most of which you probably already have in your kitchen. You can use a packet of ranch mix
in place of the spices if you must. But I recommend using your own spices, especially if you want to avoid dairy, which the traditional packet mixes include.
I love using little oyster crackers
for this mix because they are mini and so much more snackable in my opinion! Of course you can use saltines squares or pretty much any other type of cracker like a Ritz or rice cracker in place of the oyster crackers. Actually, now that I am thinking about it, this would also work great on Chex cereal or gluten-free pretzels!
These crackers get their spice from the red pepper flakes. If you avoid spice, just leave it out the red pepper. I actually like to make my crackers a little spicier so I will add a pinch more red pepper. Totally up to you!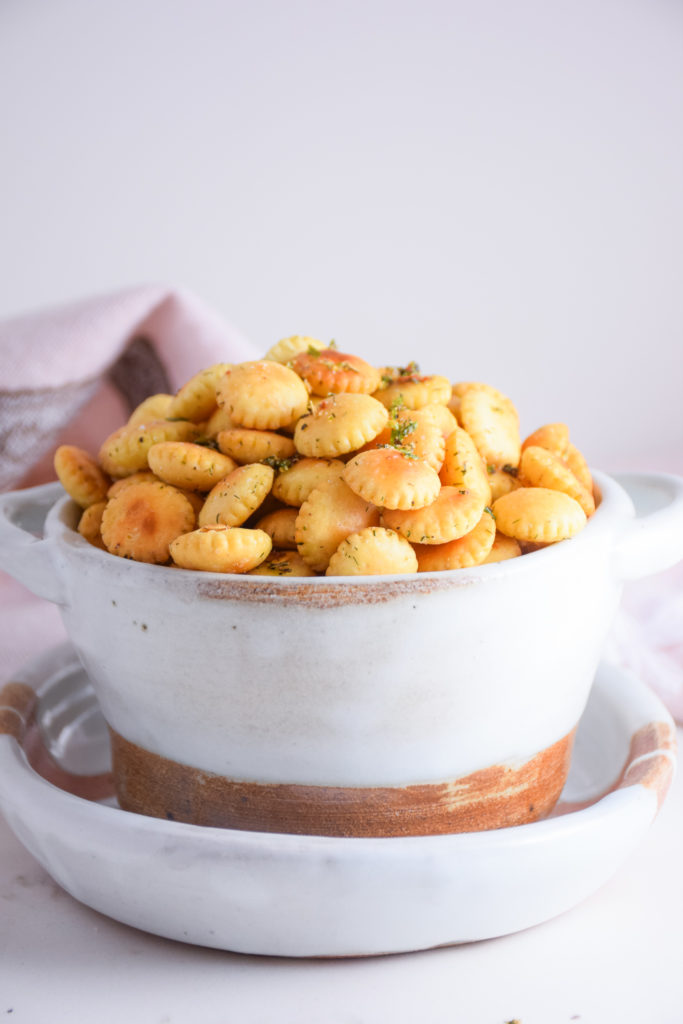 Quick and Easy Snack
Whenever we have friends or family over, I like to have a little snack ready when they arrive. I love doing up a big cheese board if I am going all out but these little snacky bits are perfect for before a meal or watching a game or something like that.
These crackers pair particularly well with a glass of wine or light beer. You can also serve them alongside some cheese cubes or slices or veggies and hummus if you want something a little heartier.
These ranch crackers really satisfy my salty tooth! Sometimes I will double this recipe and store in mason jars
and eat these instead of chips with sandwiches or lunch. They have all the flavor of my favorite chips like Doritos or Salt & Vinegar Kettle chips but I really enjoy that they are homemade.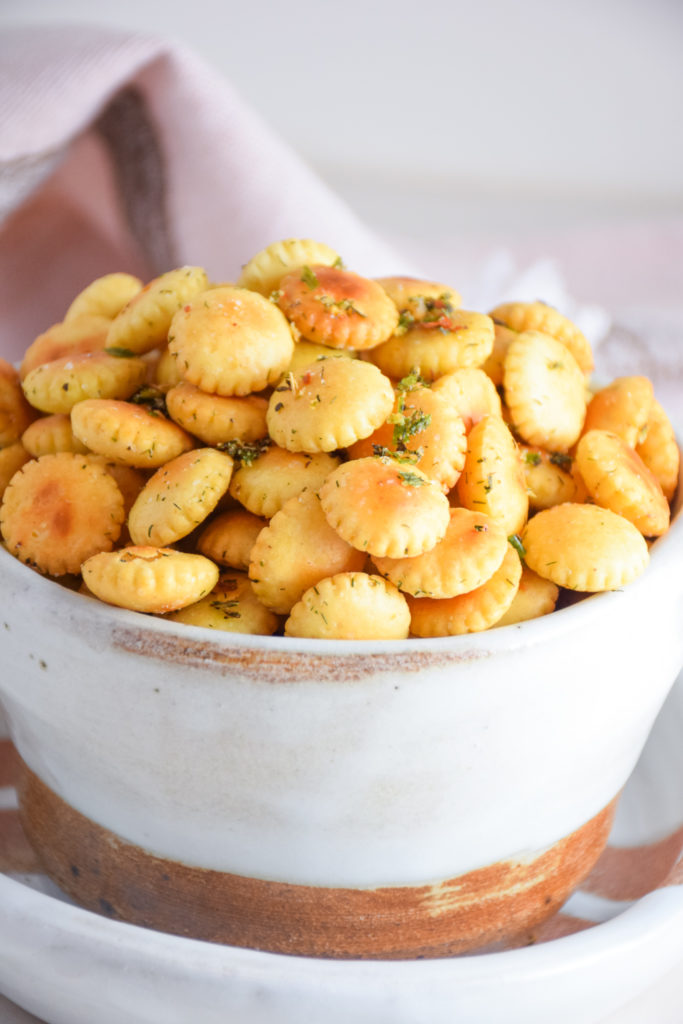 Homemade Snacks
Speaking of homemade, I love making homemade popcorn and other snacks like mini cookies! I used to always think that snacks are something that are processed and bought from the store in little bags. While I enjoy the convenience of pre-packaged snacks, I enjoy making my own these days!
If you like to plan out your meals and portion things out, I really like these reuseable zip top pouches! They are great for all kinds of snacks, veggies and sandwiches. Basically, anything you'd use a plastic bag for.
Do you have any favorite homemade snacks? Sweet or salty? Let me know in the comments!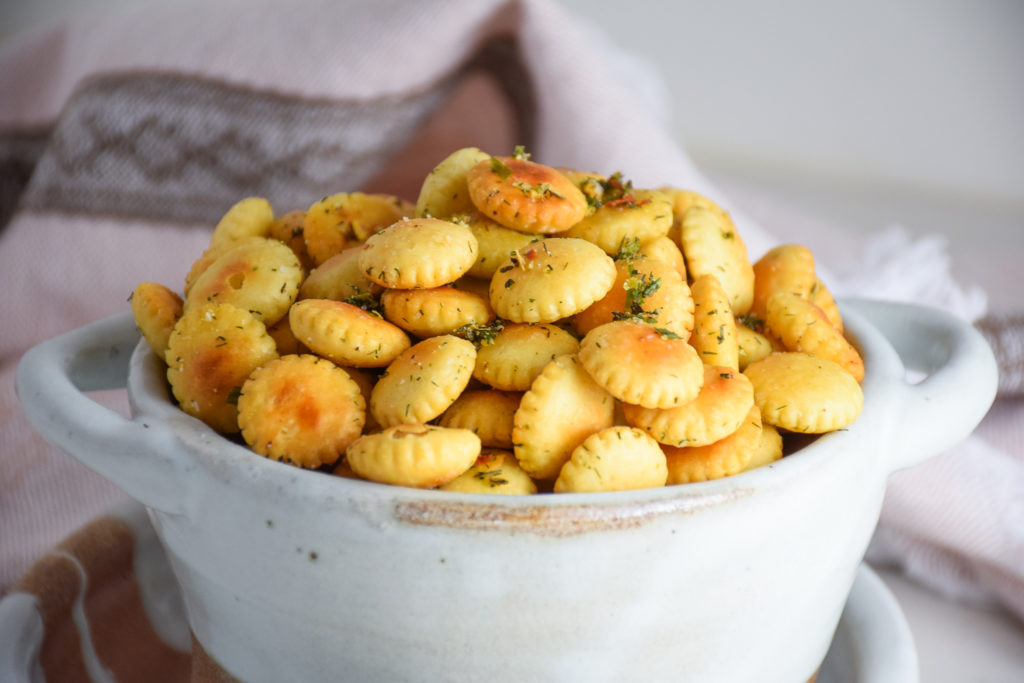 You Might Also Love 
Authentic Southern Pimento Cheese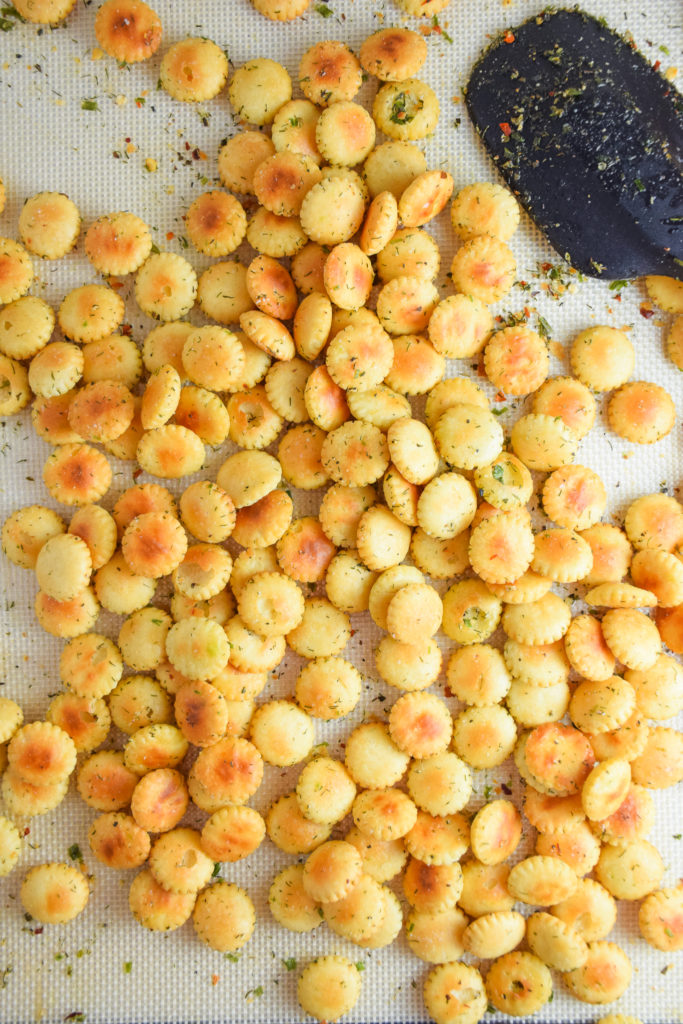 Spicy Ranch Snack Crackers
These Spicy Ranch Snack Crackers are quick and easy to throw together for a snack anytime! I love having homemade snacks on hand!
Ingredients
9

oz

oyster crackers

approx 1 bag

4

tbsp

Extra Virgin Olive Oil

1/2

tsp

kosher salt

1/2

tsp

dried chives

1/2

tsp

dried dill

1/4

tsp

white pepper

1/4

tsp

garlic powder

1/4

tsp

dried oregano

1/4

tsp

red pepper flakes

1/4

tsp

dried basil

1/8

tsp

onion powder
Instructions
Preheat oven to 325° and line a baking sheet with parchment paper or silicon baking sheet.

In a small bowl, whisk together olive oil with all spices.

Place oyster crackers into a large mixing bowl. Pour olive oil mixture down all sides of bowl then toss crackers with rubber spatula until evenly covered.

Transfer crackers to baking sheet and bake for 10 minutes tossing half way.

Wait a few minutes until cool enough to touch then enjoy immediately or store in air tight container or jar for up to two weeks.
Nutrition
Calories:
93
kcal
Carbohydrates:
11
g
Protein:
1
g
Fat:
5
g
Saturated Fat:
1
g
Sodium:
222
mg
Potassium:
28
mg
Fiber:
1
g
Sugar:
1
g
Vitamin A:
108
IU
Vitamin C:
1
mg
Calcium:
4
mg
Iron:
1
mg