Everything in my Holiday Cookie Box 2021! This year I filled my box with lots of treats and six brand new recipes!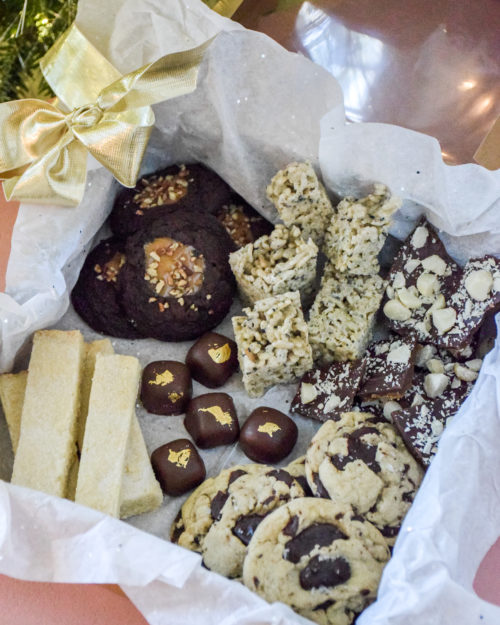 For this year's cookie box I cast all expectations aside and truly filled it with what I was hoping for this season! I usually spend lots of time trying to sort through trends and what people might be expecting of me and how I can meet those expectations. This year, I threw caution and planning to the wind. In fact, I almost didn't make a box at all this year. But last week I had a burst of creative energy and blew through these recipes. I can honestly say I'm more proud of these recipes than any year before. I filled this box with the treats I was craving and the recipes I wanted to share most with the ones I care about. This year's box is truly a reflection of love and care and I hope you will all enjoy these as much as I have!
This post contains affiliate links. If you purchase a product through these links I may earn a few pennies. Thanks for keeping this free blog going!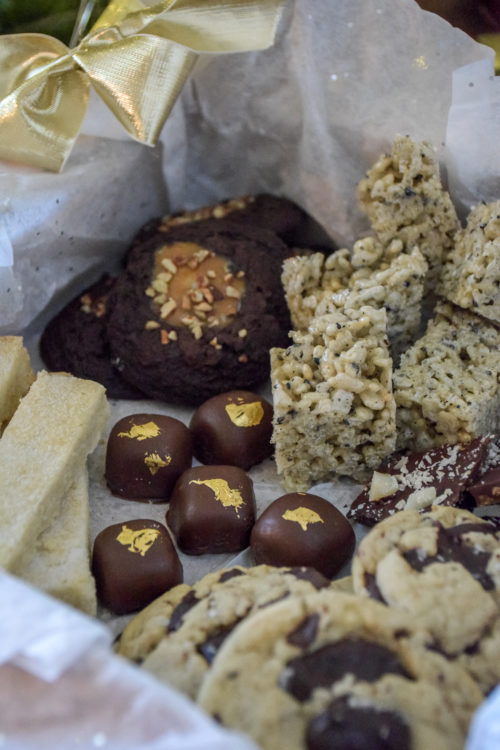 Holiday Cookie Box 2021
I call it a holiday cookie box but maybe it should be called a treat box? There are definitely things included this year that aren't truly cookies but I hope you won't be too bothered by semantics in this sense. This year, there are THREE gluten-free recipes! This is because as of late, there have been quite a few new friends and additions to my life that cannot do gluten. So my treat box this year reflects that.
There's lots of chocolate. But there are also recipes with no chocolate at all. This year you won't find any icing or sprinkles. Instead you'll find indulgent truffles (hello gold leaf!) and plenty of butter and a dash of lemon. Again, all the things I'm enjoying and I know you will too.
I was so happy with how these recipes turned out. And I must give a HUGE thank you to BMW and my MIL for helping with this endeavor. BMW helps prep, shop and clean up which is no small task. My amazing MIL helped me test all of the recipes by making them TWICE just this week. She is such a help to me with this every year. She is admittedly a novice baker. I give her my recipes and she makes them all give me feedback so that I can be sure I give you ALL the tips, tricks and secrets for making these turn out perfectly. It's so helpful to have this feedback and I hope you will find all the notes and comments in the recipes to be a guide for making these recipes a part of your holiday traditions.
Now for the fun part, onto to the recipes! Drum roll please…
Holiday Cookie Box 2021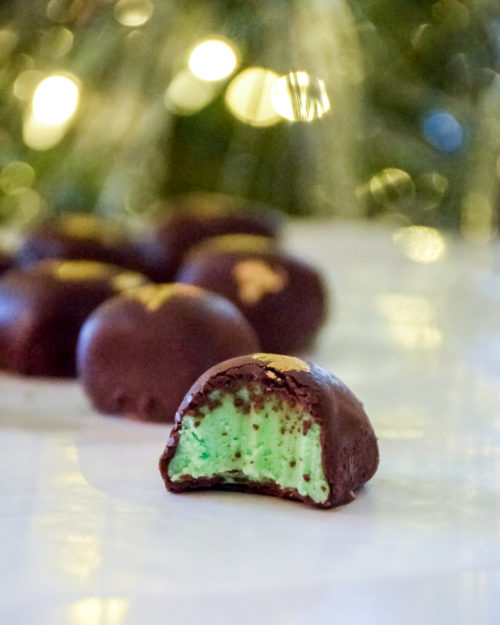 Grasshopper Truffles with Gold Leaf (GF)
A grown-up version of Andes candies. Silky chocolate coats smooth crème de menthe centers (yes, there's a tiny bit of booze!) and gold leaf for extra bougie flair, it is the holidays after all! These are truly the piece de resistance of my holiday box this year!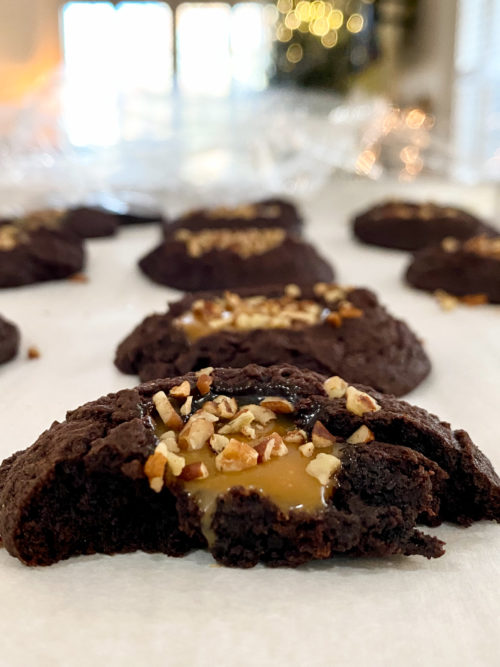 Chocolate cookie with caramel & pecans based on BMW's favorite dessert.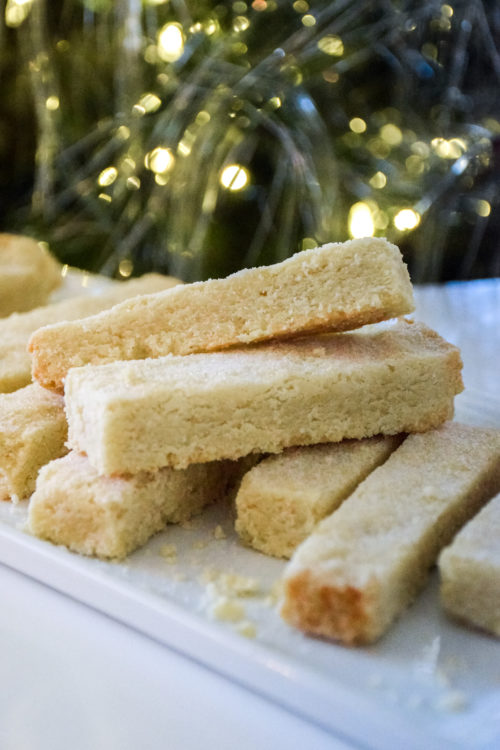 Lemon infused shortbread a riff off of Natalie's favorite from épicerie.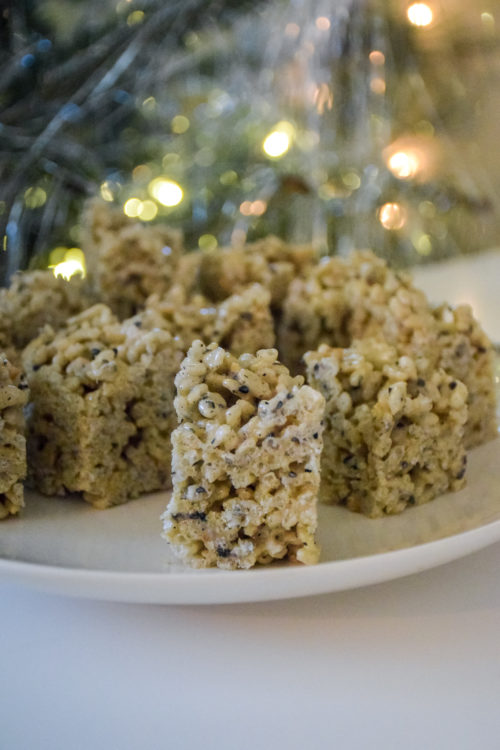 Black Sesame Rice Krispy Treats (GF)
Slightly nutty take on the classic.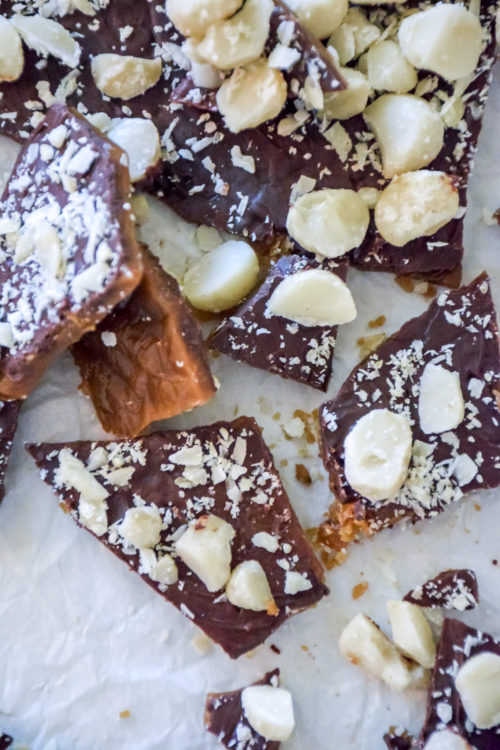 Coffee Toffee Brittle with Macadamia Nuts (GF)
Espresso-infused caramel topped with chocolate and macadamia nuts inspired by our trip to Hawaii.
Brown Butter Chocolate Chip Cookies with Flaky Salt 
Decadent cookies with with big pools of melty chocolate and buttery, caramel notes.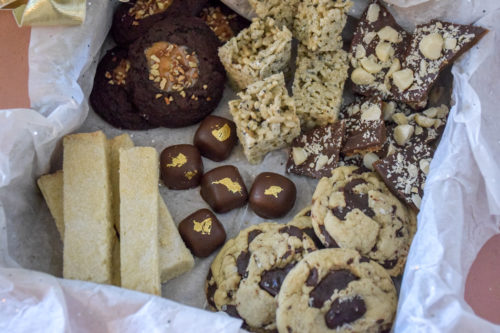 I love you all make these! Be sure to tag my in your posts and drop in questions in the comments! Happy holidays, y'all!