These Brown Butter Chocolate Chip Cookies with Flaky Salt are decadent with big pools of melty chocolate and buttery, caramel notes.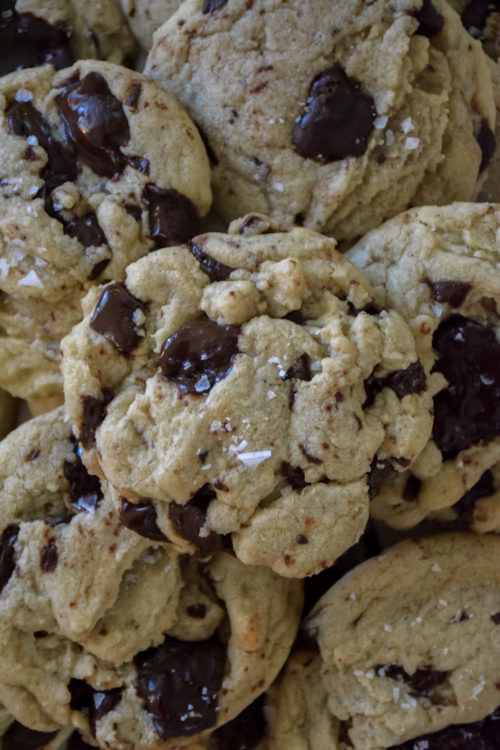 Show me a living breathing human being and I will show you someone who loves a big warm chocolate chip cookie! Seriously, who can resist these decadent cookies? This recipe has a few twists on the regular recipe, including some caramel notes from brown butter and a nice chew from a higher ratio of brown to white sugar. Oh and then there's that flaky salt and those big pools of chocolate. I will walk you through how to get these cookies in your mouth!
This post contains affiliate links. If you purchase a product through these links I may earn a few pennies. Thanks for keeping this free blog going!
Brown Butter Chocolate Chip Cookies with Flaky Salt
I've had a love affair with big chocolate chip cookies for a few years now. I went on a culinary expedition to find the best chocolate chip cookie. During that endeavor I learned so much about what makes a good cookie and possibly even more importantly what doesn't.
The big take aways from that are using the right kind of butter. Melted butter is good. Brown butter is better. The type of chocolate chips matter. Today we are going to use a high quality baking bar
cut into chunks to achieve those chocolate pools. Don't use too much flour. And always err on the side of under baking.
These cookies are a mix of all those lessons I learned so that you don't have to! Plus, I made these a little extra with the flaky salt and chocolate pools. Because I was just really craving a café style cookie but at home, warm out of the oven in my sweat pants haha.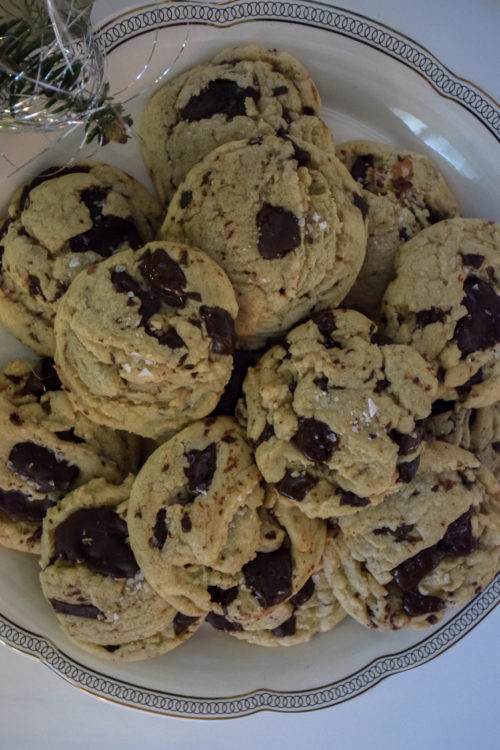 How Make The Best Chocolate Chip Cookies
A few notes: you will find the most success leaning how to brown butter in a light bottomed pan, like stainless steel. Why? Because then you can actually see the color of the butter change as you brown it. In a dark bottomed pan, like say cast iron, it can be more difficult to notice the subtle color change before it's too late and you've burned the butter. You will also want to make sure and let that butter cool down. If you don't it will scramble your eggs and melt your chocolate. Yuck! So brown the butter, then let it cool down to about room temperature.
These cookies bake up quick. So, the big chocolate chunks might not completely melt. Use a toothpick to gently stir the top to create that melted look. Speaking of quick, if you're a person who is slower in the kitchen or if your kitchen runs warm, you might want to pop these into the fridge for 30 minutes before baking. Why? Warm dough spreads more. If you find that your cookies often spread out too much it is because the dough is too warm. This is especially important in sugar cookies but sometimes can come into play when baking chocolate chip cookies as well.
You Might Also Love
The Best Ever Mini Chocolate Chip Cookies 
Thick Soft Sugar Cookies for Decorating 
Soft Chocolate Cookies with White Chocolate Drizzle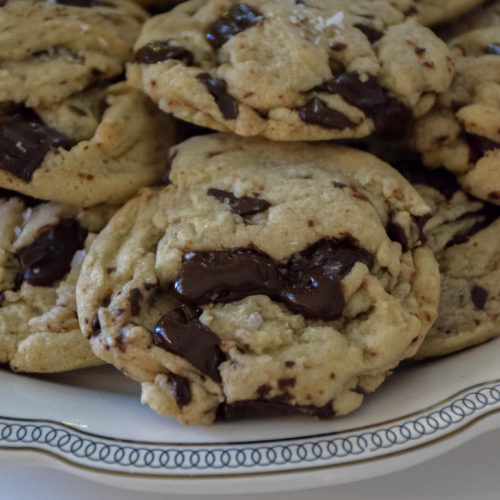 Brown Butter Chocolate Chip Cookies with Flaky Salt
These Brown Butter Chocolate Chip Cookies with Flaky Salt are decadent with big pools of melty chocolate and buttery, caramel notes.
Ingredients
1 3/4

cups

All Purpose Flour

1/2

tsp

kosher salt

reduce by half if using table salt

1/2

tsp

Baking Soda

14

tbsp

unsalted butter

browned and cooled

1

cup

light brown sugar

1/4

cup

granulated sugar

2

tsp

pure vanilla extract

1

large

egg

1

large

egg yolk

14

oz

semi sweet baking bar

chopped into uneven pieces

1/2

tsp

flaky salt

like Maldon
Instructions
Preheat oven to 350°. Prepare two large baking sheets with parchment paper.

In a light bottom pan, gently brown butter. Begin by melting on medium low heat, whisking often with a rubber spatula. Once butter is completely melted, reduce to low heat and continue stirring, for 5-6 minutes until butter turns a caramel color and has a nutty scent and solids just begin to separate. Remove from heat and let cool. You can help it cool faster by carefully transferring to a heat safe bowl. Let cool until just barely above room temperature.

Meanwhile, in a bowl, whisk together flour, salt and baking soda and set aside. Chop chocolate into pieces. They will be slightly uneven, some bigger than others, and that is what we are looking for. Set aside.

In a large mixing bowl, combine both sugars and vanilla with cooled brown butter. Use a hand whisk and whisk until glossy in appearance. Add egg and egg yolk, and whisk again until incorporated.

Add flour mixture to wet mixture and mix together with a rubber spatula, until just combined. Avoid over mixing. Then add chocolate pieces and stir until incorporated.

Quickly divide into 24 portions using cookie scoop or spoon. If dough becomes very warm or greasy, chill dough or entire sheet pan with dough balls, into the fridge for 30 minutes. If the dough becomes very warm, it will spread more creating a thinner cookie. Still delicious, but just not dense or thick.

Bake for 9-11 minutes until edges are just set. Let cookies cool on baking sheet for 5-10 minutes. During this time if you want to create that "chocolate pools" look, use a toothpick and ever so gently stir the top of the large chocolate chunks to create a smooth top. After cookies have cooled slightly, sprinkle with flaky salt. If you do this while the cookies are still very warm, the salt will dissolve.

Once cookies have cooled, move carefully to a cooling rack with a spatula. Enjoy warm or let cool completely before transferring to an air tight container. These cookies are best enjoyed warm, so warm them in the microwave for a few seconds or few minutes in the oven at 200°F.
Nutrition
Calories:
237
kcal
Carbohydrates:
27
g
Protein:
2
g
Fat:
13
g
Saturated Fat:
8
g
Trans Fat:
1
g
Cholesterol:
34
mg
Sodium:
128
mg
Potassium:
122
mg
Fiber:
2
g
Sugar:
17
g
Vitamin A:
234
IU
Calcium:
23
mg
Iron:
2
mg