These are the best Thick Soft Sugar Cookies for Decorating! They hold their shape and are delicious and tender.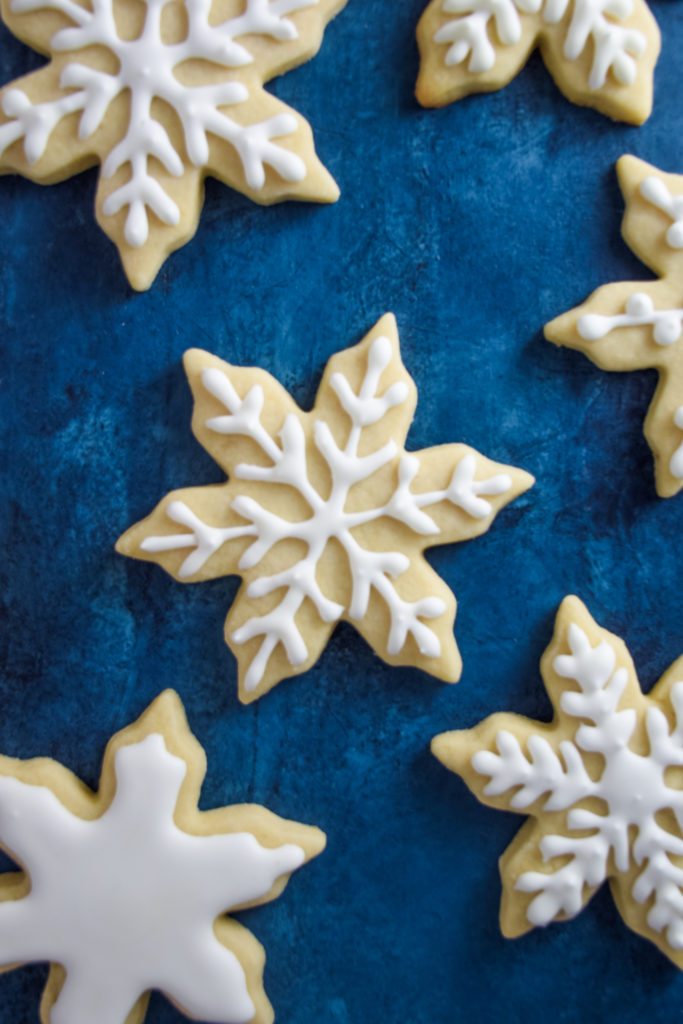 Thick, soft sugar cookies have been a Christmas dream of mine for a while! I always love having friends over to make and decorate cookies during the holidays. While baking and rolling out cookies is a lot of fun, I've learned that decorating is really what everyone actually wants to do haha. There might not be any holiday decorating parties this year but that doesn't mean there can't be delicious sugar cookies that are fun to decorate!
This post contains affiliate links. If you purchase a product through these links I may earn a few pennies. Thanks for keeping this free blog going!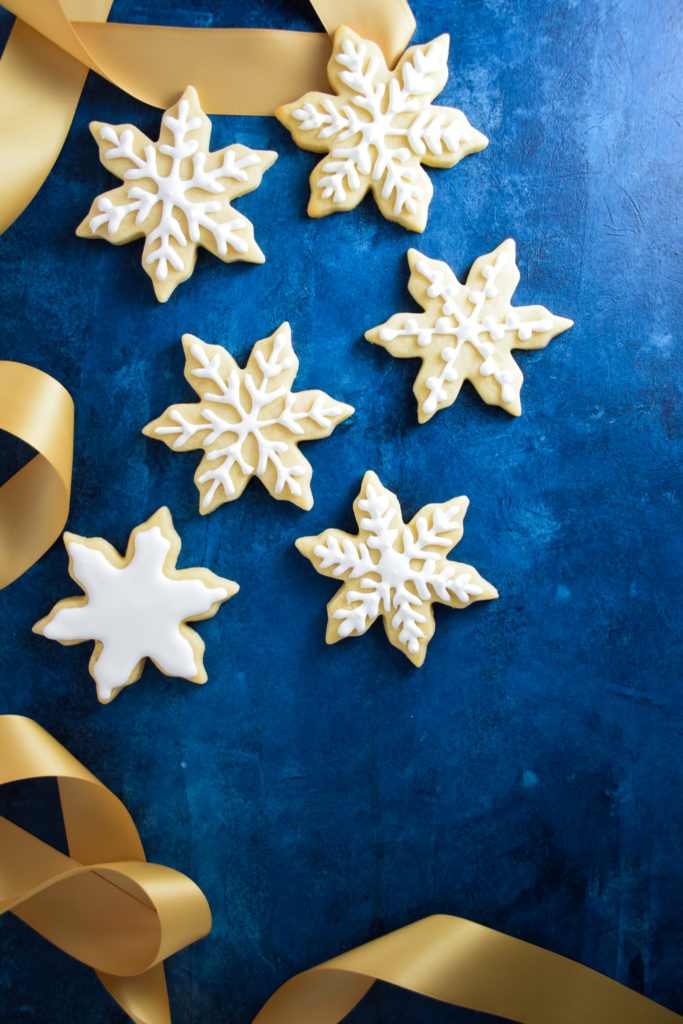 Thick Soft Sugar Cookies for Decorating
This cookie dough is easy to work with. I also love that you can easily make it ahead of time and refrigerate or freeze it and then pull it out when you are ready to bake the cookies. That makes it even more fun to decorate because you can get to the fun part faster.
This cookie dough have lovely, light vanilla flavor. These cookies bake up soft and dense. The key to getting these cookies nice and thick is in the rolling. I highly recommend using this rolling pin
for making cookies. It make rolling out even cookie dough so easy. You can easily adjust the thickness for big, thick cookies like these or thin cookies or pie crusts.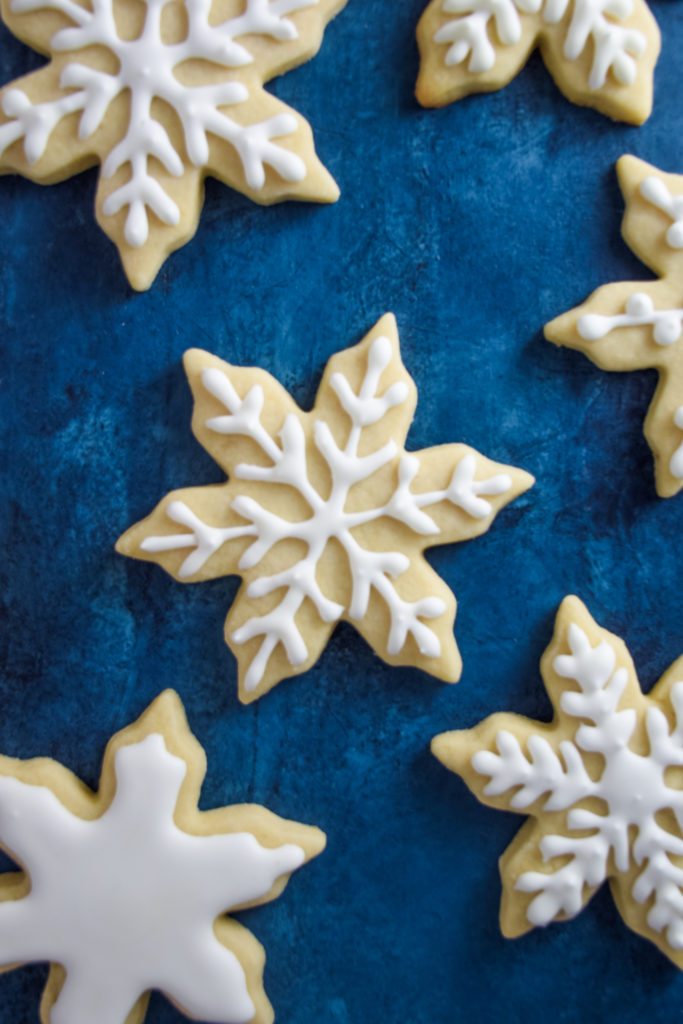 Soft Sugar Cookies That Hold Their Shape
There are a few tips for getting those thick, bakery soft cookies that don't spread too much.
When rolling out this dough, work in batches and keep the remaining dough in the fridge. You want to keep this dough cool to the touch as much as possible. The dough should be pliable but cool to the touch. If the cookies become warm while rolling out and cutting them, pop the whole baking sheet with the cut out cookies on them into the fridge for 20 minutes before baking.
Use a generous amount of flour when rolling out and cutting the shapes. This will prevent the dough from sticking and less sticking means less handling the dough which warms it up.
Dust your cookie cutters with flour. This will prevent them from sticking to the cookies and give you nice clean edges.
Be careful not to over bake these cookies. It's better to under bake these and pop them back in for a minute or two than to over bake and get browned edges.
Double check your oven temperature. An oven that is too hot will cause the butter and sugar in the cookies to melt too quickly and thus spread and the cookies will lose their shape and look puffy.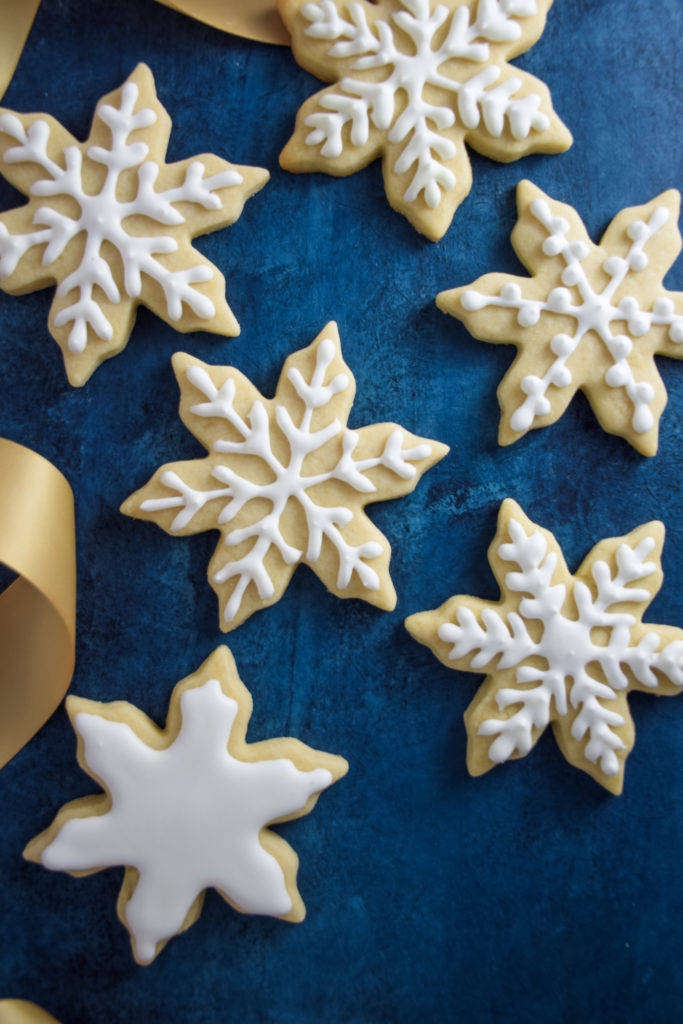 Soft Thick Sugar Cookies
This dough will work with any shape cookie cutter. I definitely recommend using this recipe for Royal Icing that dries quickly and lets you stack the cookies without ruining the design. I even tested this for ya when I was making these cookies. I was able to leave these cookies stacked for days in an air tight container without ruining their design.
This dough is so easy to make and perfect for all the holidays! It is my go-to sugar cookie recipe. It's also easy to double or triple the recipe so you can make dozens and dozens of cookies if that your thing. If you're baking for a smaller crowd, this works just as well in the opposite direction. Just half the recipe or freeze half the dough for later.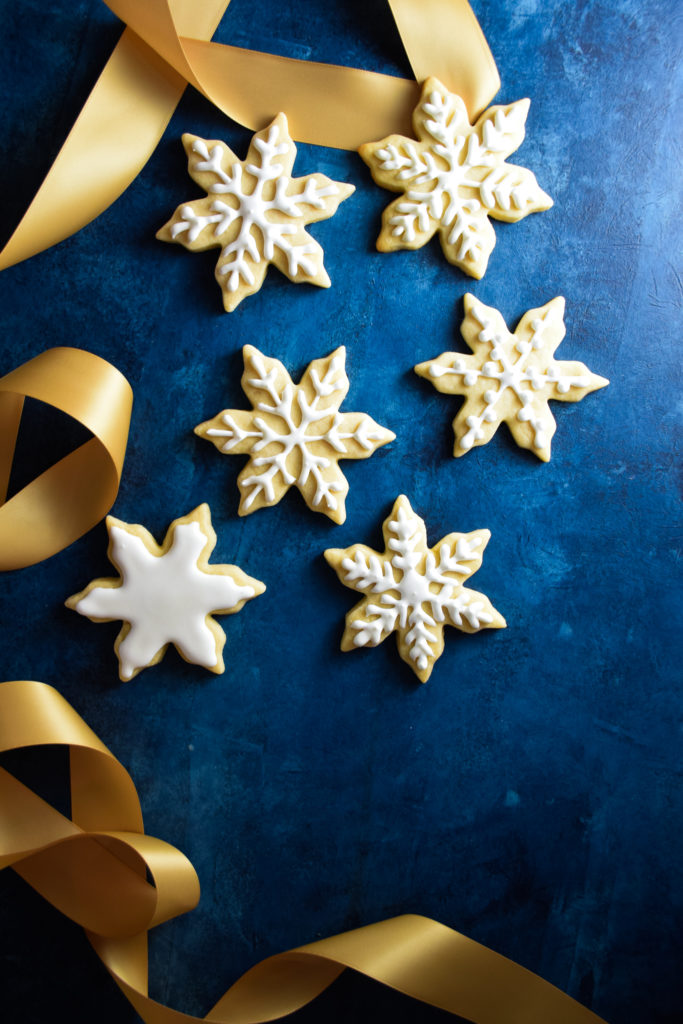 Sugar Cookies for Decorating
Like I said, this is my go-to recipe for decorating sugar cookies! I love it because these cookies actually taste good! They aren't too dry or hard but have soft centers. These cookies should be light in color. If you notice any browning on the edges of the cookies, be sure to pull them out of the oven right away.
Every oven has hot spots, that's why I recommend rotating the baking sheet half way through the baking time. This promotes even baking across all the cookies. Any brown edges may mean you will end up with a cookie that is more crispy than soft.
The baking time in this recipe is for cookies that are 1/4 inch thick. Use this rolling pin
or a ruler to ensure your cookies are thick enough. Sometimes it can be tricky to tell just from looking if you have the correct thickness. Also, any edges of the cookies that are thinner will bake more quickly than the thicker parts. That's why I recommend using that rolling pin in order to get an even thickness.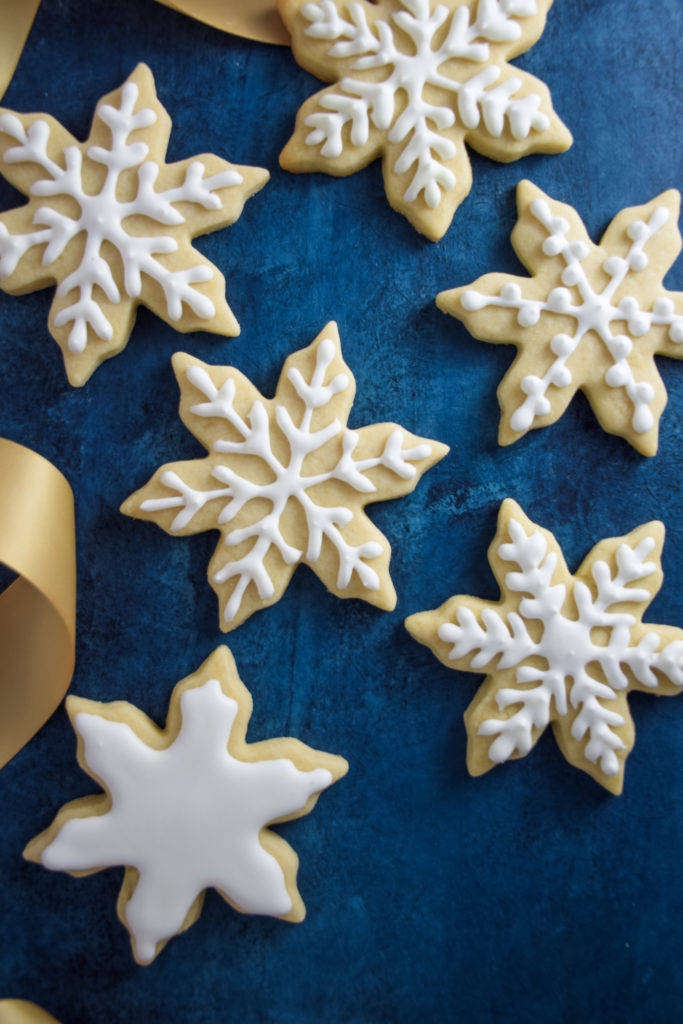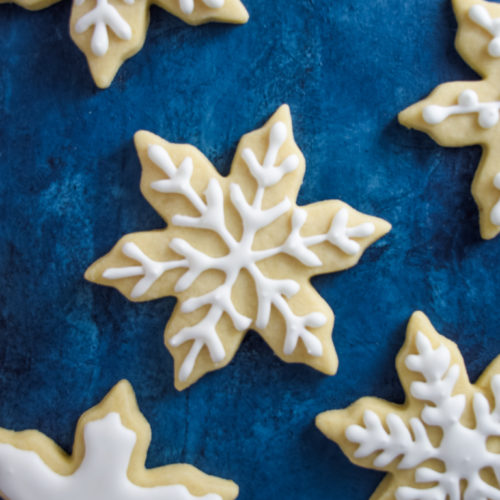 Thick Soft Sugar Cookies for Decorating
These are the best Thick Soft Sugar Cookies for Decorating! They hold their shape and are delicious and tender.
Ingredients
1 1/2

cups

All Purpose Flour

281 grams

1/2

tsp

baking powder

1/4

tsp

kosher salt

12

tbsp

unsalted butter

170 grams, softened to room temperature

3/4

cup

granulated sugar

1

large

egg

room temperature

2

tsp

vanilla extract
Instructions
In a large bowl, whisk together the flour, baking powder and salt and set aside.

In a stand mixer using the paddle attachment or a hand mixer, cream the butter and sugar together. About 2-3 minutes on medium speed until it is fluffy looking.

Reduce speed to low and add in egg and vanilla extract, mixing until incorporated, stopping to scrape down sides of bowl as needed. Add flour mixture slowly, incorporating on low speed until combined and no flour pockets remain.

On a lightly floured surface, roll dough into a flatted ball/disc shape, cover well in plastic wrap and chill for 1 hour or up to overnight in the fridge. You can also freeze the dough, or a portion of the dough, at this point if saving for future.

Once ready to bake, remove dough from fridge or freezer and let come to just below room temperature. Usually about 20-30 minutes. Dough should be pliable but cool to the touch. Pre-heat oven to 350° and prepare a baking sheet with parchment paper or a silicone baking mat.

Working in batches to keep dough chilled, roll out dough on a floured surface to 1/4 inch thick. Use cookie cutters with edges dusted with flour to get desired shape. *the flour keeps the dough from sticking to the cutters to get clean sides. If dough becomes too warm, place dough shapes into the fridge to chill for 20 minutes. You can leave them right on the baking sheet. Chilled dough spreads less when baking than warm dough thus helping cookies to hold their shape.

Bake cookies for 10-11 minutes, rotating baking sheet once about halfway through. Do not let cookie edges get brown. These cookies should be uniform in color. If edges begin to brown, remove cookies from oven.

Let cookies cool for 5 minutes on baking sheet then move them to a wire rack to cool completely before decorating.
Nutrition
Calories:
108
kcal
Carbohydrates:
12
g
Protein:
1
g
Fat:
6
g
Saturated Fat:
4
g
Cholesterol:
23
mg
Sodium:
38
mg
Potassium:
13
mg
Fiber:
1
g
Sugar:
6
g
Vitamin A:
189
IU
Calcium:
10
mg
Iron:
1
mg