These Classic Linzer Sandwich Cookies are perfectly tender and the best holiday cookie! The dough can easily be made ahead of time too.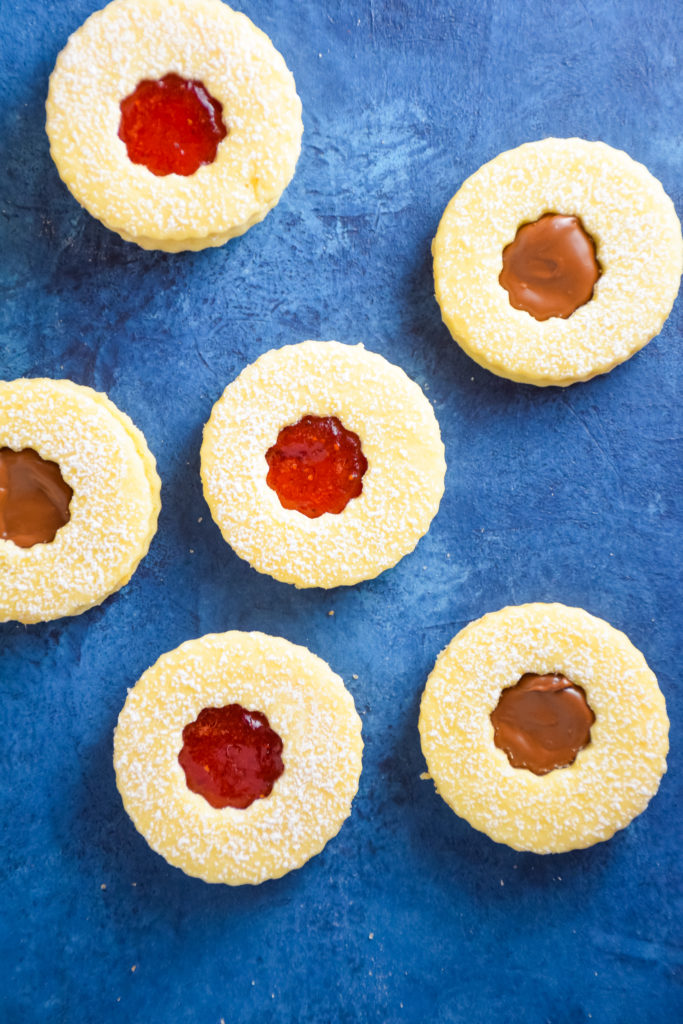 I've always loved these little sandwich cookies around the holidays! This year I finally decided to try my hand at them and I am so glad I did. These Linzer cookies are a riff on the classic version with a delicate almond flour crumb and a sprinkle of powder sugar on the tops. I used Nutella and strawberry preserves as my filling and absolutely loved how these turned out!
This post contains affiliate links. If you purchase a product through these links I may earn a few pennies. Thanks for keeping this free blog going!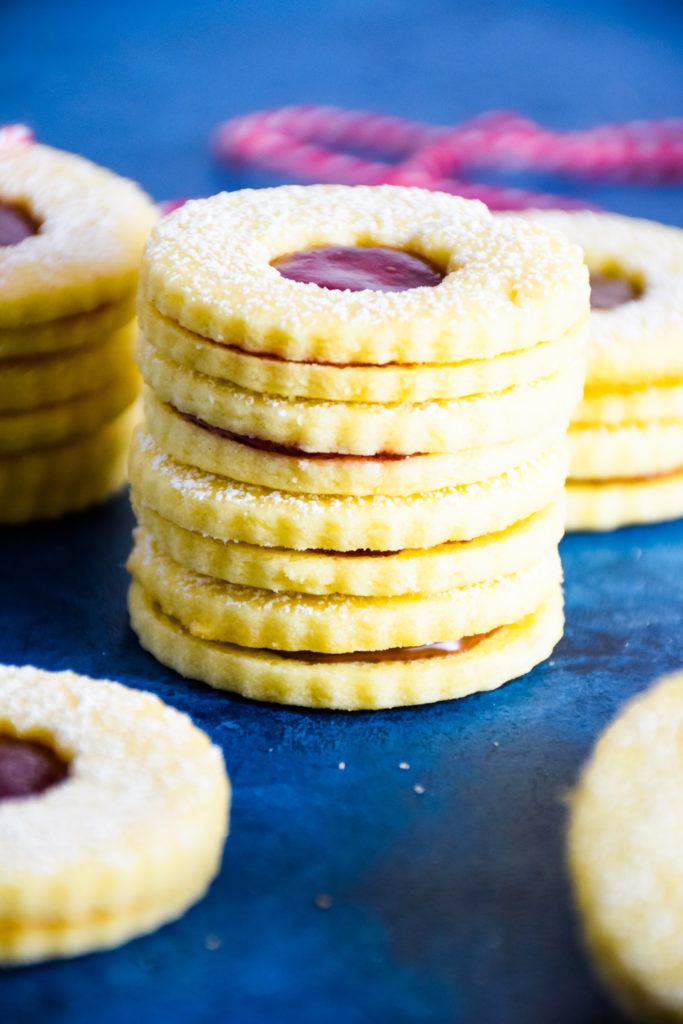 What Is A Linzer Cookie?
A Linzer Cookie derives from a classic torte that originated in Linz, Austria way back in the 1700s. The crust was made with flour, almonds, spices and citrus zest and filled with currant preserves.
These little cookies remind me of a softer version of shortbread cookies. The almond flour keeps things tender with a delicate crumb while also imparting a subtle flavor. The Linzer Cookie is a sandwich cookie, like an Oreo. It consists of two relatively thin wafer-like cookies sandwiched together with a filling. Traditionally, the filling would be a type of fruit preserve, like strawberry, but more modern variations can include many things and in this case I used Nutella. The chocolate hazelnut spread works beautifully with the flavor profile of this cookie.
Because this is a sandwich cookie, achieving uniformity in this size and thickness of these cookies is important. I include more notes about this below which I suggest you read before making these!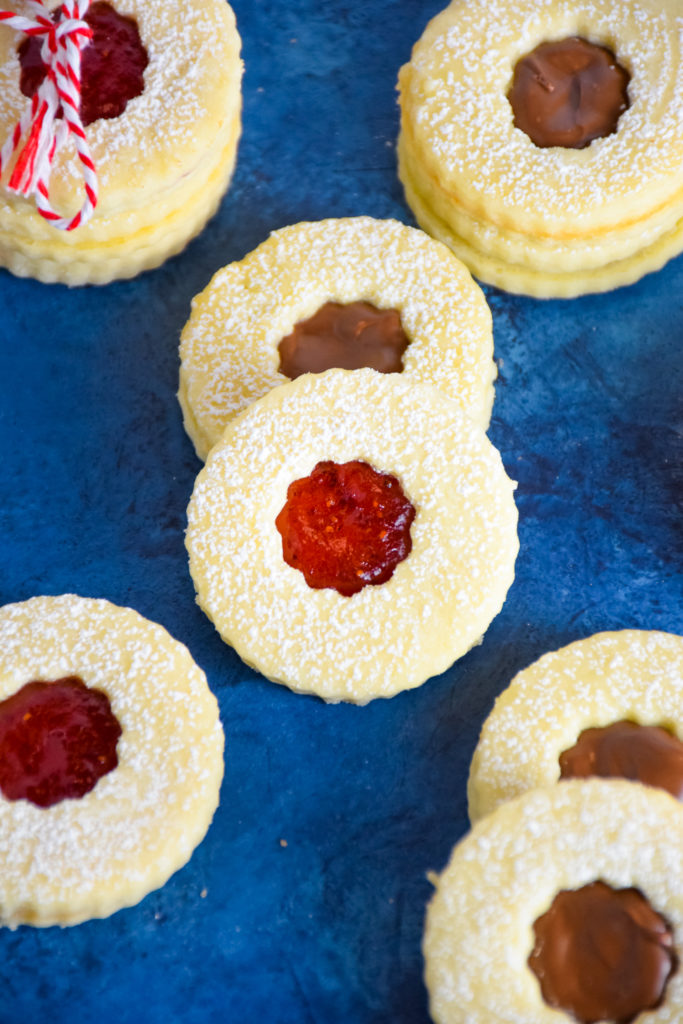 The Perfect Linzer Cookies
Making the dough for these cookies is relatively easy. I suggest using a food processor if you have one. If you don't, you can "cut" the dough by hand by using a fork or pastry cutter and pressing it along the inside of the mixing bowl as you blend the dough. Think of it as cutting the butter into the flour mixture to form a crumbly dough.
This process, made much easier by use of a food processor,
coats the butter in the flour and hinders the gluten development of the flour proteins. The result of this process means you'll get slightly flaky layers which you can see in the edges of the cookies. The chilling process is also important in prevent the cookies from spreading while baking. A tip is to work in batches when rolling out and cutting these cookies. Only roll out half the dough at a time. Also, if you notice your dough getting too warm, pop the cookies on the cookie sheet into the fridge for 20 minutes before baking.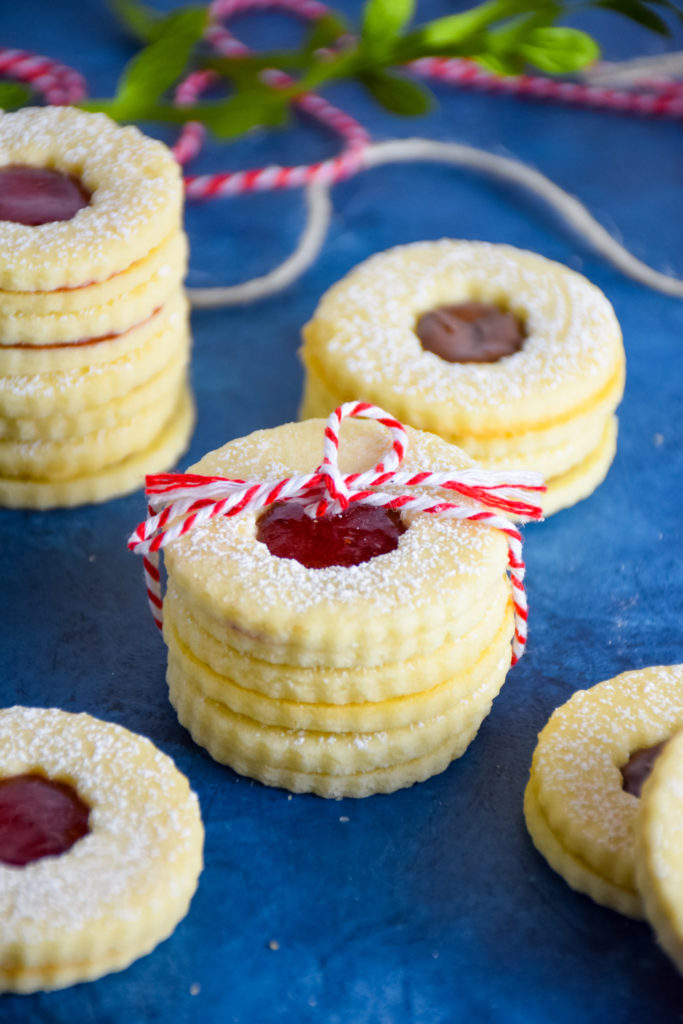 Strawberry & Nutella Linzer Cookies
Fruity fillings are more traditional for Linzer cookies. BMW loves anything strawberry, so strawberry preserves were a natural choice when we made these cookies. Plus, I love the natural red color for the holidays! I also used Nutella because who doesn't love that chocolate hazelnut spread!?
Truly though, any jam or nut butter spread would work nicely in these cookies. A citrus curd would also work beautifully like lemon or cranberry. If you have any fun jam flavors
, those would be great too!
Getting the Correct Thickness for Linzer Cookies
Do not under estimate this step! Rolling out perfectly even cookies can be a challenge even for the most astute baker. Once I started using this rolling pin
, my cookie and pie crust game leveled up big time! It makes it so easy to get perfectly even dough.
Some cookies, like drop cookies, it doesn't matter about the thickness of your dough as much. However, with sandwiches cookies it is imperative that they are even or the cookies will be lopsided since it takes two pieces to make the cookie. Just think of it as if your Oreo cookie had one thick piece and one thin piece. It just wouldn't be the same.
These cookies are not meant to spread. Instead we want them to hold their shape. This is where the chilled dough becomes important. I recommend working the dough in batches when rolling out so that it doesn't become too warm. If you notice the dough no longer feels slightly cool to the touch, pop the cut cookies into the fridge for 20 minutes before baking.
Each piece of the cookie should be rolled out to 1/8 inch thick. That is very thin! If you are having trouble handling the cookies and moving them from rolling out surface to baking sheet, try using a fish spatula dusted in flour. I love using a fish spatula
for scooping up cookies! The large, slotted spatula is perfect for cookies!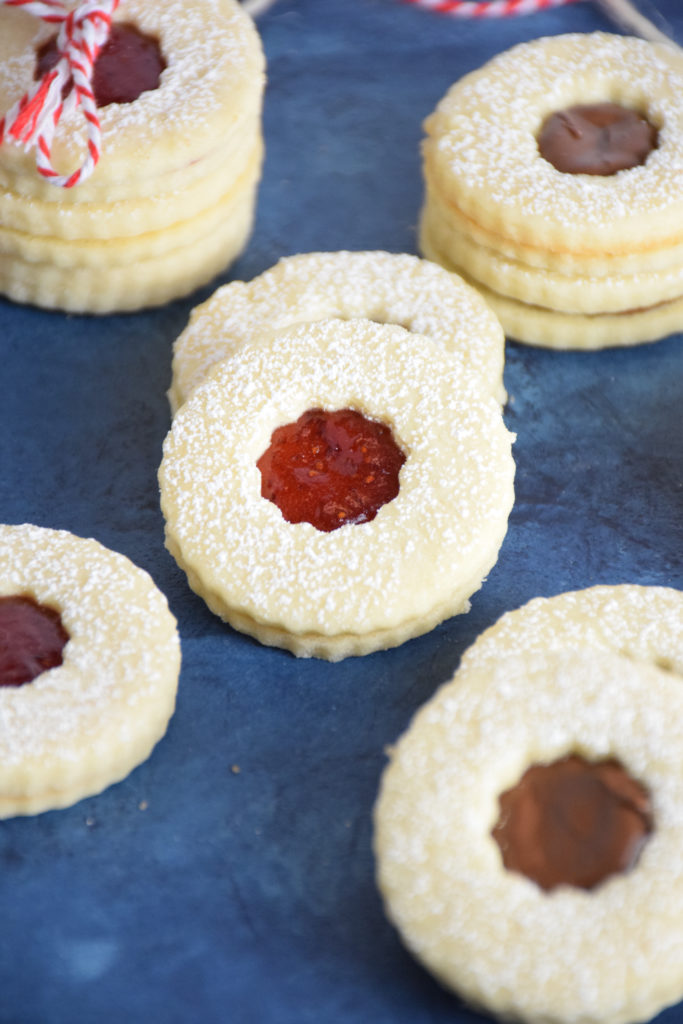 A Note About Oven Temperature and Linzer Cookies
Oven temperature is very important in all baking recipes but especially with these cookies. Since these cookies are so thin and have a delicate almond flour dough they can easily burn. Be sure to double check your oven temperature. I suggest using an additional thermometer
to ensure you are baking at the correct temperature.
If you begin to see any edges browning, take the cookies out of the oven right away. Linzer cookies should have a very light colored dough even when finished baking.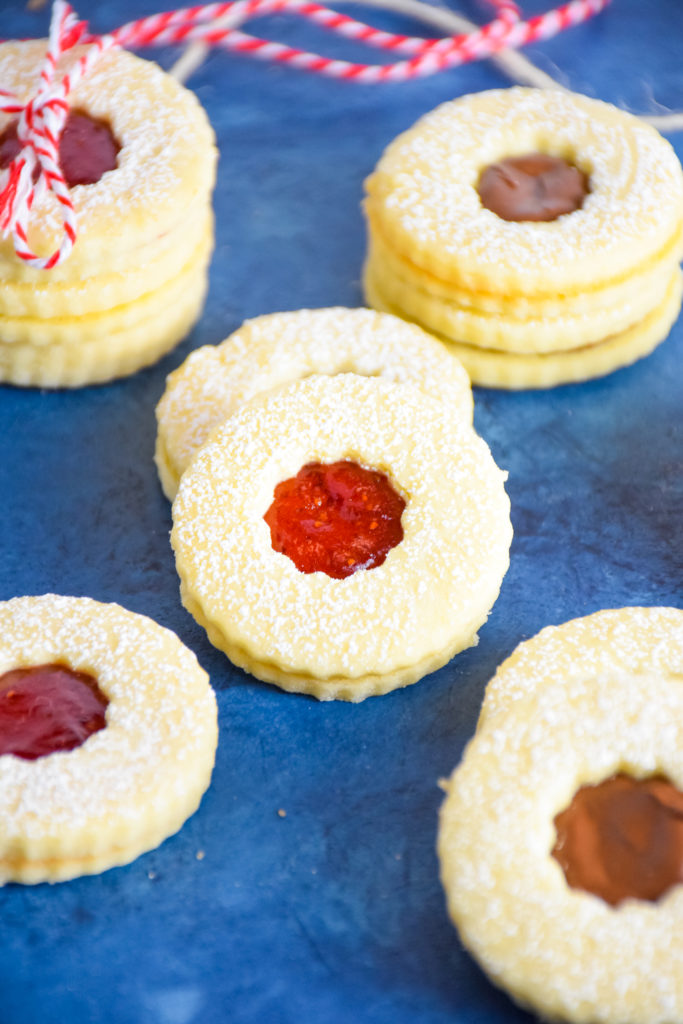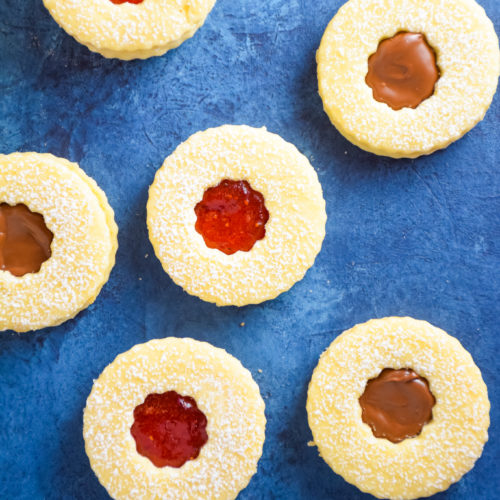 Classic Linzer Sandwich Cookies
These Classic Linzer Sandwich Cookies are perfectly tender and the best holiday cookie! The dough can easily be made ahead of time too.
Ingredients
2/3

cup

powdered sugar

plus more for dusting

1/2

cup

almond flour

2.5 oz

1

cup

All Purpose Flour

5 oz + plus more for rolling out

1/4

tsp

Kosher Salt

6

tbsp

unsalted butter

cold

1

large

egg yolk

1

tbsp

heavy cream

1/2

tsp

vanilla extract

1/4

tsp

almond extract
Filling
1/3

cup

chocolate hazelnut spread

like Nutella

1/3

cup

strawberry preserves
Instructions
In a food processor, pulse together the powdered sugar, almond flour, all purpose flour and salt to combine, about 10 seconds.

Add butter and pulse for 10-15 seconds until corse meal forms.

Add egg yolk, cream, vanilla and almond extract and pulse until dough ball forms, about 45-60 seconds.

Transfer to clean surface and form into a disc. Wrap tightly with plastic wrap and chill for 30 minutes in the fridge. You can also freeze all or part the dough at this point if you want.

Once ready to bake, preheat oven to 375°. Prepare baking sheet(s) with parchment paper or silicone baking mat.

Roll dough out to 1/8 inch thick on a floured surface. Dough will be very thin. Using cookie cutter, cut into desired shapes. Use a smaller cookie cutter to remove center shapes in half of the cookies. These will the tops.

Carefully transfer cookie dough shapes to baking sheet. Bake for 8 minutes, rotating baking sheet halfway through baking time.

Let cookies cool for 5 minutes on baking sheet and then transfer to wire rack to cool completely.

Spread 1/2 tsp of filling onto bottom shapes. Lightly dust top shapes with powdered sugar. Then assemble cookies. Store in an air tight container up to one week.
Nutrition
Calories:
111
kcal
Carbohydrates:
14
g
Protein:
1
g
Fat:
6
g
Saturated Fat:
3
g
Cholesterol:
16
mg
Sodium:
29
mg
Potassium:
26
mg
Fiber:
1
g
Sugar:
8
g
Vitamin A:
108
IU
Vitamin C:
1
mg
Calcium:
13
mg
Iron:
1
mg