These Brown Butter Peanut Butter Snickerdoodles are the best of both worlds! Peanut butter meets cinnamon sugar for this perfect combo!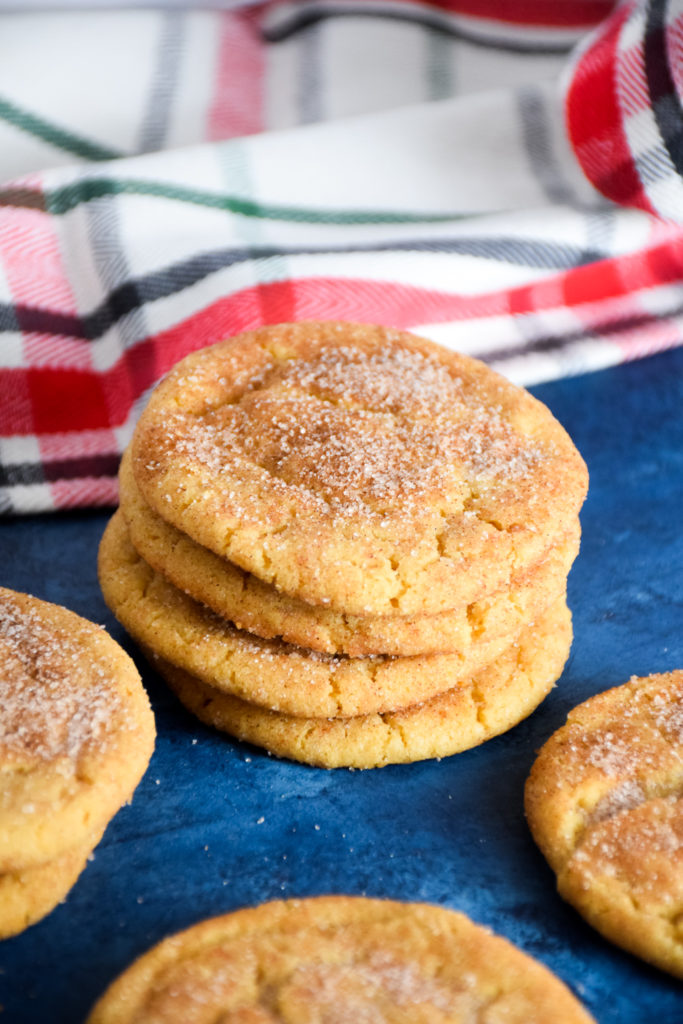 Snickerdoodles have always, always been my favorite cookie! Even when I was a little kid, snickerdoodles were my absolute favorite. In my opinion it is really hard to mess up anything that is rolled in cinnamon sugar! Maybe that's why I love these cookies so much. Last year for the holidays, I did a swirled version of my favorite traditional snickerdoodle recipe and this year I decided to jazz things up a bit with the brown butter, peanut butter version. These cookies are dense, rich and incredibly tender.
This post contains affiliate links. If you purchase a product through these links I may earn a few pennies. Thanks for keeping this free blog going!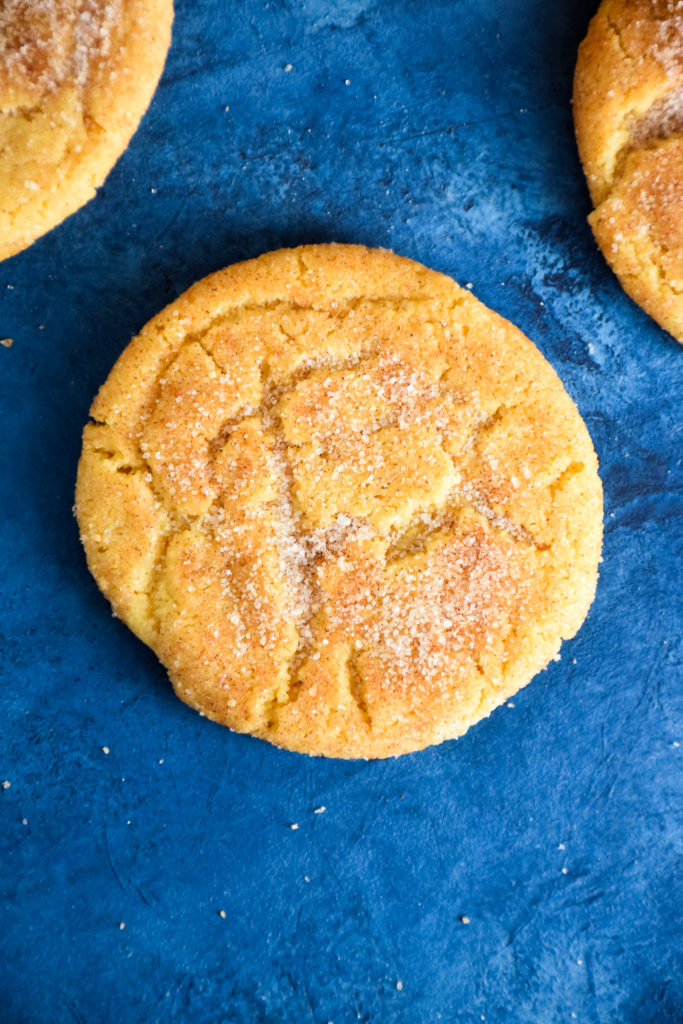 Brown Butter Peanut Butter Snickerdoodles
If anything has changed about my palate this year, it's been that I've become quite the sweets person! I've always been more of a salty snack kinda girl but lately I've been all about the desserts. Yes, that includes cookies!
This year I got a head start on my cookie creation process way back in August. Yes, haha when it was over 100 degrees outside I thought it would be a good idea to fire up the oven and make Christmas cookies all month. I do this for a few reasons, none of which is to completely annoy my husband.
I like to make sure I have lots and lots of time to make and remake these cookies to ensure that they come out perfect every time! I've tried many a cookie recipe that never turned out right. Do you remember the Best Ever Soft Chocolate Chip Cookie saga a few years ago? I had tried so many recipes, and many from some famous bloggers, and they all fell flat until this one.
So each holiday season I want to make sure I have the best cookie recipes for y'all! This year, I am so happy with how everything came out!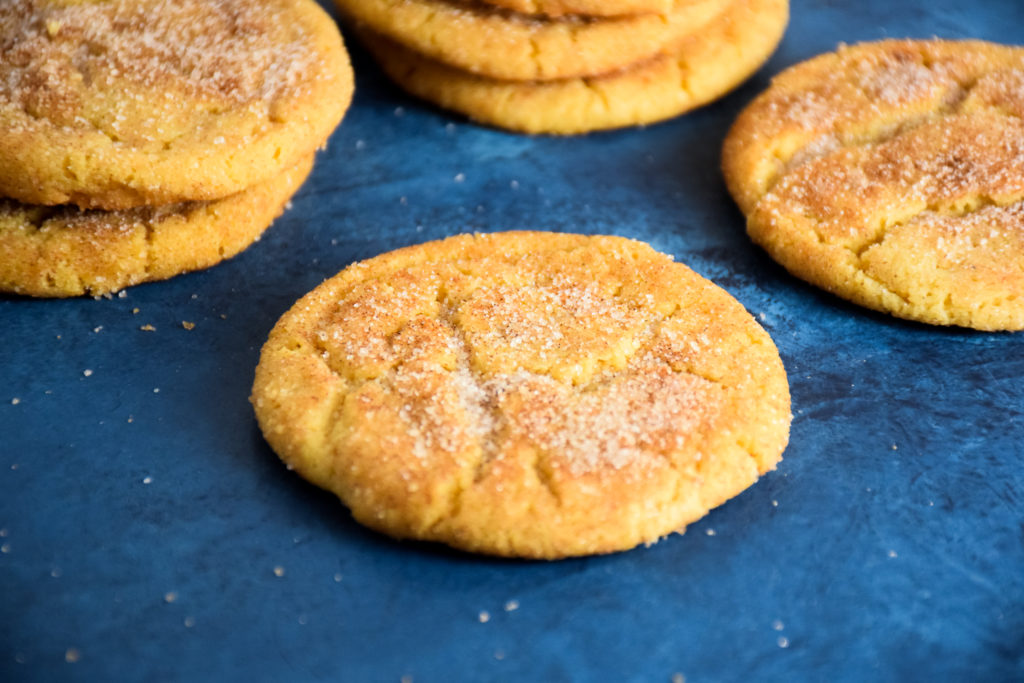 Peanut Butter Snickerdoodles
A few tips for making my Brown Butter Peanut Butter Snickerdoodles:
Make sure your oven temperature is correct. You can do this by setting the temperature on the oven control panel and then double checking it against a separate thermometer you place inside. This is important to ensure you don't over bake your cookies!
Use conventional peanut butter like Jif. I love using natural peanut butter in my smoothies but when baking, natural peanut butter can cause cookies to be oily or have frizzled, fried edges.
Make sure your cream of tartar and baking soda are fresh. If they are old, then the snickerdoodles won't have the signature cracks on top.
In almost all baking recipes, you should use unsalted butter unless otherwise stated. That is true for these cookies as well!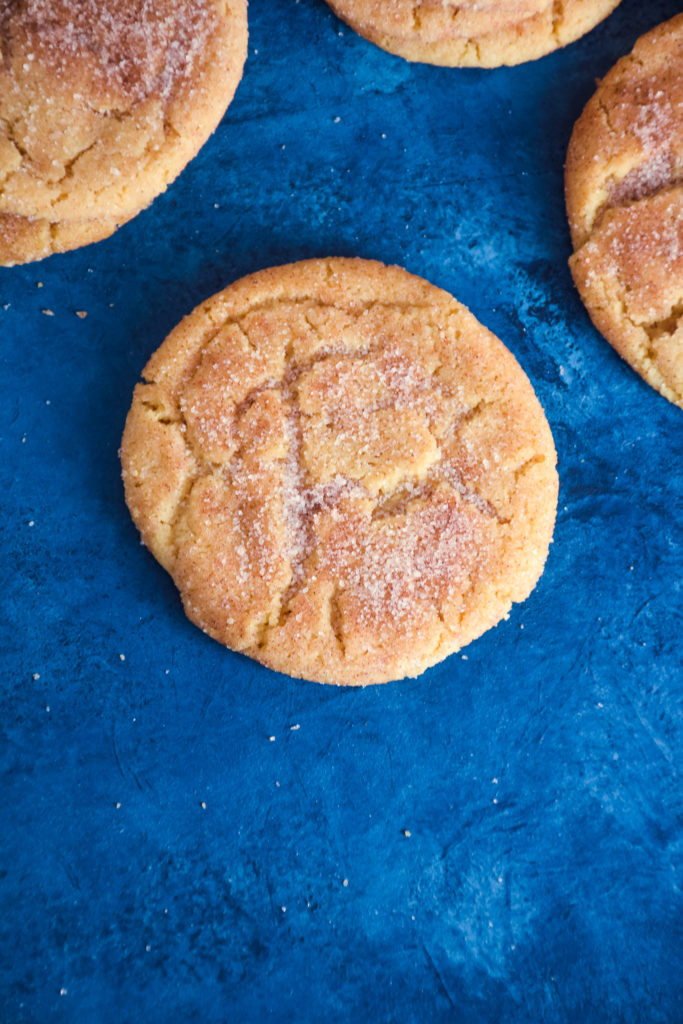 How To Make Brown Butter
Brown Butter is the secret to getting a slightly nutty, caramel flavor without any nuts or caramel. It goes a long way towards bringing out the flavors of the other spices and components in whatever recipe you are using it in. Brown butter has a signature nutty taste that works beautifully in this recipe! While browning butter is relatively simple, there are a few things to know before you try it.
Tips for Browning Butter:
You can use any pan or skillet to brown butter however the darker the color of the pan, the more difficult it is to detect any color changes in the butter. Using a stainless steel pan while you are learning to brown butter can be helpful.
Don't get in a hurry when browning butter. It takes several minutes to brown butter, usually 7-9 minutes, over medium heat. Turning the heat any higher can result in burnt butter. Which is bitter and not very tasty! Patience is key.
As you brown the butter, it may separate or look like it has curdled. That is a normal separation of the fats in the butter.
Swirl, swirl, swirl! Stirring constantly while browning butter will help you prevent from burning any bits over hot spots in the pan.
The butter may begin to foam a bit. This is normal.
As you get closer to the 7 to 9 minute mark, you will notice a brown, golden, honey color. This is what we are looking for!
There will also be a distinct nutty aroma. This nutty aroma is what makes brown butter so good!
Once you have achieved the nutty aroma and desired deep honey color, remove butter from heat source so that you don't burn it. You can transfer the brown butter to a heat safe bowl to ensure it does not keep cooking in the hot pan and accidentally get burned.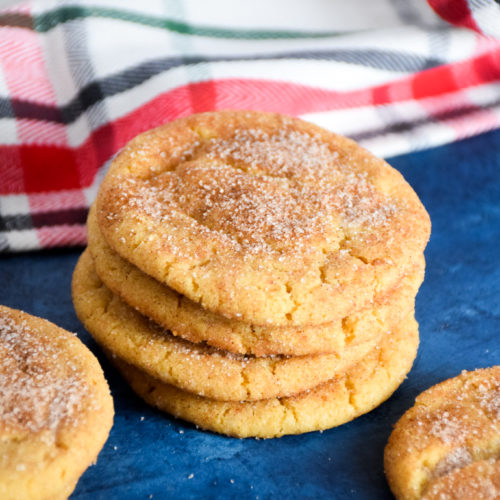 Brown Butter Peanut Butter Snickerdoodles
These Brown Butter Peanut Butter Snickerdoodles are the best of both worlds! Peanut butter meets cinnamon sugar for this perfect combo!
Ingredients
2

cups

All Purpose Flour

1/2

tsp

kosher salt

2

tsp

cream of tartar

1

tsp

baking soda

16

tbsp

unsalted butter

1

cup

granulated sugar

1

cup

light brown sugar

packed

2

large

eggs

1/2

cup

creamy peanut butter

do not use natural peanut butter
Cinnamon Sugar Topping
1/2

cup

granulated sugar

2

tsp

ground cinnamon
Instructions
Preheat oven to 375°. Prepare baking sheets with parchment paper.

In a large bowl, whisk together flour, salt, cream of tartar and baking soda. Set aside. In a separate bowl, making cinnamon sugar topping by mixing cinnamon and sugar together. Set aside.

In a skillet, melt butter over medium heat. Stirring with a heat proof rubber spatula often. After butter is melted, continue stirring and letting butter "brown." It will begin to turn a golden color and have a nutty aroma, bubbles and foam may form, this is normal. This usually happens after about 7-9 minutes over medium heat. Do not turn heat too high or you may burn the butter. Once butter is browned, transfer to heat safe bowl and let cool slightly.

After the butter has cooled for about 3 minutes, add in sugar and brown sugar to brown butter until well combined. Next, mix in eggs one at a time until glossy.

Add peanut butter to egg and sugar mixture and stir until well combined and pasty.

Add flour mixture to peanut butter mixture and stir until well combined and no flour pockets remain.

Divide batter into 1 tbsp balls. Roll balls in cinnamon sugar mixture. Place cookies onto baking sheet allowing at least 2 inches of space on each side. These cookies spread quite a bit while baking.

Bake cookies for 9-11 minutes. Cracks should form on top of cookies and edges will be golden brown. Remove cookies from oven and resist the urge to eat immediately. Instead sprinkle tops of cookies with remaining cinnamon sugar and let rest for 5 minutes on hot cookie sheet to finish baking and allow edges to set.

Enjoy warm after 5 minutes or transfer to a wire rack to cool completely before storing in air tight container for up to a week.
Nutrition
Calories:
132
kcal
Carbohydrates:
17
g
Protein:
2
g
Fat:
7
g
Saturated Fat:
3
g
Cholesterol:
22
mg
Sodium:
81
mg
Potassium:
64
mg
Fiber:
1
g
Sugar:
12
g
Vitamin A:
155
IU
Calcium:
10
mg
Iron:
1
mg