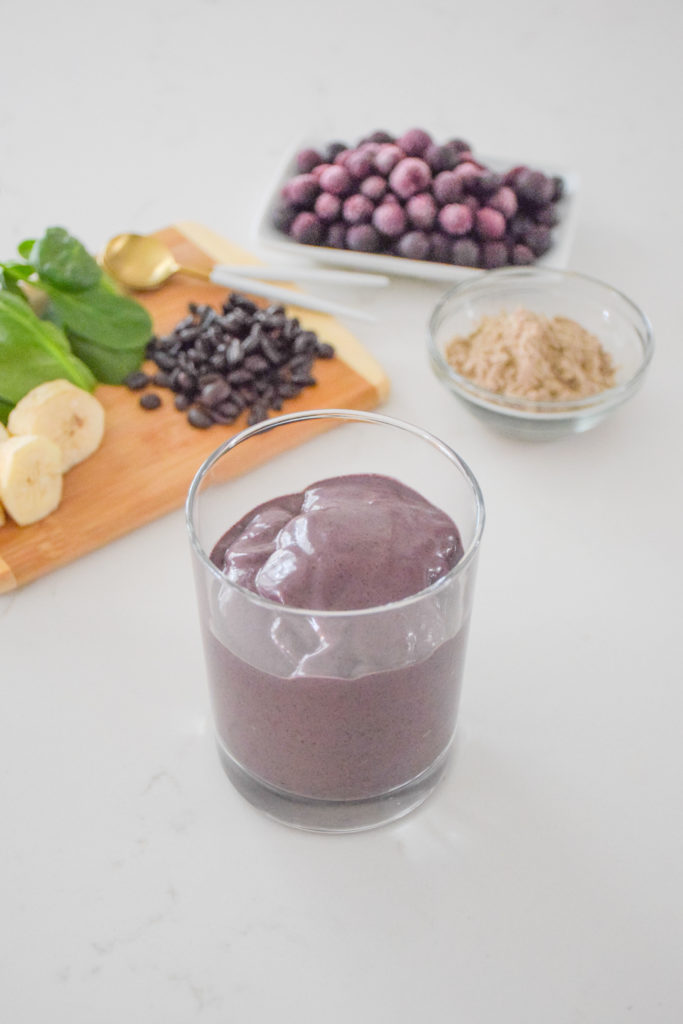 This is my favorite, favorite, favorite go-to smoothie ever! Seriously. This is what I make for BMW and myself almost every morning. We love it so much that we even have it on the weekends sometimes. I don't think I have ever loved a smoothie that much before! Part of it is that my body craves all the nutrients it gets from this concoction. I can say that this is the best super food smoothie for energy and digestion that I have ever tried!

Best Super Food Smoothie for Energy and Digestion
I have long made green smoothies in the morning because my body likes greens when it wakes up. However, I usually get bored with them and wind up circling in other things. Which isn't necessarily a bad thing but this smoothie has had me going strong for months now. The #1 reason I love this smoothie: it tastes really good. Plain and simple. I find it delicious and licking the blender after I make it, haha! I even made it over the holidays and my parents, who are tough critics when it comes to anything healthy, really liked it too!
The frozen banana is key to getting a good consistency. The frozen blueberries and spinach (I use fresh) pack in tons of antioxidants and nutrients to get your day off on the right foot. I have never been a protein powder fan but I love this Vega powder. It's made with plants and adds enough protein to keep me full and balance the sugar from the fruit. The whole coffee beans are key to the digestion benefits of this smoothie. Ground coffee works too, just not coldbrew or brewed coffee. The point is actually ingest the coffee bean. Not only does it give you a nice caffeine boost, coffee beans are loaded with fiber. Which is muy importante in terms of digestion and staying full.

This smoothie is inspired by the Energizer Smoothie that I was ordering every week from my meal delivery service Prep To Your Door! They are an amazing plant-based, zero waste company here in Austin. BMW liked the smoothie so much too that we decided to make a copy cat recipe and use our service for lunches. If you're in the Austin-area and interested in healthy meal delivery, check out my post! Use code NATALIE50 for a discount on your first week of food from Prep To Your Door.
I hope you enjoy this smoothie as much as we do! Try it out and let me know in the comments what you think!
Blueberry, Spinach and Coffee Smoothie
Makes one smoothie
Ingredients:
1 frozen banana
1/2 cup frozen blueberries
1 cup baby spinach
1/2 scoop of Vega Protein & Greens Chocolate Powder
1/4 cup whole coffee beans
1 heaping tablespoon natural peanut butter
1 cup almond milk
Directions: 
Blend all ingredients together and enjoy immediately!
If you want to prep ahead, put all ingredients, except almond milk, into a mason jar and freezer. Once ready to drink, run warm over jar allowing ingredients to loosen a little. Then blend together with almond milk.