Snickerdoodle Swirls are a mouth watering take on traditional Snickerdoodles that are perfect for cookie swaps!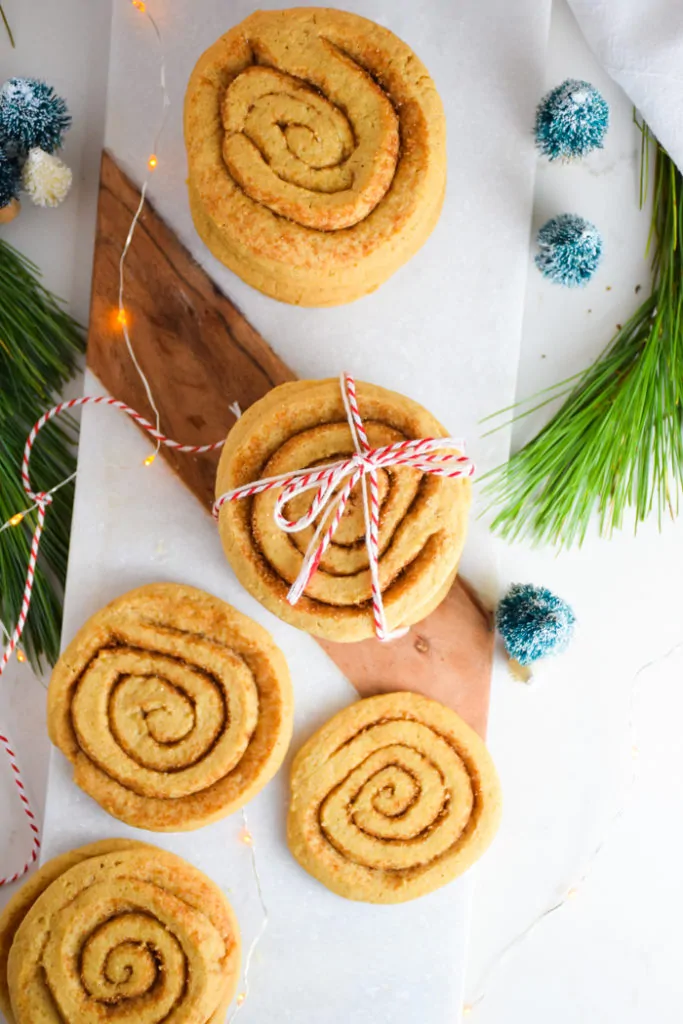 Snickerdoodles have been my absolute favorite cookie ever since I was a kid! I mean is there anything better than the smell of cinnamon sugar baking? I will say as I've gotten older, the good ol' chocolate chip cookie has been climbing the ranks as a favorite cookie but Snickerdoodles are still my favorite! This holiday season, I wanted to give my Snickerdoodles a little make over. Just something to spruce them up a bit, so I made this swirled version. They turned out so cute and just a little jazzed up for the holidays!
This post contains affiliate links. If you purchase a product through these links, I may earn a few pennies. Thanks for keeping this free blog going!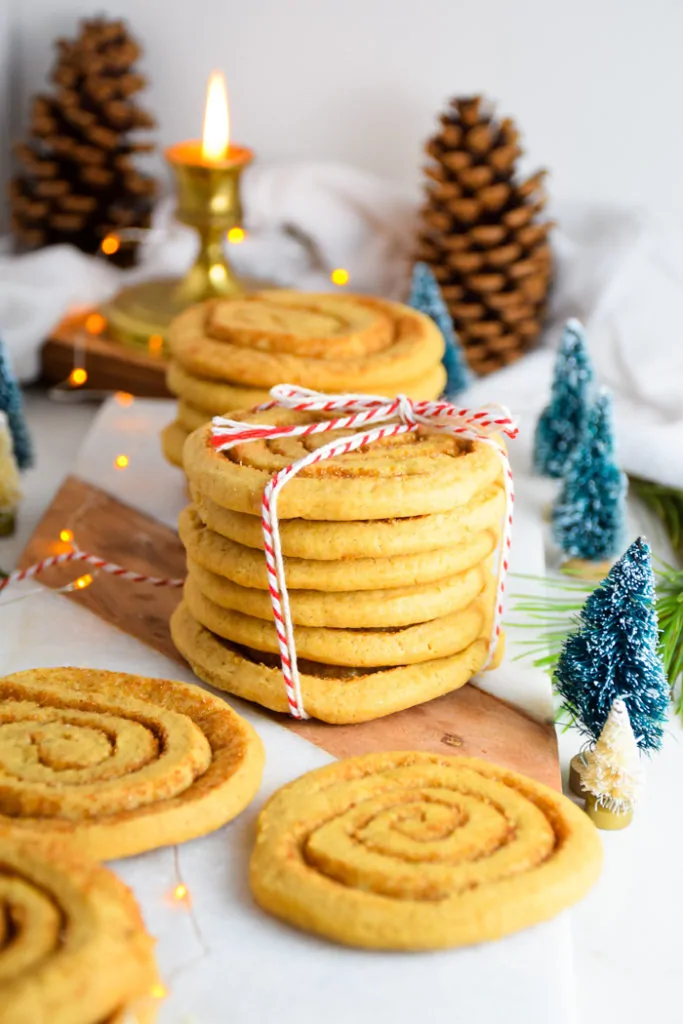 Snickerdoodle Swirl Cookies
These Snickerdoodle Swirls have a little update from a traditional recipe, they are made with all butter and no shortening. The chilling process is important to help them hold their shape and give the gorgeous swirl pattern. The cookies will spread while baking, so try and roll them as tightly as possible.
The addition of brown sugar into the actual cookie rather than all granulated sugar gives them a golden brown color and adds more moisture to the cookie, keeping them nice and soft. Nobody wants a crunchy Snickerdoodle!
If you really want to skip the swirl process (i.e. rolling out the dough and rolling it back up and chilling) you can divide the dough into 1 ounce balls. Then roll in your hands until smooth and roll each ball into the cinnamon sugar mixture. Place onto a prepared baking sheet and bake for the same time. You'll have a more traditional looking Snickerdoodle with cinnamon and sugar all over the outside.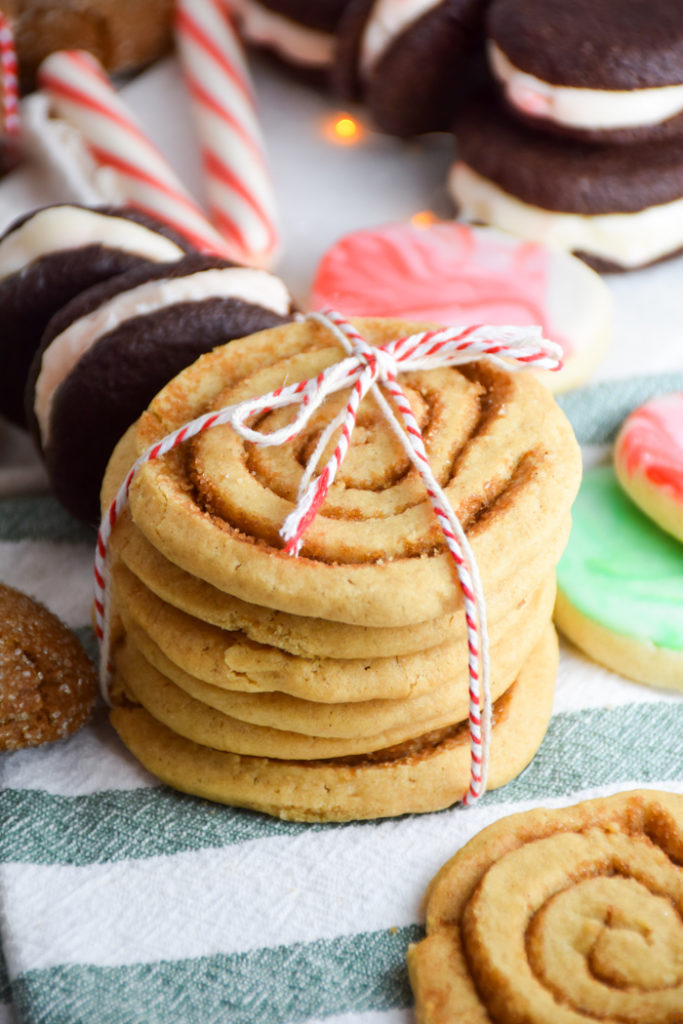 You Might Also Love Dark Chocolate Créme de Candy Canes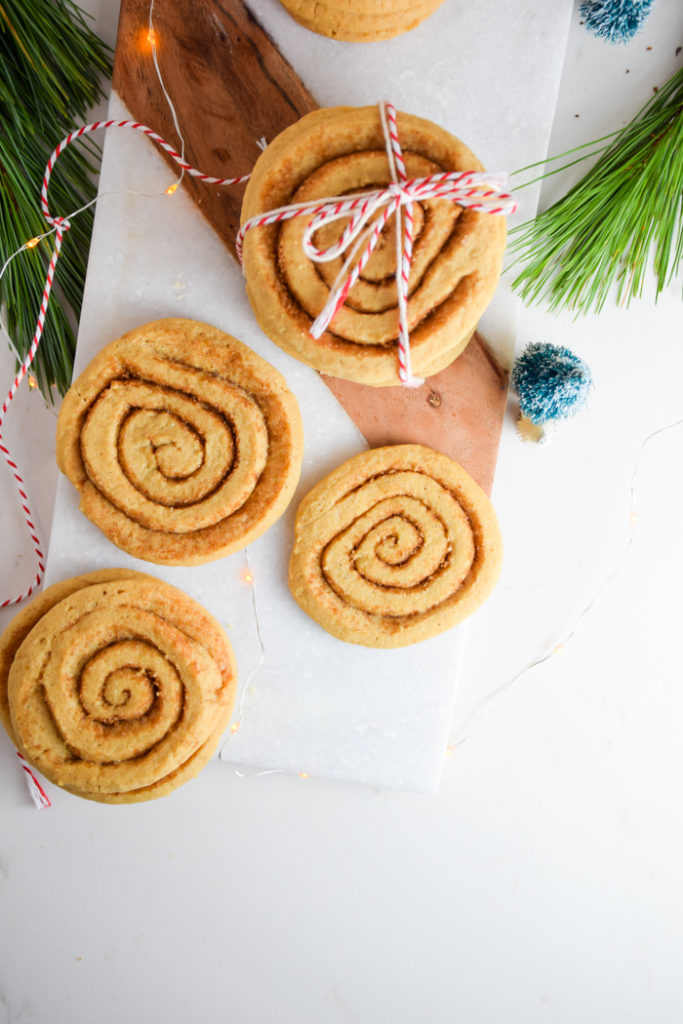 Snickerdoodle Swirls
Makes 28-30 cookies
Ingredients: 
Cookies:
2 3/4 cups all purpose flour (2 1/2 cups if using high protein flour like King Arthur
)
1 cup butter, room temperature
3/4 cup granulated sugar
1/2 cup brown sugar, packed
1 egg
1 egg yolk
1 tablespoon vanilla extract
1 teaspoon baking soda
1 teaspoon cream of tartar
1/2 teaspoon salt
1 teaspoon cinnamon
Filling:
1/4 cup granulated sugar
1 tablespoon cinnamon
Directions: 
Cream butter and sugar together until light and fluffy. 2-3 minutes on medium speed if using mixer.
Add egg, yolk, vanilla, baking soda, cream of tartar, salt and cinnamon. Mix one additional minute, scraping down sides until incorporated.
Switch to low speed and slowly add in flour until just combined.
Roll out dough into a rectangle about 1/8 inch thick. Spread cinnamon sugar filling onto dough. Then roll tightly and wrap with plastic wrap. Chill for 30 minutes in the fridge.
Cut dough into 1/4 inch thick cookies. Place onto prepared baking sheet (greased or lined with parchment paper) do not crowd cookies. They will spread while baking.
Bake at 325 degrees for 10 minutes or until slightly golden brown.
Store in an air-tight container up to 4 days. Dough roll can be kept in the fridge for 3 days or frozen, tightly wrapped, until ready to bake.
Tag me when you make these!