Dark Chocolate Créme de Candy Canes are a delicious holiday cookie made with peppermint cream!
Want to be the envy of all the cookie swaps this season? Then make these Dark Chocolate Créme de Candy Canes! Seriously, they will be the first cookies gone off plates. The soft, moist cookies and creamy, peppermint filling are way easier to make than you might think. Plus, you can make these ahead of time! Win-win!
This post contains affiliate links. If you purchase a product through these links I may earn a few pennies. Thanks for keeping this free blog going!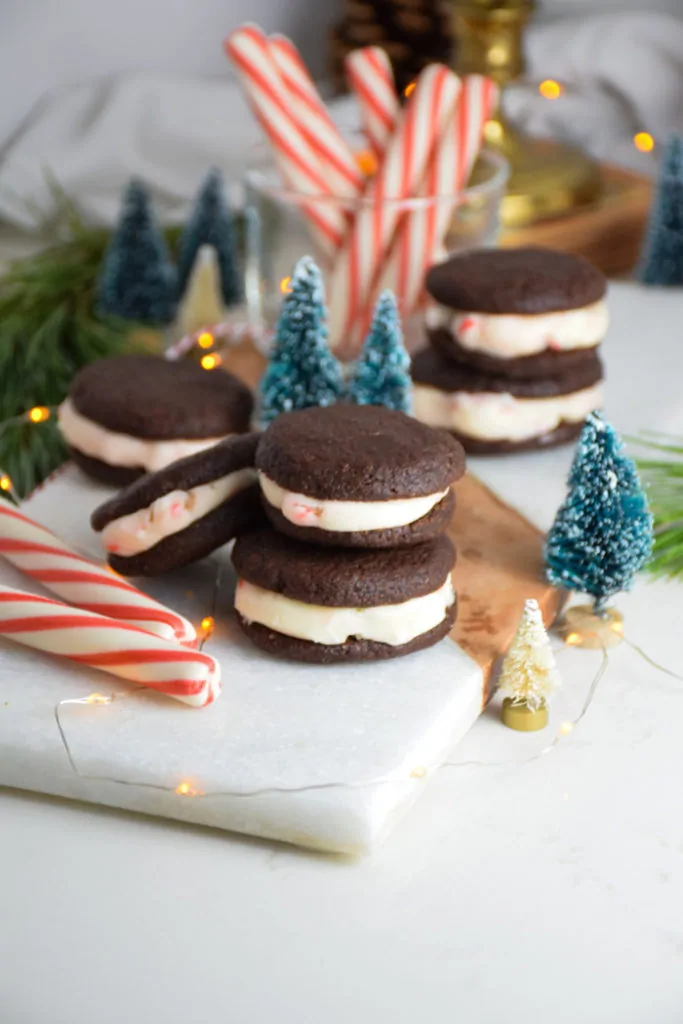 Chocolate Peppermint
Is one of those classic holiday flavors that you only see around this time of year. So I say, let's make the most of it! These chocolate sandwich cookies are soft, decadent and totally craveable. The dark chocolate gets its flavoring from unsweetened chocolate cocoa
powder and stays dense from the omission of baking soda.
The candy cane créme is easy to whip up in no time! You can use traditional hard candy cane pieces but I suggest using soft peppermint sticks
. They blend better, infusing more of their flavor into the créme while still providing a subtle texture without a hard crunch.
Dark Chocolate Créme de Candy Canes
Makes 16-18 cookie sandwiches
Ingredients: 
Cookies:
1/2 cup butter, room temperature
1 cup granulated sugar
1 large egg, room temperature
1 teaspoon vanilla extract
1/2 teaspoon salt
1/2 cup dark cocoa powder
3/4 cup all purpose flour
Filling:
1/2 cup butter, room temperature
1 1/2 cups powdered sugar
1 tablespoon milk
1/4 cup crushed soft peppermint candy sticks
Directions: 
Using the paddle attachment on a stand mixer, cream butter and sugar together for two minutes on medium speed. Also, can use hand mixer or whisk.
Add egg, vanilla, salt and beat for one additional minute.
Move to slow speed and gently fold in cocoa and flour until just combined.
Divide dough into 32 balls, approx 0.5 ounces each. Best to use a kitchen scale if you want to ensure uniform size of cookies.
Roll balls until smooth, then gently press to flatted, about 1/2 inch thick, onto prepared baking sheet.
Bake at 350 degrees for 7 minutes. Let cookies cool completely. Use a cooling rack if you want to reuse the same baking sheet, just let cookies cool for about 2 minutes before moving them to ensure they don't crumble.
Meanwhile, make the candy cane créme by beating the butter, powdered sugar and milk together until light and fluffy. Gently fold in candy cane pieces.
Pipe (use one with opening large enough for candy cane pieces) or spoon candy cane créme into center of cookie, then top with cookie and gently press to spread créme.
Serve within a few hours or store covered over night in the fridge. Let come to room temperature before serving or filling will be hard.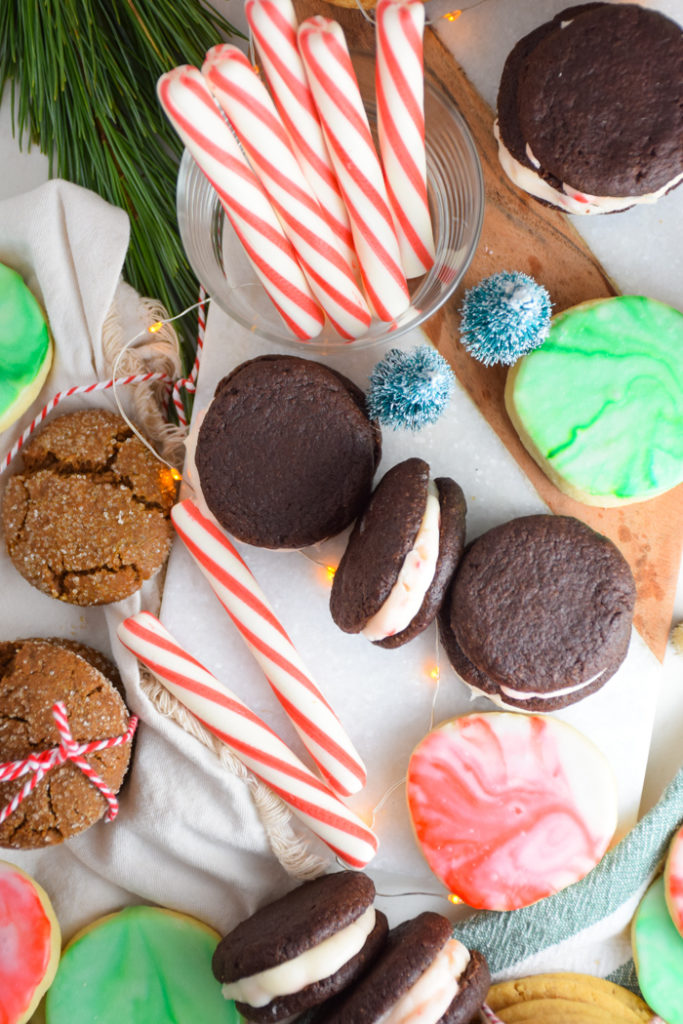 Do you have a holiday tradition that involves cookies? Tell me in the comments!