These Grasshopper Truffles are a grown-up version of Andes candies. Silky chocolate coats smooth crème de menthe centers (yes, there's a tiny bit of booze!) and gold leaf for extra bougie flair, it is the holidays after all!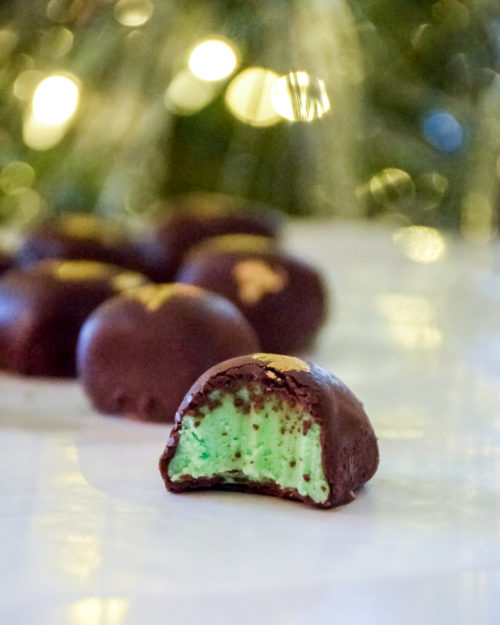 Ahhh friends I have had the idea for this recipe floating in my head for quite some time. I can't exactly pinpoint where it came from but the general inspiration is from those old school Andes candies that I used to love getting at restaurants on the way out the door. Whatever happened to those after dinner mint candies, anyways? But then I wanted to take that little candy and make just a little bit more grown up. Like if that Andes candy grew up, moved to New York for some fancy job and spends weekends in Paris. She's bougie on the outside, grown-up and sophisticated but at the end of the day she's got that cool mint chocolate flavor combo that we all know and love. Anyways, that is the idea that has been floating around and finally made it's debut as these Grasshopper (you know after the infamous drink) Truffles!
This post contains affiliate links. If you purchase a product through these links I may earn a few pennies. Thanks for keeping this free blog going!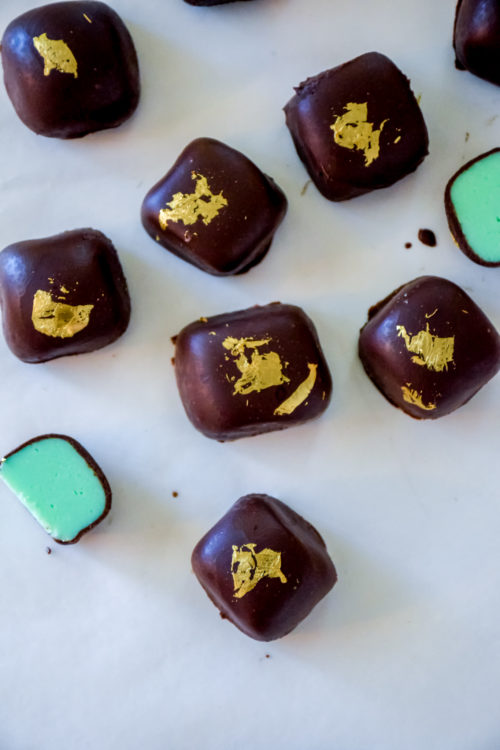 Grasshopper Truffles with Gold Leaf
These little two bite chocolate candies get their unique green color from a big splash of créme de menthe liqueur. It also give the minty flavor. But just slight mint flavor. It's not overpowering. More like the sweet mint in a mint chocolate chip ice cream, or an Andes candy, or a Grasshopper, or heck even a Girl Scout Thin Mint!
I wanted to create a little treat or after dinner mint that was as delicious to eat as it was to look at. For this year's Holiday Cookie Box I went all out and these little truffles were my pièce de résistance. The shining star of my efforts this season.
While the recipe is rather simple at it's core, and could be cheated or even made more simply by using store-bought dipping chocolate, I wanted these to be a true delight. So while the recipe is simple, it's all in the execution that makes these extra special.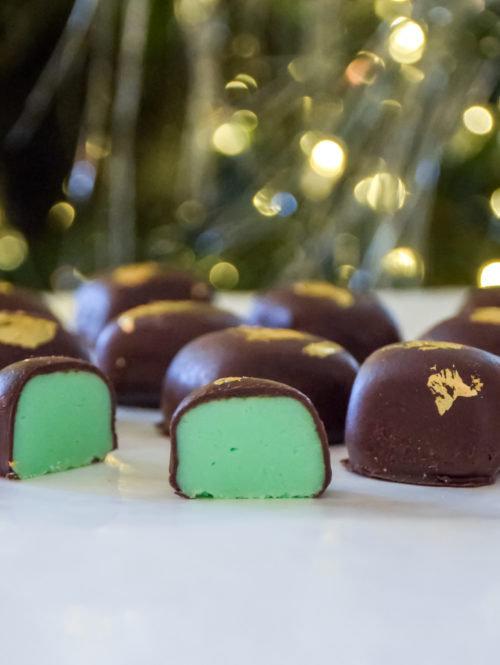 Smooth After Dinner Mint Chocolate Candies
I use the word smooth because these are quite literally buttery smooth. They are soft, almost soft enough to just melt in your mouth. That is thanks to using almond bark as the base of the mint centers. To that I add a big splash of créme de menthe and a dash of heavy cream and a tiny bit of pure mint extract to jazz it up a bit.
I add a touch of coconut oil to the chocolate for melting. I also suggest using a baker's bar for chocolate in lieu of chocolate chips. The chips are dusted with a coating to keep them from sticking to one another that causes the chocolate to have slightly different texture. For this I prefer the baking bar. The coconut oil thins the chocolate just a tad making it easier to dip but also giving it the shine.
The ingredients do require some chilling time to firm up. If they become too warm just pop them back into the fridge or freezer and then start up again.
A note about melting: chocolate melts at 87-89 degrees F. Coconut oil melts at 76 degrees F. Therefore if your kitchen runs warm, you'll find you need more chilling time. You may even want to store these in the fridge or freezer. That will ensure their freshness. However, they can certainly be kept at room temperature. If shipping these, I would make note of the time of year to make sure no truffles are melted during transit!
You Might Also Love
Coffee Toffee Brittle with Macadamia Nuts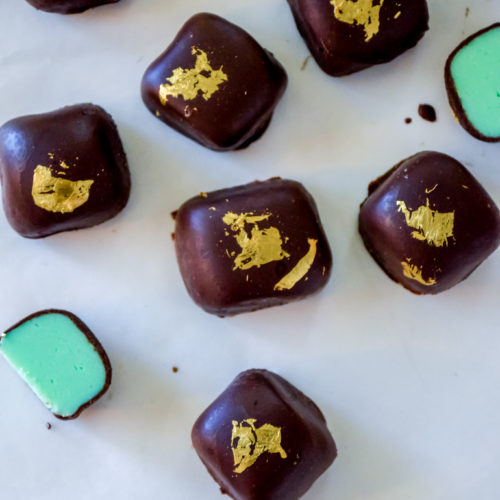 Grasshopper Truffles with Gold Leaf
These Grasshopper Truffles are a grown-up version of Andes candies. Silky chocolate coats smooth crème de menthe centers (yes, there's a tiny bit of booze!) and gold leaf for extra bougie flair, it is the holidays after all!
Ingredients
Créme de Menthe Centers
12

oz

almond bark or white chocolate

chopped

2

oz

Créme de Menthe liqueur

1

oz

heavy cream

1/8

tsp

pure mint extract
Chocolate Coating
12

oz

semi-sweet chocolate

preferably chocolate baking bar

1

tbsp

coconut oil

edible gold leaf

for topping
Instructions
In a pot, warm cream until just bubbling around the edges on low heat. Add almond bark and reduce heat to lowest setting. Stir until melted careful not to burn. Remove from heat and stir in Créme de Menthe and mint extract. Transfer to bowl and let chill in the fridge for an hour or up to overnight until firm able to scoop.

Use a teaspoon and scoop out mixture into 18 even portions. Form into balls or desired shape. Place onto tray lined with wax paper then transfer to freezer. This will ensure the centers are firm enough to get dipped into melted chocolate.

Meanwhile, melt chocolate in a pot over lowest heat, stirring constantly once it starts melting to prevent burning. You can also melt in the microwave, start with 30 seconds then stir and return to microwave for 10 seconds and stir and repeat at 10 second intervals until smooth and melted. Add in coconut oil. This should make the chocolate slightly thinner and glossier.

Using two small forks, like salad forks or a child's fork, dip the centers into the chocolate then return to wax paper lined tray. *See Note. Work quickly then return the chocolate dipped truffles to the fridge for 30 minutes to chill.

Remove truffles from fridge and ensure the chocolate is set. If not return to fridge for an additional 10-30 minutes. Using a small, clean paint brush or tweezers, place a small amount, about 1/4 to 1/8 inch, of gold leaf onto tops of truffles. Brush on with paint brush or tamp down carefully with tweezers or fingers.

Now enjoy your truffles! These can be kept at room temperature but if your kitchen runs warm it might be best to store in the fridge to prevent the chocolate from melting.
Notes
When dipping centers in chocolate, use forks one at a time, lacing tines together to let chocolate drip off  and lifting one fork with the truffle and then the other. This will help create cleaner edges.
I prefer to let my truffles cool on wax paper but you can also use a cooling rack, however I would recommend using a grid cooling rack as the traditional ones have gaps that are too large for these small truffles and they fall through. 
Nutrition
Calories:
241
kcal
Carbohydrates:
25
g
Protein:
1
g
Fat:
14
g
Saturated Fat:
11
g
Trans Fat:
1
g
Cholesterol:
3
mg
Sodium:
8
mg
Potassium:
108
mg
Fiber:
2
g
Sugar:
22
g
Vitamin A:
33
IU
Vitamin C:
1
mg
Calcium:
13
mg
Iron:
1
mg