These Big Fluffy Fancy Homemade Marshmallows are the stuff dreams are made out of! Perfect for roasting, dipping or enjoying in a hot cuppa.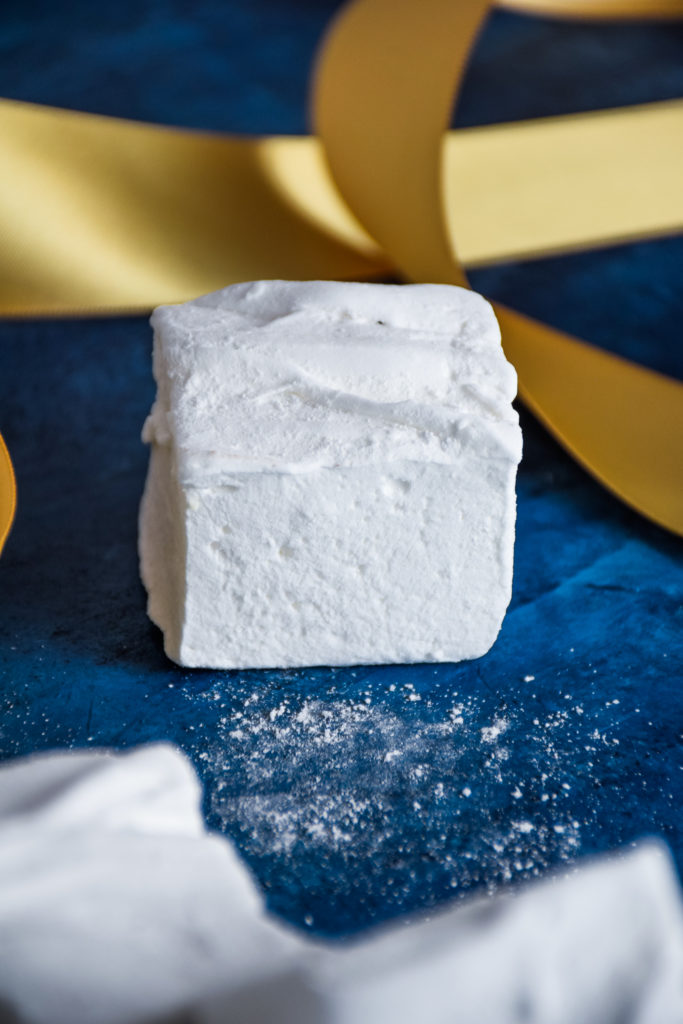 Big fluffy marshmallows! I just love these homemade marshmallows. It's been a favorite winter recipe of mine for a while now. I love being able to make these mallows into whatever shape or thickness you like. Plus, they just taste so much better than the store bought kind. They are also pretty simple to make with just a few ingredients!
This post contains affiliate links. If you purchase a product through these links I may earn a few pennies. Thanks for keeping this free blog going!
Big Fluffy Fancy Homemade Marshmallows
I can't remember exactly where I was but several years back at a cute little coffee shop I spied some huge fluffy marshmallows being served in cups of hot cocoa and some big square mallows that were all decorated and wrapped for to-go. It was then I knew I wanted to be able to make my own marshmallows!
Until that point, I hadn't really given much thought to marshmallows. I didn't particularly like them but I didn't mind when a few showed up in a s'mores or in a cup of hot chocolate. After I saw these, I knew that marshmallows could be so yummy and fun and even pretty. So I set out on a path to create my own!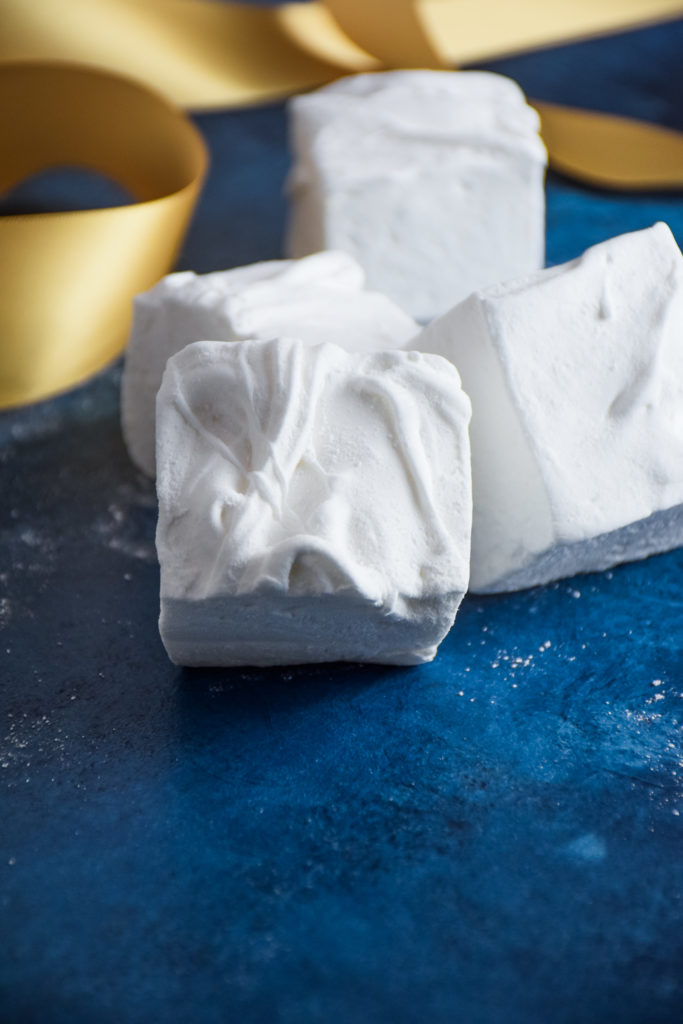 Easy Homemade Marshmallows
The hardest part of these marshmallows is getting the temperature correct when boiling the ingredients. I highly suggest making the small investment for a candy thermometer
. It clips onto any pot or bowl and helps you keep track of the temperature of whatever is in the pot. If you don't have a candy thermometer, you can use a pen thermometer
which will get the job done but you just have to be diligent about monitoring the temperature.
It would be nearly impossible to make this recipe without a kitchen thermometer of some kind. The marshmallow mixture must reach a certain temperature and there is no discernible way to tell by looking when it has reached that temperature.
This temperature is what makes the marshmallows have their signature thick, fluffy texture and not fall apart or turn into a gloopy mess.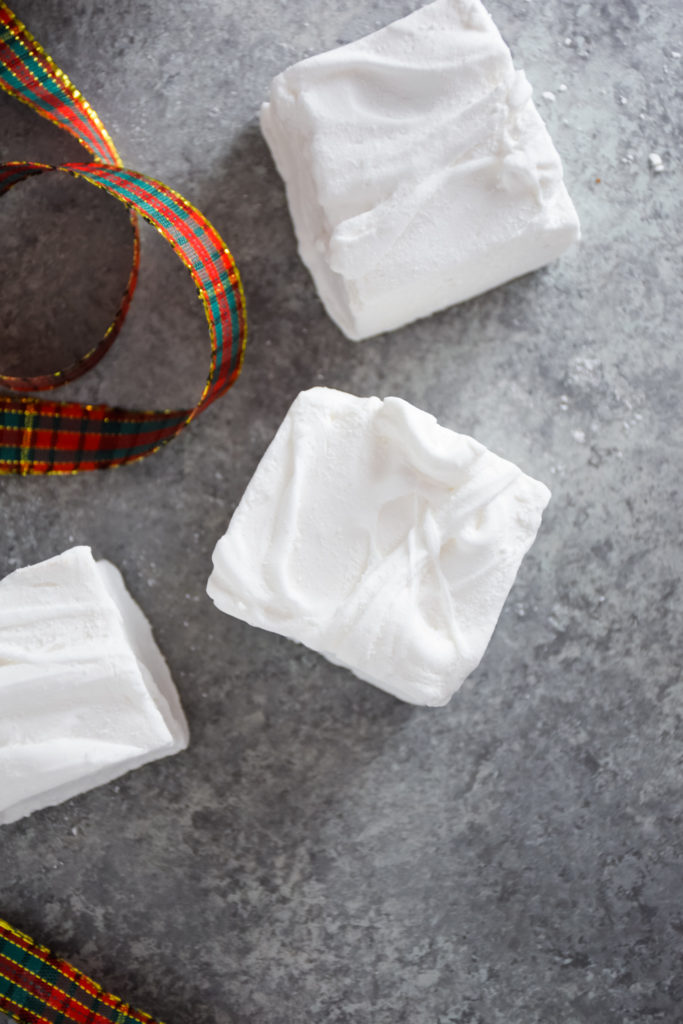 Homemade Marshmallows
There is something so cozy about marshmallows and hot cup of cocoa by the fire, don't ya think? There marshmallows are great for roasting and making to go with s'mores. I also love how these mallows melt into a big hot cup of coffee. They add just a touch of frothy sweetness that is perfect for a weekend treat.
Just like cookies, these marshmallows are fun to decorate! You can dip or drizzle them in chocolate. Before you let these set, you can top them with sprinkles too! You can also use cookie cutter and cut these into fun shapes.
That's what makes homemade marshmallows so fun! There are so many ways to make them your own. You can also flavor the marshmallows with things like peppermint or vanilla extract. You can add few drop of food coloring for fun colorful swirls. The possibilities are endless!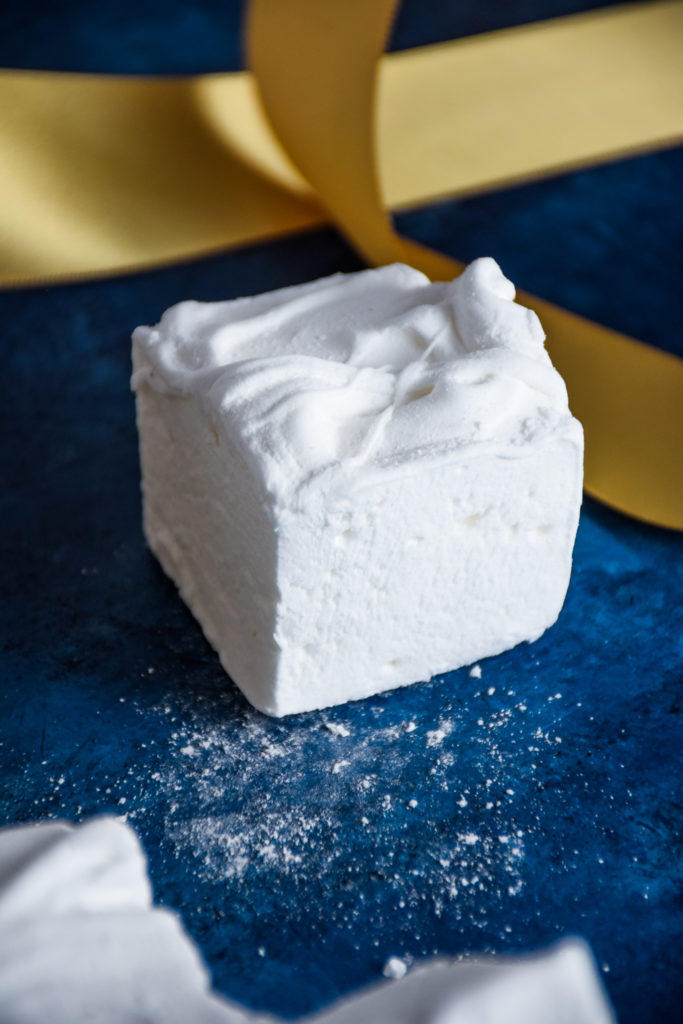 A Few Notes On Homemade Marshmallows
There are a few things you should know before making your marshmallows:
The mixture will be thick and sticky. Powdered sugar is your friend in preventing all that sticking. Use it liberally.
The marshmallows will still be sticky even after they've set. I recommend turning them out onto a clean surface, dusting with additional powdered sugar and use a knife dusted with powdered sugar to slice them.
Store marshmallows in an air tight container. This will prevent them from drying out too quickly.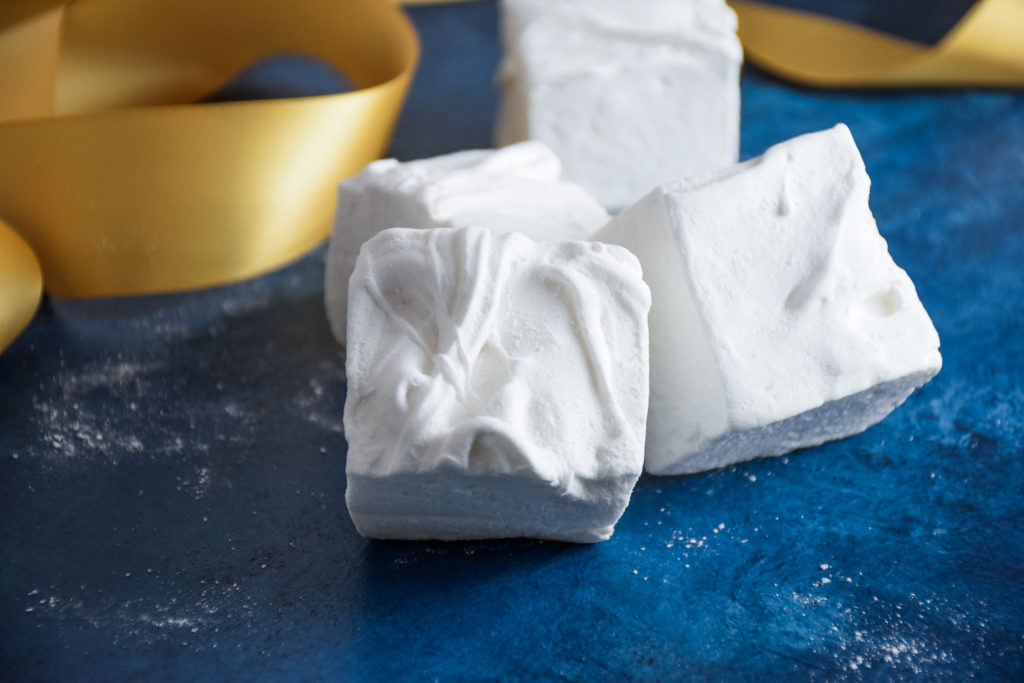 Big Fluffy Fancy Homemade Marshmallows
These Big Fluffy Fancy Homemade Marshmallows are the stuff dreams are made out of! Perfect for roasting, dipping or enjoying in a hot cuppa.
Ingredients
3

packets

unflavored gelatin

21 grams

1 1/2

cups

granulated sugar

1/4

tsp

kosher salt

1

cup

light corn syrup

1/2

cup

powdered sugar

1

cup

cold water

non-stick spray
Instructions
In a large bowl or bowl of a stand mixer, pour about 1/2 cup of cold water in. Sprinkle all gelatin packets on top and let coagulate for a few minutes.

Meanwhile, in a medium sized pot, bring granulated sugar, corn syrup, salt and remaining water to a boil. Bring mixture to 240° degrees, about 10 minutes of boiling. Use a thermometer to monitor temperature as there is no way to tell from watching as to the temperature.

Once the mixture reaches 240°, remove from heat and carefully pour into bowl with gelatin. Using the whisk attachment, use low speed to incorporate mixture.

Once incorporated, turn to high speed and let mix for about 12 minutes. It should start fluffing up and looking like marshmallow cream at towards the end.

Spray a 9x13 inch pan with non-stick spray and dust generously with part of the powdered sugar.

Using a rubber spatula, transfer marshmallow mixture to prepared pan. Smooth out top or leave a little design. Dust top with remaining powdered sugar. Let marshmallows sit for 3 hours at room temperature. You may cover but it is not necessary.

Cut marshmallows with a chef's knife into large large squares. Marshmallows will be sticky. Dust sides with more powdered sugar to keep from sticking to one another. You may also remove marshmallow in its entirety from pan and use powdered sugar dusted cookie cutter to cut into shapes. Marshmallows can be drizzled with chocolate and sprinkles if desired. Store in an air tight container for up to a week.