These Peppermint Meringue Cookies are light, crisp and have a delicate peppermint flavor! These are a delightful holiday treat!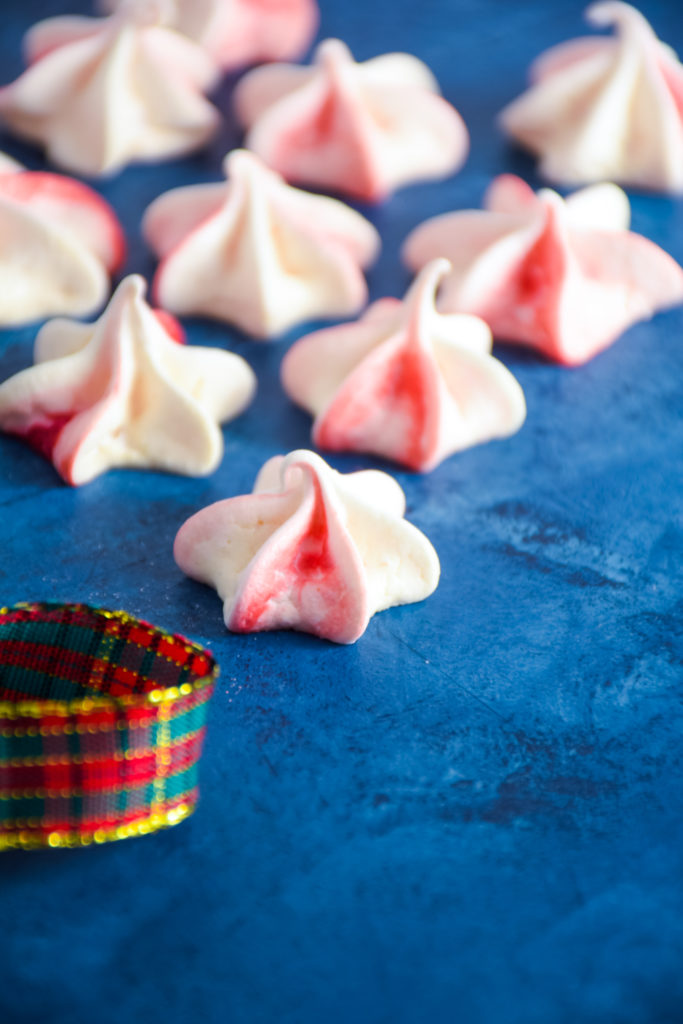 I first discovered the magic of meringue cookies while we were traveling through Europe one summer. These light, crispy cookies are kind of like cotton candy in a way. You bite into the cookie and it's crisp and then delicately dissolves in your mouth. It's so unique and I love that about these cookies. Definitely a fun treat no matter the time of year!
This post contains affiliate links. If you purchase a product through these links I may earn a few pennies. Thanks for keeping this free blog going!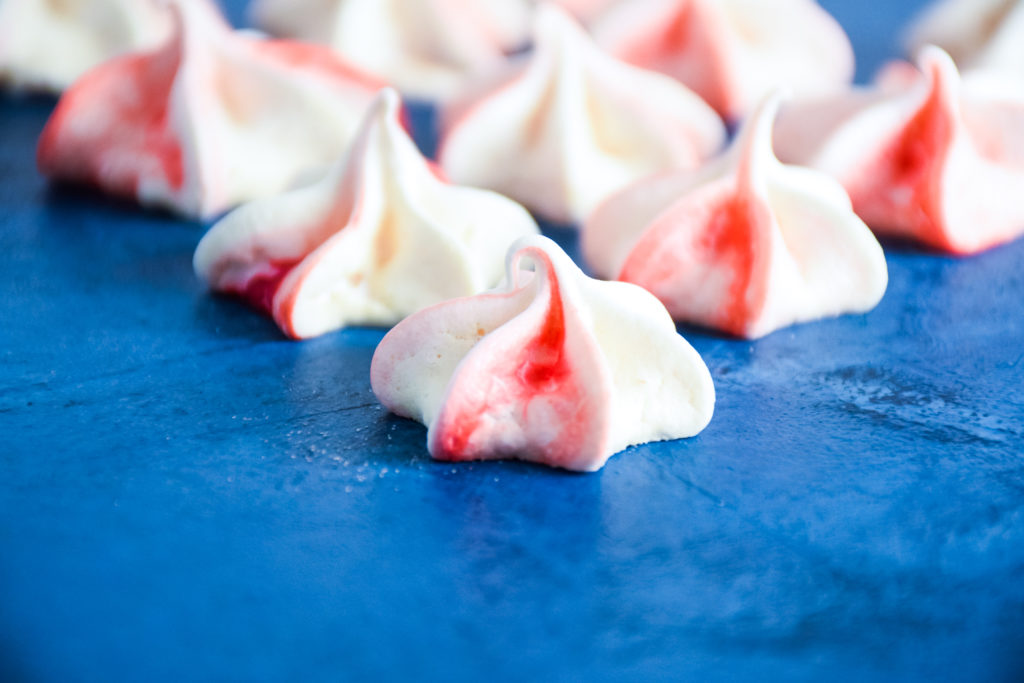 Peppermint Meringue Cookies
I absolutely love the way the peppermint works with these meringues! It's like a refreshing little cloud of mint in your mouth. I love the delicate flavor it imparts into these cookies. It's also absolutely perfect for the holidays.
If you are someone who loves all things peppermint around the holidays then these are perfect for you!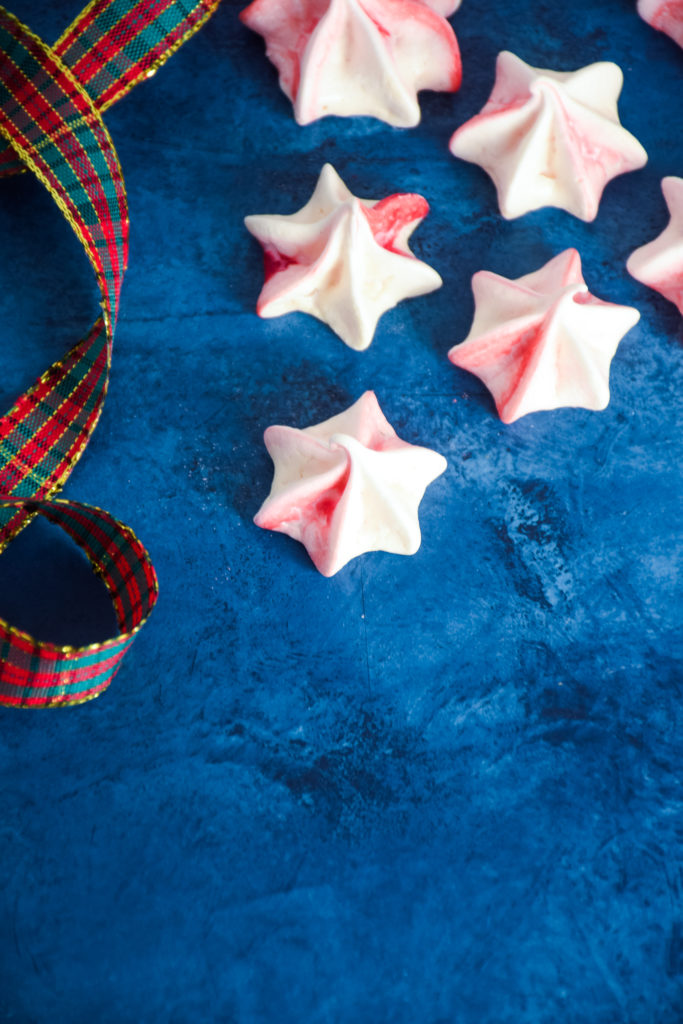 A Few Tips For Making Meringues
When making meringue cookies, there are a few things you'll want to keep in mind.
Make sure to bake these at a low temperature and then keep them in the oven for an additional hour to continue baking and drying out. Do not open the oven for the meringues could collapse.
Moisture is the enemy of a light, crisp meringue. Be sure to store these in an air tight container where they can stay fresh for weeks. A mason jar is the ideal place for a meringue to be store but any air tight container will work.
The meringues will be crisp on the outside and have a slightly chewy center. When baking they will not spread so you can pipe these close together on a baking sheet.
I love the 1 in x 1 in kiss shape for a yummy one-bite wonder but you can get creative with the size and shape of your meringues. If your meringues are very large you will want to bake them longer but as long as the size stays close to a 1 in x 1 in then it doesn't matter the shape you pipe for baking.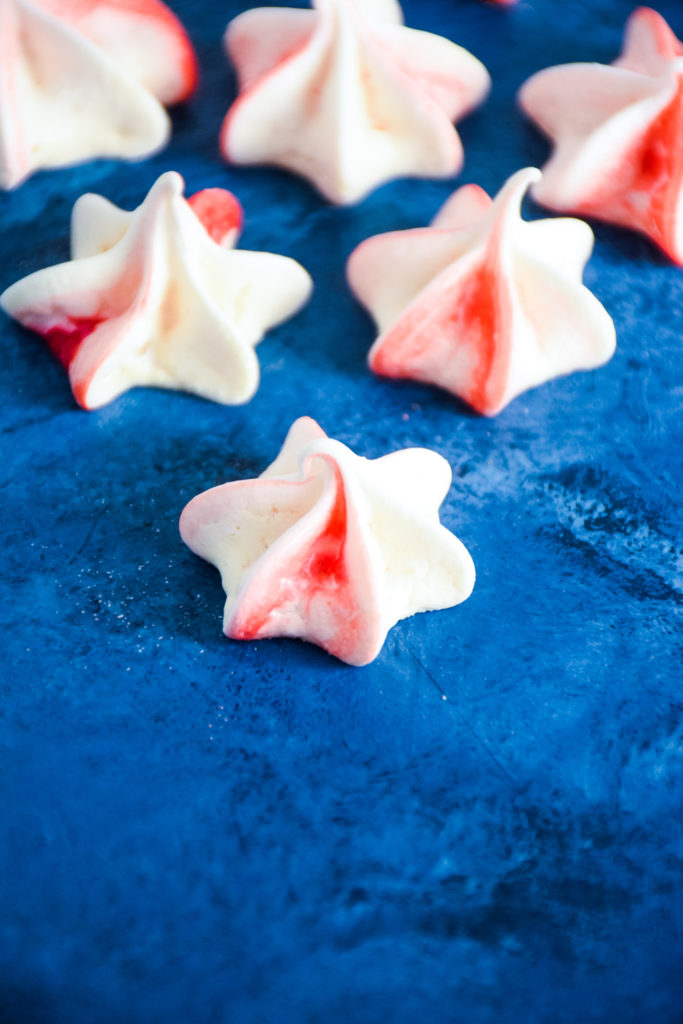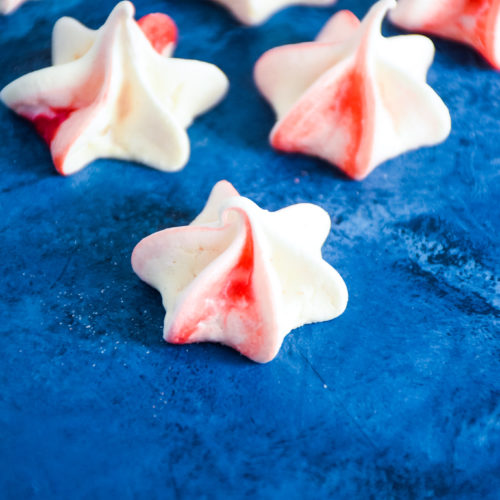 Peppermint Meringue Cookies
These Peppermint Meringue Cookies are light, crisp and have a delicate peppermint flavor! These are a delightful holiday treat!
Ingredients
3/4

cup

granulated sugar

2

tsp

cornstarch

4

large

egg whites

3/4

tsp

vanilla extract

1/8

tsp

kosher or fine sea salt

1/2

tsp

peppermint extract

4-6

drops

red food coloring
Instructions
Preheat oven to 225° and prepare 2 large baking sheets with parchment paper or silicone baking mat.

In a bowl, whisk together sugar and cornstarch. Set aside.

In a stand mixer with the whisk attachment, or with a hand mixer, whip egg whites, vanilla extract and salt together on highest speed being careful of splatters. Whip for 30-45 seconds until very light peaks form.

Reduce speed to medium and add sugar mixture slowly, one tablespoon at a time. This should take about 45-60 seconds. It may be helpful to have an extra person help you with this step. It's important to add slowly so that the egg proteins have time to properly bind with the sugar mixture.

Once incorporated, increase speed to high and whip until stiff, glossy peaks form. This take an additional 30-45 seconds.

Using a rubber spatula, gently fold, or mix, in peppermint extract.

Prepare a pipping bag with a 1M Wilton tip, or any shape you want. Dip the tip of a butter knife, toothpick or skewer in food coloring and draw thin lines 3/4 the way up opposite sides of the pipping bag.

Use spatula to fill bag with meringue. Pipe meringue into 1 inch wide by about 1 inch tall stars or kisses shapes. Gently press down when finishing each shape to achieve curly tail on top. If your shapes are larger, they made need to bake a few extra minutes. If you choose to do different sized shapes just be aware that smaller shapes may brown more quickly than larger shapes.

Bake for 60 minutes at 225°, turning tray 180° after 30 minutes.

After 60 minutes, turn off oven but DO NOT OPEN OVEN. Allow meringues to continue baking in turned off oven for an additional 60 minutes.

Once meringues are finished resting in the oven, allow to cool completely on wire rack. Then move to air tight container to store for up to two weeks. A glass jar with a wide mouth works perfectly for these meringues!
Nutrition
Calories:
14
kcal
Carbohydrates:
3
g
Protein:
1
g
Fat:
1
g
Sodium:
5
mg
Potassium:
4
mg
Sugar:
3
g