Coffee Toffee Brittle with Macadamia Nut is made with espresso infused caramel and topped with smooth chocolate and macadamia nuts for a caffeinated twist on traditional toffee brittle.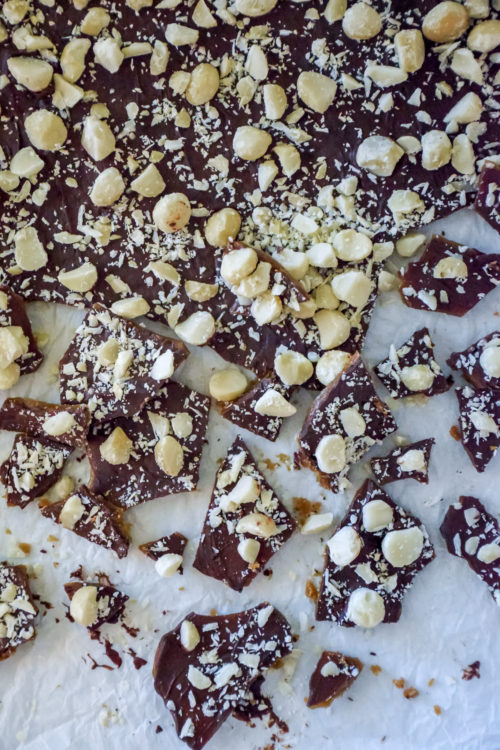 Coffee toffee just has a ring to it don't ya think? Something about anything espresso-infused and I just can't pass it up! Especially during the wintertime. Also, if you've been reading long enough then you know that espresso and chocolate are one of those power flavor pairs. When you put them together they really bring out the best in each other. They play perfectly together in this toffee brittle and well, the macadamia nuts… you'll have to keep reading for why I chose those!
This post contains affiliate links. If you purchase a product through these links I may earn a few pennies. Thanks for keeping this free blog going!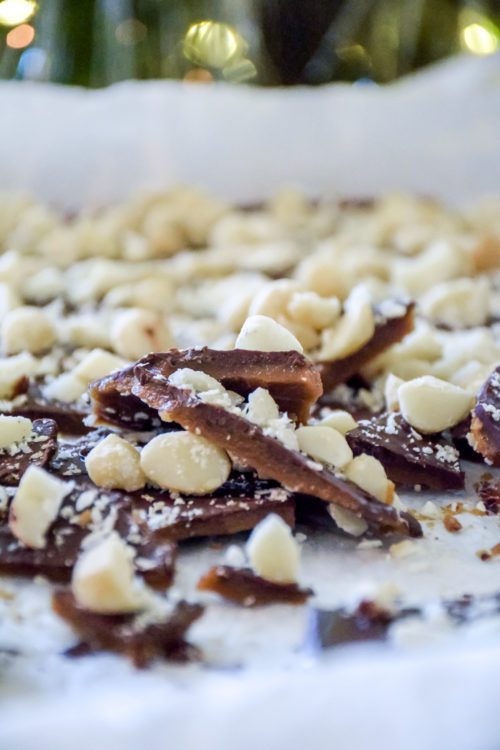 Coffee Toffee Brittle with Macadamia Nuts
Why macadamia nuts? Well, first off they're delicious. I love that they have such a delicateness about them. They are like the tenderest of all the nuts if you ask me. And toffee is already crunchy enough so I like the juxtaposition of the soft nut on the crisp candy.
But the main reason I chose macadamia nuts for this recipe is because they remind me of Hawaii. And well, I told y'all or posted about it but BMW and I snuck away for some island time earlier this fall. It was a much needed respite after the past 18 months. And if you know anything about Hawaii it's that they love macadamia nuts! They're in everything! Pancakes! Coffee! Ice Cream! You name it, they've found a way to incorporate macadamia nuts. Anyways, I wanted add a little Mele Kalikimaka to my toffee this holiday season!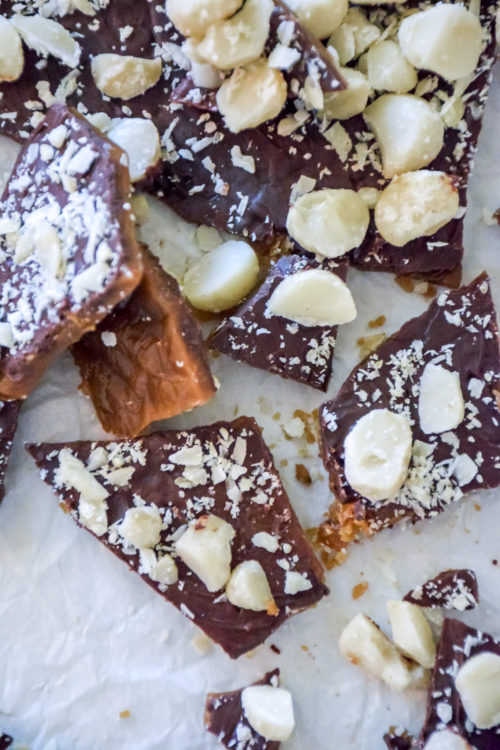 How To Make Toffee Brittle
I don't why but toffee always sounded like something fancy to me. And fancy meant difficult to make. Well, folks, I'm here to tell ya that toffee couldn't be easier to make! All toffee follows a very similar and simple recipe.
It goes something like this: make caramel. Which is basically butter and sugar boiled together. In this recipe we add some instant espresso powder
to jazz things up. Then pour onto a parchment paper lined baking sheet and immediately top with semi sweet chocolate. The chocolate will begin to melt on top of the piping hot caramel. Add whatever topping you like. In our case, macadamia nuts.
Then the most difficult part waiting for it set. You can let it do its thing on the counter or you can speed up the process by putting this in the fridge or freezer. Once set, you can use the round tip of a butter knife to break into pieces and enjoy! This perfect for gifting!
You Might Also Love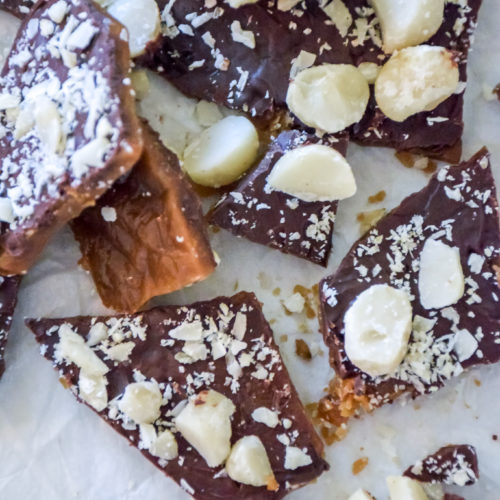 Coffee Toffee Brittle with Macadamia Nuts
Espresso infused caramel is topped with smooth chocolate and macadamia nuts for a caffeinated twist on traditional toffee brittle.
Ingredients
16

tbsp

unsalted butter

1/2

cup

granulated sugar

1/2

cup

light brown sugar

2

tsp

instant espresso powder

1/4

tsp

kosher salt

reduce by half if using table salt

1

cup

mini semisweet chocolate chips

can use regular chip but I find minis melt better

1/2

cup

Macadamia Nuts

I get the ones that are roasted and very lightly salted
Instructions
Line a 9x13in baking sheet with parchment paper. Cut or crushed macadamia nuts into bite-sized pieces. Set aside.

In a pot, ideally with candy thermometer attached, bring butter, both sugars, espresso powder and salt to a boil, stirring frequently. Once melted, continuously stir until mixture reaches 300°F. If you don't have a candy thermometer, you can meat thermometer to monitor the temperature.

Pour immediately onto parchment lined baking sheet and spread with rubber spatula. Sprinkle chocolate chips all over top of hot caramel then smooth out the chocolate across the top as it melts. Top with macadamia nut pieces.

Let cool until completely set. You can transfer to fridge or freezer to speed up this process. Once set, use the round tip of a dinner knife to break into pieces. Enjoy! Can be stored in air tight container for a week.
Nutrition
Calories:
178
kcal
Carbohydrates:
14
g
Protein:
1
g
Fat:
13
g
Saturated Fat:
7
g
Trans Fat:
1
g
Cholesterol:
21
mg
Sodium:
28
mg
Potassium:
78
mg
Fiber:
1
g
Sugar:
12
g
Vitamin A:
238
IU
Vitamin C:
1
mg
Calcium:
15
mg
Iron:
1
mg