Snickers Toffee is a sweet and salty treat that is easy to make and perfect for sharing with friends!

Over the holidays, my friend made me some delicious toffee. Sweet, rich and oh so decadent. It was such a treat to have a friend make me a treat, haha! BMW and I both loved it so much that we asked her to make it again for our annual Friendmas get together. It was hit there again! Needless to say, I've been wondering where toffee has been my whole life. So I decided to put my own spin on toffee and made this sweet & salty version with Snickers pieces!
This post contains affiliate links. If you purchase a product through these links, I may earn a few pennies. Thanks for keeping this free blog going!
Sweet & Salty Snacks
If we are being totally honest, I typically go for salty snacks. Think cheese, hummus and oh, I should probably never be left alone with a bag of potato chips! However, since becoming pregnant, I definitely crave a few more sweets than usual. I wouldn't say that I have a major sweet tooth, but I do find myself liking cookies and ice cream a bit more than usual.
That's where this Snickers Toffee comes in! It's a little bit sweet — chocolate chips and Snickers pieces– and little bit salty — saltine crackers and butter! The best of both worlds if you ask me. Plus, it only takes about 15-20 minutes to make, so you can easily throw it together for a quick get together anytime!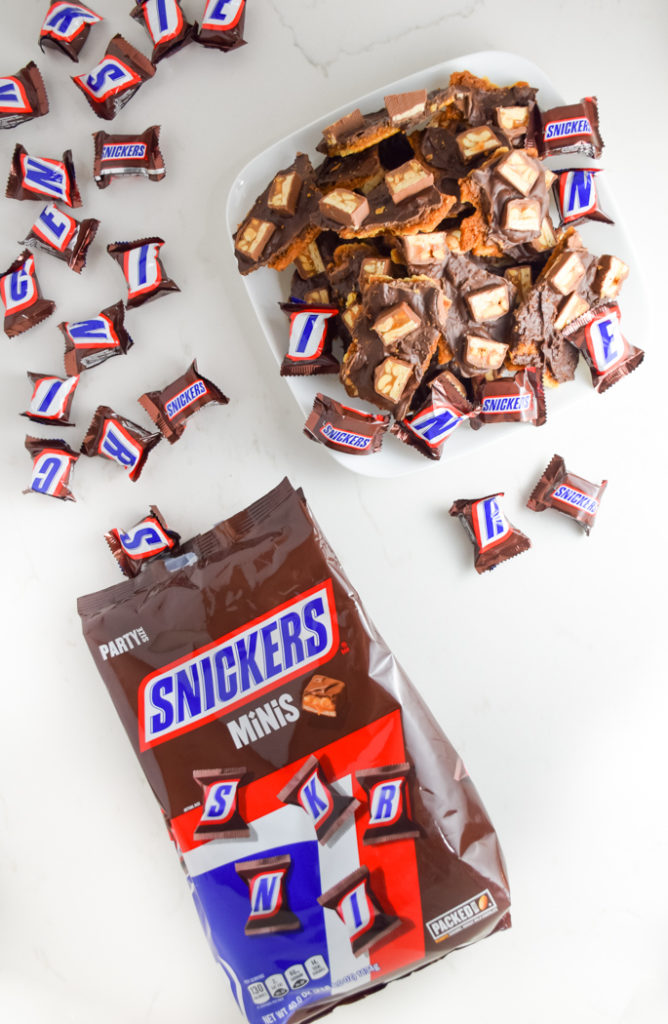 Best Snacks to Share with a Group
Here are some of my favorite snacks to share with friends and family! They are great anytime but especially on game days and big get togethers. I love sharing recipes that are made for a crowd because honestly I just love to entertain and have friends over. And lucky for me, my friends love to eat!
Soft Buttered Rosemary Pretzels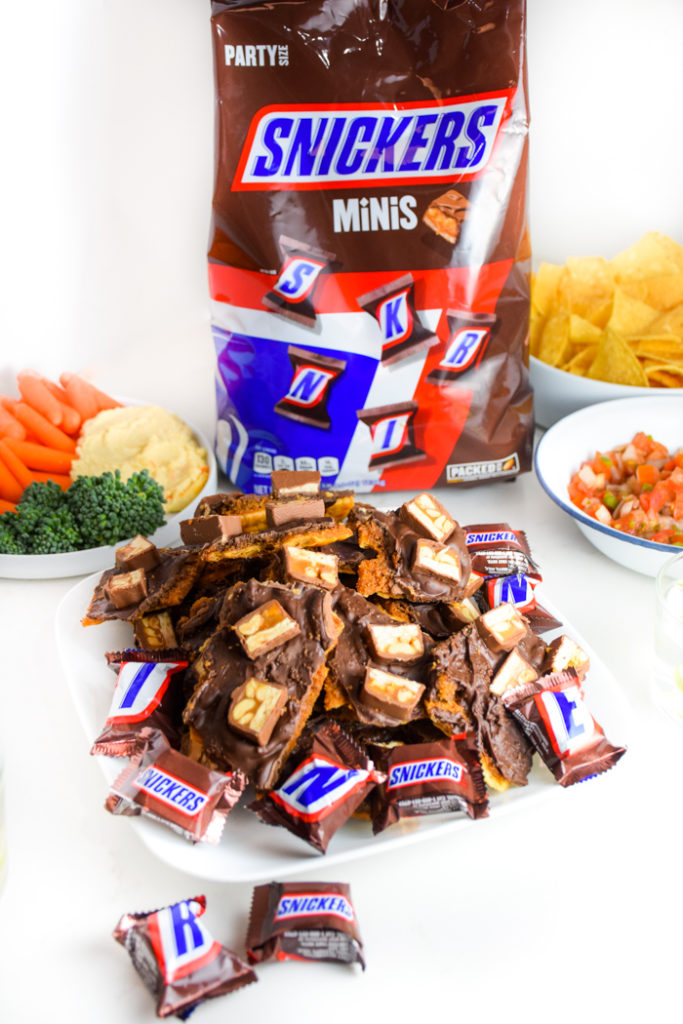 Snickers Toffee
Makes 12 servings
Ingredients: 
20 snack size pieces of Snickers, cut in half
1 stick of butter
1 sleeve of salty soda crackers (like
Saltines
)
1 cup of brown sugar
12oz semi sweet chocolate chips
Directions: 
Preheat oven to 400 degrees and line a baking sheet with foil. Then line the entire sheet with salty soda crackers.
Melt butter and brown sugar together in a small pot. Let come to boil, stirring frequently. Let boil for about 5-6 minutes.
Pour melted butter and sugar over crackers and immediately spread all over the top of the crackers. Do this quickly as the toffee will begin to harden.
Bake for 5 minutes. After removing the pan from oven, immediately pour chocolate chips on top and let soften. If needed return pan to oven for a few seconds to help them melt. After chips have softened, spread all over top of toffee and crackers.
Before the chocolate hardens, press Snickers pieces into chocolate showing off the inside layers. Let chocolate cool completely. You can place the whole baking sheet in the fridge to speed this process up.
Break Snickers Toffee into pieces and serve! You can store in the fridge, covered, up to five days ahead of time.