Authentic Greek Tzatziki yogurt sauce is so delicious and goes on everything!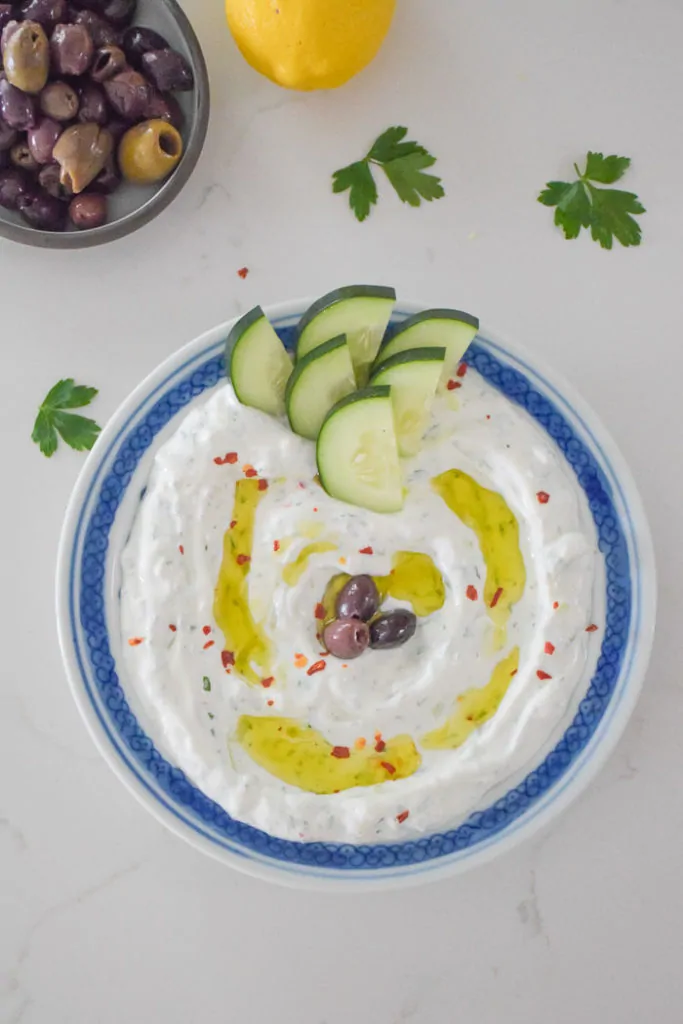 Creamy, cool, delicious and just a tiny bit tart and spicy? Yes, I am describing this thick, perfect, easy to make homemade Tzatziki sauce! I've been on the hunt for a tzatziki sauce I can put on nearly anything, like these Mediterranean Bowls, for a while now. I've been testing out different recipes and landed on this one!
This post is sponsored by FAGE. Thank you for supporting the companies that keep this blog going! All opinions and recipes are my own.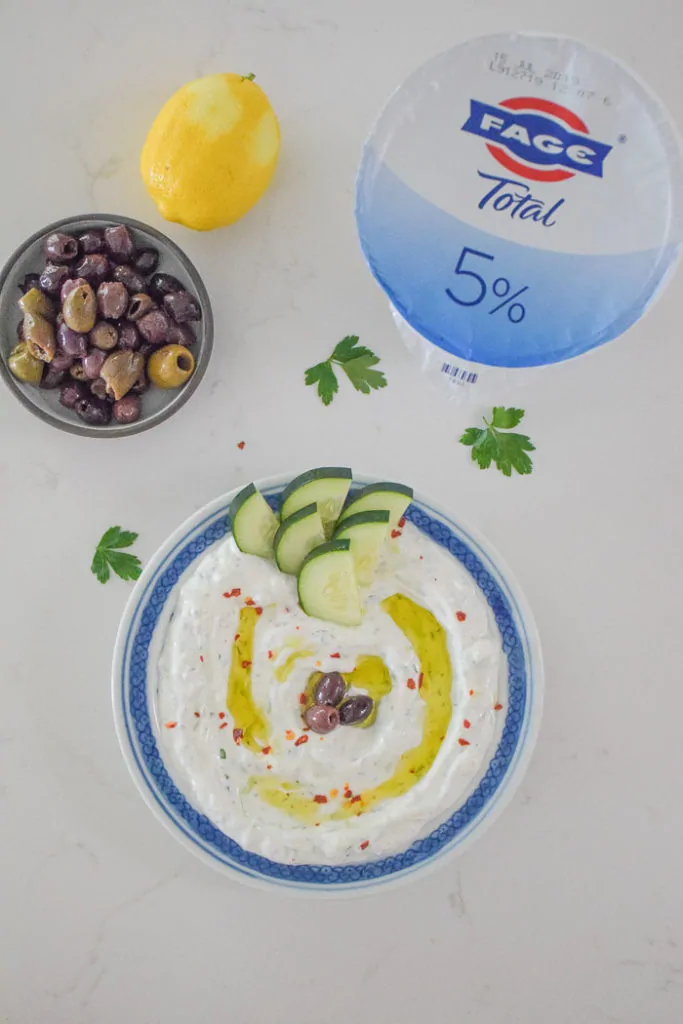 I absolutely love recipes for meals that can be eaten in bowls! Salads, yes please! Soups, you betcha. And when I'm craving carbs… well you get the idea. Sadly, in Austin, we don't have many great Mediterranean restaurants, so no takeout for this household. I can't say I'm too sad about it now though. Because it led to me this recipe!
I've often tried other tzatziki recipes at home and they all sorta fell flat. I'm a HUGE dill fan but found that this recipe really comes alive with fresh oregano and parsley, not dill. After testing and testing, I found a big juicy lemon goes a long way and don't forget the salt!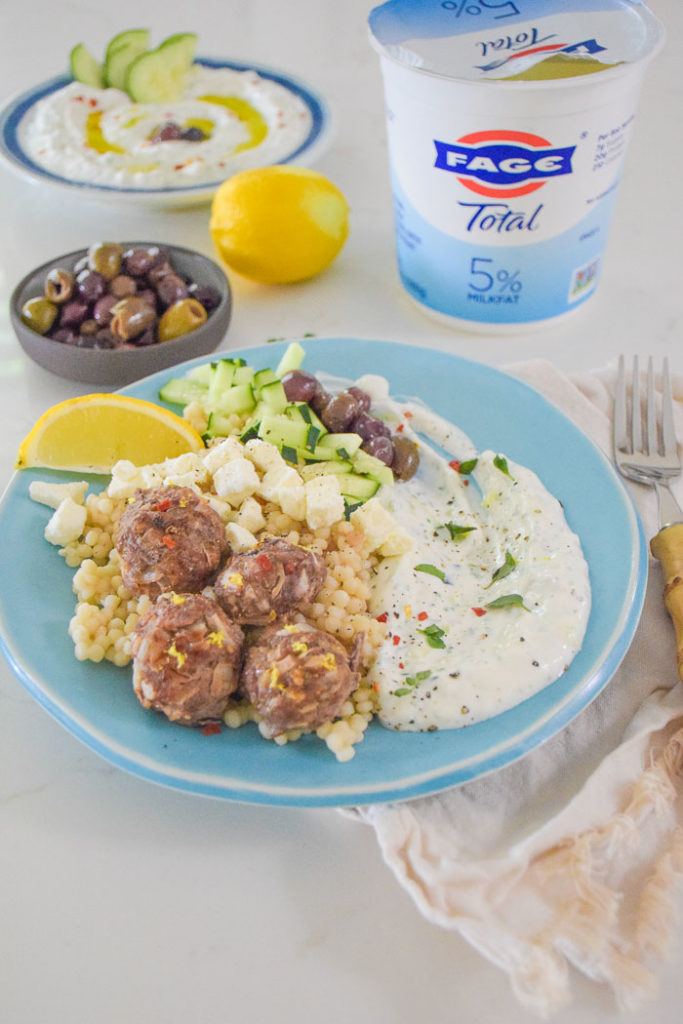 Homemade Tzatziki Sauce
Now, let's talk about the yogurt. Which is like major important. It's the entire base of this sauce. Skip on the good yogurt and you'll never be able to bring this sauce back around. I LOVE how thick and creamy FAGE 5% yogurt is. It's so perfect for this recipe because it can withstand all the lemon and juicy cucumbers without turning watery. This is so important. If the yogurt is too thin to begin with the sauce won't hold all the other flavors well. Trust me on this, I've tried it several different ways with different brands and different fat contents.
If you must, you can use a lower fat yogurt but I don't recommend it. FAGE uses top quality ingredients and you can tell from the first moment you peel back the lid. No watery residue, just super, thick creamy yogurt. Just the way I like it!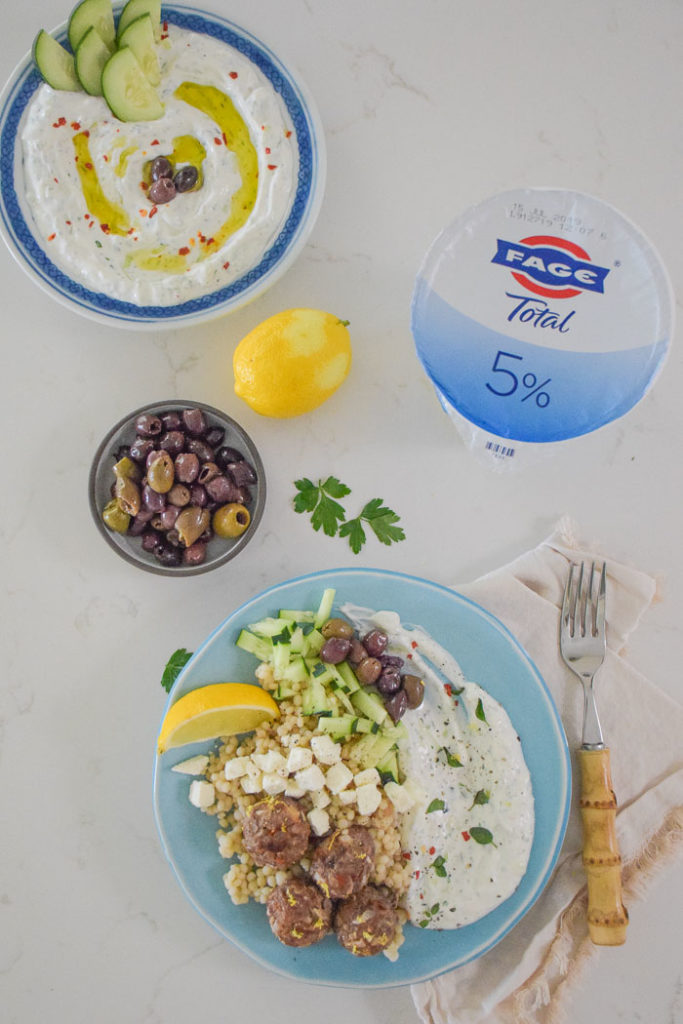 Pairs well with Lamb Meatballs and Easy Greek Medi Bowls!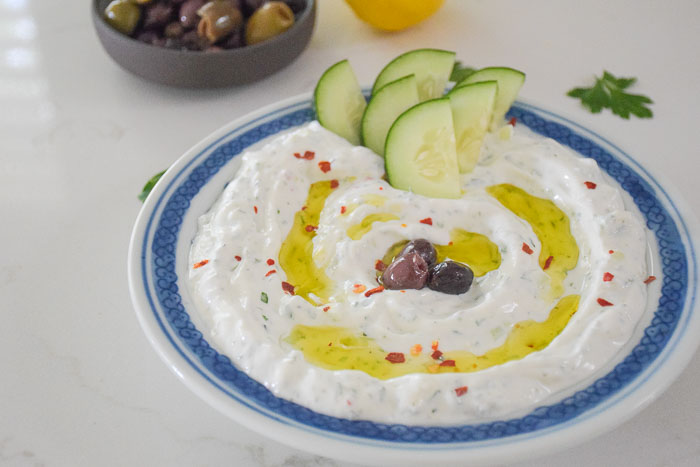 Authentic Greek Tzatziki Sauce
Ingredients:
1 cup FAGE 5% yogurt
2/3 cup finely diced cucumber
2 ounces lemon juice (approx. juice of 1 small lemon)
1 garlic clove, minced or pressed
1 teaspoon fresh flat leaf parsley, minced
1 teaspoon fresh oregano, minced
1 teaspoon salt
½ teaspoon red pepper
½ teaspoon black pepper
Directions:
Whisk all ingredients together until well combined. Taste and add more salt if needed.
Stored covered and refrigerated until ready to eat, up to three days in advance.