Soft Buttered Rosemary Pretzels are the perfect appetizer for sharing!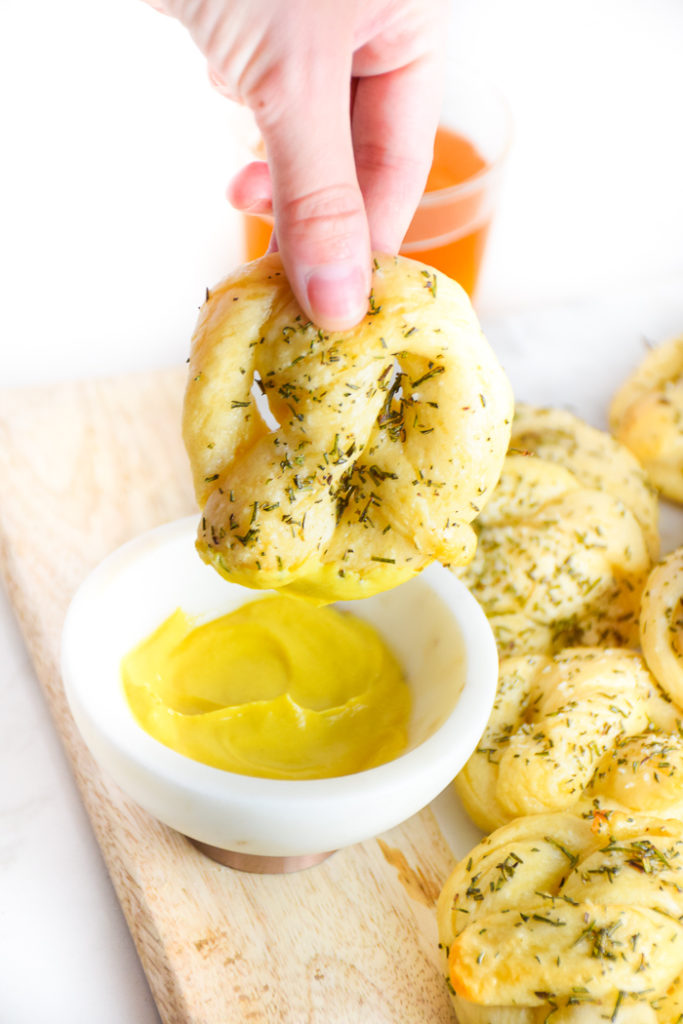 Omg all I want to do is curl up with a good movie, a good beer and big batch of these Soft Buttered Rosemary Pretzels! Hello carb heaven. Perfect snack for game watching or an appetizer to get your meal started. These are best straight out of the oven if you ask me. And you'll definitely want something yummy to dip them in, so scroll on for the recipe and dipping suggestions!
This post contains affiliate links. If you purchase an item through these links, I may earn a few pennies. Thanks for keeping this free blog going! 

Dipping Sauces for Soft Pretzels
These soft pretzels are just begging for a dipping sauce! Don't get me wrong, when they are warm and fresh out of the oven, they are quite delicious on their own. But pretzels and dip are definitely a match made in heaven.
We love to dip our rosemary pretzels in our favorite French dijon mustard. I mean honestly I love this mustard on just about everything! We first tried it during our honeymoon in Paris and I was thrilled to find that I can buy it online back home!
These pretzels would be to die for with this Whiskey Cheddar Fondue! I mean I could make a whole meal of out these two things to be honest! Queso would be an excellent option as well.
A little melted butter goes a long way! If you're not sure about dipping sauces, melt some extra butter with rosemary and voila! Dipping sauce done.
If you want something a bit heartier, try making our favorite Spicy Red Wine Sauce! It would be perfect for an Italian take on these pretzels.
I love how soft these pretzels are! This comes from only boiling them in the baking soda water for a short time. If you prefer your pretzels to be more pretzel-y and chewy, then boil them for one minute and brush them egg whites before baking which will give them that golden glow.
I personally love the softness these rosemary pretzels have with a slight chew. It's up to you though!
Soft Buttered Rosemary Pretzels
Makes 8 large pretzels or 16 minis! The ones in these photos are minis.
Ingredients: 
2 1/2 – 3 cups all purpose flour (start with 2 1/2 cups, you want dough to be smooth and pliable)
2 1/4 teaspoons quick rise yeast (1 packet)
1 cup warm water 110 degrees (warm from the tap will work)
1 teaspoon sugar
1 1/2 teaspoon salt, divided
1 tablespoon baking soda
1/2 stick of butter, melted
1 teaspoon fresh or dried rosemary, minced
Directions: 
Preheat the oven to 450 degrees. Mix yeast with warm water and sugar and let foam for about 5 minutes.
Add flour and salt to yeast and water. Mix with dough hook on medium low for about 5 minutes or until soft and smooth. You can knead by hand, it will just take a bit longer. You want the dough to be smooth and pliable, if needed add more flour one tablespoon at a time.
Cover bowl and let dough rise for 30 minutes.
Cover surface with vegetable oil to prevent sticking, can rub onto hands. Roll out dough into log. Divide into 8 pieces or large pretzels or 16 pieces for mini pretzels. Fold and twist into pretzel shape.
Bring a small pot of water to a gentle boil with baking soda. Dip each pretzel into warm baking soda water for 30 seconds. Place pretzels onto parchment lined baking sheet.
Sprinkle pretzels with salt and rosemary. Bake for 10-12 minutes until slightly golden. Brush with melted butter and serve with something to dip them in!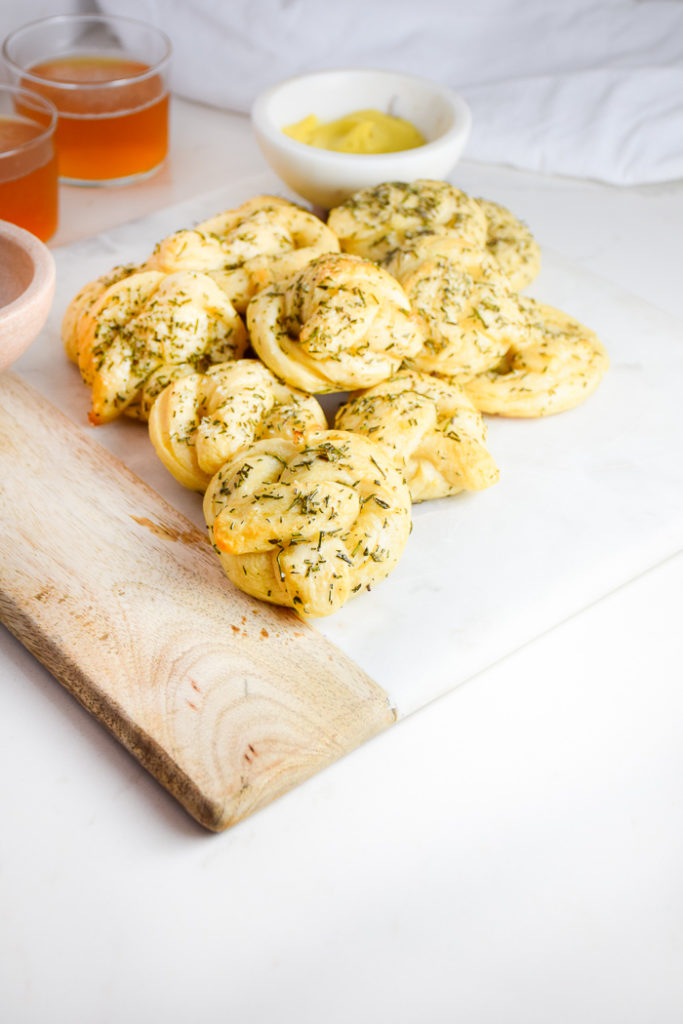 Are you a  soft pretzel fan? Tell me in comments if you love soft pretzels or crunchy ones!