Lemon Sugared Shortbread Bars are a tender, slightly sweet crumbly dessert with a light lemon flavor. These couldn't be easier to make!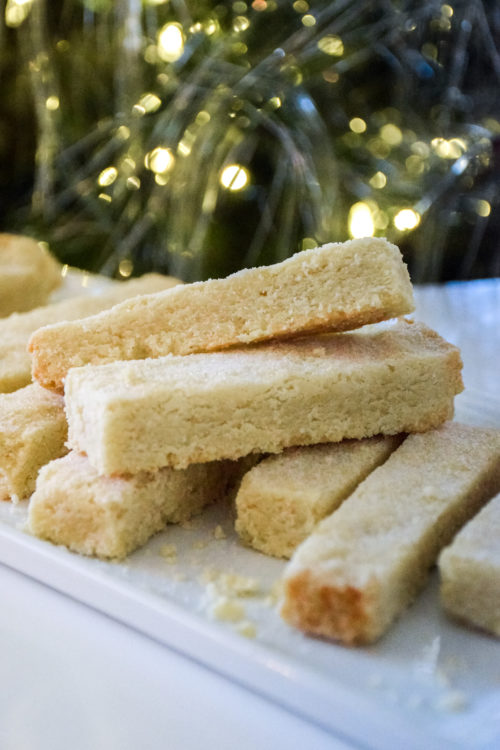 These Lemon Sugared Shortbread Bars are basically two of my favorite desserts colliding into one! I've always loved lemon desserts since I was kid. I definitely have my grandma to thank for my love of lemon flavored sweets. Later on as an adult, I fell in love shortbread. But not just any shortbread. Specifically, the shortbread bar from épicerie here in Austin. It was crumbly, but not dry, slightly sweet and went perfectly with an afternoon coffee. Anyways, I created these bars out of my love for those two desserts. I hope you enjoy these as much as I do!
This post contains affiliate links. If you purchase a product through these links I may earn a few pennies. Thanks for keeping this free blog going!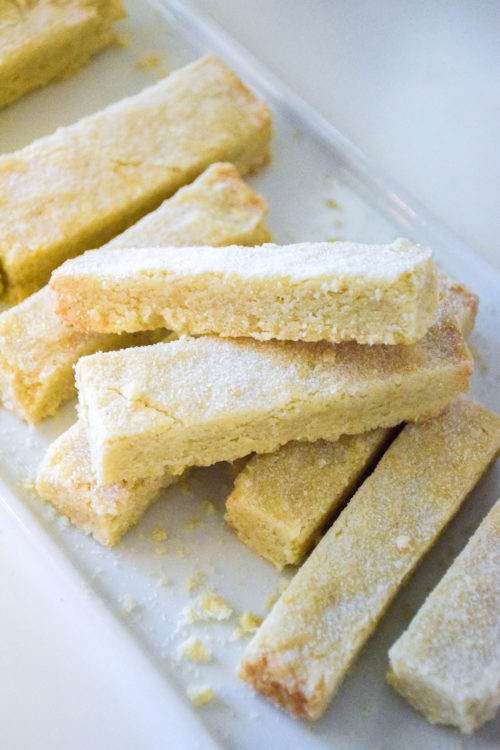 Lemon Sugared Shortbread Bars
If you've never had shortbread before, it is a crumbly, light and airy. It's often served like a cookie but also sometimes like a cake. But it's not nearly as sweet as either of those. If you are not a fan of sugar sweet desserts, then this Lemon Sugared Shortbread is for you!
I call it lemon sugared because an important step in this process is to massage the sugar with lemon zest. This process releases the oil and flavor from the zest into the sugar. It makes for a subtle lemon flavor that is evenly baked into these bars. The lemon scent makes for a well balanced shortbread, not too sweet, not too tart.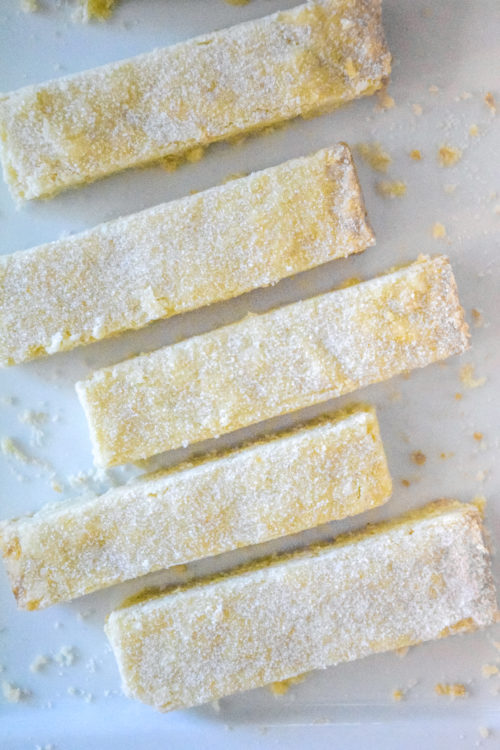 Tips for Making Shortbread Bars
There are a few notes to consider when baking shortbread.
First, it is always better to err on the side of under baking rather than over baking, but especially when making shortbread. The tender dough should only be ever so slightly golden brown along the edges. No matter the recipe, always set you timer for 5-10 minutes less than what the directions call for. All ovens run differently, so it's better to check your shortbread often towards the end of the baking. Pull them out once you notice the golden edges.
Next, you will want to use parchment paper to line your baking dish. Leave extra hanging over the sides so that you can use that as a sling to life the bars out of the pan once you're done baking. The dough will be very tender and prone to cracking so you will want to do this with care within 3-5 minutes after taking out of the oven. You will also want to cut into bars or bites while the shortbread is still warm. If you wait until the bars cool the cutting will cause them to crumble.
Immediately after removing the shortbread from the oven and before removing from pan and cutting, you will want to sprinkle the top lightly with sugar. You can certainly do this with you hand or a spoon but I find using a fine mesh sieve
ensures the sugar is evenly distributed.
You Might Also Love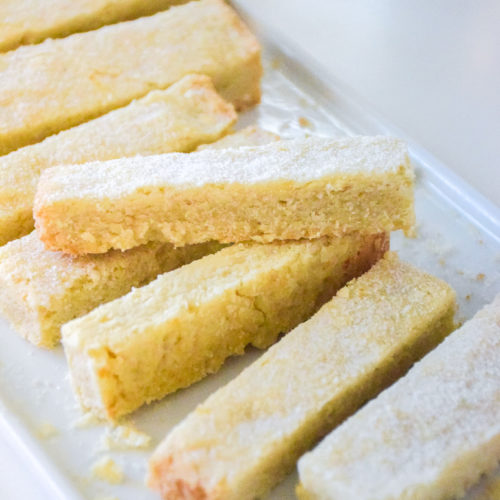 Lemon Sugared Shortbread Bars
Lemon Sugared Shortbread Bars are a tender, slightly sweet crumbly dessert with a light lemon flavor. These couldn't be easier to make!
Equipment
8x8in pan (baking time will need to be adjusted if using different size pan)
Ingredients
16

tbsp

unsalted butter

melted and cooled

1/4

cup

granulated sugar

+ 1/2 tbsp extra for topping

1

lemon

zest only

2

cup

All Purpose Flour

1/4

cup

almond flour

1/2

tsp

fine sea salt

reduce by half if using table salt
Instructions
Preheat oven to 350°. Wash rind of lemon. Line 8x8 inch baking pan with parchment, creasing sides and corners well. Leave extra parchment hanging over sides to help with lifting bars out after baking.

Melt butter and let cool until room temperature.

Zest lemon and combine with sugar in a small bowl. Massage sugar and lemon zest with fingers to release oils and infuse sugar with flavor. This should smell delish! Massage for 60 seconds.

In a mixing bowl, whisk together both flours, salt and lemon sugar. Then add cooled melted butter and stir until well combined.

Press dough evenly into pan. Bake for 40-45 minutes until edges are just barely golden brown. Err on the side of under baking. Remove from oven and immediately sprinkle top with 1/2 tbsp sugar. I find it easiest to do this with a fine mesh sieve to get it sprinkled evenly.

Let pan cool for about 3-5 minutes then carefully lift bake out of dish with parchment paper over hang. Transfer to flat surface and cut into bars while still warm. Then let cool completely. If you wait to cut until completely cooled the bars will crumble. They will still be delicious though! Store in airtight container for 5 days.
Nutrition
Calories:
242
kcal
Carbohydrates:
21
g
Protein:
3
g
Fat:
17
g
Saturated Fat:
10
g
Trans Fat:
1
g
Cholesterol:
40
mg
Sodium:
100
mg
Potassium:
39
mg
Fiber:
1
g
Sugar:
5
g
Vitamin A:
468
IU
Vitamin C:
5
mg
Calcium:
15
mg
Iron:
1
mg