These sweetly satisfying lemon bars are a colorful addition to your dessert bar! An easy make ahead recipe that you can take to all your parties!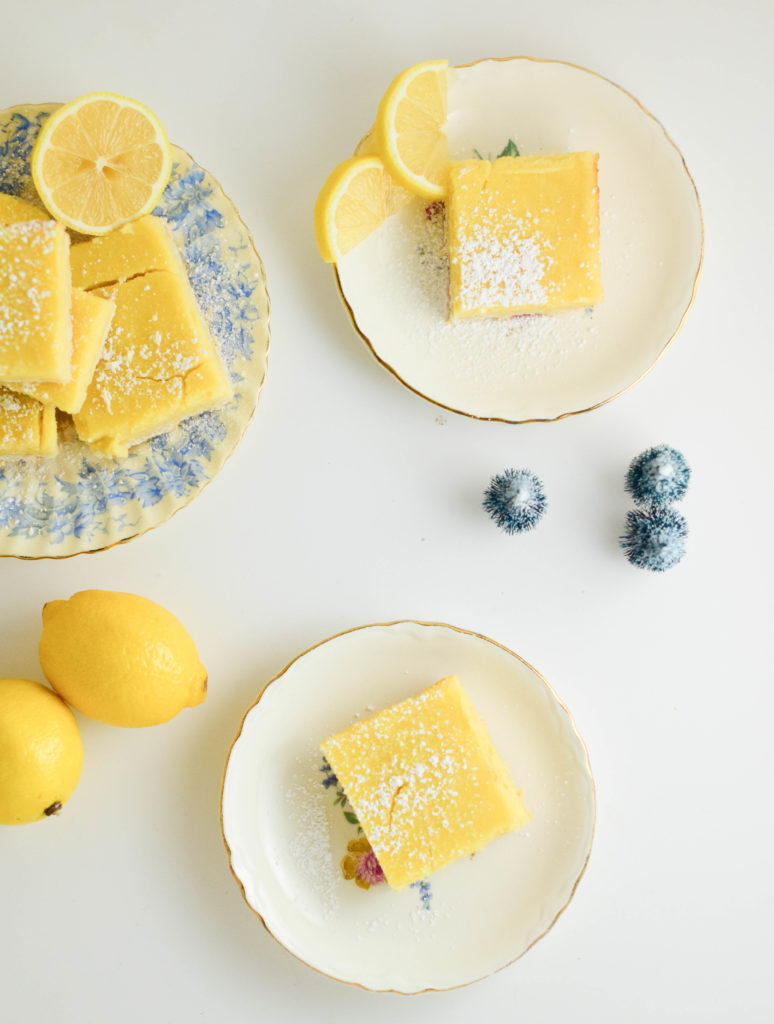 I always thought lemons were a summertime thing. Come to find out as an adult who started thinking more about where who food comes from I was surprised to find out that citrus season is actually in the winter! Who knew! Then I remembered that my Grandma would always make up a big batch of lemon bars every Christmas. That is what spurred my interest in making this Old Fashioned Lemon Bar recipe! My Grandma and I share our love for lemon flavored desserts and I think these lemon bars would make her proud!
Do you have special recipes that you make every year for the holidays? I started making Texas Pecan Cinnamon Rolls last year and that is definitely one tradition I want to keep. Now I think these lemon bars will definitely be making a holiday appearance on the reg.
This recipe first appeared in the December 2017 issue of Austin Woman Magazine.

Old Fashioned Lemon Bars
Makes on 9in x 13in pan
Ingredients:
3 ¼ cups all-purpose flour, divided
1 ½ cups sugar, divided
2 tablespoons lemon zest
½ teaspoon salt
16 tablespoons unsalted butter, room temperature, cubed
6 large eggs
¾ cups fresh lemon juice
2-3 tablespoons of powdered sugar for dusting
Instructions:
Preheat oven to 35o degrees and line a 9in x 13in pan with non-stick foil with overhang for easy removal.
First make the crust by whisking 2 cups of flour, 1/3 cup sugar, 2 tablespoons of lemon zest and ¼ teaspoon salt together. Use a fork to cut in 16 tablespoons of butter until crumbs form.
Press mixture firmly into pan until even. Bake for 25 minutes or until lightly brown.
Reduce oven temperature to 325 degrees.
Whisk eggs with remaining sugar. Add in remaining flour and salt and combine until smooth. Stir in lemon juice and quickly pour over hot crust and return to oven for an additional 25 minutes or until filling is set but center is slightly jiggly.
Let cool in pan on wire rack for an hour. Then cover and refrigerate for at least four hours or overnight.
Lift bars out of pan and cut into squares. Dust with powdered sugar and serve. Bars can be made up to three days in advance and stored in the fridge.