These Texas Pecan Cinnamon Rolls are a great make ahead breakfast treat that will fill your house with the delicious smell of cinnamon in the morning!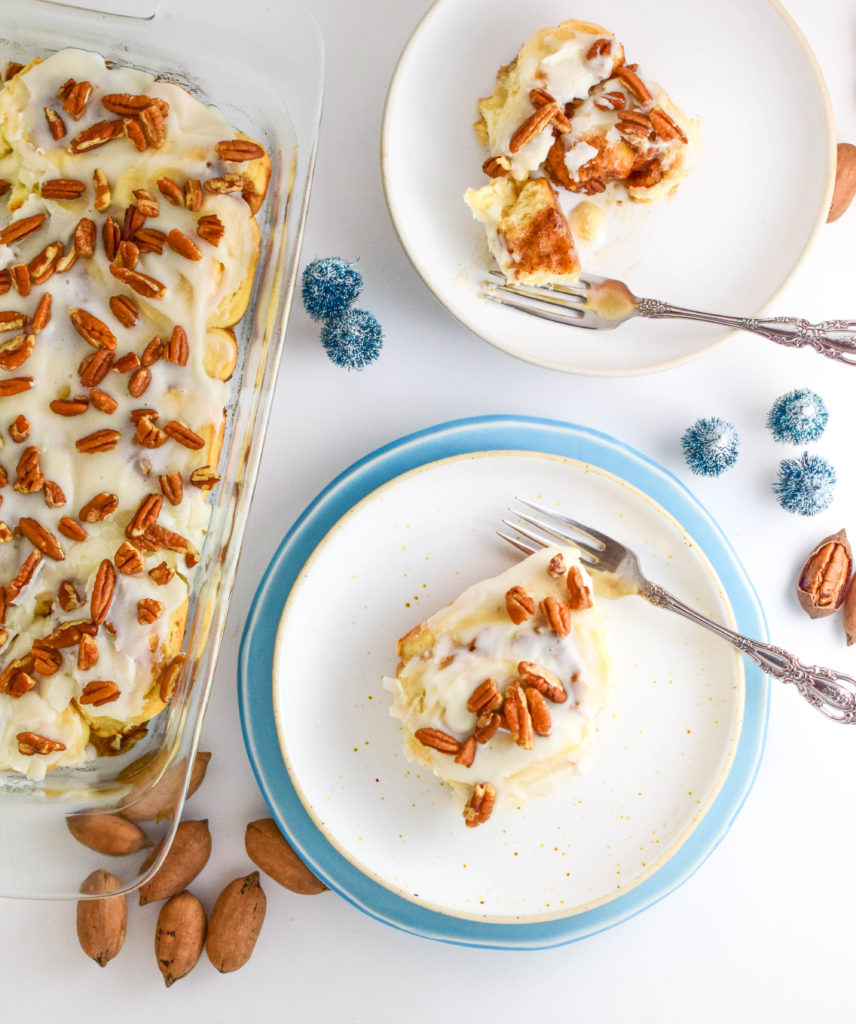 It's the most wonderful time of the year! Last year, I made some delicious cream cheese cinnamon rolls not once but twice so both mine and BMW's families could have some! I absolutely loved the warm cinnamon smell coming from the kitchen while we opened presents from Santa. Yes, we may be in our 30's but we still open present from the jolly guy in red. Some traditions are worth keeping! This year, when April the editor from Austin Woman asked me to come up with some baking recipes for the holidays, I knew I just had to make cinnamon rolls! There is simply nothing more perfect than a make ahead cinnamon roll batch for Christmas morning! I put a Texas twist on these to make them seasonal. Who is ready for some Texas Pecan Cinnamon Rolls?!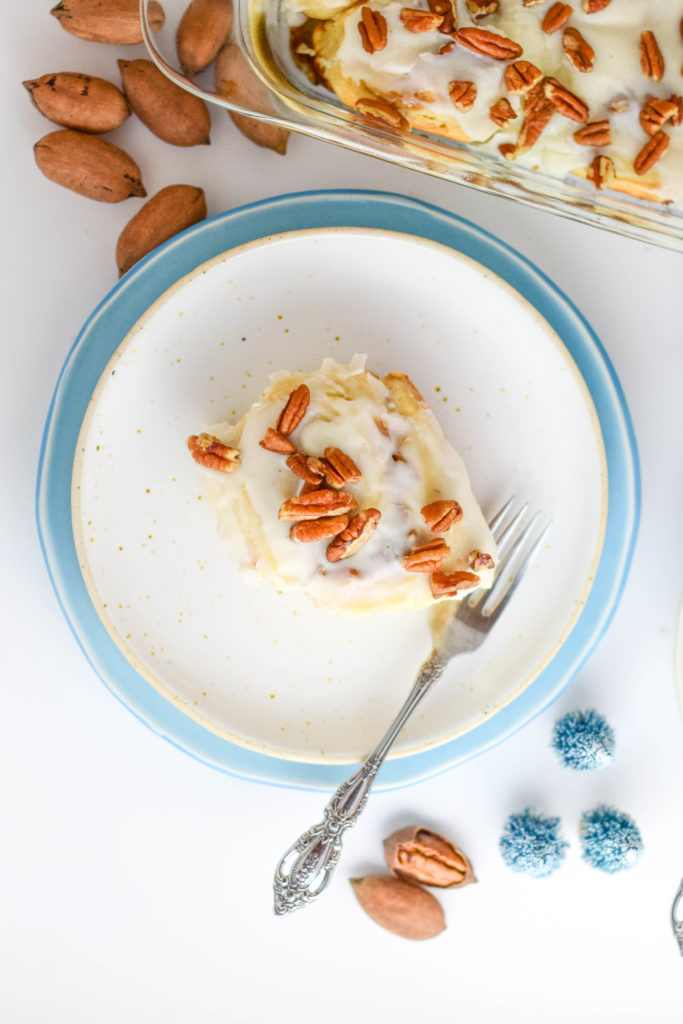 You can make these up to step 10 the night before and let them rise slowly in the fridge. This was a fun little tradition on Christmas Eve for my mom and me. It's all the fun of baking and none of the pressure of perfectly decorating cookies. Plus, I think the adult Santas will appreciate a nice cozy breakfast!
This recipe first appeared in the December 2017 issue of Austin Woman Magazine.
Texas Pecan Cinnamon Rolls
Makes about one 9in x13in pan or about 12 rolls
Ingredients:
1 cup milk + 1 ½ tablespoons whole milk, divided
8 tablespoons butter, divided
2 ½ to 3 cups of all-purpose flour, divided, plus more for dusting
1 package (2 ½ teaspoons) rapid rise active yeast
¼ cup sugar
½ teaspoon salt
1 egg
8 ounces cream cheese, softened, divided
1 cup powdered sugar
½ cup finely chopped pecans + more for topping
1 cup brown sugar
1 tablespoon ground cinnamon
Instructions:
Pre-heat oven to 350 degrees and grease pan. If making night before, skip oven.
Heat ¾ cup milk and butter until just melted. Add in remaining milk and set aside.
In a large bowl, whisk together two cups of flour, sugar, yeast and salt.
Using the paddle attachment on your stand mixer, incorporate milk mixture and egg into flour until well mixed, about 1 minute on medium speed.
Scrape down sides and switch to dough hook and add remaining flour ½ cup at a time while mixer is running. You may not need to add all the flour. Add flour until dough is sticky and pulls away from sides of bowl. Do not add too much flour or rolls will be dry. Knead with dough hook with 5 minutes.
Transfer dough to floured surface and roll ball once or twice. Cover with kitchen towel and let rest for 10 minutes.
Roll dough out into large rectangle. Spread 4 ounces of cream cheese onto dough. Fold dough into thirds, like an envelope, covering all cream cheese. Dust with flour and gently roll out to smooth folds. Cover and let rest 15-20 minutes more.
Meanwhile, make filling. Combine remaining butter with cinnamon and brown sugar and whisk together. Set aside.
Roll dough out into large rectangle on floured surface again. If any cream cheese pops out, gently patch with dough. Spread cinnamon sugar mix all over. Top with pecans all over. Roll dough tightly lengthwise. Then cut log into twelve even pieces.
Place rolls into greased pan, cover and let rise in a warm spot for 20 minutes. If you are making the night before, cover tightly with plastic wrap and place into refrigerator to rise over night.
Bake cinnamon rolls for 15 minutes until slightly golden brown. If stored in fridge overnight, let rolls come to room temperature before baking.
While cinnamon rolls are baking, whisk together powdered sugar and remaining cream cheese. Gently stir in 1 ½ tablespoons milk until smooth.
Let rolls cool slightly, while still very warm put icing on top. Sprinkle with remaining pecans. Serve immediately.