Healthy Citrus Quinoa Bowl with Creamy Apple Cider Vinaigrette is an easy vegetarian meal! It can be made ahead of time and is delicious for any meal!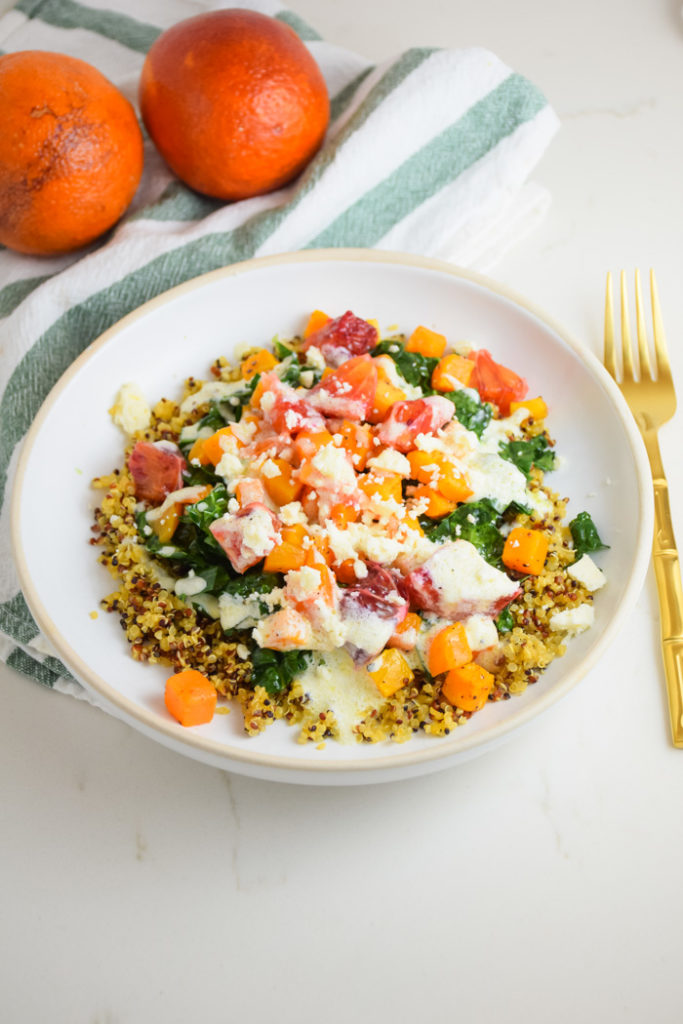 For some reason I never think of winter as citrus season. Lemons make lemonade and oranges are meant for garnishes in chilly drinks. But alas, Mother Earth saves these bright fruits for the dead of winter, which I can appreciate! I love that winter is the perfect time to cozy up with all the comfort foods but often after a few heavy meals I find myself craving something light and fresh. Enter this Citrus Quinoa Bowl with a tangy homemade apple cider vinaigrette.
This post contains affiliate links. If you purchase a product through these links I may earn a few pennies. Thanks for keeping this free blog going! 

Healthy Citrus Quinoa Bowl
I love that these bowls come together so quick! You can throw them together in minutes if you have everything prepped. My secret weapon in this recipe is to buy the butternut squash already cubed from the grocery store. I usually don't mind peeling and chopping but when it comes to butternut squash, it's just such a process that I think it's often worth the extra dollar or two to buy it pre-cut and ready to toss in the oven!
You can easily sub curly kale for dino kale in this recipe if you like. I like the more tender leaves of dino kale for this recipe but curly works just fine too. Or even baby kale. Honestly, whatever tender green you fancy from arugula to spinach could easily work.
That's another thing I love about veggie bowls, once you have a good base, you can mix and match until you find that perfect combo that is your favorite. Kind of like when you find your perfect salad or sandwich combo at the deli or better yet your perfect compilation of taco toppings. Y'all know what I am talking about!?
The same applies to veggie bowls. Find a great base. I like quinoa because it's packed with protein, easy to prep ahead of time and is so versatile. I really love the sweetness of the butternut squash but a sweet potato would work just as well! What really gives this bowl it's punch is the blood orange! It really brightens things up! You could sub in tangerines or sweet oranges too.

Best Meal Prep Recipe
This recipe gets mega bonus points because it's perfect for those of you who love to meal prep! You can make this and divide into containers
and have your lunches for the week. My pro-tip is to wait and add the dressing until right before eating.
If you want to up the protein, some shredded or rotisserie chicken would work perfectly in this bowl. If you're hoping for a veggie protein, add crispy tofu or a handful of pecans.
Watch the Full Recipe Video Here!

You Might Also Love 
Best Super Food Smoothie for Energy and Digestion
Healthy Citrus Quinoa Bowl with Creamy Apple Cider Vinaigrette
Makes 2 bowls
Ingredients: 
Quinoa Citrus Bowl:
1 cup quinoa, cooked
1/2 cup butternut squash, cubed and roasted*
1/2 cup dino kale, chopped and massaged**
1/2 cup blood orange, peeled and diced
1/8 cup feta, crumbled
*1/2 tablespoon olive oil, 1/2 teaspoon each salt and black pepper for roasting squash
**1/2 tablespoon olive oil, 1/2 teaspoon lemon juice, 1/4 teaspoon salt for massaging kale
Creamy Apple Cider Vinaigrette:
1 tablespoon greek yogurt
1 tablespoon extra virgin olive oil
1 teaspoon apple cider vinegar
1/2 teaspoon kosher salt
1/8 teaspoon black pepper
Directions: 
Cook quinoa according to directions on package. Wash dino kale, thinly chop and massage with olive oil, lemon juice and salt. Set aside.
Peel, cube and toss butternut squash with 1 teaspoon olive oil, 1/2 teaspoon each salt and pepper at 350 degrees for 30-40 minutes, tossing once, until fork tender.
Peel and dice blood orange.
In a small bowl, whisk together yogurt, olive oil, apple cider vinegar, salt and pepper until creamy.
Divide quinoa into two serving dishes, add kale then butternut squash. Top with blood oranges and feta and drizzle with creamy apple cider vinaigrette.
** If making ahead for meal, omit dressing until just before serving.