Harvest Quinoa Bowls with Creamy Apple Cider Vinaigrette are the perfect seasonal healthy recipe!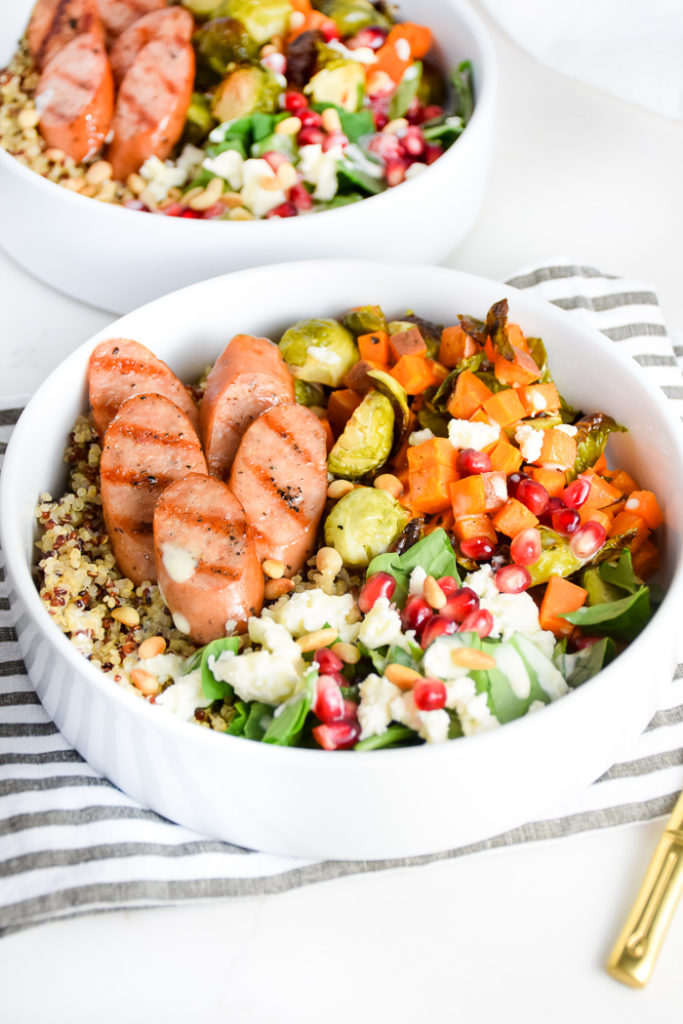 Healthy fall recipe? Count me in! I love comforting fall recipes but between all the casseroles and carbs, I need something a little lighter to get me through the weeks. Enter Quinoa Harvest Bowls! They are packed with lots of veggies, drizzled with a delicious homemade dressing and filling enough for dinner. That is my kind of recipe!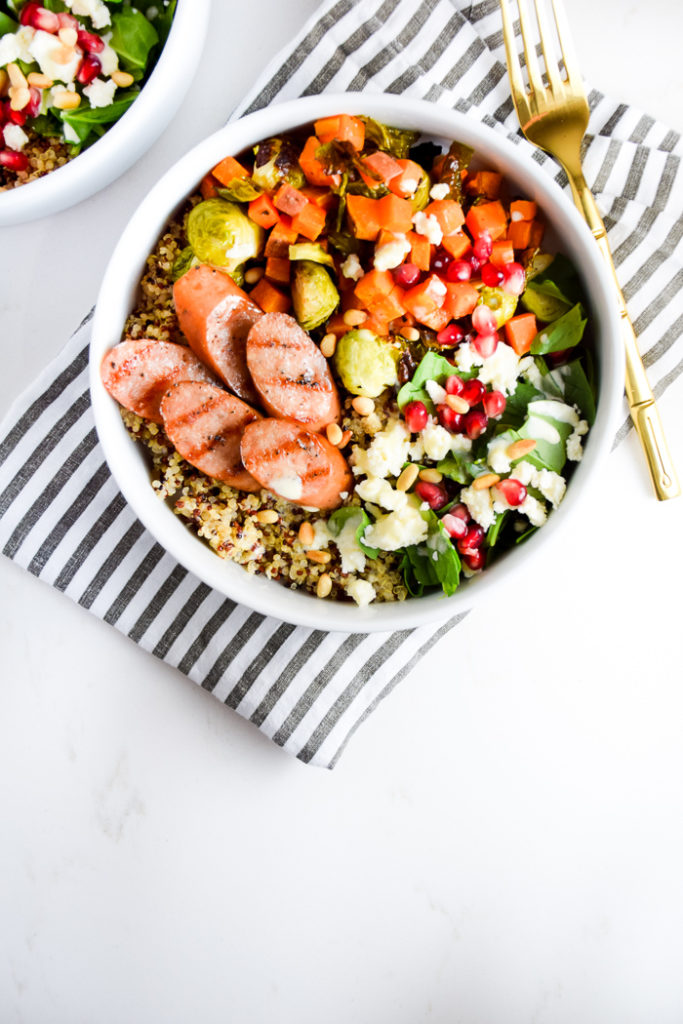 Add Some Greens
I threw in some torn baby spinach to my bowl. Arugula would be an excellent pair and add a little bright, peppery flavor. Baby or dino kale would work here as well. If you opt for curly kale, might want to give a little olive oil massage to make it less bitter and easier to  digest.
Sweet potatoes and brussels sprouts are great in this recipe, especially if you're making ahead for lunches or dinners for the week. They hold up well and don't get soggy, which is a major plus!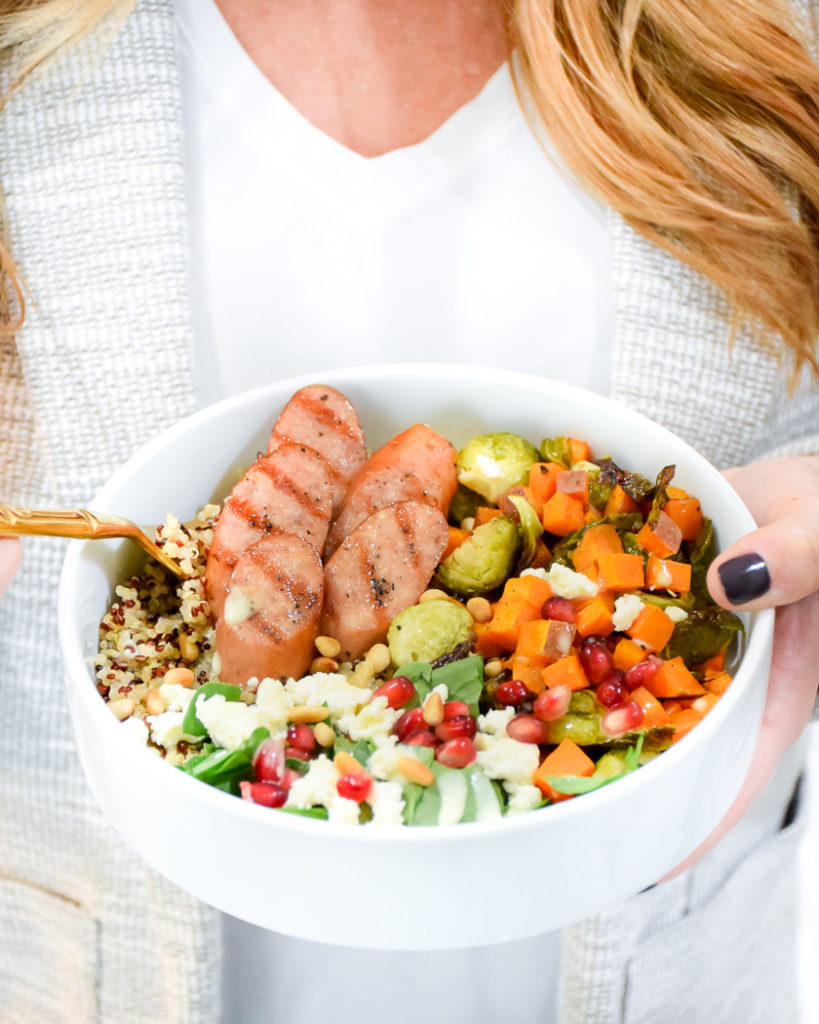 The salty feta and sweet, crunch of the pomegranate arils add so much "umphf" to these bowls! They really play well together and brighten things up. So I suggest not skipping these if you don't have to.
Cooking your quinoa in broth is a great way to add tons of flavor. My go-to is low sodium chicken broth. Vegetable broth works great if you want a vegetarian or vegan option. The quinoa adds some extra protein but I added chicken sausage to mine and BMW's bowls. Tofu or chickpeas would be a great option as well!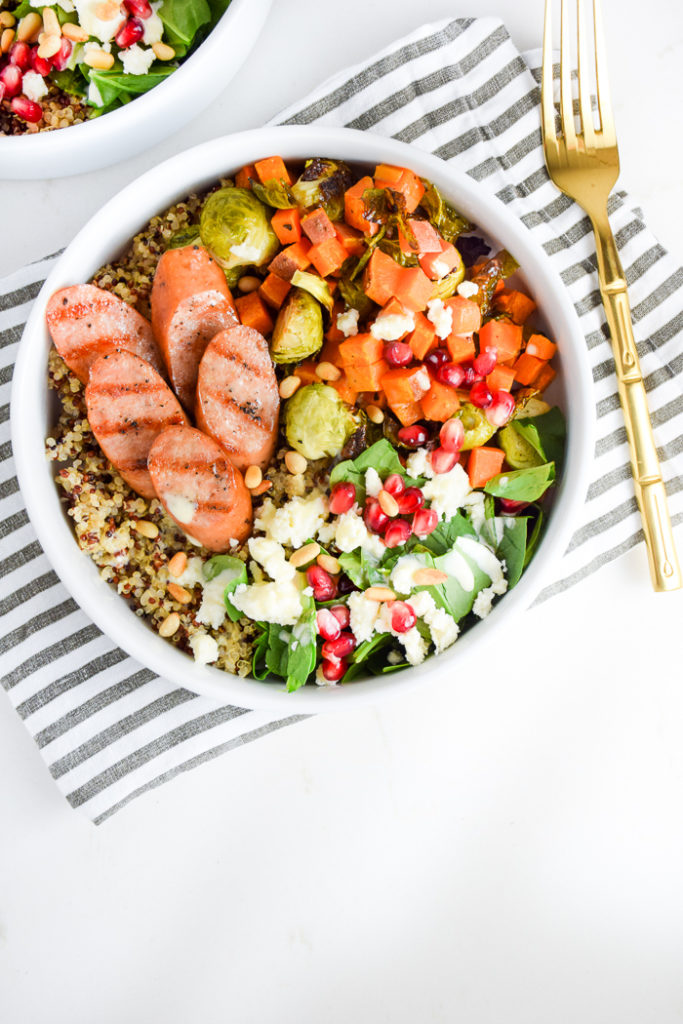 Don't forget the Creamy Apple Cider Vinaigrette Dressing! It is so good! I make apple cider vinegar dressing for lots of salads but this creamy version is extra satisfying! The key to the creaminess here is using a high-fat base like mayo or thick Greek yogurt. Regular yogurt would yield a much thinner sauce. I didn't test it out but I think a plain, full-fat coconut yogurt would work great for a dairy-free, vegan option!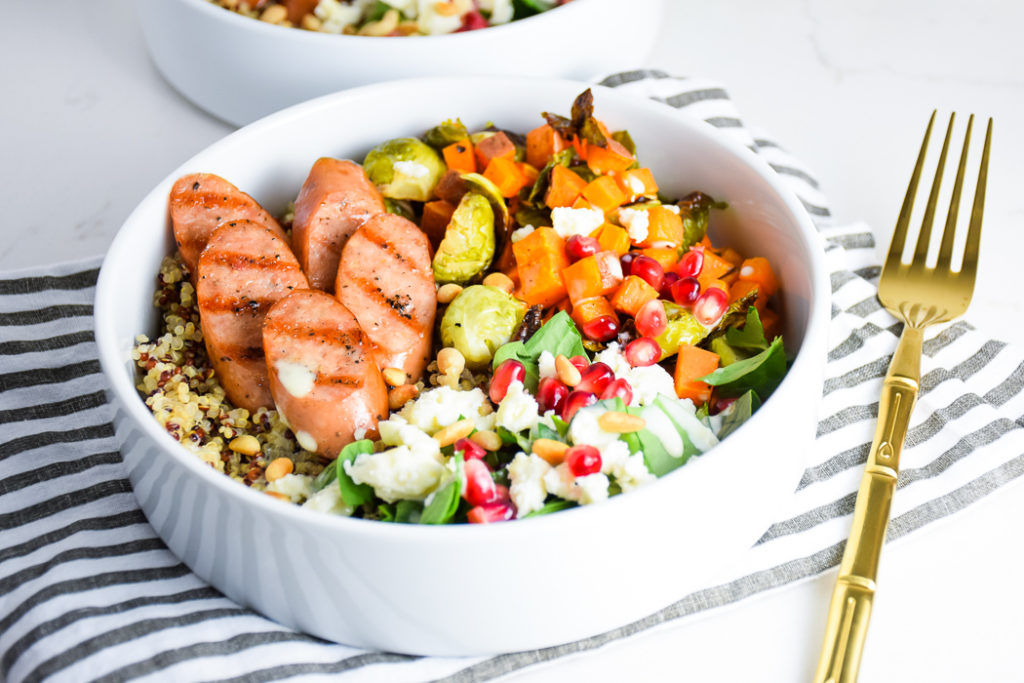 Harvest Quinoa Bowls with Creamy Apple Cider Vinaigrette
Makes about 4 bowls
Ingredients: 
1 cup dry quinoa
2 cups chicken or vegetable broth
2 cups sweet potato, cubed about 1/2 in
2 cups brussels sprouts, halved
1 tablespoon olive oil
1 teaspoon garlic salt (or 1/2 teaspoon each garlic powder + salt mixed together)
1 lb chicken sausage or tofu or chickpeas if doing vegetarian
1/2 cup pomegranate arils
1/2 cup crumbled feta
1 cup fresh spinach or arugula, torn
1/2 cup toasted pine nuts
Creamy Apple Cider Vinaigrette: 
2 tablespoons mayo or thick Greek yogurt
2 tablespoons olive oil
1 teaspoon apple cider vinegar
1/2 teaspoon salt
1/2 teaspoon fresh lemon juice
Directions: 
Begin by making the quinoa. Rinse the quinoa and then cook in the broth. Bring to a boil for about 15 minutes, stirring occasionally. Then cover and reduce to simmer until all liquid is absorbed.
Make the Creamy Apple Cider Vinaigrette by whisking all dressing ingredients together in a small bowl. Set aside.
Toss brussels sprouts and sweet potato cubes with olive oil and garlic salt. Bake for 35 minutes at 350 degrees, tossing once halfway through.
Toast pine nuts in a small skillet over medium low heat until just slightly toasted, set aside.
If using chicken sausage, grill it in a grill pan or sear in skillet for about 3 minutes each side.
Compile bowls by dividing quinoa into bowls first then topping with roasted veggies and chicken sausage or tofu or chickpeas. Then add torn greens and drizzle with dressing. Finish with scoop of pomegranate arils and feta.
If meal prepping: You can easily divide these into air tight containers and take for lunch during the week or and easy, quick weeknight meal!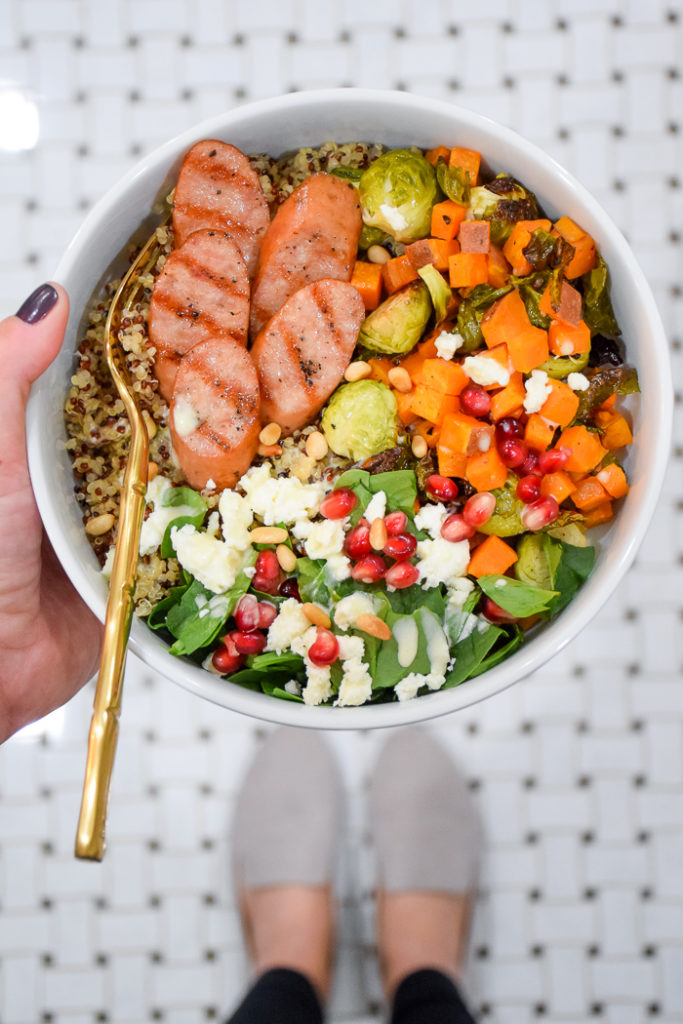 Makes these bowls and tag me on social media (@natalieparamore) and I will repost the photos!