Making the Perfect Old Fashioneds at home is easier than you think! Here are my quick and easy tips for cocktails at home!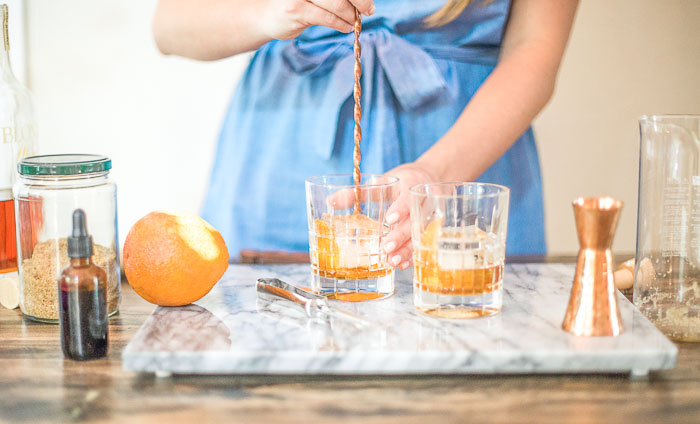 Old Fashioneds are probably my favorite all time drink. It's quite a simple drink and lets the ingredients speak for themselves. That is to say that the quality of the ingredients is of the utmost importance in this drink. BMW and I have spent the better part of the last two years refining our cocktail of choice and distilling it down to a few simple ingredients and a few easy steps! This classic cocktail is an easy one to make but also an easy one to screw up! Here are our steps for how to make perfect old fashioneds at home!
This post contains affiliate links. If you purchase something through one of these links, I may earn a few pennies. 

Tips for Making the Perfect Old Fashioned at Home
First things first, make sure to always use filtered water. For both the muddling agent and for the ice cubes. Nothing like some nasty tap water to mess up your flavor profile! Another pro tip, be sure to wash the orange on the outside. If you're going to use an orange peel, make sure it's clean!
You can use granulated sugar in a pinch but raw turbinado sugar really adds a depth of flavor so opt for this when you can. We like to use Angostura bitters but there are many flavors you can experiment with! If you're unsure, start with Angostura, since they are traditional, and then go from there.
Big ice cubes are key and whatever you do, don't use those ice cubes from your freezer! Using the correct ice cube will ensure that your drink gets cold and stays cold without watering down too fast. Plus, you can ensure that filtered water is used and not tap water that will alter the flavor. We like both the ball and cube molds.
Because the ingredients matter so much, don't ruin your Old Fashioned with a cheap cherry. We only use cherries when we have Luxardo Cherries. Yes, they are a little pricey but still a lot less expensive than going out. Treat yourself!
It should go without saying but obviously the most important ingredient is the whiskey! Many old fashioneds are served with Bulleit rye whiskey. BMW prefers Michter's when we are making them at home and I like this Blonde Whiskey.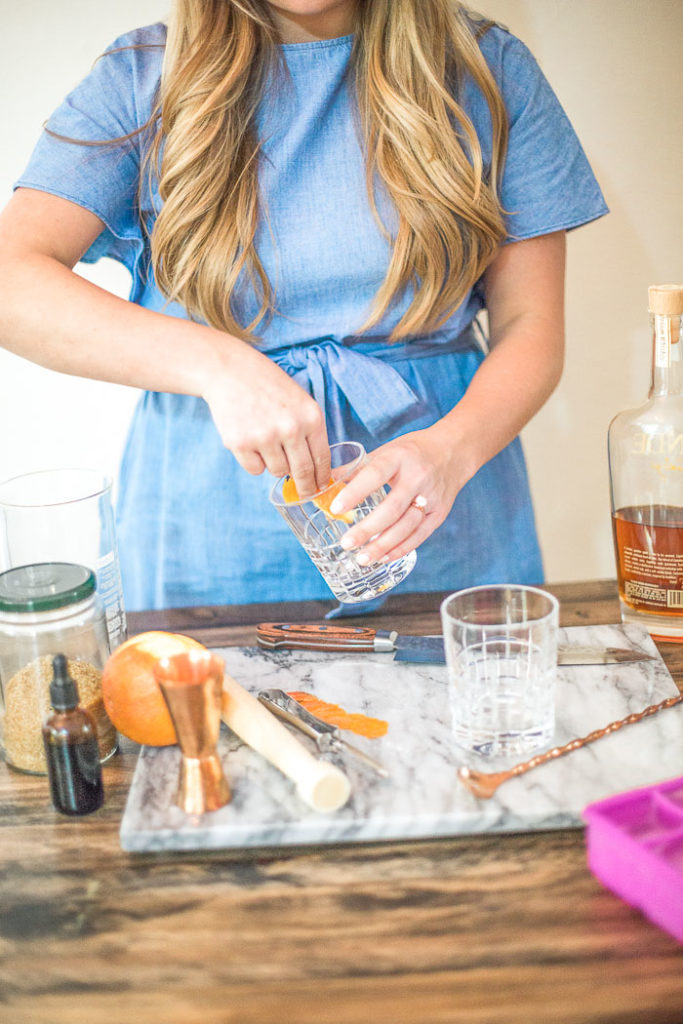 How To Make Perfect Old Fashioneds At Home
Makes one Old Fashioned
Ingredients: 
1 teaspoon turbinado sugar
1 tablespoon warm water (can be cold but warm or room temperature filtered water works best)
4-6 drops Angostura bitters
1.5 ounces whiskey, measure with jigger
Large ice ball or cube made with purified water
Orange peel
Optional: Luxardo cherry
Directions: 
Start by muddling the water, sugar and bitters together in a heavy bottomed glass until the sugar is dissolved. Add whiskey and stir again.
Next, add ice ball, stir everything together with a swizzle until cold. About 30-45 seconds of stirring.
Express the orange peel by gently twisting it over the glass, letting the oils drop into the glass. Gently rub the peel against the inside rim of the glass and then garnish it down the side of the ice ball and the glass.
Add the optional cherry and serve immediately!
Photos: Taylor Prinsen Photography