Spicy Mango Ginger Guacamole is a delish and healthy snack or appetizer! It's perfect for sharing with friends for watching the big game!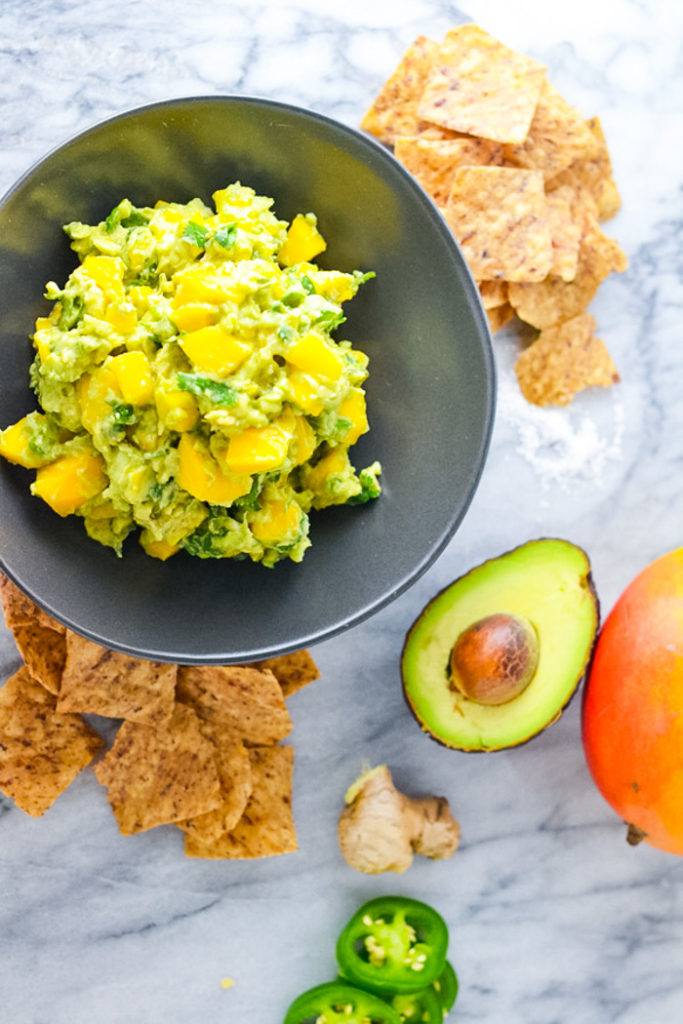 Raise your hand if you're a guacamole fan? Ok, everyone? That's what I thought! Now raise your hand if you're a football fan? Ok, just here for the snacks and commercials? Same girl, same. We typically host a Super Bowl watching party every year and it's mainly so I can flex all my snack making skills. Guacamole always seems to make an appearance, it's just such a crowd favorite. I decided to spice things up a little this time and throw in some fresh mango and a few extra spicy jalapeños! If you don't like those things, just leave 'em out. The base recipe will make you some fantastic guac!
This post contains affiliate links. If you purchase a product through these links, I may earn a few pennies. Thanks for keeping this free blog going!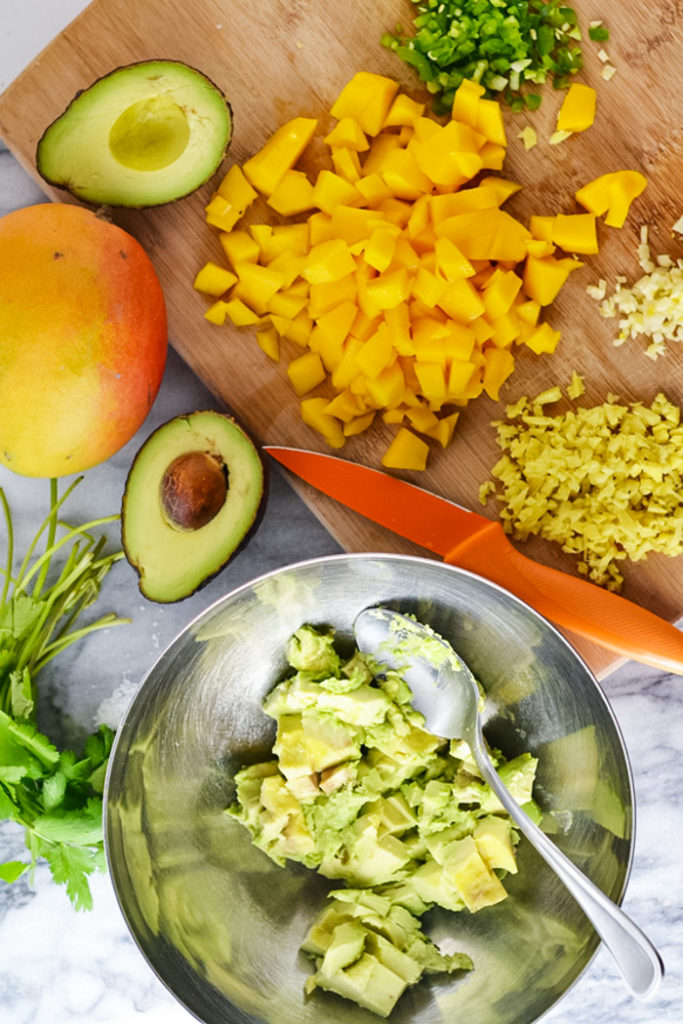 The Best Guacamole
I love guacamole and living in Austin guacamole is almost as much of a staple as breakfast tacos and queso.  We eat it a lot and it's always a crowd pleaser. I love the simple classic guac, it is tried and true, but I like switching it up too. I've done bacon, feta, all sorts of different flavors. This remix came after my visit to Chi'Lantro. As I found myself literally scraping every last bite of guac from the bowl in front of a table full of people, I blankly stared and asked the server, "what is in this?! It's so good!", she replied, "fresh ginger." BOOM. Mind blown. How could I have not thought of this before!? It was like a flavor profile from the gods sitting before me in plain this site this whole time! And then Spicy Mango Ginger Guacamole was born.
The sweet mangoes balance the spicy heat of the combination of the ginger and jalapeño. Those two are a dynamic duo. The creamy avocado brings the earthiness needed to smooth it all together. And cilantro, because yeah. I like it almost as much as garlic, and garlic makes an appearance in this recipe too.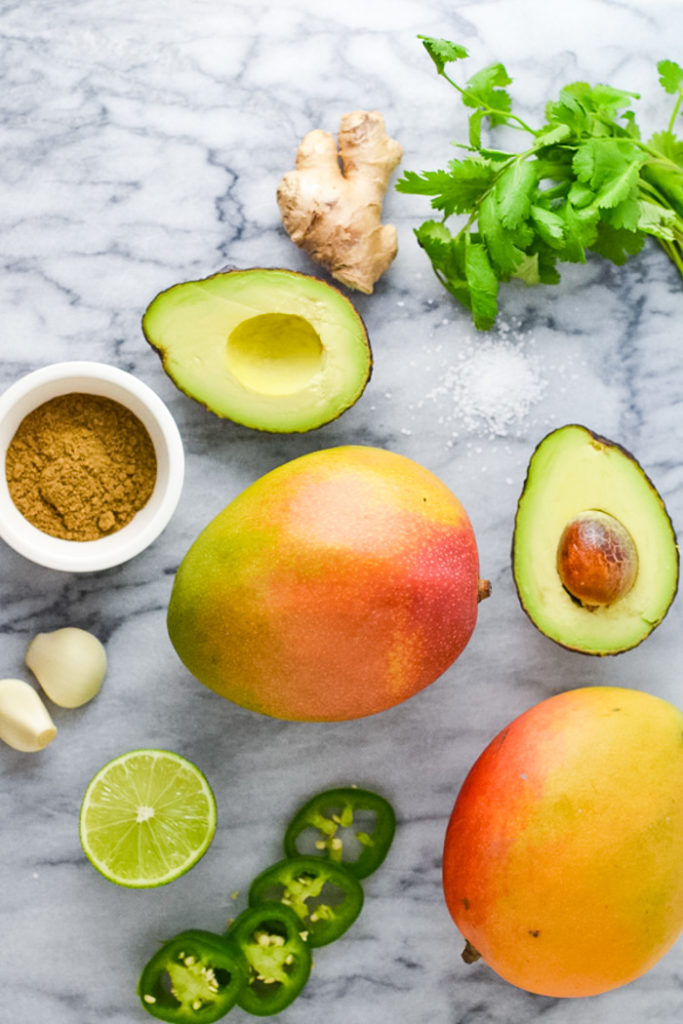 What Makes Guac So Good?
Can I let you in on a secret? Growing up I hated guacamole and avocados. Creamy, green paste? Umm, I'll pass thanks. Then all the sudden, guac got good. Or maybe, I finally started eating at places that made REAL guacamole. Like the fresh stuff made with real avocados, not something that was processed to the nines and squeezed out of a plastic bag. Like the kind of places that made guacamole tableside. Tableside presentations at restaurants are still one of the my favorite things. Flaming coffees? In. Tableside ceviche, I'll take two.
Anyways, now fresh avocados and delicious guac can be found in a lot of places, including your kitchen! All you need are a few avocados, some spices and you've got yourself the perfect sharing appetizer at home.
You Might Also Love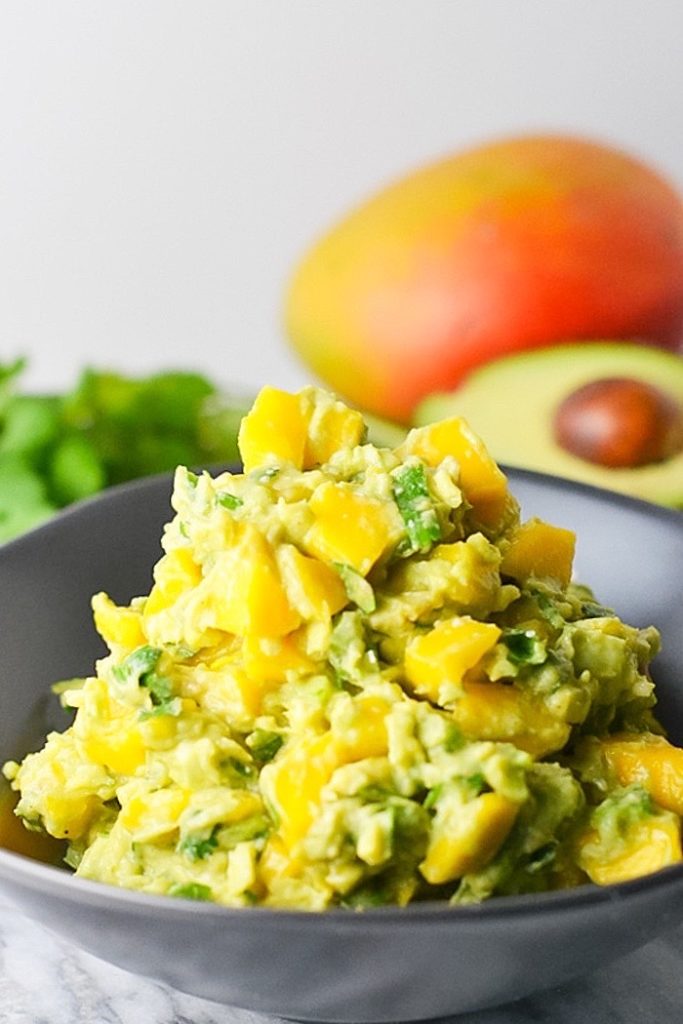 Spicy Mango Ginger Guacamole
Ingredients: 
3 small avocados, peeled and diced
1 mango, peeled and diced
1 tablespoon each of garlic, jalapeño and fresh ginger, all minced
1 teaspoon kosher salt
1 teaspoon cumin
2 tablespoons cilantro leaves, torn
1 Key Lime
Directions:
1) Dice the mango and avocado. Put in a bowl.
2) Mince the fresh garlic, jalapeño and ginger, add to bowl.
3) Sprinkle in salt and cumin. Add cilantro leaves.
4) Squeeze juice from 1 small Key Lime on top.
5) Stir all together until evenly mixed.
6) Serve with your favorite chips.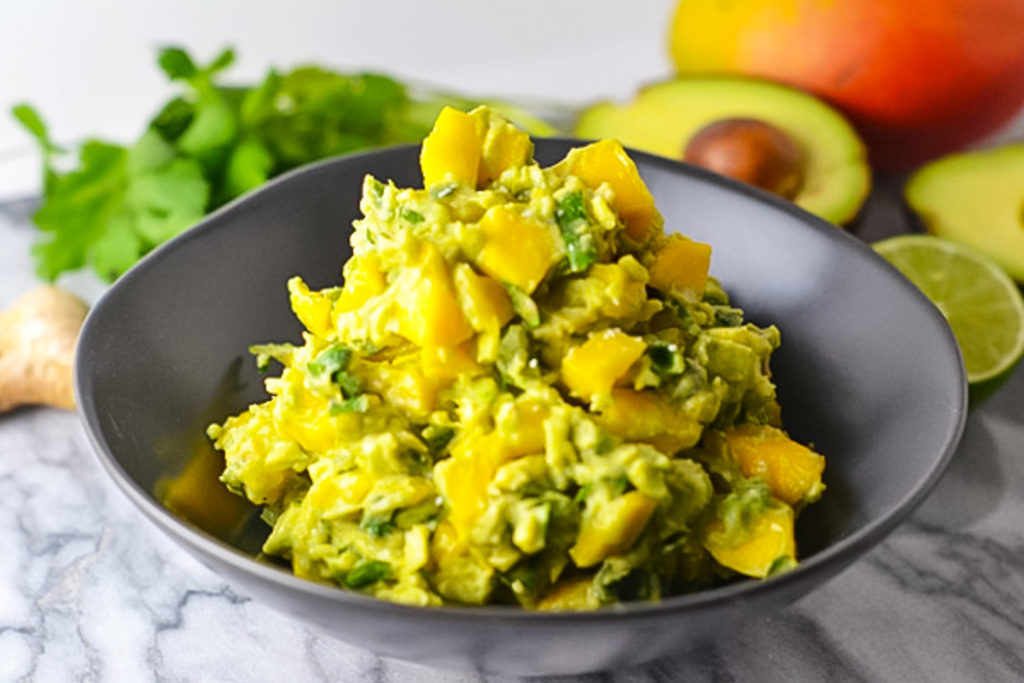 And there you have it! A nice, fresh, healthy-ish snack for game day. What are you serving this year?