This Spiced Apple Cider Old Fashioned uses an easy to craft ice ball to make this old fashioned extra special for fall!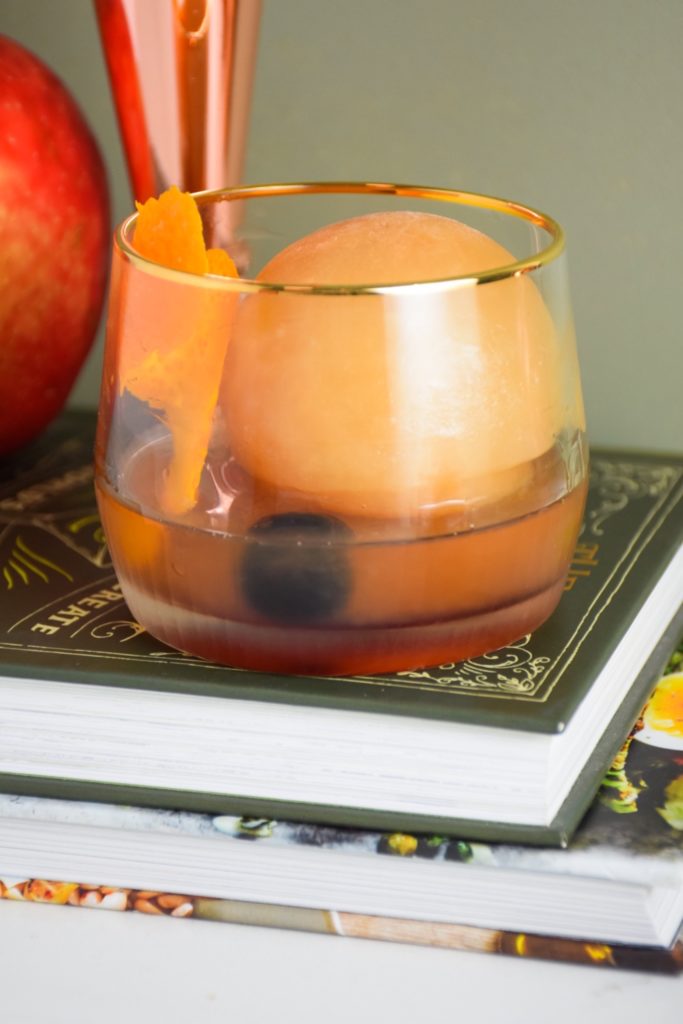 This cocktail is fun to make mostly because it's super simple and easy! With a little prep, aka freezing time, you can make this craft cocktail ahead of time! It's perfect for intimate, small gatherings and gives you a bar quality cocktail right at home. BMW and I love our old fashioneds and hosting happy hour at home. Whether we are hosting a few friends outside or if it's just the two of us, we've learned that making amazing cocktails at home is easier than you think!
This post contains affiliate links. If you purchase a product through these links I may earn a few pennies. Thanks for keeping this free blog going!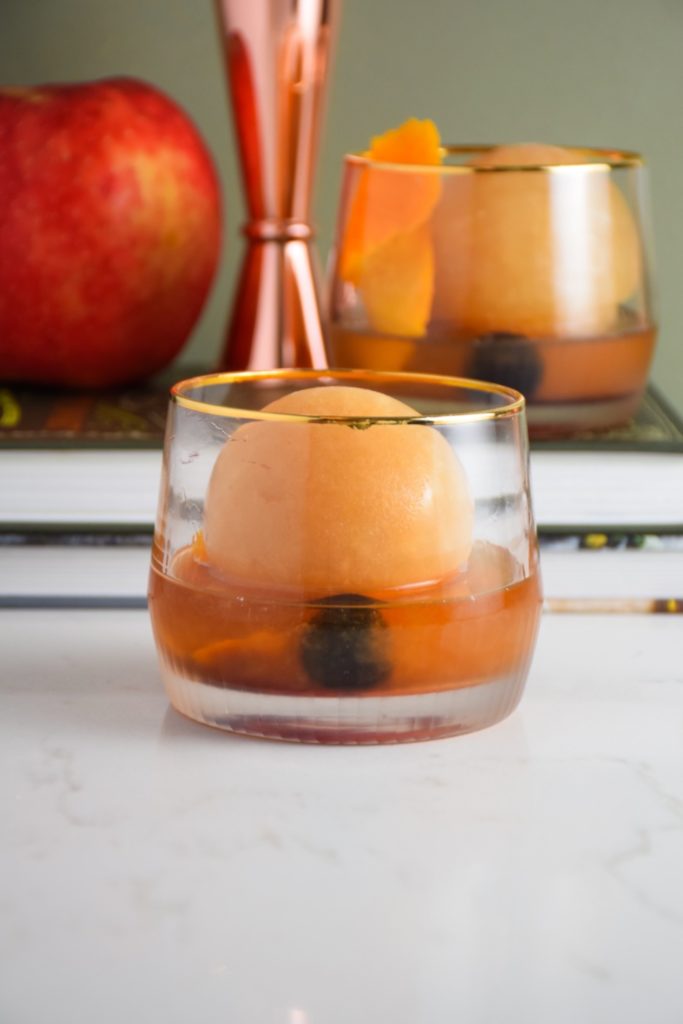 Spiced Apple Cider Old Fashioned
This old fashioned is really similar to a traditional old fashioned but the apple cider ice ball gives it a fall twist! The ice balls are so easy to make! You just need an ice ball mold
and a freezer haha. You can also use a cube mold
or really any mold you have. I prefer the ball molds in this case because they melt slower.
The slower melting allows you use to enjoy your drink for longer. It also serves a second purpose! If you finish your drink and want another round, just add another shot of whiskey and some bitters and you've got a second drink!
Since the ice ball does melt slower, I recommend pouring the whiskey over the ice ball and then allowing it to sit for about 5 minutes before drinking so that the cider gets into the drink a little bit. Since the cider has natural sugars, there is no need to add additional sugar as you would in a traditional old fashioned. When I gave BMW his glass he actually commented that the drink was too strong and needed sugar. I told him to give it 5 minutes and low and behold after the 5 minutes he said the drink was perfect and didn't need anything extra after all!
Apple Cider Ice Ball Old Fashioned
For this drink, I have used those red maraschino cherries but I much prefer the Luxardo cherries
. Yes, I realize these are pricey for cherries but they are so worth it! Especially if you are trying to up your at home bar game, these are a great entry level investment. Ingredients matter and these are so worth it!
Angostura bitters
definitely give the old fashioned that classic taste so don't skip out on those. I used to be afraid of bitters until I realized that they are in lots of cocktails that I love! They help balance the alcohol and any sugars and give a depth of flavor.
I do recommend using a natural, unfiltered apple cider. Otherwise, you are basically using apple juice which is much too sweet in my opinion. They apple cider should appear cloudy and will need to be shaken before you pour it into the molds for freezing.
This is such a great make ahead craft cocktail! You can make the ice balls ahead of time and keep them ready to go in the freezer for months! If you plan ahead you only need one mold and can freeze an ice ball each night and then store the ice ball in a freezer bag until you are ready to use.
Before your gathering, you can prep the orange peels. If you really wanted to get ahead you can portion out the whiskey and bitters but that part is so quick I really recommend just pouring the shots and bitters directly into the serving glasses over the ice ball and garnishing with the Luxardo cherries and orange peels!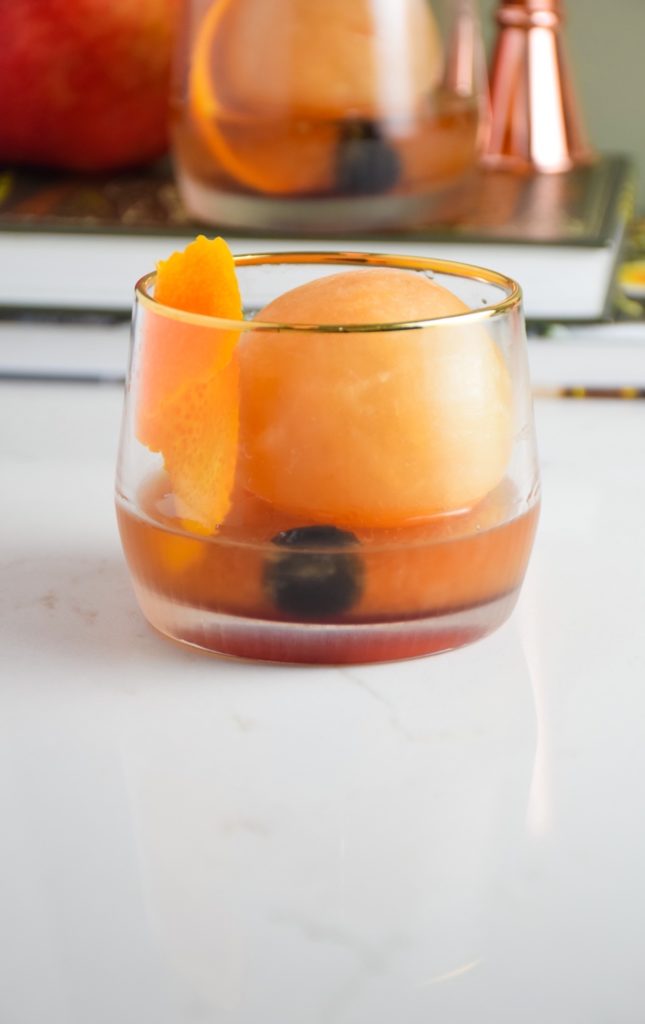 You Might Also Love 
Sparkling Whiskey Apple Cider Cocktail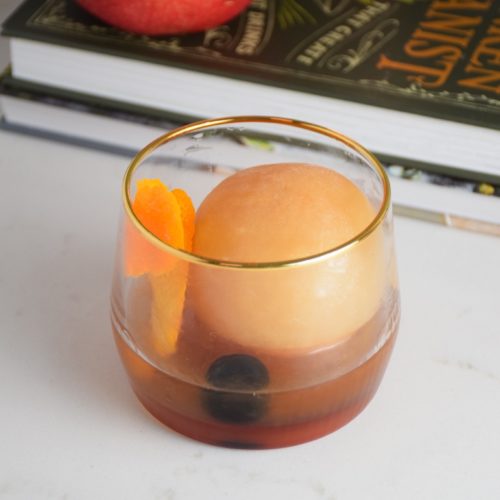 Spiced Apple Cider Old Fashioned
This Spiced Apple Cider Old Fashioned uses an easy to craft ice ball to make this old fashioned extra special for fall!
Instructions
Place apple cider ice ball into wide mouthed glass.

Express orange peel peel over glass and rub inside of rim. Add to glass.

Pour whiskey over ice ball. You can serve immediately but I prefer to let it sit for about 5 minutes to allow the apple cider ice ball to melt slightly and infuse the drink with flavor. If you finish the drink and still have the ice ball, add another shot and bitters for a second round!
Nutrition
Calories:
131
kcal
Carbohydrates:
6
g
Protein:
1
g
Fat:
1
g
Sodium:
1
mg
Fiber:
1
g
Sugar:
2
g
Vitamin A:
50
IU
Vitamin C:
16
mg
Calcium:
19
mg