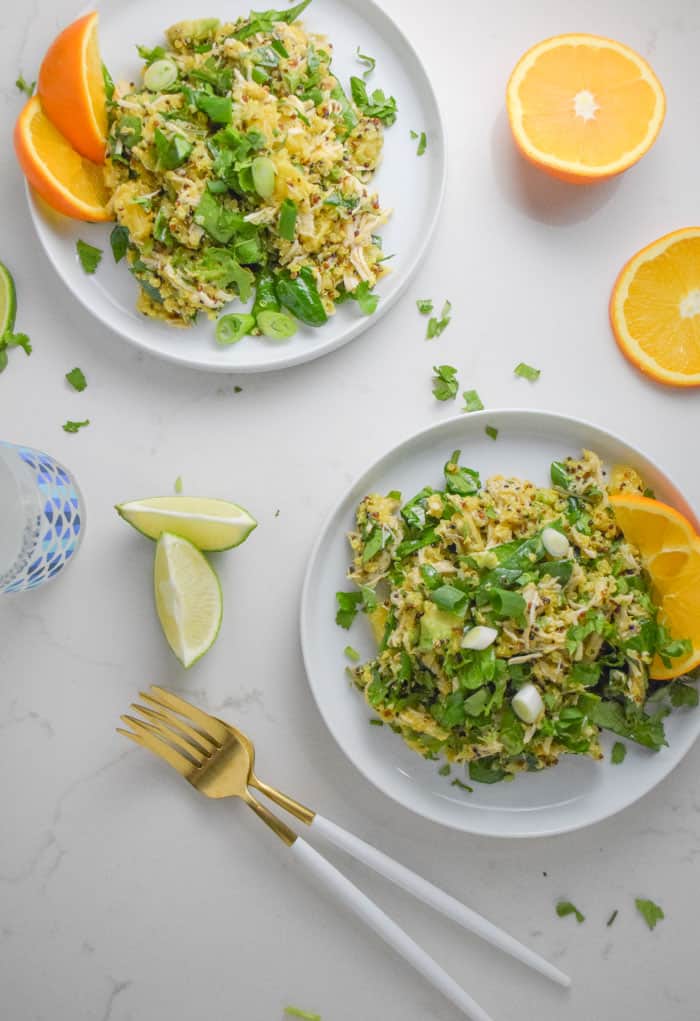 I've been craving all things citrus lately! It's a nice switch up to the warm, cozy meals that I typically crave this time of year. My fridge is filled with all sorts citrus from my usual lemons and limes to oranges but especially this year, blood oranges. They've been extra juicy and sweet this season! I love the brightness and acidity the citrus imparts on a dish and this Quinoa Citrus Salad is no exception!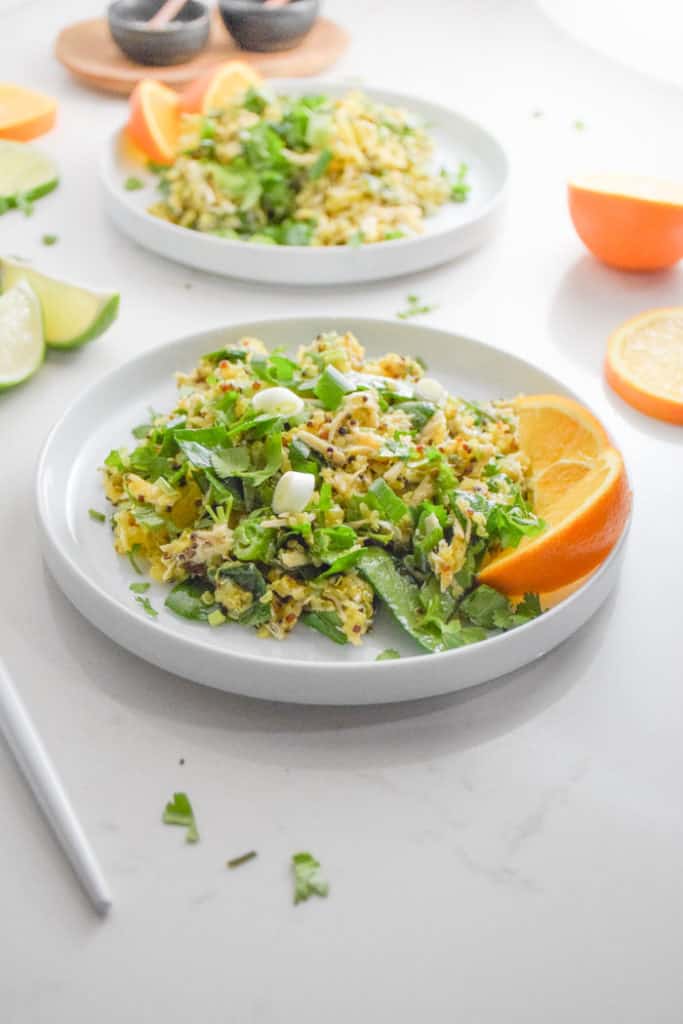 Sometimes I ask myself, how can I make this meal even better for not just my tastebuds but my body too. In this case, I added turmeric to the quinoa and spinach to the salad. Both are packed with antioxidants and powerful anti-inflammatory nutrients. The quinoa and chicken will keep you full and the bright orange juice is sweet and light at the same time!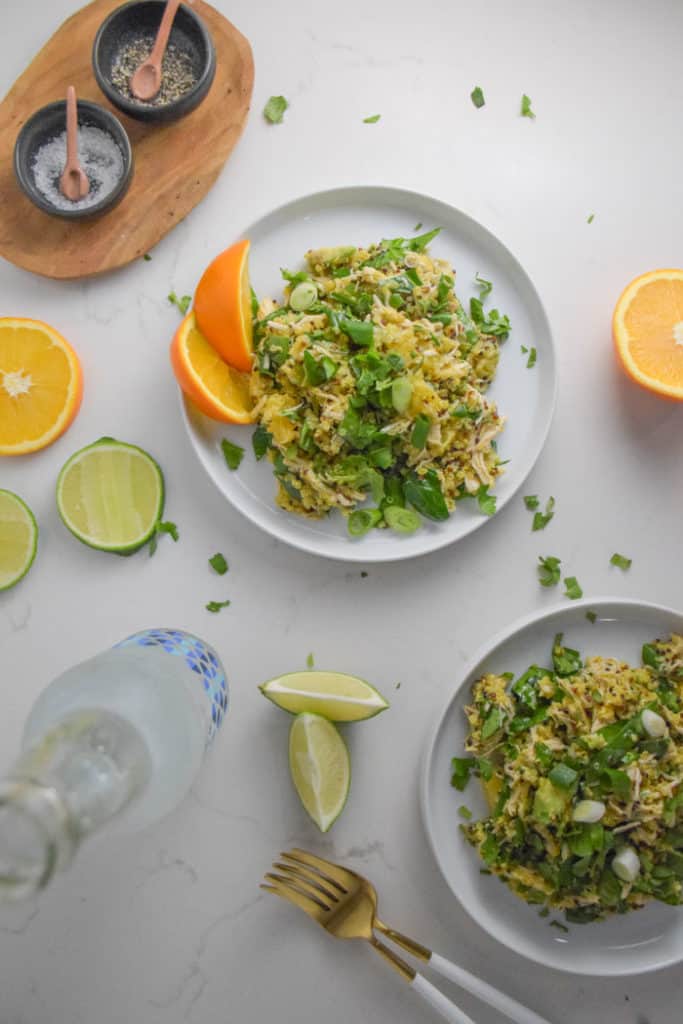 This is a perfect make ahead meal! It keeps well in the fridge, so make some extra to take for lunch this week. You can eat this hot or cold, so it's easy to eat on the go, at your desk or wherever life takes you during meal time.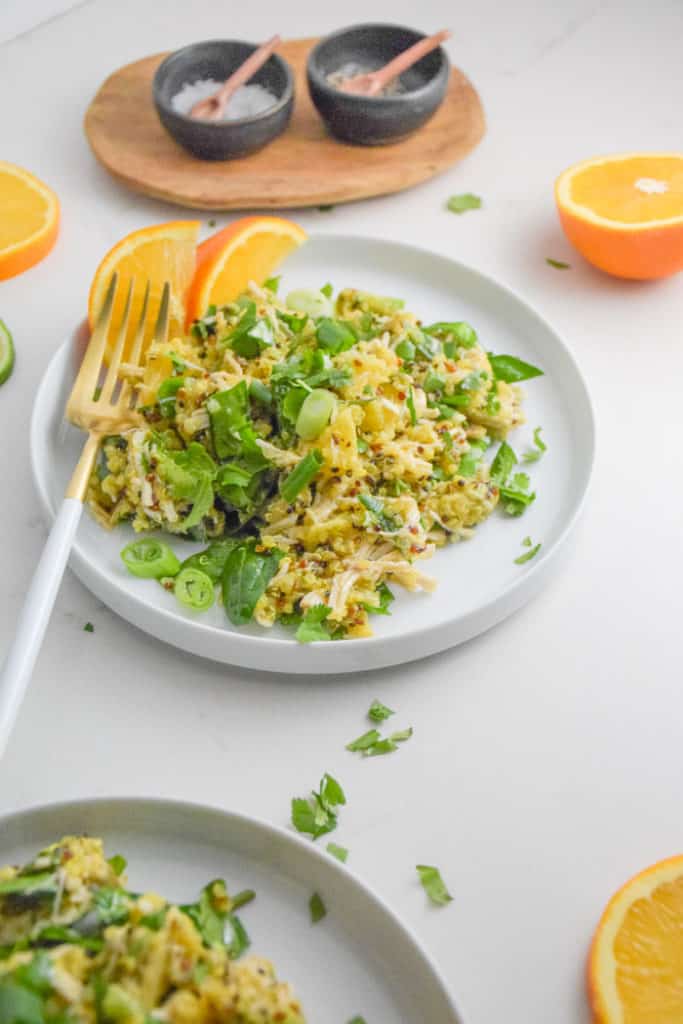 Quinoa Citrus Salad
Makes two servings + extra quinoa
Ingredients: 
1 cup quinoa, rinsed
2 cups chicken broth
1 cup baby spinach, thinly chopped
1 cup shredded chicken
1/4 cup sliced green onions
1 teaspoon turmeric
1 teaspoon garlic powder
2 teaspoons salt, divided
1/2 teaspoon black pepper
1/4 cup of juice from orange + orange slices for servings
2 tablespoons lime juice
Cilantro leaves for garnish
Directions:
Cook chicken, I like to put a raw chicken breast in a slow cooker with 1/2 teaspoon black pepper, 1/2 teaspoon salt and 2 tablespoons lime juice for about 2 hrs or until cooked through. Then I shred the chicken with a fork and toss in its juices.
Rinse the raw quinoa under running water vigorously for 60 seconds. This helps break down the other shell of the quinoa and makes it easier to digest. Then add quinoa to a pot with chicken broth, turmeric, garlic powder and 1 teaspoon salt and bring to a boil, then reduce to a simmer and let all liquid absorb. About 15 minutes.
 Meanwhile, slice green onions, chop spinach and juice orange.
Toss the shredded chicken with about a cup and half of quinoa, spinach and orange juice together in a skillet or pot over low heat until the spinach is just starting to wilt. Toss in green onions, cilantro and remaining salt to taste.
Serve with orange slices!