Spicy Blood Orange Mahi Mahi is quick and healthy meal that you can make at home! It's delicious but feel so elegant and has tons of flavor!
Happy Easter! I probably should have made you something cute or spring like, but well, I made this mahi mahi last week and I was couldn't wait any longer to share it with you! From about January to May in Austin, TX there is a large compilation of festivals surrounding food. There are many in the summer and fall as well, but right now there seem to be a plethora. I like to call this Eating Season. Almost every week there seems to be an event celebrating our culinary culture with copious amounts of gluttony. Don't get me wrong, I sure do love it, but it is also about to be lake season, and that means bikinis. In effort to not completely embarress myself, I've been trying to keep it light on the few days I do actually get to eat at home. The other problem with eating season, it that one can easily become accustom to bold, rich flavors and when you try to eat healthy, well, it isn't really that satisfying. But with this dish, I tried to do just that. Make it healthy but keep all the strong flavors, and of course a hint of heat, because I just love spice so damn much. You can always tailor the seasoning to your tastes, but this recipe won't spice you out too much. I hope you enjoy this one as much as I did!
Spicy Blood Orange Mahi Mahi
For this recipe, you'll need:
1/2 lb Mahi Mahi
2 blood oranges
1 teaspoon each of the following:
kosher salt
black pepper
parsley
cumin
paprika
cayenne pepper
1 tablespoon olive oil
Place all the seasonings into a bowl
Squeeze the juice of half a blood orange into the bowl
Stir that around into a paste
Cut the remaining blood oranges into thick slices.
Gently coat the mahi mahi filet with olive oil. Place mahi mahi flesh side down onto a grill with medium flame. Let grill for about 5 minutes. Flip the filet and grill for another 5 minutes with the skin side down. Spread the blood orange spice paste over the fish while still on the grill. Grill the blood orange slice on the outer edges of the grill.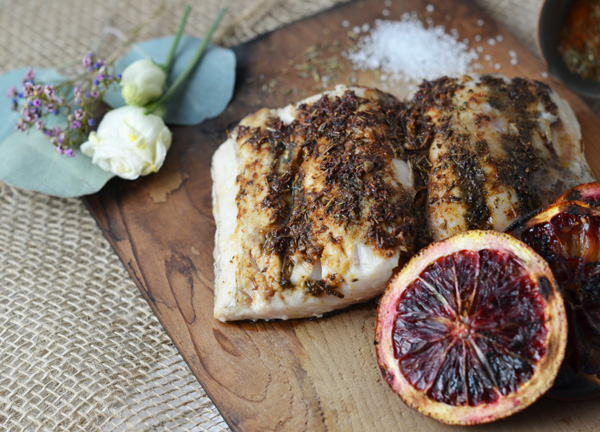 Serve the mahi mahi with the grilled blood oranges. I made a side of brussels sprouts to go with my dinner. Black beans and rice would work great as well, or maybe a simple avocado and red onion salad.
Bon appetit!