Moroccan Chicken Tangine is a classic one pot recipe that is so flavorful and filling!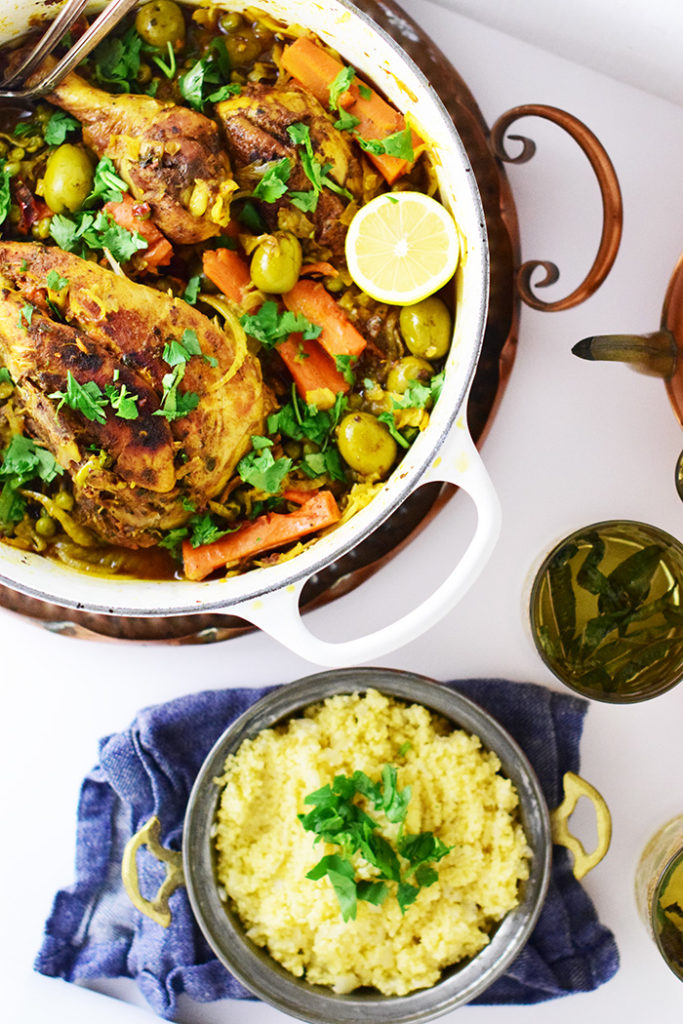 This recipe is one of my favorite travel-inspired recipes I've made! Last summer BMW and I took a day trip to Tangier, Morocco from Spain. It was the first time for both of us to visit the African continent even if only the northern tip and just for a few hours! We decided to book a day tour with a company we found on Trip Advisor. Sometimes I am weary of these things and usually like to explore on my own but this one had great reviews and promised to take us to all the main attractions. Apparently, visiting Tangier for just one day is a thing. Fast forward past our sight seeing and spice shopping to our amazing lunch. Like one of my favorites. Have you ever had those meals that just surprised you at how delicious they were? The ones that you have really found memories of? Well, this is exactly how I felt about the first time I had an authentic Moroccan Chicken Tagine!
This post contains affiliate links. If you purchase a product through these links I may earn a few pennies. Thanks for keeping this free blog going.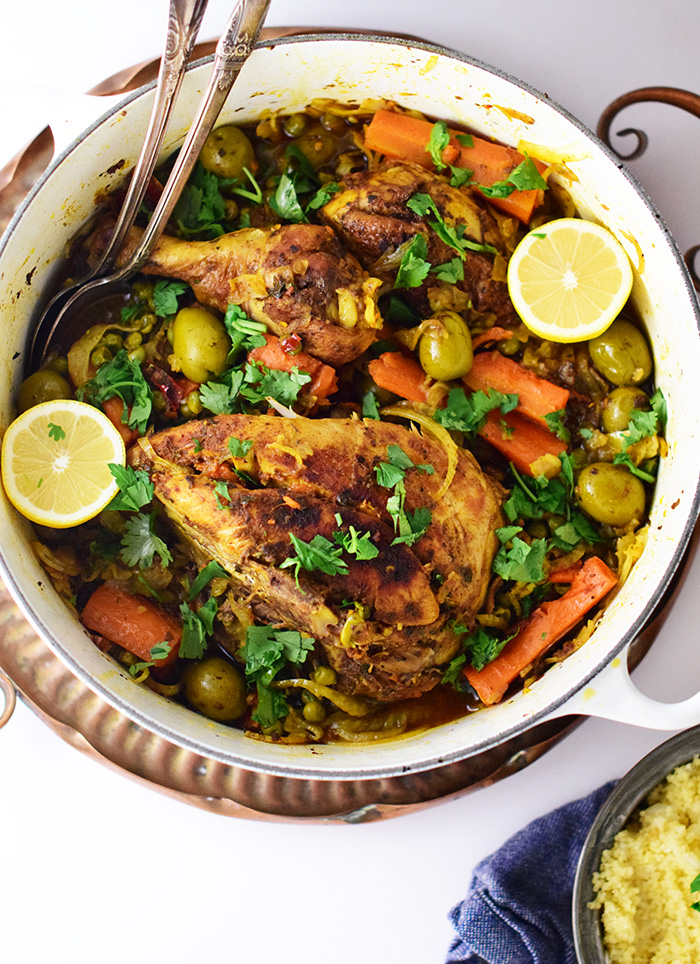 Moroccan Tagine
Just looking at these pictures is making my mouth water! Chicken tagine is an old, classic Moroccan dish. It combines lots of veggies and herbs and spices and takes time to make. But it is OH so worth it. The recipe is simple, there is nothing too difficult about making it. You don't even need an actual tagine to make it! Although, I certainly debated whether I should bring back my shoes or a tagine from Tangier! The shoes won ultimately but I found a way to make this recipe at home. Chicken tagine is to Morocco like spaghetti is to Italy. Every family has their own little way of making this dish and add different spices here and there. This recipe is a pretty basic one. A good staple that you can switch up as you learn what you like best about it.
Moroccan Chicken Tagine
Serves about 4
Ingredients:
One 3 1/2- to 4-pound chicken, cut into 8 pieces
2 large spring onions, halved lengthwise
1 cup chopped cilantro
1 cup chopped parsley
1 preserved lemon, quartered, seeds removed *see note
3 garlic cloves, crushed
One 2-inch piece of fresh ginger, peeled and sliced 1/4 inch thick
2 tablespoons sweet paprika
1 tablespoon ghee or 
unsalted butter, melted
1 tablespoon harissa* see note
1 teaspoon ground cumin
1 teaspoon ground turmeric
1/2 teaspoon ground cardamom
1/4 teaspoon crushed red pepper
1/4 teaspoon ground cinnamon
1/4 teaspoon saffron
1/4 cup plus 2 tablespoon extra-virgin olive oil
1 pound carrots, peeled, halved lengthwise
2 large fennel bulbs, halved and very thinly sliced
1 cup fresh or thawed frozen peas
1 cup whole green olives
3 cups chicken broth
2 tablespoons fresh lemon juice
1 cup couscous
1 small yellow onion, 
finely chopped
Kosher salt
Black pepper
Notes:
Preserved lemons– you might not be able to find these at every grocery store. Look at Middle Eastern markets or ethnic sections. Or you can make your own. I didn't have time to make my own so I did a quick version by combining the lemons and kosher salt in the fridge overnight. It's best if you can find or make the preserved lemons but my quick method will do in a pinch!
Harissa– also not the easiest thing to find! You can make your own, like I did, by muddling together five chiles de arbol
with two cloves of garlic, 1 teaspoon lemon juice and a pinch of salt. Soak the chiles in hot water for 20 minutes to let them soften before muddling. You could also use a food processor. There are many different versions of harissa so you can get creative with types of peppers you use and mix in different spices as well.
Directions:
Season the chicken with salt and pepper. Mix together the green onions, 1/2 cup each of the cilantro and parsley, lemons, garlic, ginger, paprika, ghee, harissa, cumin, turmeric, cardamom, crushed red pepper, cinnamon and saffron. Coat the chicken with mixture and marinate overnight in fridge in an air tight container.
Once you're ready to start cooking, heat 1/4 cup of the olive oil in a large dish with a lid.
Scrape the marinade off the chicken and set aside. Cook the chicken, skin side down, over moderate heat about 6-8 minutes in the large dish with oil.
Add the carrots, fennel, peas, green olives, reserved marinade and 1 cup of the broth. Cover the dish and bring to a boil, then reduce the heat to moderately low and cook until the chicken is tender, about 35 minutes.
While the tagine is cooking start the couscous. In a medium saucepan, heat the remaining olive oil with yellow onion and cook over moderate heat, stirring occasionally, until lightly browned, about 10 minutes.
Add the remaining 2 cups of broth, bring to a simmer and add the couscous. Cover the pot and let stand for 15 minutes or until all the liquid is absorbed. Fluff the couscous with a fork and season with salt.
Remove from the tagine from the heat and let stand, covered, for about 15 minutes. 
Add the lemon juice and the remaining cilantro and parsley and season with salt and black pepper.
Serve hot with couscous and mint tea or fresh carrot juice! At least that is how they served it to us in Tangier!
The part of town we were dining in did not allow alcohol although I am certain there are several wines that would pair nicely with this!