Jerk Chicken Bowls with Black Beans and Mango Salsa are a protein-packed lunch or dinner recipe! The mango salsa is so fresh and delicious!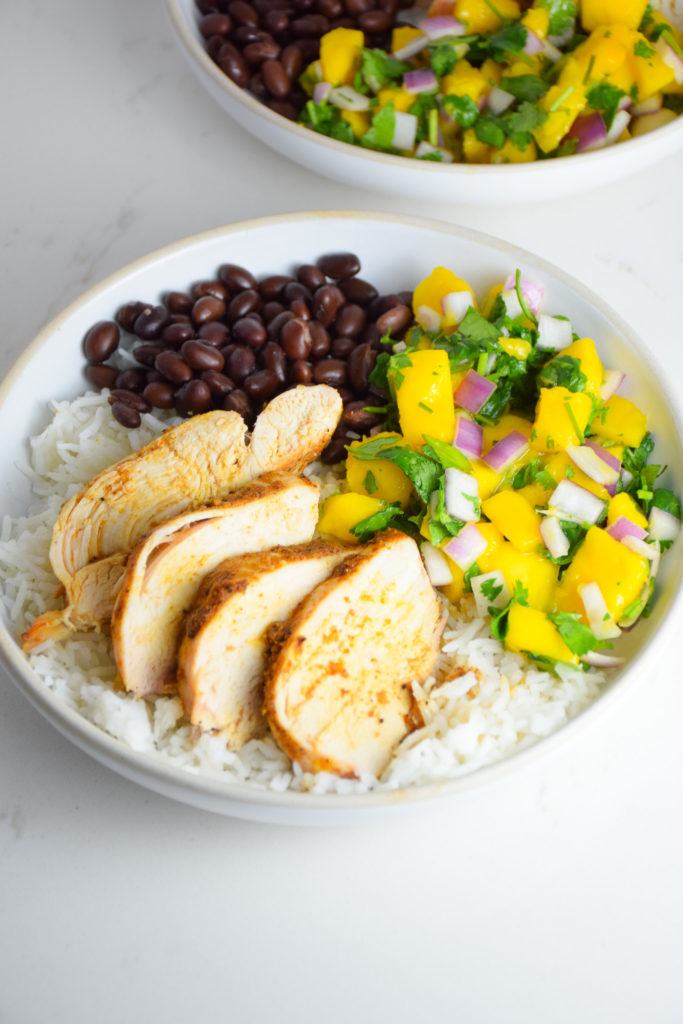 I love how fresh and craveable these bowls are! Not to mention, they pack a lot of protein and flavor. The fresh mango and jerk chicken remind me of what you'd find at beach shack for a quick lunch. Healthy, fresh and something you want to eat again and again!
This post contains affiliate links. If you purchase a product through these links I may earn a few pennies. Thanks for keeping this free blog going!
Flavorful Protein Bowls
I love fresh flavors. BMW loves protein. This bowl marries those two things very nicely! The mango salsa is delicious on it's own but combined with the jerk chicken it's really something special. The black beans and rice are a classic combo and really build out this bowl for a full meal on one plate.
We love to make these for a healthy dinner but they are great for lunch too! I love that you can meal prep these ingredients and incorporate them in different meals throughout the week. Like I said, the mango salsa is great on it's own with tortilla or plantain chips
as a snack.
I love making big servings of black beans and rice early in the week and having them in the fridge ready to add to salads or scramble up with eggs for a quick breakfast. Sometimes I'll even have just black beans and rice together with hot sauce or salsa as a quick meal. It's filling and healthy and most importantly — quick!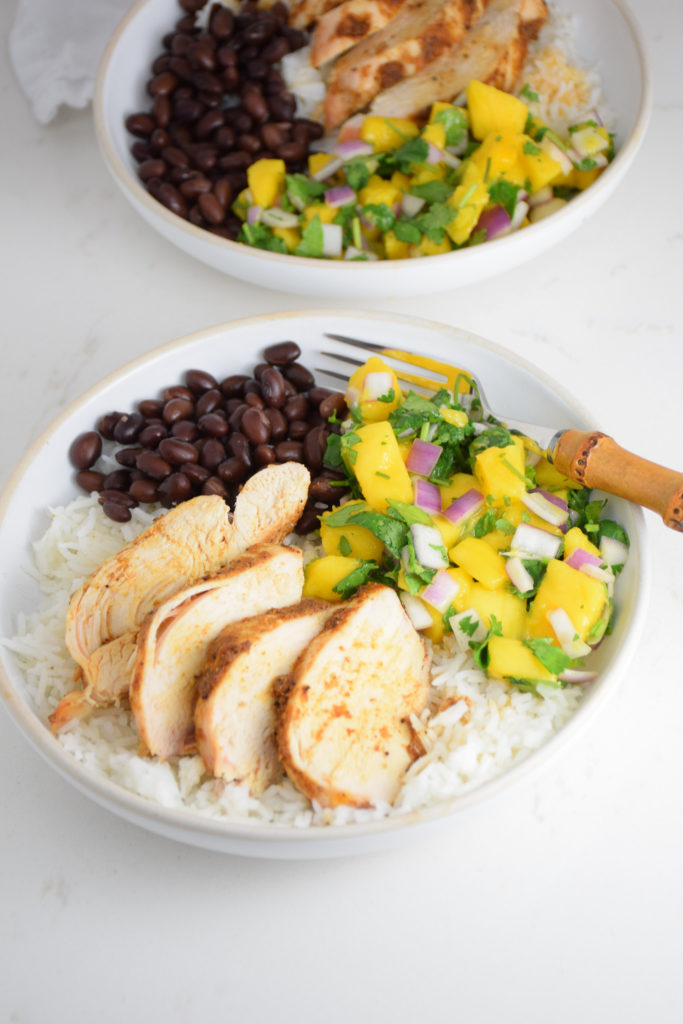 You Might Also Love 
Roasted Salmon Buddha Bowls with Lemony Dill Sauce 
Crab Tostadas with Herby Aioli 
Herbed Shrimp Confit with Feta and Crusty Bread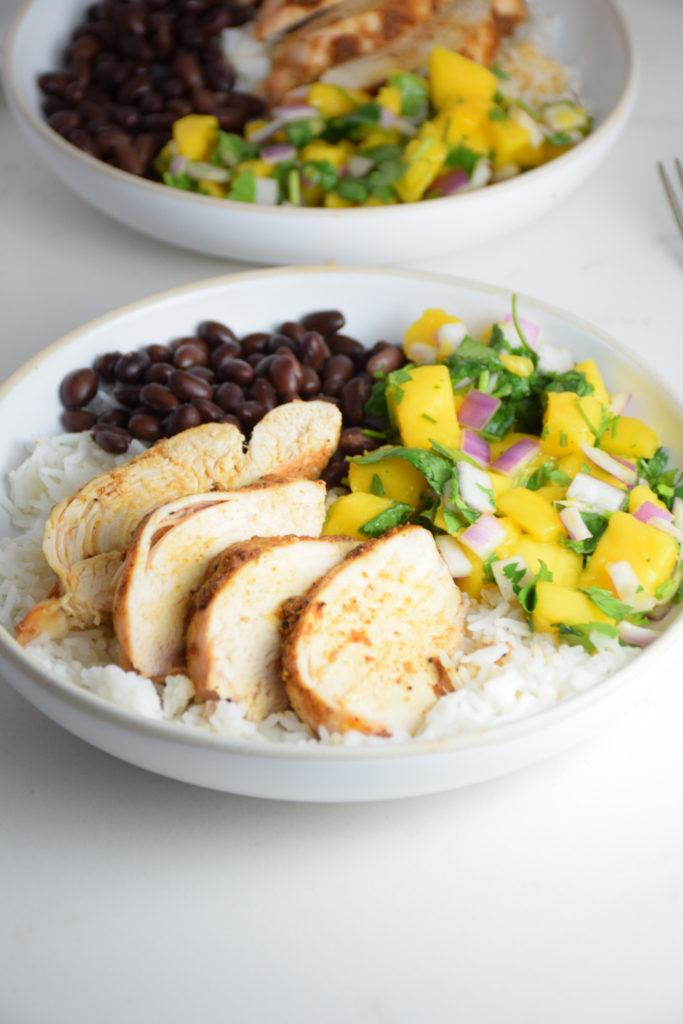 Jerk Chicken Bowls with Black Beans and Mango Salsa
Makes two bowls
Ingredients: 
1 chicken breast, approx 8 ounces
1/2 teaspoon all spice
1/2 teaspoon cumin
1/2 teaspoon coriander
1/2 teaspoon cayenne
1/2 teaspoon paprika
1/2 teaspoon salt
1/2 teaspoon black pepper
1 tablespoon coconut oil
1 cup long grain white rice, like basmati, cooked
1 cup black beans, rinsed
Mango Salsa:
1 mango, approx 1 cup, diced
1/2 cup red onion, diced
1/4 cup cilantro, chopped
1 ounces fresh lime juice
1/2 teaspoon salt
Directions: 
Preheat oven to 375 degrees.
Rub chicken breast with spices and coconut oil. Bake in a shallow dish for 45 minutes or until reaches an internal temperature of 165 degrees.
Slice chicken and reserve juices from pan.
To make mango salsa, peel and dice mango.
Combine mango chunks with red onion, cilantro, lime juice and salt.
In a bowl, place cooked rice and black beans. Top with sliced chicken, drizzling with juices from pan. Add mango salsa and enjoy!