Roasted Salmon Buddha Bowls with Lemony Dill Sauce are a quick and easy recipe! Packed with nutritious ingredients and are perfect for lunch or dinner!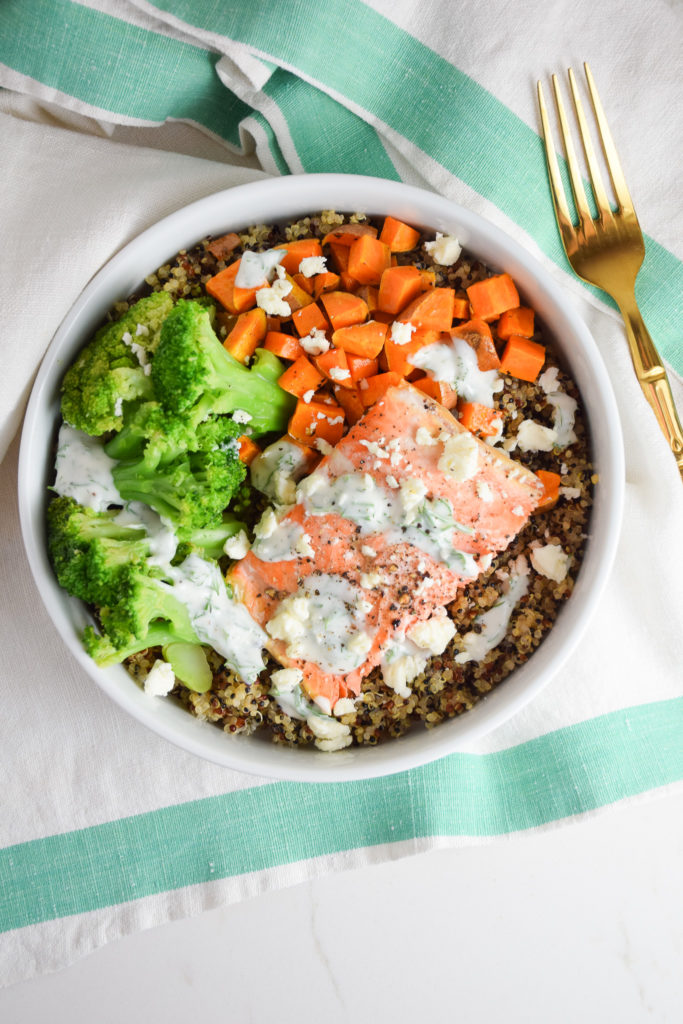 Quick and healthy dinner recipes are easy enough to find online. But finding one that is simple to make and actually tastes delicious, well that's another story. I love that this recipe is great for meal prep and makes for a tasty lunch or dinner. These simple ingredients come together in one bowl for a nutritious meal.
This post is sponsored by HEB as part of their #TexansHelpingTexans campaign. Thanks for supporting the companies that keep this blog going!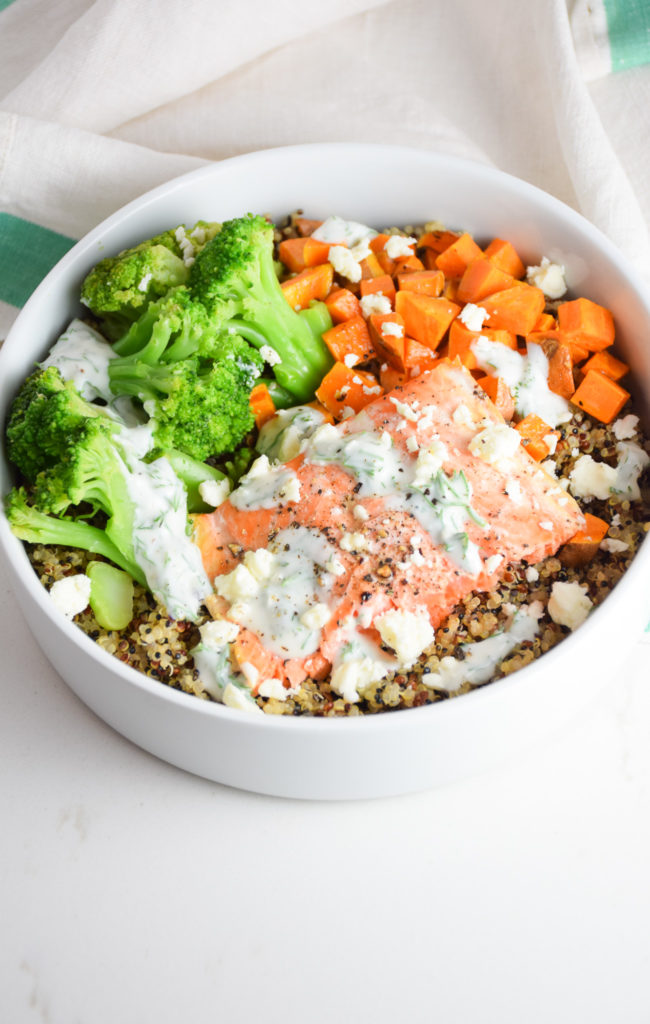 HEB and #TexansHelpingTexans
I am proud to partner with HEB on this post to share about their Texans Helping Texans campaign! During these crazy times HEB is encouraging us all to help each other by uniting as a community. The best way I know how to help is sharing delicious and nourishing recipes that you can easily make at home.
While we can't get together in person right now, we can still share a meal and nourish our bodies! I asked my followers on Instagram what kind of recipes they were craving right now and quick & healthy won. These roasted salmon quinoa bowls are one of my go-to quick & healthy weeknight meals.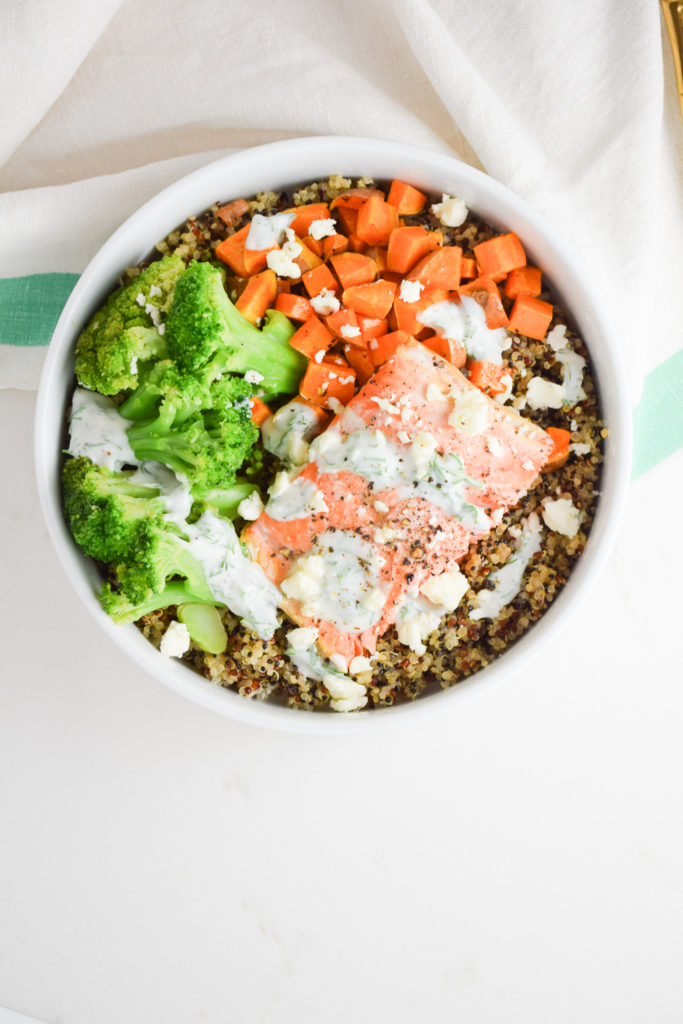 Quick and Healthy Dinner Recipe
These are easy to customize, so you can swap in whatever protein you like. I love the combo of salmon and sweet potatoes but you can really use whatever roasted veggies you have on hand like cauliflower, carrots or brussels sprouts. Broccoli can be fresh or frozen or you can always throw in some leafy greens like spinach or kale!
I am always whipping up homemade dressings because they are so easy and taste like a million times better than the bottled stuff. I love a good creamy dressing and this one really hits the spot! In a pinch, if you can't find fresh dill, sub in dried dill in half the amount the recipe calls for.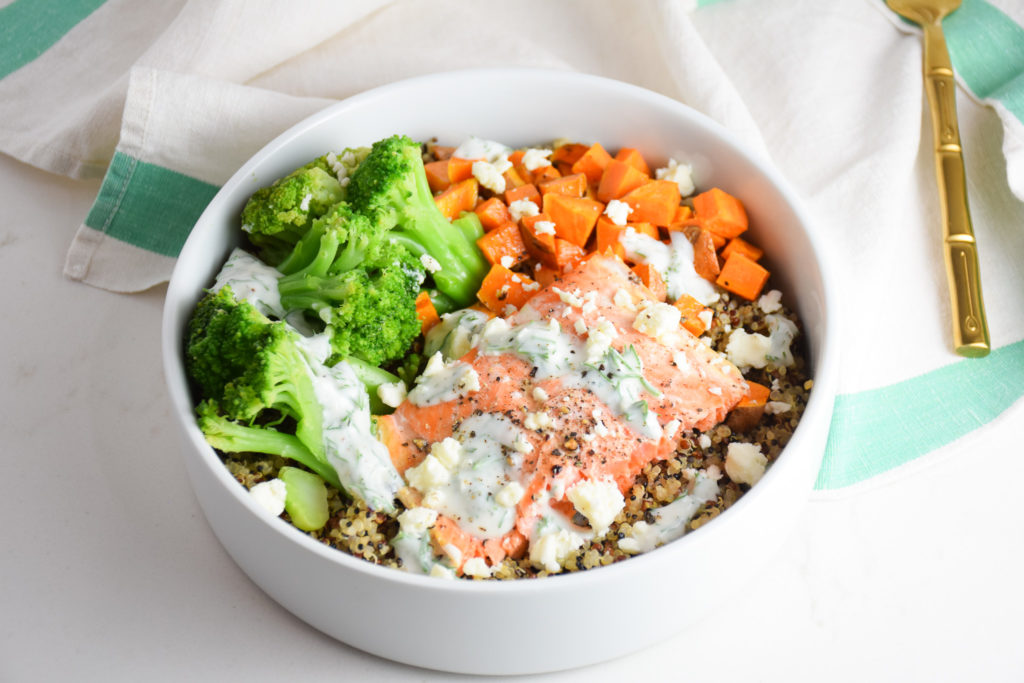 Roasted Salmon Buddha Bowls with Lemony Dill Sauce
Makes four bowls
Ingredients: 
1 lb salmon
1 cup dry quinoa, cooked according to package instructions
2 cups sweet potato, diced
2 cups broccoli, chopped
1/2 cup feta, crumbled
1 tablespoon olive oil
1 tablespoon kosher salt
1 tablespoon black pepper
1 ounce lemon juice
Lemony Dill Sauce: 
1 ounces Greek or other thick yogurt
1/4 cup fresh dill, chopped
1 teaspoon garlic, pressed or paste
1 ounce lemon juice
1/2 teaspoon kosher salt
1/2 teaspoon black pepper
Directions: 
Dice sweet potatoes into one inch cubes. Toss with 1/3 of the olive oil, salt and pepper and roast for 20-25 minutes at 375 degrees until tender.
Meanwhile, cook quinoa according to package instructions.
Dress salmon with remaining olive oil, salt and pepper and place into a shallow baking dish. Bake for 20 minutes at 375 degrees until it reaches an internal temperature of 140 degrees.
Sauté broccoli with 1/3 of the olive oil, salt and pepper, over medium heat until tender, about 7-9 minutes. Set aside.
Next, whisk together yogurt, dill, garlic, lemon juice, salt and pepper to make sauce.
Build buddha bowls by placing quinoa into bowls, adding veggies, then topping with salmon, lemony dill sauce and sprinkle with feta.

Roasted Salmon Buddha Bowls with Lemony Dill Sauce

Roasted Salmon Buddha Bowls with Lemony Dill Sauce are a quick and easy recipe! Packed with nutritious ingredients and perfect for lunch or dinner!

Ingredients

1

lb

salmon

1

cup

dry quinoa

cooked according to package instructions

2

cups

sweet potato

diced

2

cups

broccoli

chopped

1/2

cup

feta

crumbled

1

tablespoon

olive oil

1

tablespoon

kosher salt

1

tablespoon

black pepper

1

ounce

lemon juice

Lemony Dill Sauce:

1

ounces

Greek or other thick yogurt

1/4

cup

fresh dill

chopped

1

teaspoon

garlic

pressed or paste

1

ounce

lemon juice

1/2

teaspoon

kosher salt

1/2

teaspoon

black pepper

Instructions

Dice sweet potatoes into one inch cubes. Toss with 1/3 of the olive oil, salt and pepper and roast for 20-25 minutes at 375 degrees until tender.

Dress salmon with remaining olive oil, salt and pepper and place into a shallow baking dish. Bake for 20 minutes at 375 degrees until it reaches an internal temperature of 140 degrees.

Meanwhile, cook quinoa according to package instructions.

Sauté broccoli with 1/3 of the olive oil, salt and pepper, over medium heat until tender, about 7-9 minutes. Set aside.

Next, whisk together yogurt, dill, garlic, lemon juice, salt and pepper to make sauce.

Build buddha bowls by placing quinoa into bowls, adding veggies, then topping with salmon, lemony dill sauce and sprinkle with feta.

Nutrition

Calories:

485

kcal

Carbohydrates:

47

g

Protein:

35

g

Fat:

18

g

Saturated Fat:

5

g

Cholesterol:

79

mg

Sodium:

2353

mg

Potassium:

1226

mg

Fiber:

7

g

Sugar:

5

g

Vitamin A:

10069

IU

Vitamin C:

50

mg

Calcium:

188

mg

Iron:

4

mg