Crab Tostadas with Herby Aioli is a super fresh, flavor filled meal that is quick and easy to make! It will transport you to a beach anytime!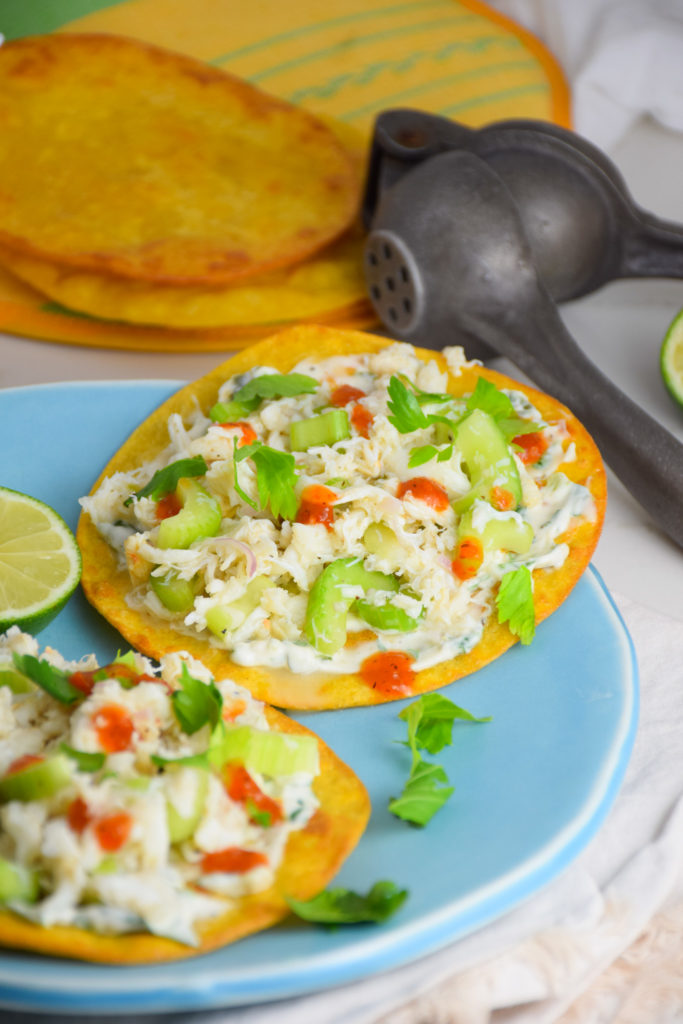 Who else is craving an island escape? I know I am! This dish reminds me of all the fresh, light seafood dishes you can find at a breezy beach shack somewhere. One of the reasons I like these crab tostadas so much is that they are light but still satisfying and full of flavor.
This post contains affiliate links. If you purchase a product through these links I may earn a few pennies. Thanks for keeping this free blog going!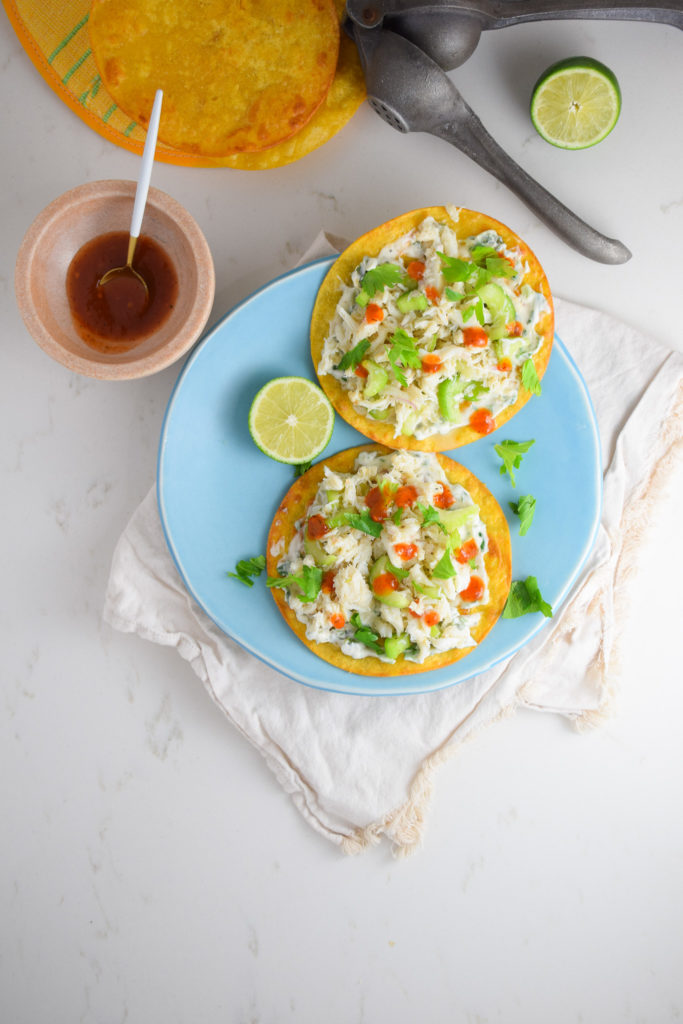 Quick, Fresh Crab Tostadas
Fresh, bright, crunchy and oh yeah, delicious! These crab tostadas have been on my cravings list lately. They are so easy to make and the fresh lime juice really punches things up in terms of flavor. I definitely recommend taking the extra few minutes to fry your own corn tortillas to make the tostadas. You could just buy them but it's not the same. That little extra step is what will take this dish from good to great.
Growing up, I have lots of memories of my papa, who grew up in South Texas, frying corn tortillas. As a kid, I always thought it was weird. I don't know why haha. I had never really been exposed to real Mexican food except for him. He would fry his corn tortillas but always give me the plain flour ones because of course that's all I wanted. As I fried the tortillas for this recipe, I could just picture him standing over the stove frying tortillas. That makes this recipe all the more special for me!
Fresh fried tostadas will have a little crunch but also be a little flexible. They shouldn't be as crunchy as tortilla chips. So you only need a quick fry on each side to achieve the perfect texture.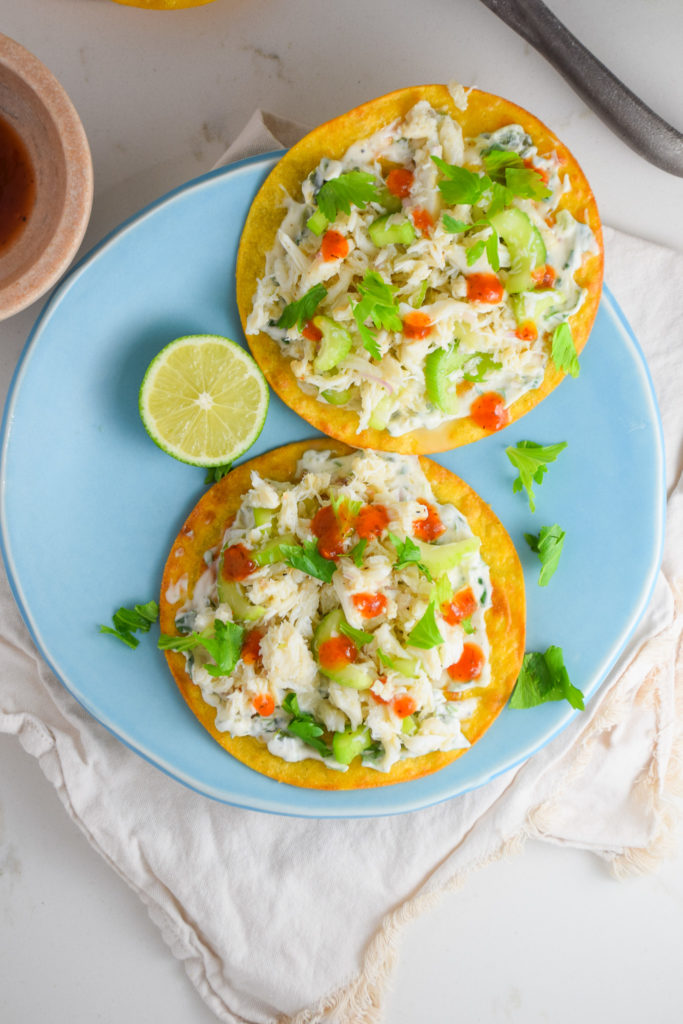 You Might Also Love
Fish Tacos with Hot Sauce Crema 

Crab Tostadas with Herby Aioli
Makes four tostadas
Ingredients: 
4 corn tortillas
1/2 cup oil for frying
1 cup jumbo lump crab  (pre-cooked, can usually be found in seafood section)
1/2 cup mayo or greek yogurt
2 ounces fresh lime juice
1/4 cup cilantro, chopped
2 stalks of celery, thinly sliced and leaves reserved
1 jalapeño
2 tablespoons shallot, thinly sliced
1/2 teaspoon salt
1/4 teaspoon black pepper
Directions: 
Broil the jalapeño for about 5 minutes until some black spots appear. Let cool to touch. Chop and set aside. Remove seeds if you prefer less heat.
Toss chopped jalapeño with cilantro, mayo, salt and pepper, set aside.
In a separate bowl, combine crab with shallot and lime juice, set aside.
Add oil to skillet or fry pan and heat to medium high. Fry tortillas one at a time, about 1 minute on each side. Pressing tortillas down with a spatula to ensure it cooks evenly. Place tortillas on paper towel lined plate to cool.
Spread aioli on tostadas and top with crab mixture. Garnish with torn celery leaves and hot sauce if desired.