I don't know if I'll ever get tired of Spicy Fish Tacos but this Hot Sauce Crema is so easy to make and is really what puts this recipe over the top!

I'm always looking for ways to incorporate more protein and less meat into our diet at home. BMW isn't always the biggest fish fan but even he loved these Spicy Fish Tacos! I let them get crispy around the edges by cranking up the broiler high. The crispy edges of the fish add a great texture and the cabbage slaw has a great crunch. This is definitely a recipe the whole family can get into!
This post contains affiliate links. If you purchase a product thorough these links I may earn a few pennies at no cost to you. Thanks for keeping this free blog going!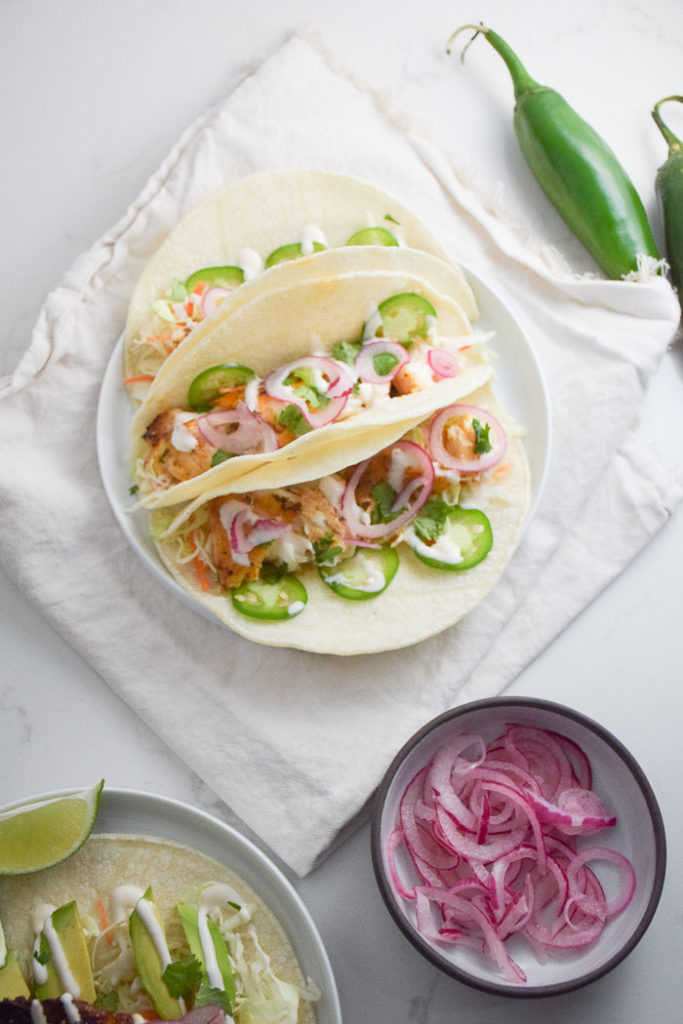 Spicy Fish Tacos with Hot Sauce Crema
The Hot Sauce crema is really what pumps on the spice on this recipe! That's what makes it a great variation and something everyone can enjoy. Leave out the Hot Sauce Crema if you want something more mild. The pickled onions add a punch and of course I love them because they are pink! And pickled 🙂
I chose white, soft corn tortillas because that is what I love with fish tacos. Flour would work, it's really whatever is your preference. Try these out and let me know what ya think in the comments!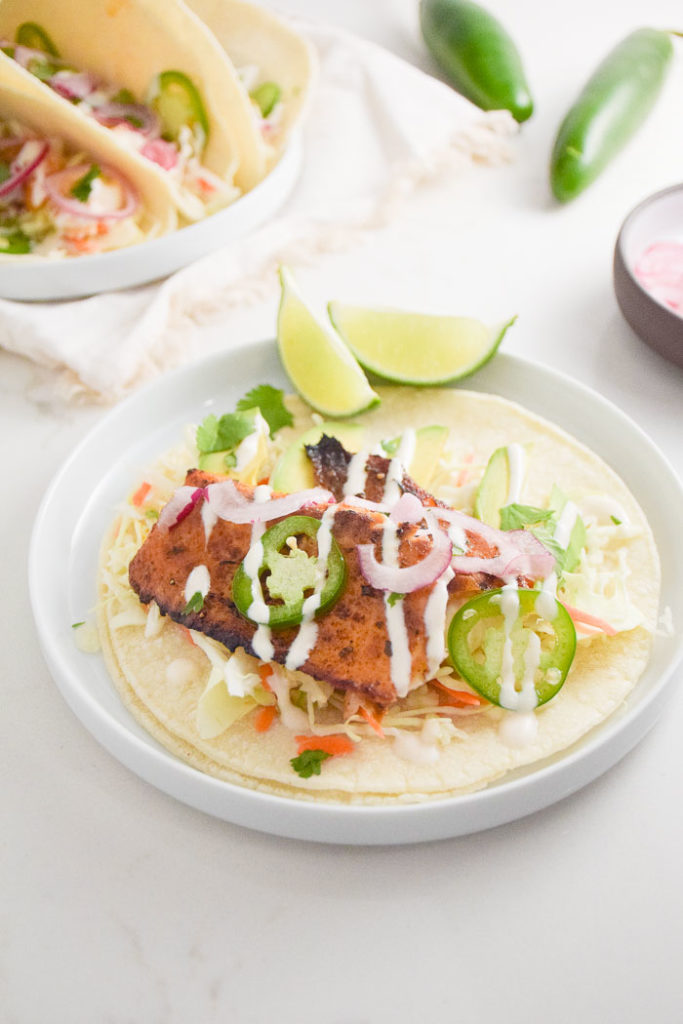 Spicy Fish Tacos Recipe with Hot Sauce Crema
Makes 8 tacos
Ingredients:
1 lb of tilapia filets
2 cups shredded cabbage slaw
2 tablespoons extra virgin olive oil
1 teaspoon paprika
1 teaspoon chili powder
1 teaspoon salt
1 teaspoon black pepper
½ teaspoon cayenne pepper
8 Corn tortillas
Hot Sauce Crema:
½ cup organic whole milk yogurt
6 tablespoons hot sauce (vinegar-based like Tabasco)
½ teaspoon salt
Optional Toppings:
Very thinly sliced jalapeño
Pickled onions
Lime wedges
Cilantro
Cotija cheese
Directions:
Preheat broiler to high. In a small bowl, whisk together spices with olive oil. Spread all over tilapia filets and broil in small baking dish for 5-7 minutes or until internal temperature reaches 145 degrees F.
Warm the tortillas in the microwave or oven for a few seconds.
Make the crema sauce by whisking together yogurt, hot sauce and salt until smooth.
Make pickled onions by very thinly slicing a red onion and placing into a small mason jar. Whisk ½ cup apple cider vinegar, 1 tablespoon sugar and 1 cup water until solids are dissolved. Then pour over onion in jar. Close and refrigerate for at least one hour or overnight. Can be made ahead of time and will stay good in fridge for one week.
Divide cabbage over warm tortillas, then top with fish and drizzle with crema sauce. Add pickled onions, jalapeños, cilantro or other toppings as desired.
Crab Tostadas with Herby Aioil