Herbed Shrimp Confit with Feta and Crusty Bread is a delicious but easy to make meal! It feels fancy but is more like a one pot meal!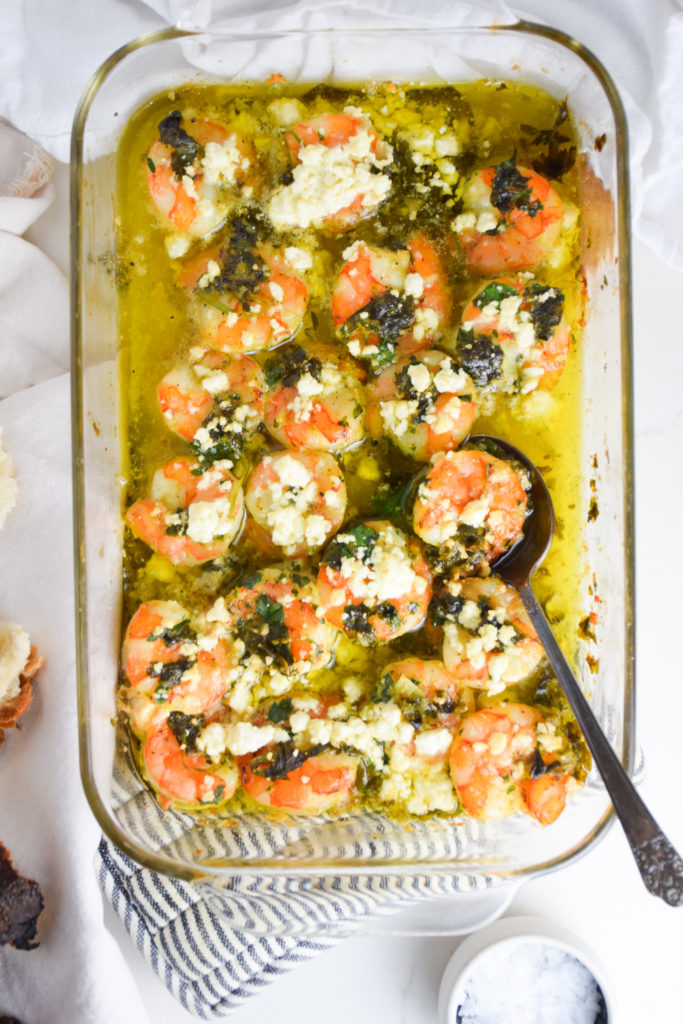 I love dinner. I look forward to this meal all day, every day. What can I say, I am a food blogger after all! After cooking and working all day, sometimes even I want something easy. That is why I love, love, love this recipe. It's shrimp, it's fresh herbs and oh yes cheese! And it cooks all together in one pan in the oven. And it's delicious. AKA the perfect dinner!
This post contains affiliate links. If you purchase a product through these links I may earn a few pennies. Thanks for keeping this free blog going!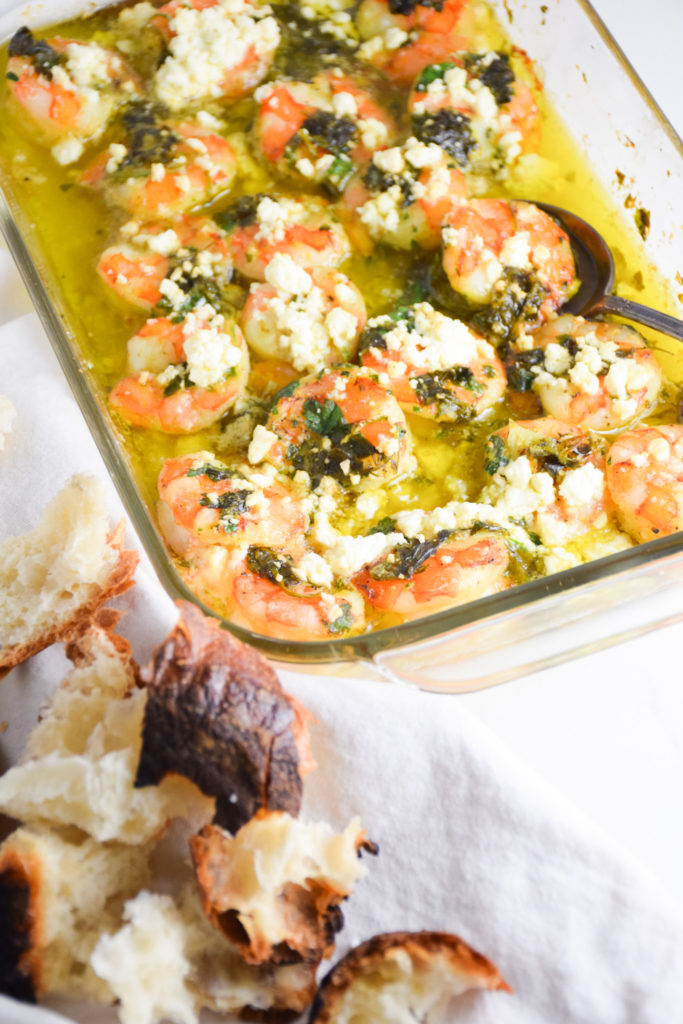 What is Confit?
At its most basic level, a confit is a slow method of cooking that typically involves cooking in oil or sugar water as a method of preservation. In this case, we are slowly cooking shrimp in olive oil. This method of cooking the shrimp slowly at a low temperature allows for two things: one, tons of flavor from the olive oil and two, the shrimp won't become over cooked or rubbery.
The low temperature also makes this dish uniquely optimized for cooking with olive oil. Often times when cooking, the temperature is too high for olive oil and will cause it to go rancid. In this case, the low temperature lets the olive oil and its flavor shine through and it pairs so delightfully with the delicate shrimp.
The shrimp become tender, juicy and packed with flavor in this method! This is the oven version of a one pot meal. Put all the ingredients into one dish, set the temperature and timer, and come back to a delicious ready to eat meal. Simple enough, right?
BMW and I both love this meal so much! It feels like a date night meal but it's so easy we can throw it together after a long day of work. PS- don't forget to pair this with a delicious baguette or other crusty bread to soak up all that pan sauce!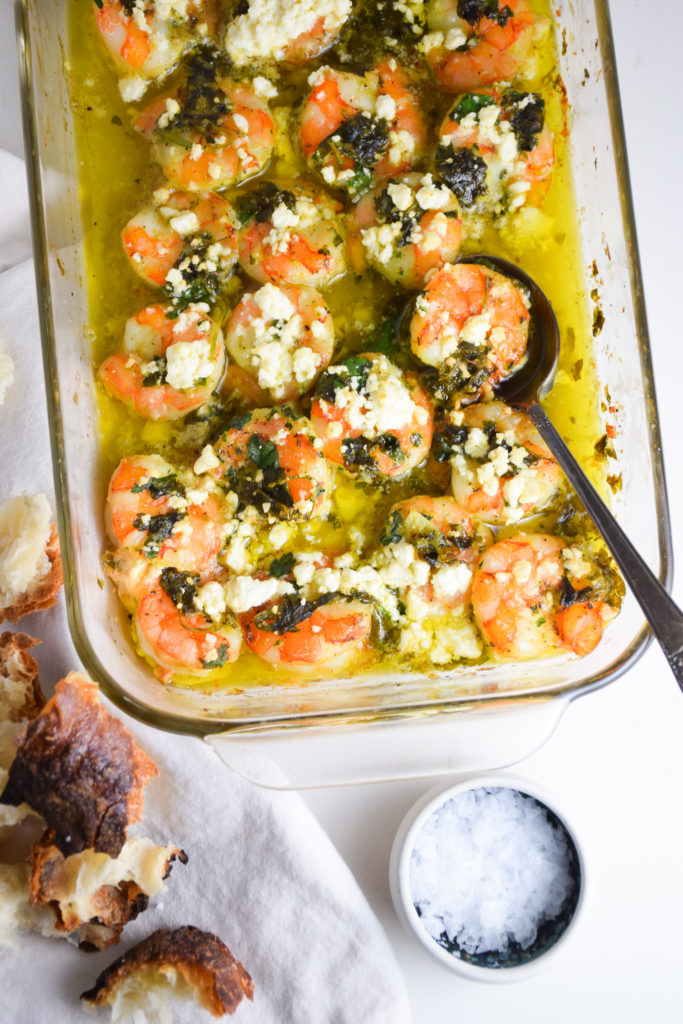 You Might Also Love 
Crab Tostadas with Herby Aioli 
Spicy Fish Tacos with Hot Sauce Crema
Herbed Shrimp Confit with Feta and Crusty Bread
Serves 4
Ingredients: 
1 lb shrimp, deveined and tails removed
1/2 cup olive oil
1/4 cup flat leaf parsley, chopped
1/2 feta, cubed or large crumbles
1 lemon, juice and zest
2 cloves of garlic, smashed
1/8 teaspoon sugar
1 teaspoon salt
1/2 teaspoon black pepper
Directions: 
In a mortar and pestle, or small food processor, combine parsley, lemon zest, garlic, sugar and black pepper. Mash or process until a chunky paste forms.
Toss shrimp with herb paste and salt and let marinate for 10 minutes.
Nestle shrimp into a shallow dish, topping with herb paste, and pouring olive oil into dish. Sprinkle feta on top.
Bake at 250 degrees for 50-60 minutes or until shrimp are pink and cooked through, an internal temperature of 165 degrees.
Serve hot with crusty bread to soak up the herbed olive oil.