Homemade Blueberry Pop Tarts are so easy to make! Puff pastry plus a few fresh ingredients and you have tender, flaky homemade pop tarts!
I used to love pop parts as a kid! They were one of my favs. As grown up, the dried out boxed version don't quite do it for me anymore but the puffy, patisserie versions have me swooning. After always gravitating to the over priced pastries every time I was at a coffee shop, I decided to make my own version! These were surprisingly easy to make and the freeze dried blueberries add the perfect amount of tart to this sweet treat!
This post contains affiliate links. If you purchase a product through these links I may earn a few pennies. Thanks for keeping this free blog going!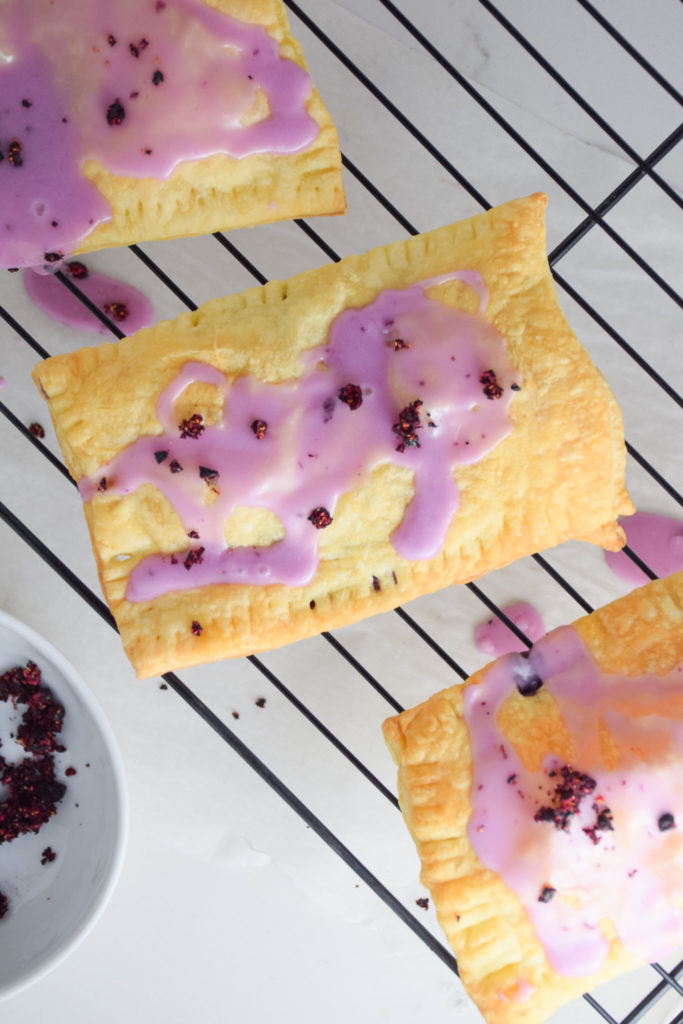 Homemade Puff Pastry Tarts
Now, you can make your own puff pastry at home but I am trying to keep things simple here! The store bought frozen puff pastry works really well in this recipe. I've made homemade pop tarts before with frozen pie crust, and those turn out delicious but for these I really wanted something flaky! So go for the puff pastry.
The ooey-gooey, blueberry jam filling is so good and you only need a few simple ingredients. You will need to use a thickener, like cornstarch or arrowroot powder
, or your pop tarts might turn out soggy. This will keep the filling more jam like and let the puff pastry do it's thing!
I opted to use crushed freeze dried blueberries
to top these tarts! You can use sprinkles of course but I loved how the dried berries add a touch of tartness to the sugary icing. It really balanced the pop tart and was super satisfying. Don't worry these aren't super tart, just a little balance to the sugary sweet icing which makes for a very adult pop tart treat.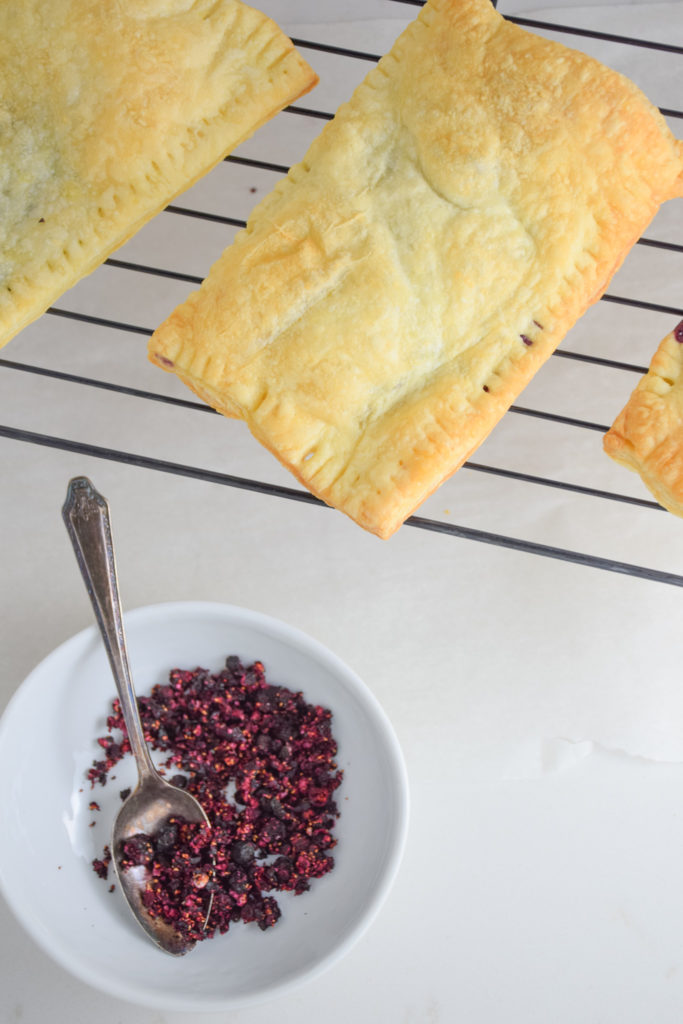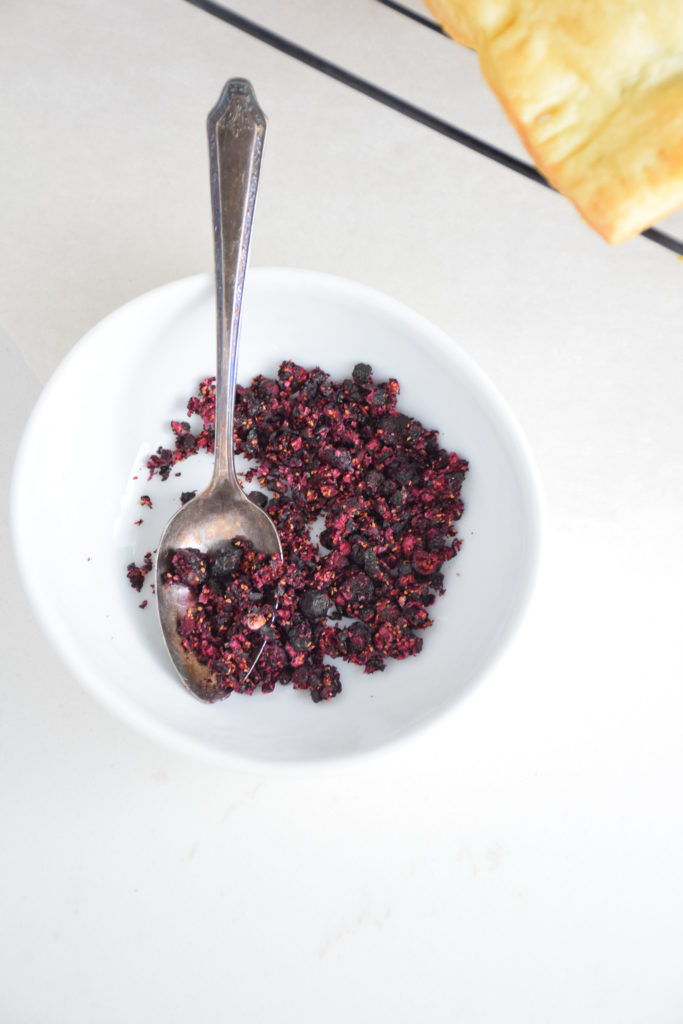 You Might Also Love 
The Best Ever Mini Chocolate Chip Cookies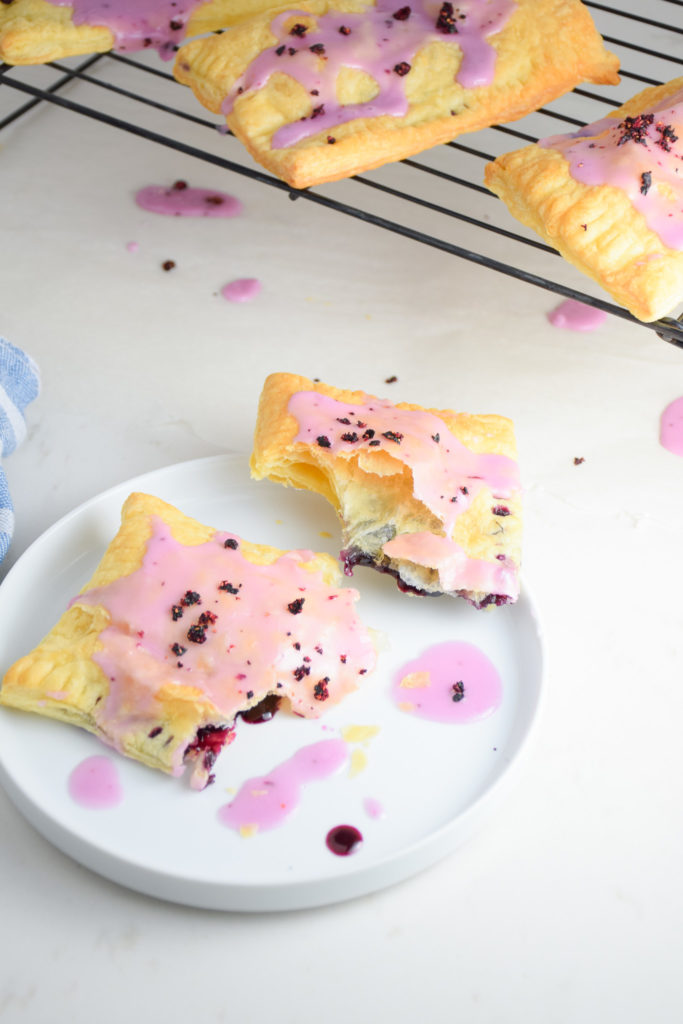 Homemade Blueberry Pop Tarts
Makes 6 pastries
Ingredients: 
2 sheets of frozen puff pastry, thawed
Filling:
1 cup fresh or frozen blueberries
1/2 granulated sugar
1 ounce fresh lemon juice
2-3 tablespoons of cornstarch or arrowroot powder
Topping:
2 tablespoons blueberry juice, reserved from cooking filling
1 cup powdered or confectioners sugar
2 tablespoons freeze dried blueberries
, crushed
Directions: 
Preheat the oven to 400 degrees and defrost pastry for 30-45 minutes until it is pliable.
Meanwhile, make the filling. In a small pot, bring blueberries, sugar and lemon juice to a boil. Gently press blueberries against pot to release juices. Reduce down for 7-8 minutes. Spoon out about two tablespoons of blueberry juice and set aside.
Add in cornstarch or arrowroot powder, one tablespoon at a time, stirring until completely dissolved. How much thickener you will need will depend on how juicy your blueberries are. You want the blueberries to have an almost jam-like consistency. Remove from heat and let cool a few minutes.
Roll each thawed pastry out to 12 inches by 12 inches on a floured surface.
Add about 1 tablespoon of jam, evenly spaced into two rows of three, for six total jam smears.
Place other pastry sheet on top of the one with the jam. Gently press around edges then cut into six pop tarts. Use a fork to crimp the edges of each pastry.
Bake for 15 minutes on a parchment paper lined baking sheet. Remove from oven and let cool for five minutes.
To make the icing, combine the blueberry juice you set aside earlier with powdered sugar. Whisking together until thick but spreadable icing forms. Add a few droplets of water if it is too thick.
Spread icing over warm pop tarts and sprinkle with crushed freeze dried blueberries.
Enjoy while still warm!
These will keep in air tight container for three days.