Summer is high season for blueberries and this lemon blueberry pound cake made with Greek yogurt is the perfect way to indulge! Of course that is if you don't eat all the blueberries first.
This recipe has been a blog favorite for years now! It's one of my personal favorite flavor combinations — lemon and blueberry! BMW loves poundcake, I mean who doesn't?! and this version is made a little bit lighter by using Greek yogurt and cutting back on the sugar in the cake. Just this past weekend I made this cake again for a baby shower and added a decadent lemon glaze. You will see the recipe and photo for that at the end. The lemon glaze makes this pound cake extra scrumptious but for years I've made it without the glaze and it is delicious that way too!
This post contains affiliate links. If you purchase a product through these links I may earn a few pennies. Thanks for keeping this free blog going!

Lemon Blueberry Pound Cake
I used to think that I was the only person my age who liked lemon desserts. My grandma and I shared a love of lemon bars every Christmas and I remember being the only grandkid who loved the tart and sweet bright yellow bites. Now as an adult I have found many other friends who love lemon desserts as much as I do!
This past weekend for a dear friend's baby shower, I was tasked with making a lemon dessert to bring. I knew that this lemon blueberry pound cake would be just the thing! I wanted to make it a little extra indulgent for this occasion and I whisked up a quick extra lemony glaze to go on top. You will find that recipe and a photo of the pound cake with the glaze below.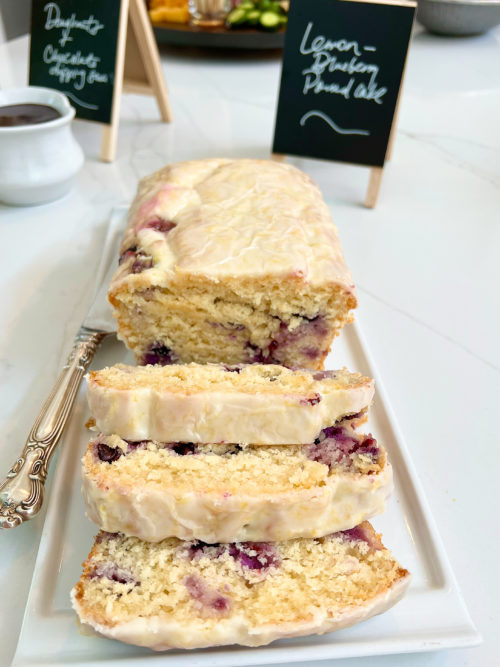 How To Use Blueberries That Are About To Go Bad
Normally, I would never let blueberries stay to long in the fridge but this time I did a big no-no. I let almost a week pass before delving into my fresh blueberries! They were all wilted! I couldn't bare to let them go to waste…so I decide to bake them into a cake. This is a super easy, no butter recipe for pound cake. The Greek yogurt keeps this cake nice and moist. The vanilla extract, lemon juice and blueberries give it tons of flavor. And best of all, no wilted blueberries went to waste! Of course this recipe will work with plump, fresh blueberries as well as frozen. If you are using frozen, let me thaw a little, otherwise they will sink to the bottom while baking and increase the amount of baking time since they will cool the batter quite a bit.
You Might Also Love 
Fluffy Lemon Blueberry Pancakes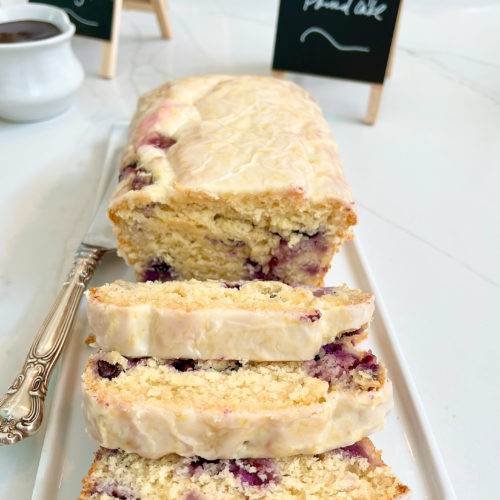 Lemon Blueberry Pound Cake
Summer is high season for blueberries and this lemon blueberry pound cake made with Greek yogurt is the perfect way to indulge!
Ingredients
1 1/2

cups

all-purpose flour

2

tsp

baking powder

3/4

tsp

kosher salt

reduce by half if using table salt

3/4

cup

sugar

3/4

cup

Greek yogurt

non-fat or whole milk either will work

1

teaspoon

vanilla extract

1/2

cup

canola oil

2

eggs

1/4

cup

lemon juice

1

cup

blueberries
Lemon Glaze
2

tsp

lemon zest

2

tsp

fresh lemon juice

can add additional juice 1 tsp at a time to reach desired consistency

16

tbsp

powdered sugar
Instructions
Preheat oven to 350 degrees. Wash the blueberries. Pick out and throw away any blueberries that have mold or white fuzz on them.

Whisk together flour, baking powder and salt in a small bowl and set aside.

Next, beat eggs, sugar, oil, lemon juice, vanilla and Greek yogurt together until mostly smooth.

Next, add flour, baking powder and salt. Mix until just combined. If there are a few lumps that's ok. Add the blueberries and gently fold into batter.

Pour batter into a well greased bread pan. Bake at 350 degrees for 45-50 minutes or until just baked through. The center will continue to bake as it cools, so be wary of over baking.

To make Lemon Glaze, whisk together lemon zest, lemon juice and powdered sugar until smooth. For a thicker consistency, continue adding powdered sugar one tablespoon at time. For a thinner consistency, reduce amount of powdered sugar or add additional lemon juice or water one teaspoon at a time.

Let pound cake cool completely before drizzling or the the glaze will melt off. Can make up to two days ahead of time. Keep covered at room temperature for two days or store wrapped in the fridge up to a week.
Nutrition
Calories:
257
kcal
Carbohydrates:
38
g
Protein:
4
g
Fat:
10
g
Saturated Fat:
1
g
Trans Fat:
1
g
Cholesterol:
28
mg
Sodium:
232
mg
Potassium:
62
mg
Fiber:
1
g
Sugar:
25
g
Vitamin A:
47
IU
Vitamin C:
4
mg
Calcium:
61
mg
Iron:
1
mg