You'll never believe that a few dried herbs can come together for such a tasty appetizer! This Herby Italian Dipping Sauce is delicious!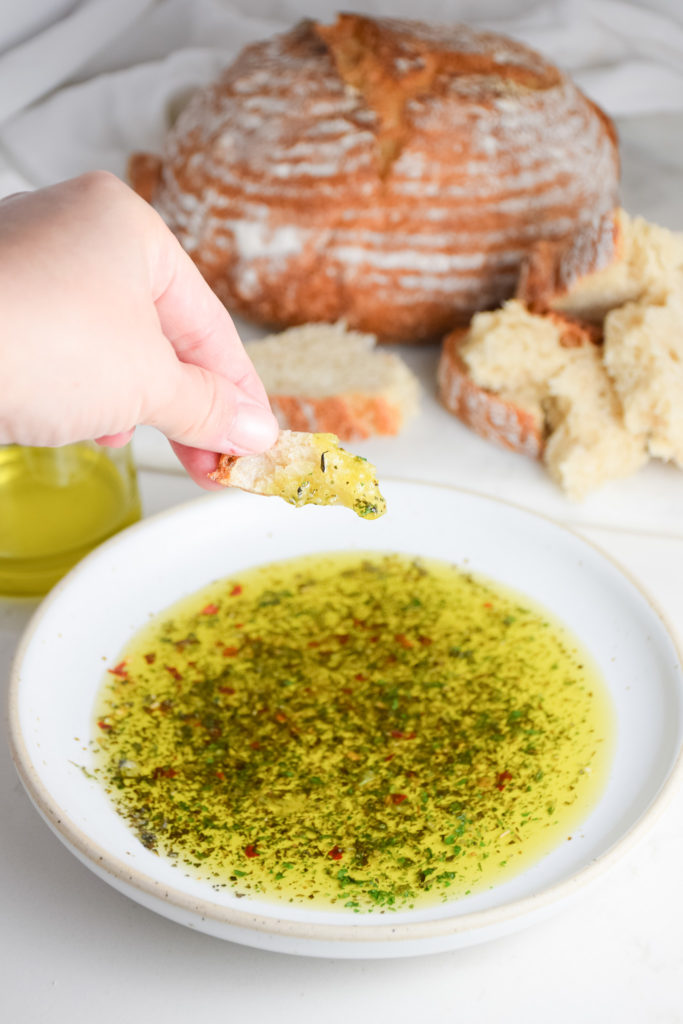 Good bread and good olive oil… could there BE any better combination? Possibly but my guess is you'd be hard pressed to find one. I love a good appetizer but sometimes they are just so much work. Ya know what I mean? It's like making a whole other meal and well, who has time for that? This appetizer takes literally seconds to make with a few dried herbs. That's it. So simple. So easy. So delicious. It'll up your dinner at home experience without spending any extra time in the kitchen. Now that's a win!
This post contains affiliate links. If you purchase a product through these links I may earn a few pennies. Thanks for keeping this free blog going!
Coursed Meals at Home
Do you serve coursed meals at home? Most nights when it's just me and BMW we don't. An example would be if we are having a main and a salad or veggie, it all goes onto one plate and we eat it at the same time. If we have dessert, which we occasionally do, we will eat it much later. Hardly ever will we indulge in dessert at the dinner table soon after meal as we would in say a restaurant.
As we've been preparing for Bébé W's arrival, BMW and I have been reading several parenting books. One, Bringing Up Bébé
, advises to serve coursed meals at home so that your child will learn from a young age to be patient in restaurants. I thought this was such an interesting concept and seemed really to be a no brainer. Of course American children would be expecting their food right when they sat down to the table and eaten rather quickly… because well, that's how we've taught them to eat at home. At least that is how we typically eat in our house.
Anyways, the whole idea has me thinking about slowing down our dinners a little. Is this something that will fit into our hectic schedule? How can we teach our child patience at mealtime? It would obviously mean changing the way we eat dinner every night. Is that realistic for us? All questions that we are still figuring out and I am sure will change throughout different stages of parenting but something to think about for sure!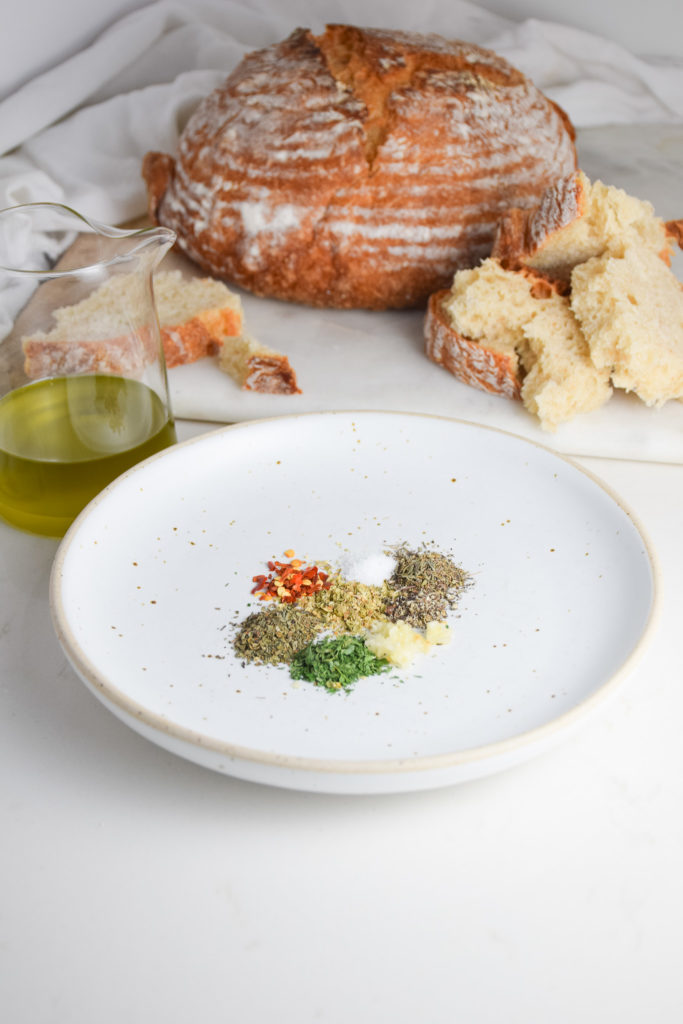 Easy Everyday Appetizer
This Herby Italian Dipping Sauce is a super easy appetizer that you can make in literally seconds and yet is somehow still totally delicious. I mean if I'm being 100% honest, I could totally see myself having just this and a big glass of wine for dinner some nights haha!
The idea is though that this is delicious enough to serve when you have friends over for dinner but is easy enough to put together on a week night and eat before or with… or even as your dinner. I'm all for slowing down and enjoying meals, so I thought this might be something you'd enjoy too!
Pro Tips: 
Make sure you use a good quality olive oil. Since it is a main ingredient, its flavor will be prominent.
Dried herbs and spices have a shelf life of about a year, two years max. Make sure yours aren't too old or you'll miss out on the flavor in this recipe.
Pick up a fresh bread from the bakery, or bakery section at your grocery store, to pair with this dip. Or better yet, make your own!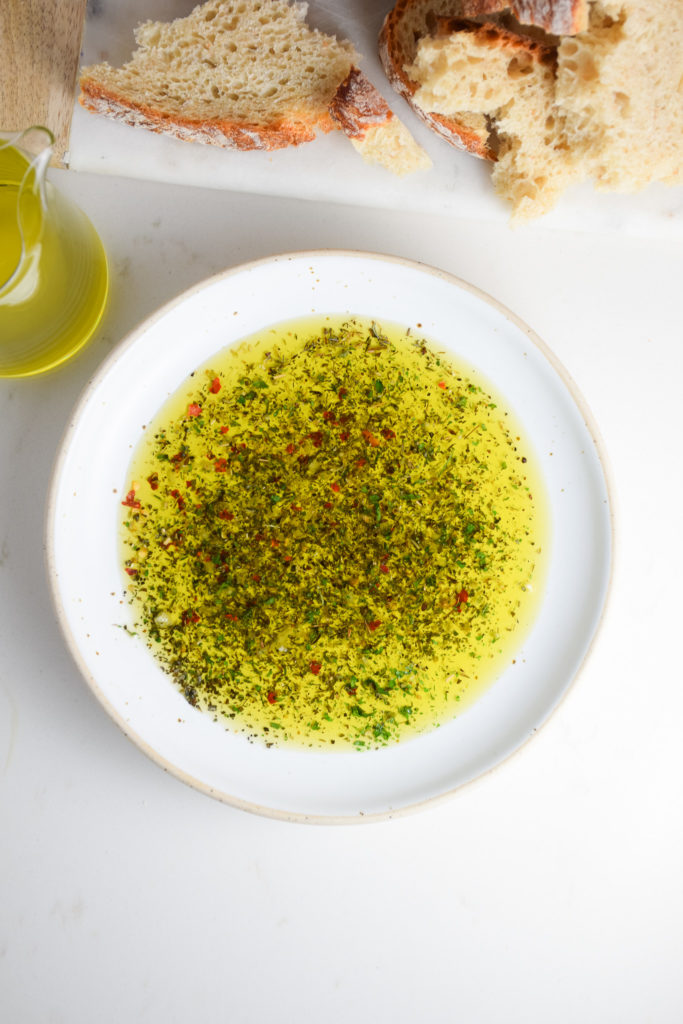 You Might Also Love
Soft Buttered Rosemary Pretzels
How To Make The Ultimate Cheeseboard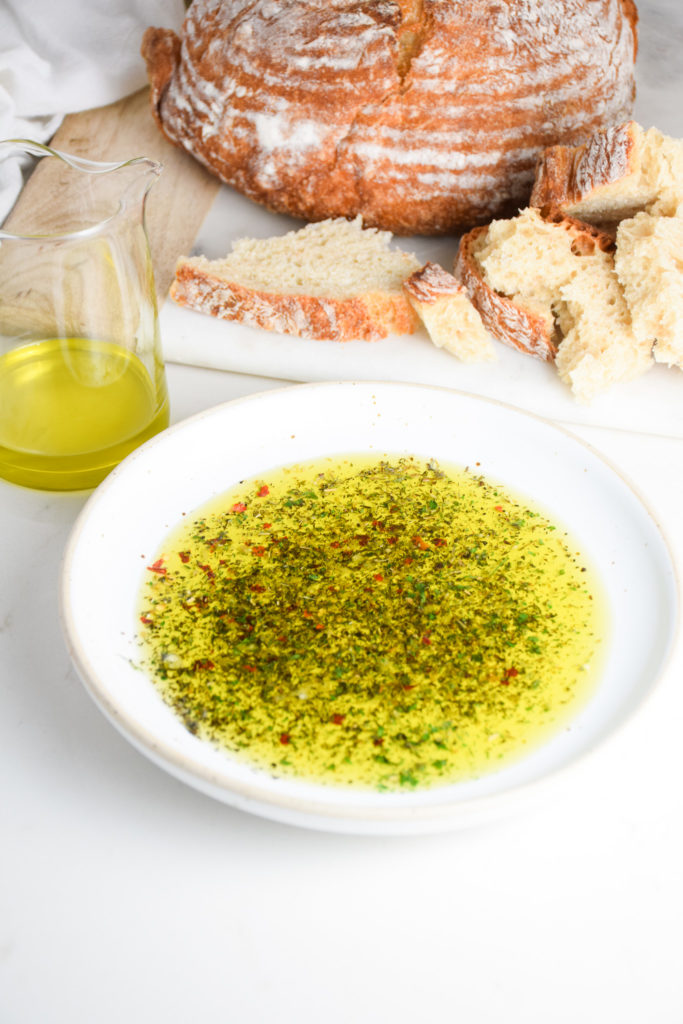 Herby Italian Dipping Sauce
Serves four
Ingredients: 
1/3 cup good quality olive oil
1/4 teaspoon dried thyme
1/4 teaspoon dried parsley
1/4 teaspoon dried oregano
1/4 teaspoon dried basil
1 garlic clove, pressed, about 1/4 teaspoon
1/8 teaspoon red pepper flakes
1/8 teaspoon black pepper
1/8 teaspoon kosher salt
Directions: 
Place all dried herbs and spices into a shallow bowl or plate.
Pour olive oil over top.
Serve with bread, like boule or baguette, to lap it up with.