Sharing all the details of our Group Family Trip To Rosemary Beach! Where we ate, stayed and best things to do in 30A!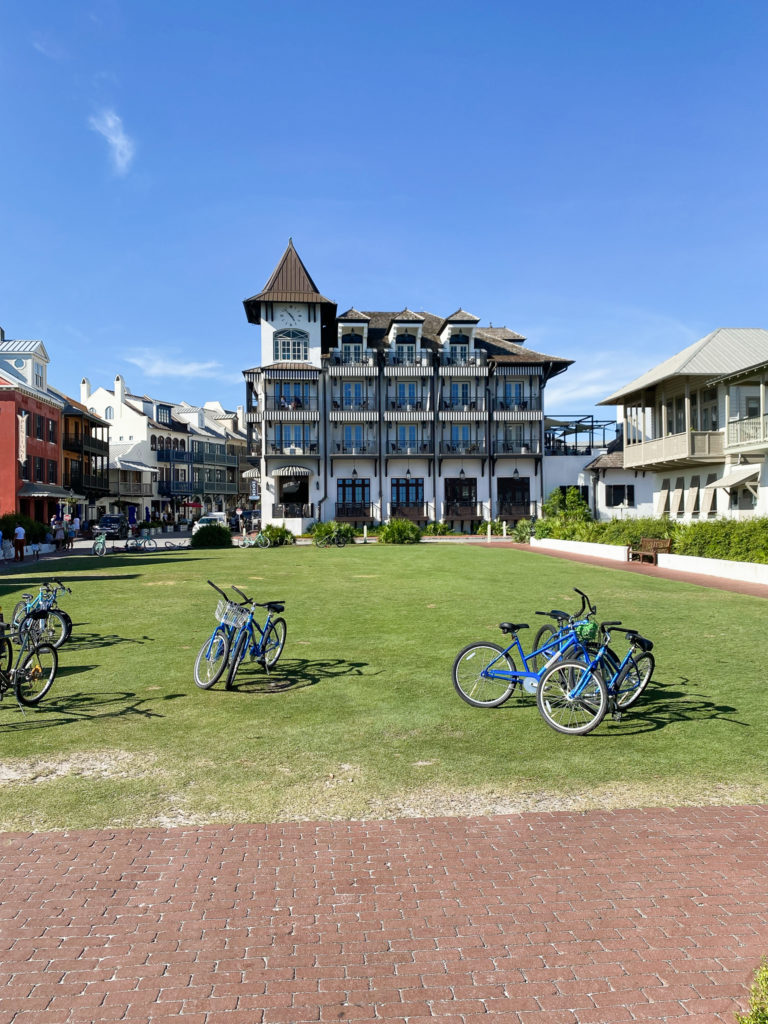 It's been a while since I've been able to share a post about travel and I am so excited to share this one! This summer we got together with two of our family friends and all headed to the beach. This was the first time for all of us to get away on a group trip with all our kids in tow. Certainly this trip wasn't as packed with activities and restaurants as my trips usually are but this one was fun just the same.
This post contains affiliate links. If you purchase a product through these links I may earn a few pennies. Thanks for keeping this free blog going!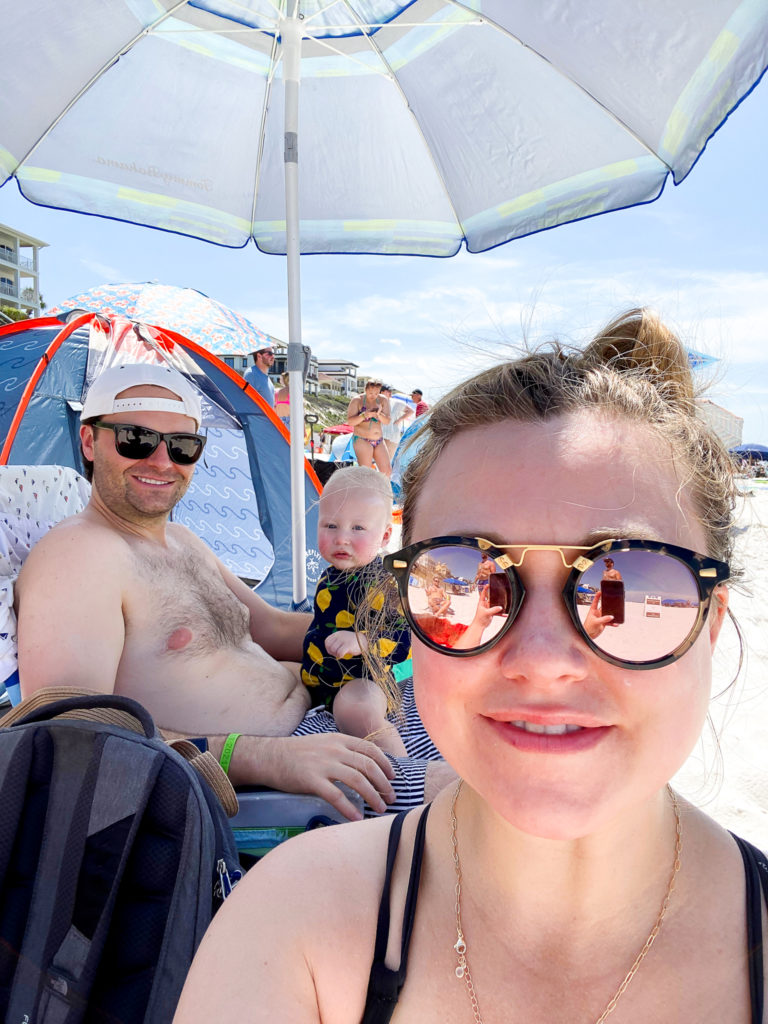 Group Family Trip To Rosemary Beach
Back in the winter, we got together with two of other couple friends with young kids and decided we wanted to take a beach trip this summer! After getting our vaccines, it finally felt like the right time to get out there. Well, apparently the rest of America had the same idea haha. Because the flights were full, it was tough to find rental homes with availability that didn't cost an arm and a leg and oh don't even get my started on rental cars and reservations!
Luckily, everything came together despite the insanity of the past year and half. We decided to head to 30A since BMW & I and one of the other couples were familiar with area and had visited before. There are lots of beach towns along 30A and we decided on Rosemary Beach because it has lots of great restaurants, shops and is really walkable. It's a really family-friendly place and that is exactly what we were looking for for this trip.
When we booked the trip we had connecting flights on Southwest but then we got the dreaded flight change email… but to our benefit Southwest added a direct flight from Austin to Northwest Florida Beaches (aka Panama City Beach) and they rebooked us! Best flight change email I've ever received haha. The addition of the 1hr 45 min direct flight made traveling with three under three a whole lot easier.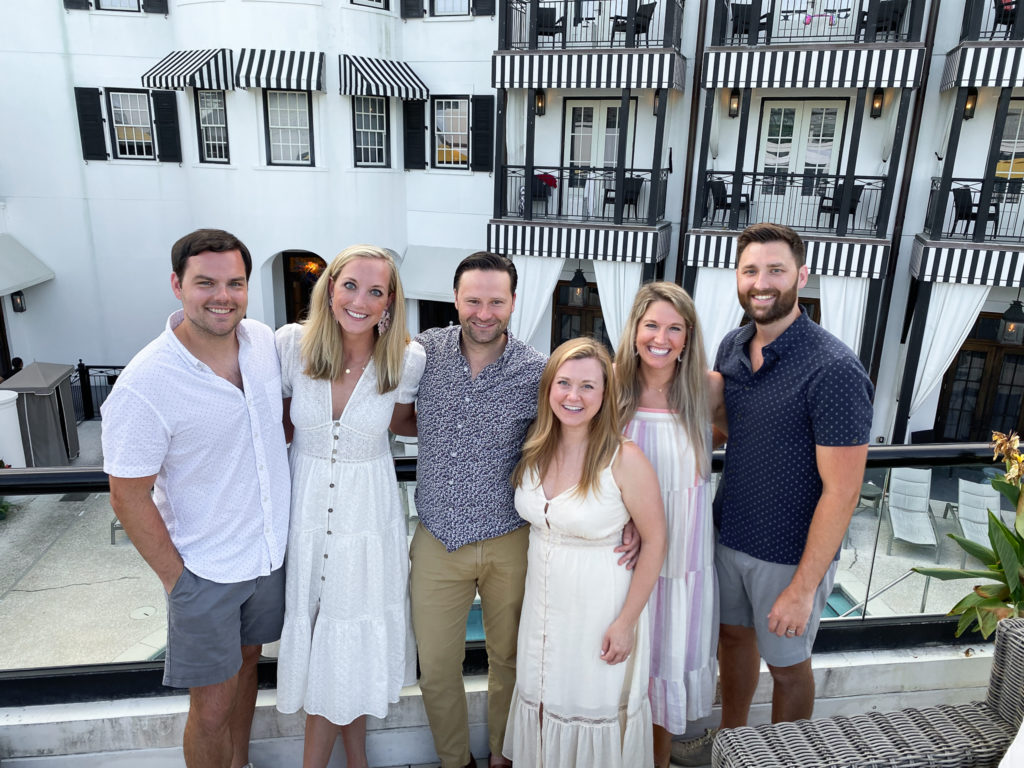 Family Trip to 30A
Like I said before, this was definitely a family trip and we took things a lot slower than we normally do on trips. And honestly, I think it was nice to not have a huge agenda. Each couple had a kid and they were ages 3, 2 and 1 so we were working around nap schedules and early bedtimes. That being said we did find a great babysitter for two of the nights through Janae Grice of SoWal Sitter Childcare Services.
We took the kiddos to the beach one morning but I gotta say that none of them particularly enjoyed it that first day. I wish we had been able to go again but it rained the following day so we opted not to make the walk out to the beach. The pools at the community at Seacrest where we stayed were great. The kids had a great time at the pools.
We ordered a big grocery delivery and this time I had a great experience with Instacart. I've had a major fail with that service before but the Instacart in 30A seemed to be running pretty smoothly. Having a fully stocked kitchen upon arrival definitely makes things easier with kids. I did come across this service for grocery delivery in 30A, of course I found it after the fact but c'est la vie. Certainly a bit pricey but could be worth it depending on your circumstances.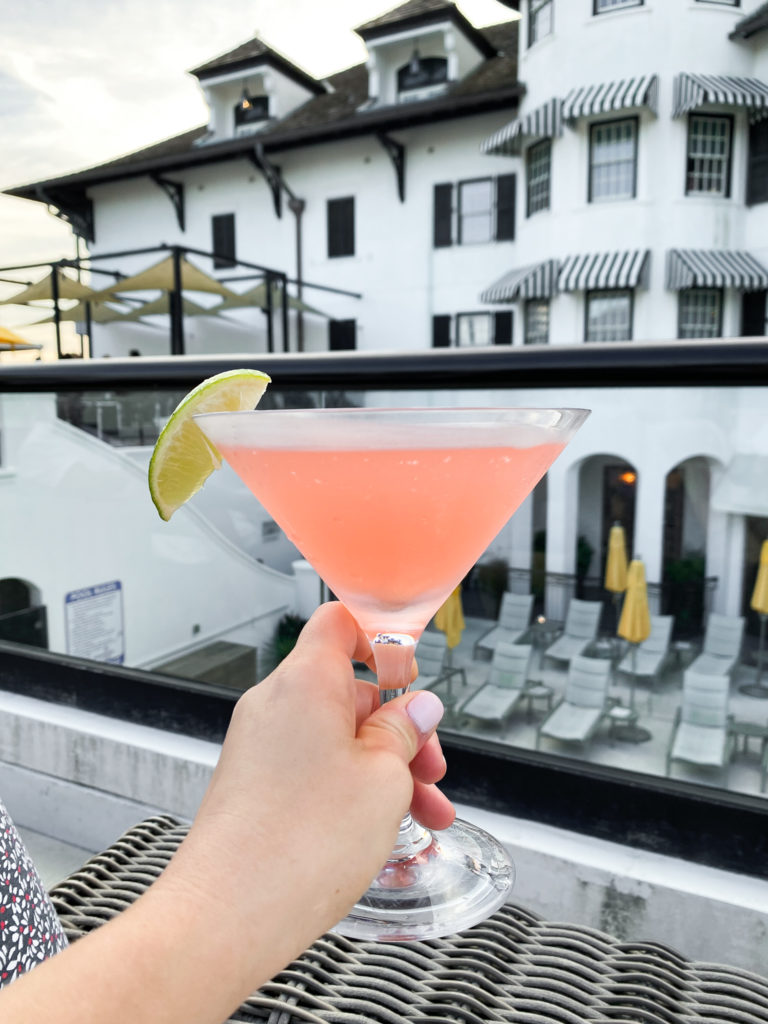 What We Did In Rosemary Beach
We took it slower this trip and ate all of our breakfasts and lunches at the condo. It just worked out easier for all of us that way. Seacrest Beach does have lots of little stores and Starbucks in and around the community, so that is really convenient. We picked up sandwiches and drinks from Seacrest Sundries one day and one morning BMW and I walked there for smoothies.
The first two nights we were there we didn't have sitters and since the kids are all so young they go to bed super early so we ordered in from Amici 30A. It came highly recommended by lots of friends and other outlets. The takeout was good not great. It was packed though so I think the ambiance and vibe might be better in person!
The other two nights we went to Pescado which was great because it's 18 and up! It's a more formal setting and the prices reflect that. The menu is seafood heavy, which I loved but they were out of lobster the night we went, and a few in the group weren't super into seafood, so we went with a few more meat dishes. I'd definitely go back to Pescado but I wasn't blown away by our experience but I am thinking maybe we just didn't order right. It was really nice though to go out without any kids around!
The second night we went out to The Bay. It was a bit of drive from Rosemary, I think like 20-25 minutes, but our sitter the previous night recommended it. Since most of the restaurants right around Rosemary were booked, we took a chance on it. I'm so glad we did! There as live music and it had a little beach and the food was very enjoyable. The menu was all over the place but everyone found something they enjoyed. It was a great vibe and had sunset views. We would definitely go again!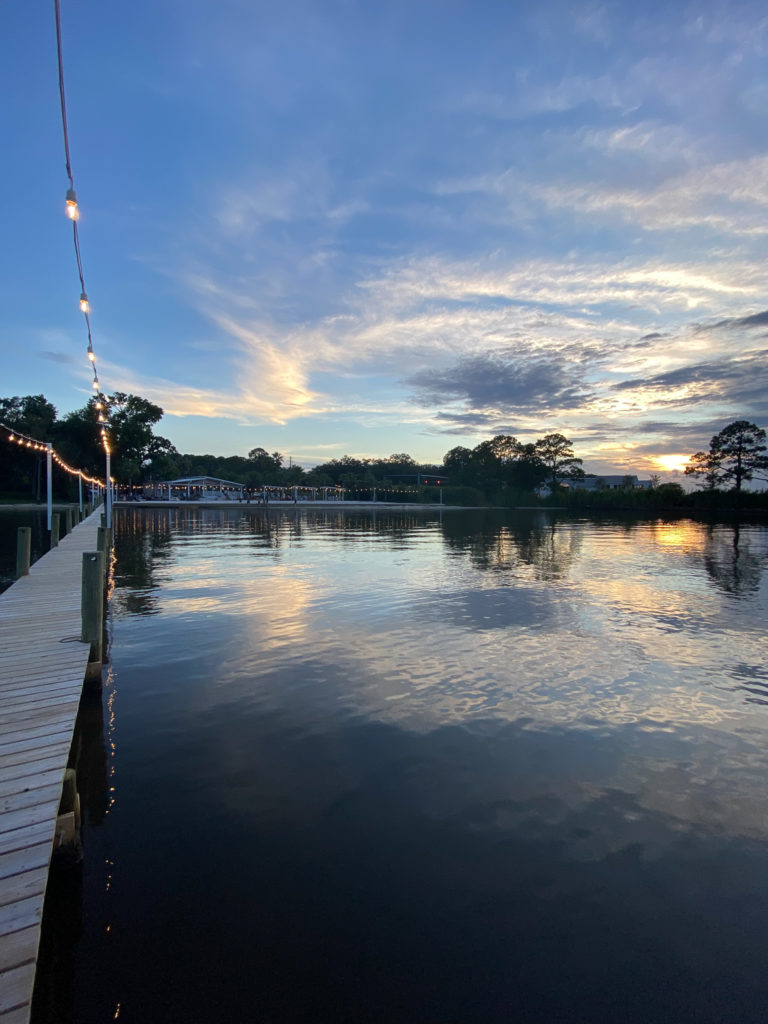 Where to Eat in 30A
We didn't do a lot of eating on this trip but y'all know I made a list! So I am sharing it here. These were all the places I had on my list to try if we got the chance. Hopefully I will get to try them out again next trip! So I can't speak to these personally but I hope you'll find this list helpful. Leave anything I left off in the comments!
A few tips, you'll need reservations at many places and others don't take them at all so it's walk up only. Pretty much everywhere that didn't take reservations was on a wait this summer, so keep that in mind as you plan. Almost everywhere is kid and family friendly except Pescado.
A note about bars: in actual Rosemary Beach and many surrounding areas lots of spots close up around 10 or 11pm. I believe there are a few bars like The Red Bar that stay open later but I was told the crowd will skew college-age just as a heads up!
Pescado (18+ only)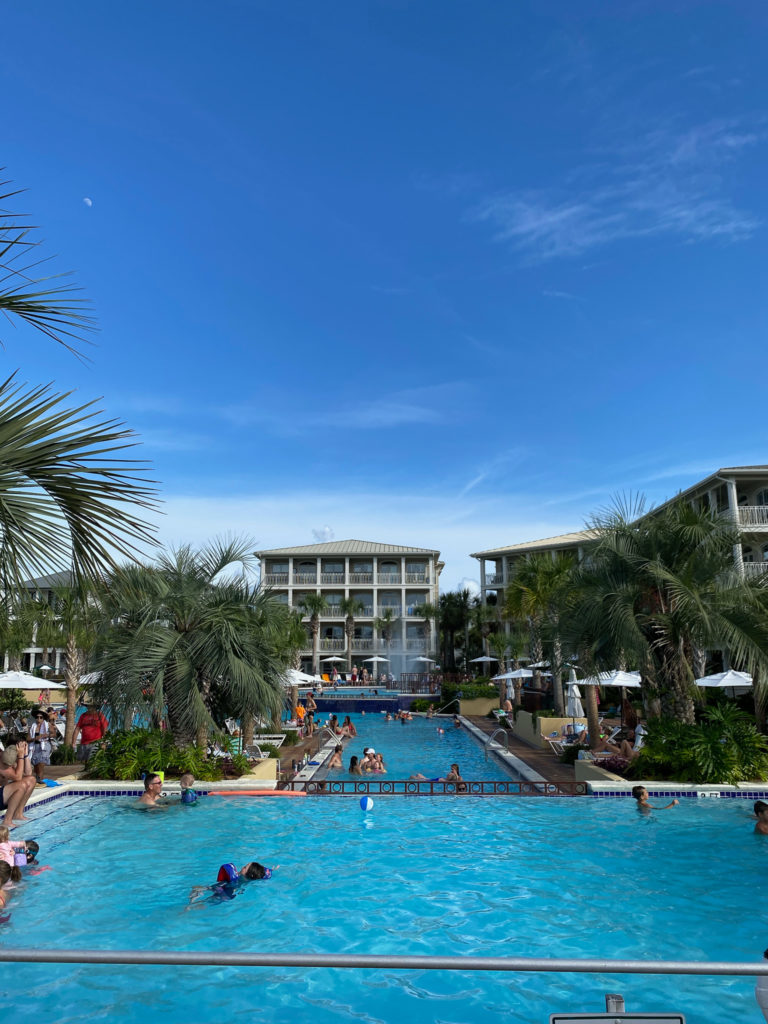 What to Do In Rosemary Beach
Rosemary Beach and all of 30A really is pretty family friendly. You'll see big wide sidewalks and bikes everywhere. Obviously, the best thing to do is go to the beach! We didn't plan any activities because between beach and pool time and naps and meals there wasn't much time left. However, I did see that there are some swamp tours and a few other things that might be fun with older kids. If you are looking for things besides the beach, I would check out the following sites: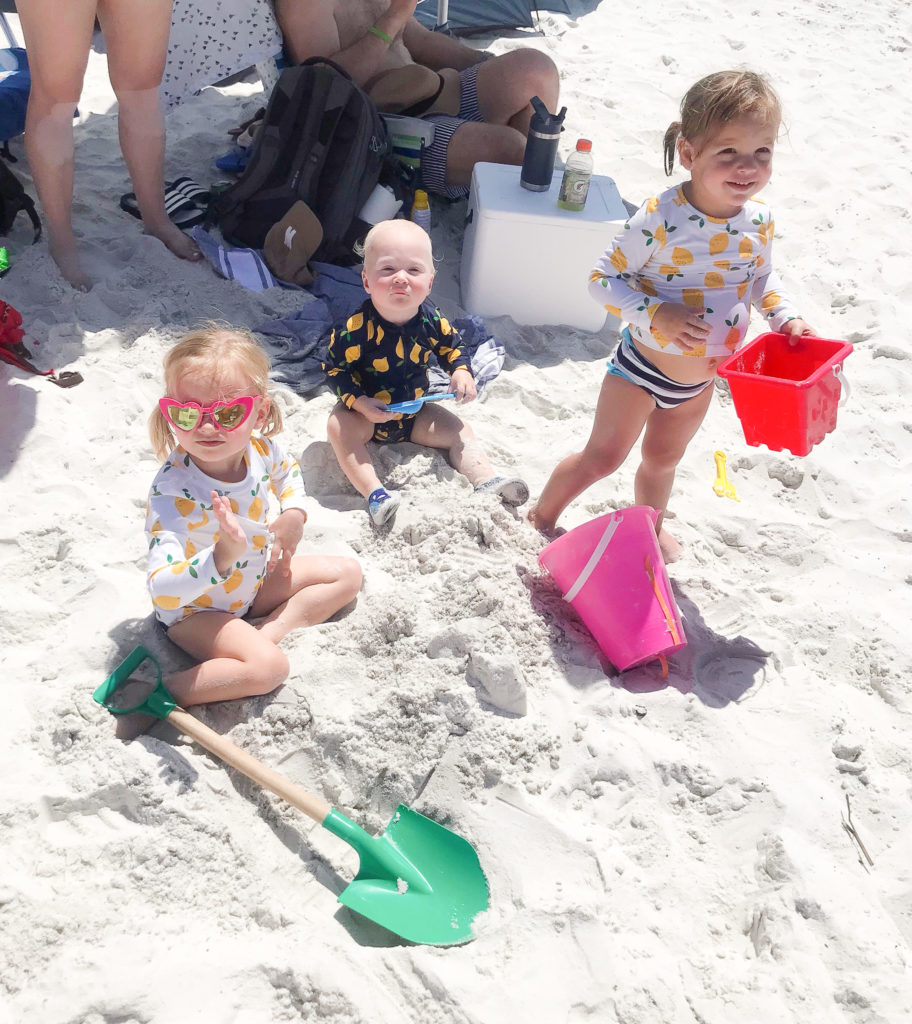 The Beaches in 30A
The white sugar sand beaches of 30A are great! It does get hot so you'll want some shade especially if you have littles. The place we stayed had beach toys, chairs and umbrellas that we could use. There are lots of services you can rent from on the beach like La Dolce Vita. They do everything from beach chairs and umbrellas to bikes and golf carts to beach bonfires.
Many of the beaches in 30A are private access. So depending on where you stay, hotel or condo, that will most likely give you access to some beach. Our community had wristbands that allowed us access to the beach. There are also public beaches that we could have driven to but didn't on this trip. You find more about beach access here.
If you are unsure, it's worth asking wherever you stay about beach access. They will most likely be able to give you the most current info since at this time it does look like things are changing. A note about the beaches on 30A is that many are pretty crowded. The one we were at, Seacrest Beach, was at an ACL concert crowded. To get to the ocean we were stepping around chairs and blankets. So just something to consider when planning your trip. It did seem like with everything else this year, things were more crowded and busier than usual.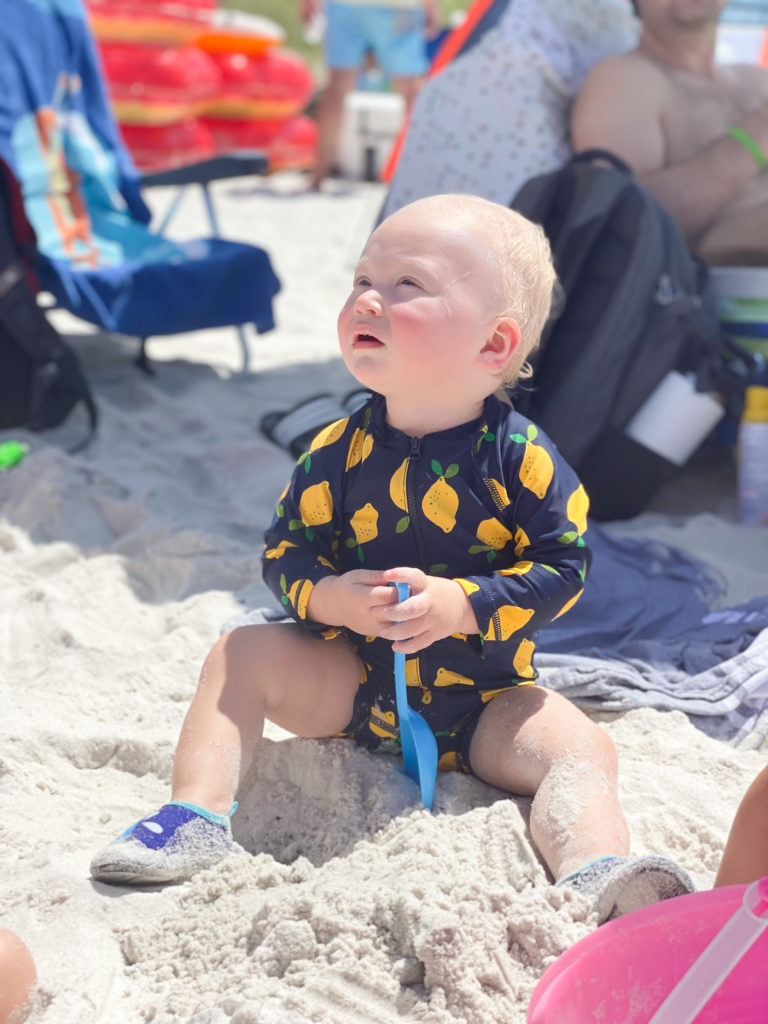 Where We Stayed in Rosemary Beach
We booked our condo through AirBnB and it was in a great location. It was also a good price. The hosts did take a while to respond to some pre-travel questions but once we arrived everything went smoothly. The house was great for what we needed for our group family trip to Rosemary Beach. Two of the rooms had closets big enough for pack 'n plays which was great for us families traveling with kiddos. Meaning those kids could sleep in the closets were it was dark and quiet and we didn't have to get additional bedrooms for them.
We stayed in Seacrest Beach which is a condo community. It's not the fanciest or chicest but it was really convenient and perfect for families and groups. It was walkable to "downtown" Rosemary Beach where there are lots of shops and restaurants. Aly's Beach is also a really nice community and The Pearl Hotel is very nice as well.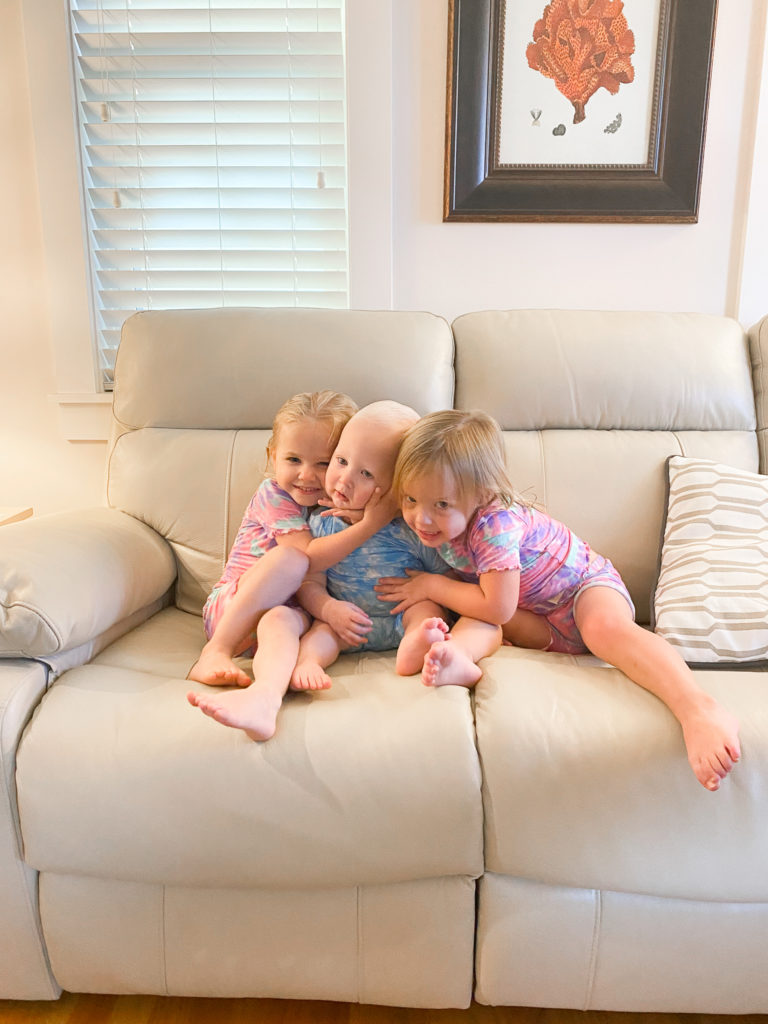 I hope this little guide to Rosemary Beach is helpful if you are planning a Group Family Trip to Rosemary Beach! If you have questions or any suggestions, please drop them in the comments. I am sure they will helpful to another reader!
You Might Also Love 
Best Things To Do and Eat in Coastal Mississippi