I visited the #secretcoast this summer and am sharing all about my experience and the Best Things To Do and Eat in Coastal Mississippi!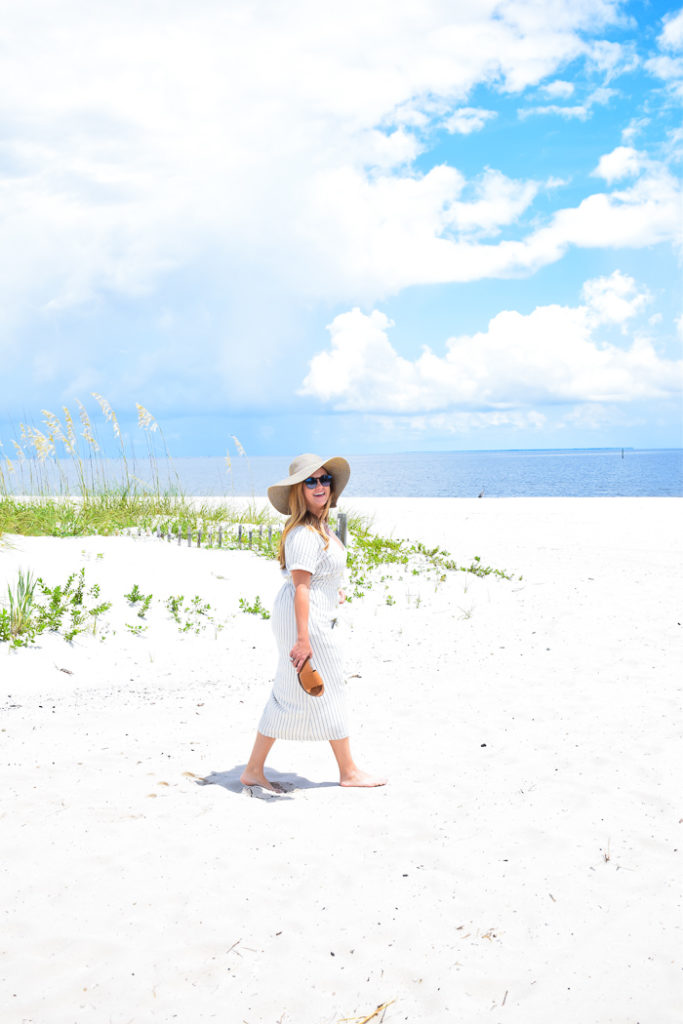 White Sand Beaches in Biloxi
Doesn't this look like some beach in the Bahamas?! You could have fooled me. We had views of miles and miles of white sandy beaches during our drive into Biloxi from the airport. BMW and I spent a long weekend visiting Coastal Mississippi and we kept finding gem after gem. Not only were the beaches a pretty surprise, there were dozens of cute coffee shops, more than enough good foodie spots and everyone we met had nothing but the warmest, southern hospitality towards us. I actually forgot how endearing the word ma'am can be, especially when delivered with a polite smile and slow, southern drawl. What's more, I found Coastal Mississippi to surprise and delight every chance she got.
This post is sponsored by Sun Country Airlines and Coastal Mississippi tourism. Thanks for supporting the companies that keep this blog going!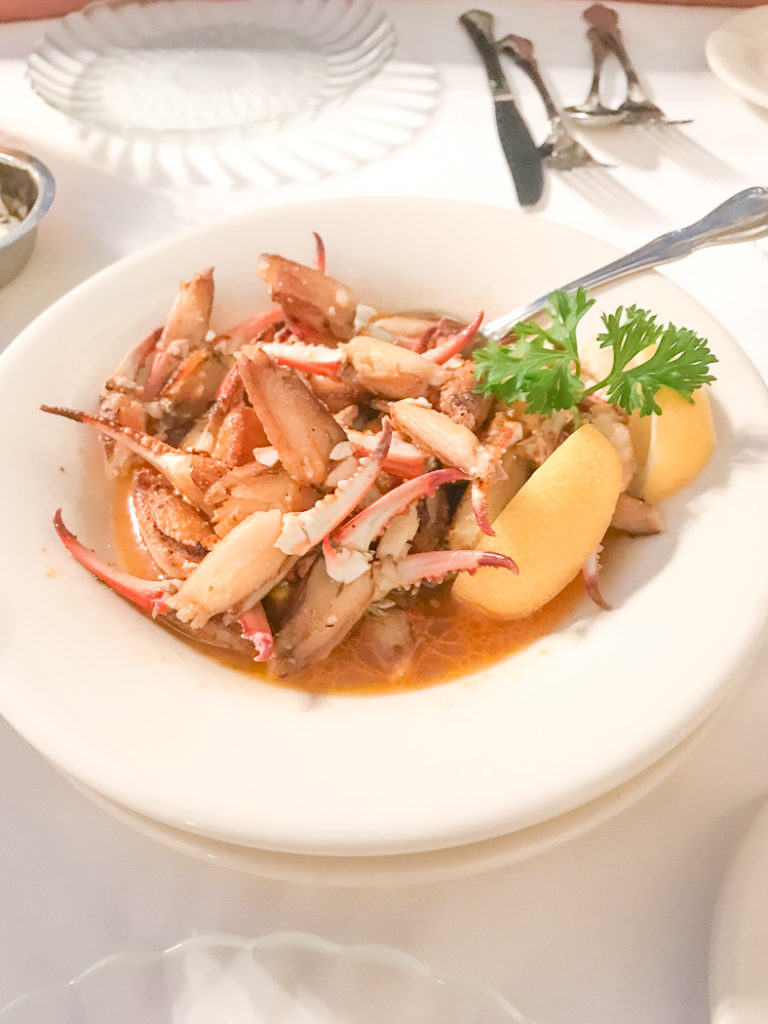 Broiled Crab Claws at Mary Mahoney's
The Secret Coast
We arrived to Gulfport, MS, just barely an hour east of New Orleans, on time, after a 70-minute flight from Austin on Sun Country Airlines. The Minneapolis-based budget airline was the first of the surprises. The plane was new, incredibly clean and I didn't even have share my row with anyone but BMW. They are now offering direct flights from AUS-GPT at incredibly reasonable rates.
The next surprise came during our drive into town. I have visited the south many times, especially the beaches in Alabama and Florida panhandle. I knew that the Gulf was home to some beautiful beaches. I didn't know that that included Mississippi. To be fair, the beaches are manmade but the white sand is definitely real.
At the time of this writing, Coastal Mississippi has closed swimming in the Gulf due to an abundance of caution during an algae bloom. It is still safe to swim at the barrier islands, like Ship Island, which are far enough out that the salinity is high enough to keep algae away.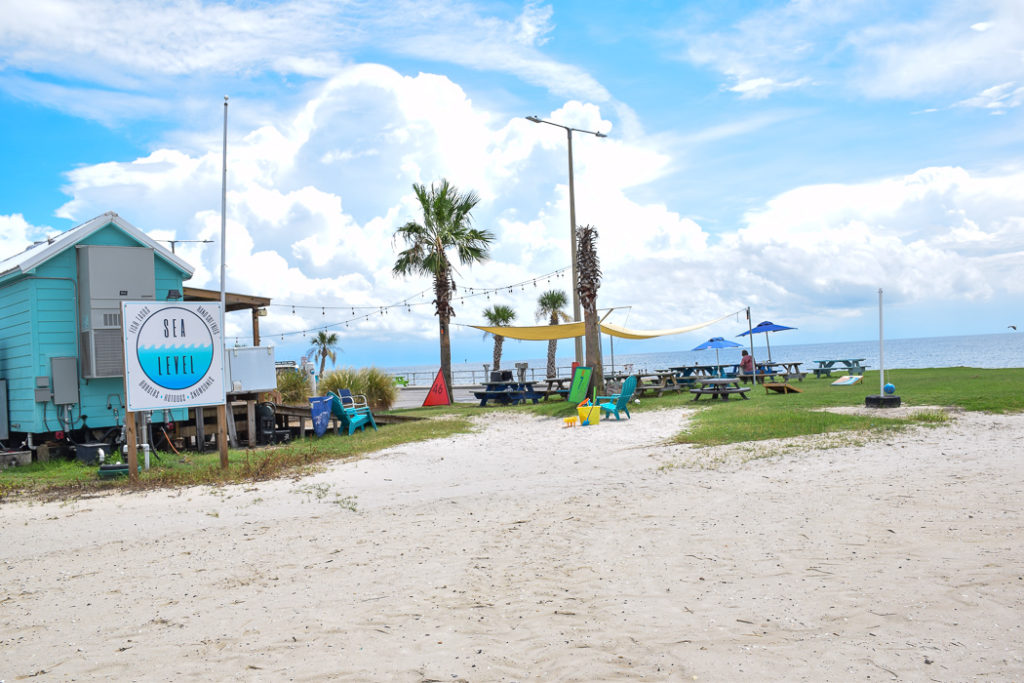 Sea Level Beach Restaurant in Pass Christian 
"everything below I-10 is just a little bit different"
We went to Lucy's Retired Surfers Bar for lunch to meet with our on-site contact. We chatted with Anna, from Coastal Mississippi, and the manager of the restaurant and I began to pick up on little tidbits that were hinting to me that this part of Mississippi was different than the other parts I had visited before. This theme ran throughout our stay as we visited museums, took tours, stopped for iced coffees and even played a few rounds at the craps table. Several times, too many to just be a coincidence, I had shop owners, bartenders and servers tell me that everything below I-10 is just a little bit different.
I began to identify with all the coastal folks. Having lived in Austin, TX for going on 15 years, I knew what it felt like to be a blue dot in a red sea, if you will. After a few beers one steamy afternoon on our trip, we struck up a conversation with the owner of The Mosaic. He let us know he was a transplant, from Houston believe it or not, and he came here because the community supported local artists and was incredibly tolerant of all different lifestyles. Can you believe that? Right here in the deep, Deep South, there was tolerance living and breathing and working together in the most unlikely of places. However, it's only unlikely if you don't know where to look.
Coastal Mississippi is only an hour away from New Orleans by car and you can find the French-Cajun influences woven into the fabric of these charming cities. For one, there are casinos all along the beachfront in Biloxi. Where you normally might find Baptist churches in the South, you'll find Catholic ones on the Coast. There are beignet bakery rivalries, which I was all too glad to take part in figuring out which were my favorite (hint: see below.) There is a strong Vietnamese community around Biloxi. Many of their families came to the Coast to work on the shrimping boats. The women and children came later and brought the beignets. The good news for all of us, is the outcome of Poboy Bahn Mi's and boba tea to wash down those beignets!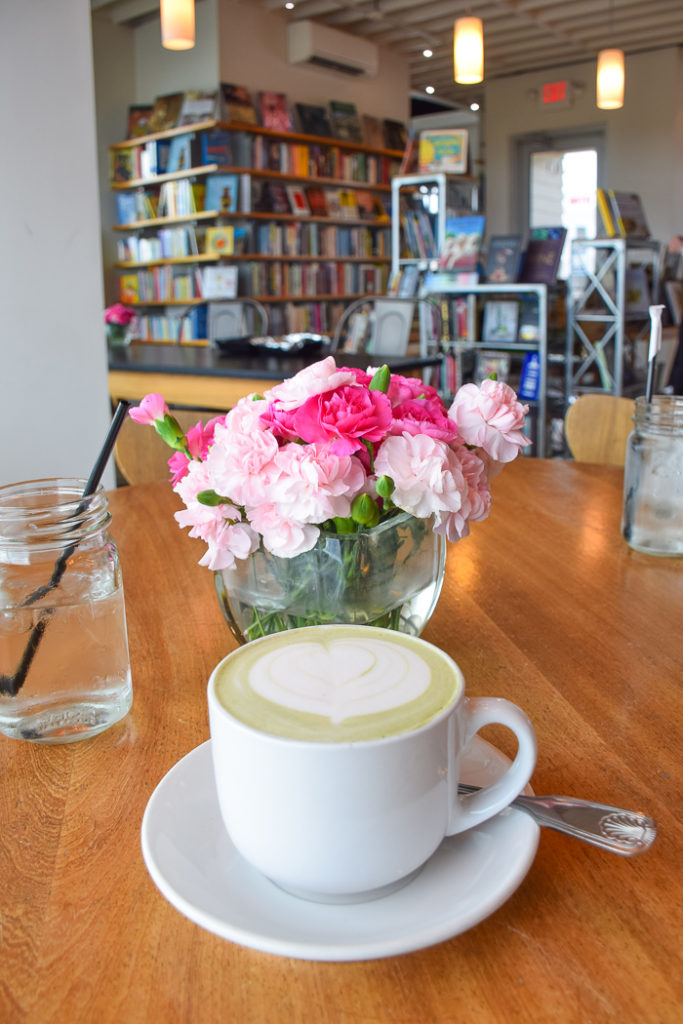 Matcha Latte at Pass Christian Books 
"Each of them were buzzing with an energy that reminded me of Austin 10 years ago"
During our trip, I met many local artists and artisans, chefs, musicians, creatives, and lots of bed & breakfast owners. Each of them were buzzing with an energy that reminded me of Austin ten years ago. They were excited, they had something to share, a story to tell or place that I must go try. And despite the slow summer for travelers, they all acknowledged it had been a little slow, I would have never known the difference. The cafes were filled with locals and what seemed to me, out of towners, the bed & breakfasts didn't have any open rooms, in fact I had to take tours of several properties because there was not an opportunity for me to stay that weekend.
There were matcha lattes and book stores that were filled with customers actually buying, well, books! Can you believe that? It was truly a delight. We dined at a restaurant led by a James Beard nominated chef and we saw more art in the three days on the 62 miles of the Mississippi Gulf Coast than in an entire year in Austin. There were artisan pop stands dotted along the Coast, no one flinched at the coffee shops when I asked what non-dairy milks they had, and there was even a plastic-free diner that served my favorite southern staple of chicken & waffles.
The excitement was as palpable as the humidity in the air. There was construction everywhere. I am glad that I got to experience all that Coastal Mississippi has to offer. If you ever, find yourself south of I-10, be sure to stop for some beignets and stay for the broiled crab claws and delightful conversation.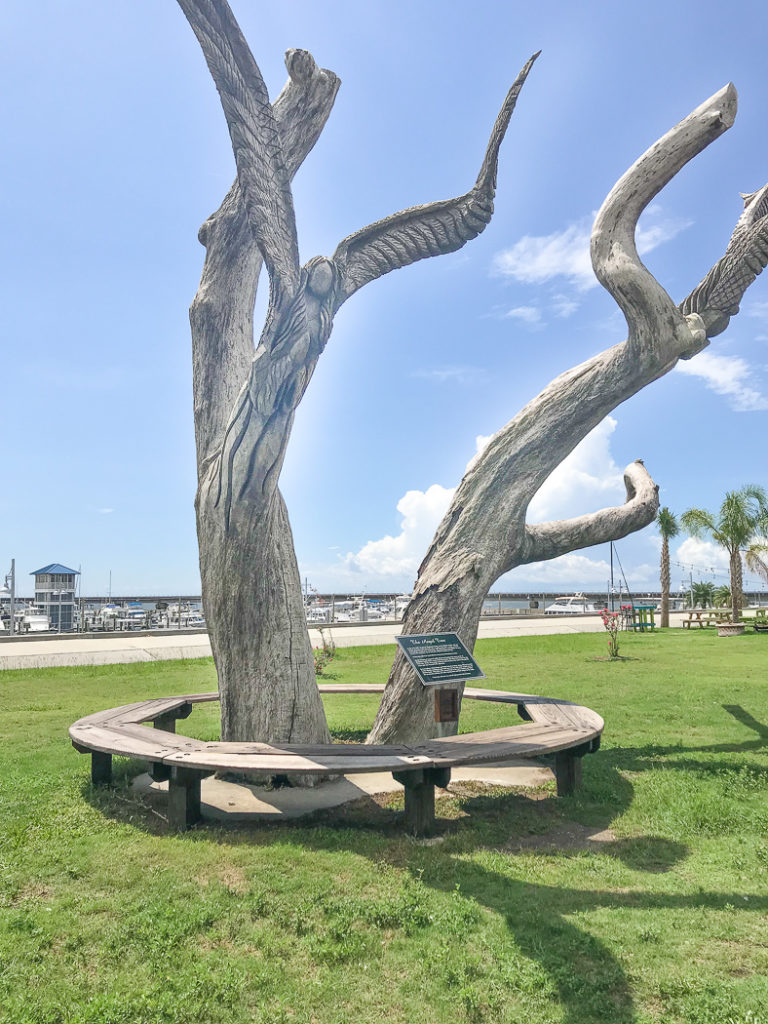 Angel Trees in Bay St. Louis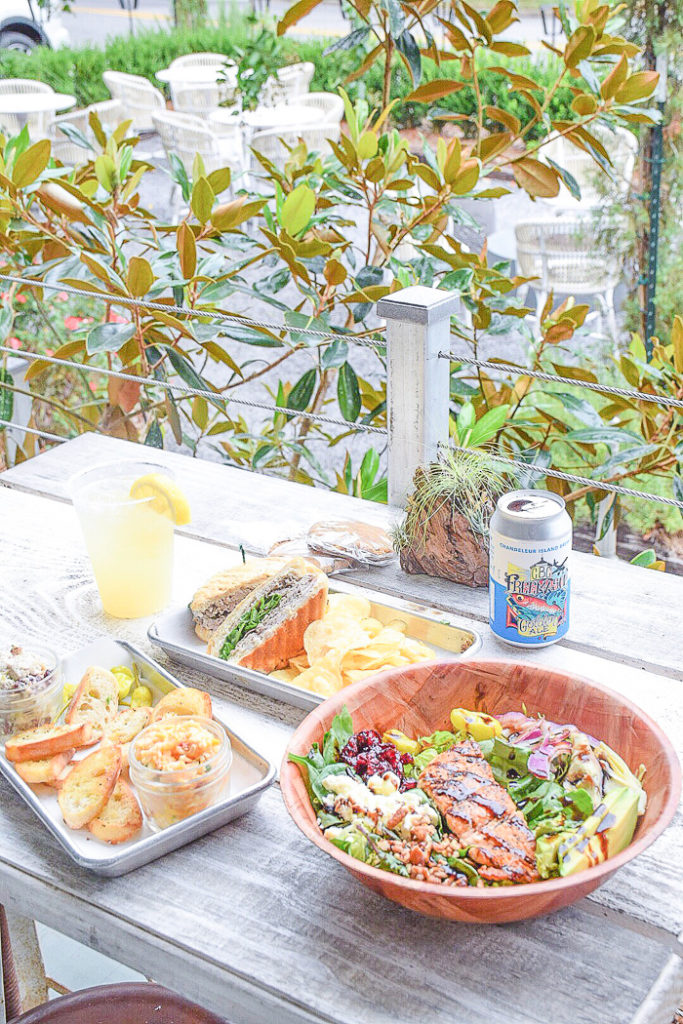 Healthy + Southern Fare at Eat Drink Love in Ocean Springs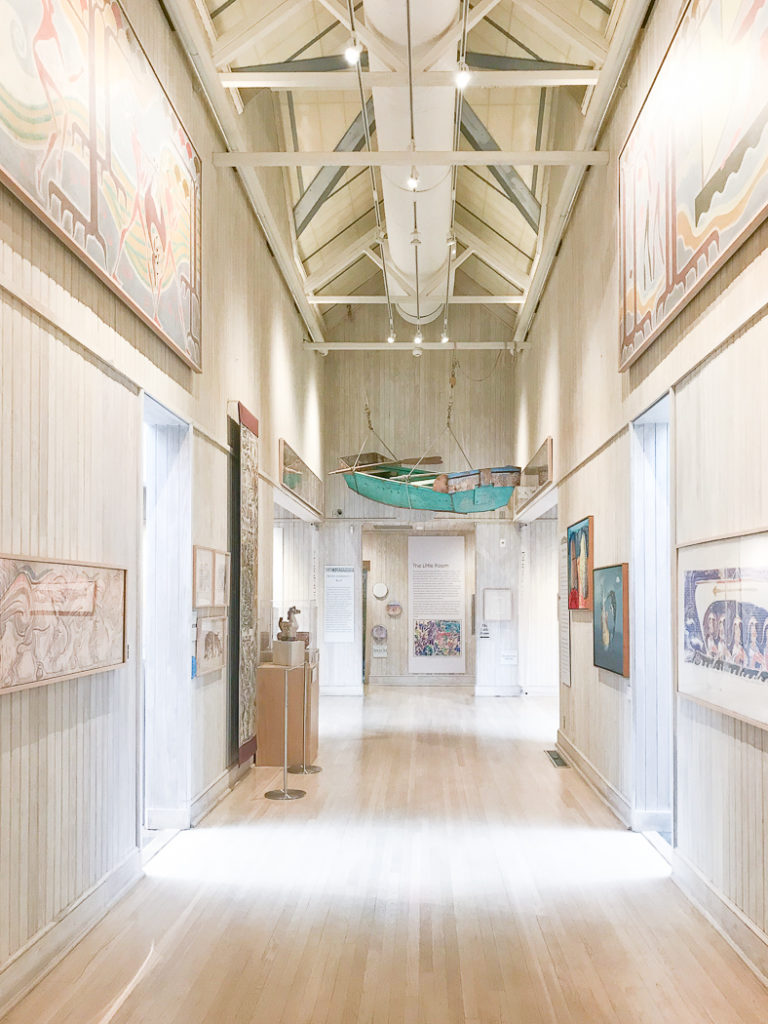 Walter Anderson Museum of Art in Ocean Springs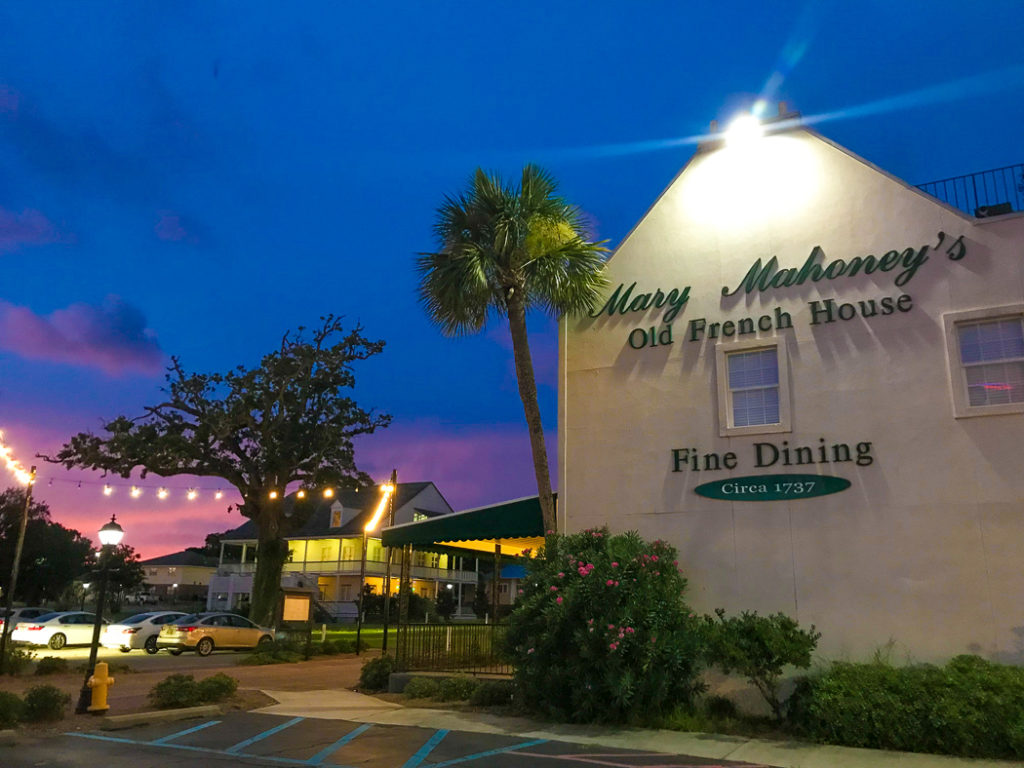 Sunset at Mary Mahoney's in Biloxi 
Mockingbird Cafe in Bay St. Louis
Best Things To Do and Eat in Coastal Mississippi
The Mississippi Gulf Coast is filled with cafés, generations old restaurants, adorable bed & breakfasts and more art than I could have imagined. Coastal Mississippi is a popular location for ceramists to learn their trade and there is even The Mad Potter of Biloxi! I knew Mississippi was known for their shrimp, what I didn't know is that most of the world's oysters are harvested right here in the Gulf! Oh and the tiny crab claws are as succulent as they are abundant, so go ahead and order an extra half pound, you'll be glad you did!

The Inn at Ocean Springs
Best Things To Do and Eat in Ocean Springs
Ocean Springs is a little city just across the bridge two miles east of Biloxi. The downtown drips with charm like Spanish moss from the trees. Ocean Springs is home to the annual Art Walk and the camp and hiking grounds of Gulf Island National Seashore.  The downtown streets are lined with boutiques, antique shops and of course eateries and watering holes.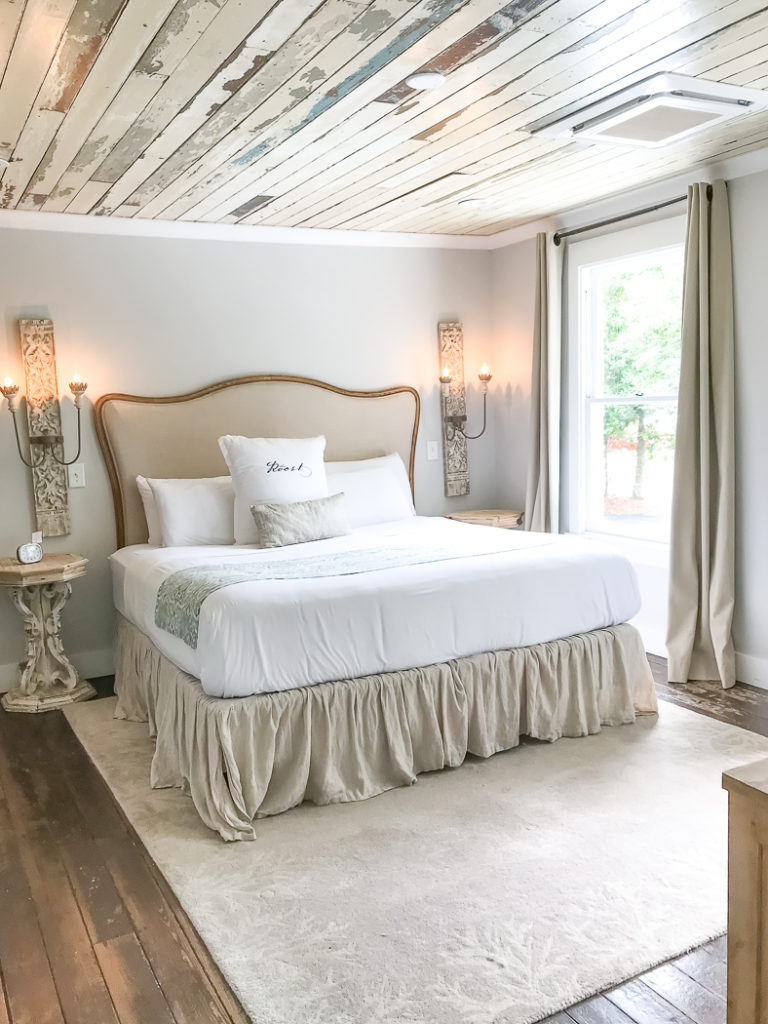 The Roost in Ocean Springs 
Best Hotels and Bed & Breakfasts in Ocean Springs
The Inn at Ocean Springs– A tiny two-room cottage that is adorable and just what you need for the weekend. Rooms are updated and have access via a keypad so you can check in and out at your leisure. Breakfast at Bright-Eyed Brew Co., the coffee shop located just down the porch from the rooms, is included with your stay. We stayed here for one night and it is perfectly located within walking distance of everything in Ocean Springs.
The Roost– The sister property of The Inn, a boutique hotel that has 10 rooms, slightly larger than the ones at The Inn, and some with adjoining rooms which are perfect for families, girls trips or even bridal parties. The boho-beach-chic vibes of the property feels effortless and well-updated at the same time. Book ahead, rooms here go quick.

Black Dumpling from James Beard Nominated Chef at Vestige
Best Places to Eat and Drink in Ocean Springs
Vestige– You can't come to Ocean Springs and not experience the tasting menu at Vestige. Chef Alex Perry, a James Beard nominated Semi-Finalist for Best Chef in the South, creates a seasonal rotating menu that incorporates locally sourced produce. The chef seamlessly blends southern staples with traditional Asian dishes. The setting feels more like a tiny art museum than a traditional restaurant.
The Mosaic– The Mosaic and adjoining Beer House share a patio that seemed to have live music all day and all night. After you're done exploring downtown, pull a seat under the misters on the patio and try some local beers on one of their beer flights.
Eat Drink Love– Get the Power Salad with grilled salmon. It was so good, we went back to get it again. The salmon filet was crispy around the edges and I'm drooling a little thinking about it again. The tuna dip is housemade, I met the guy the next day at The Wilbur who makes it, with Ahi tuna flown in fresh. Even BMW who is squeamish about any kind of mayo-based "salad" changed his mind about this one! Also, the pimento cheese is classic and I only wish I could have brought a tub home with me.
The Wilbur– This craft cocktail bar has a secret room behind the bookcase. Just ask to see it and they'll know that you're "in the know." They are open everyday and have light bites on the menu Tuesday-Saturday. The Wilbur and Eat Drink Love share a wall and are located in the same building as The Roost, making it the perfect place to stay a while.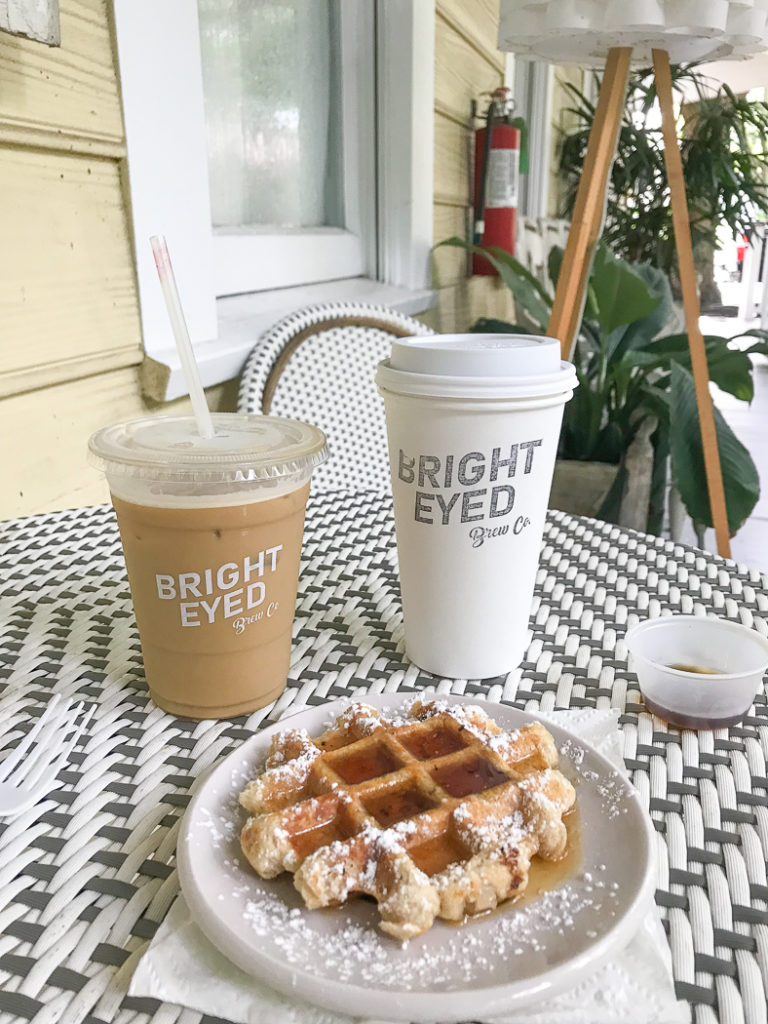 Belgian waffle and coffee at Bright Eyed Brew Co. included with stay at The Inn 
Bright Eye Brew Co.– Tiny Belgian waffles and sweet, cold coffees are the perfect way to wake up if you ask me. Of course, they serve hot coffee, too. This darling shop shares the building with The Inn and is located right in the heart of downtown Ocean Springs, which makes it a great place to start your day.
The District Coffee Company– If you're looking for place to hole up with your laptop or chit chat with a friend, come to District Coffee. There is also a very Instagrammable wall located inside for those of you looking for the perfect place to snap that pic.
Charred– A steak house and oyster bar located in downtown Ocean Springs. They also serve brunch, which you should make a note, since many places are closed on Sundays in these parts.

Downtown Shops in Ocean Springs 
Best Things To Do in Ocean Springs
Explore Downtown Shops– This quintessential downtown is lined with boutiques and shops you can look around and get lost for a while. When we popped our heads up from looking at antiques, we stopped into Love & Aesthetics for gifts.
Ocean Springs Farmer's Market– Every Saturday rain or shine, the farmer's market happens in the parking lot of the Chamber of Commerce downtown. We saw peppers, watermelons and I even picked up a jar of blueberry jam only to be confiscated by TSA after I carelessly forgot to check my bag. We also savored the fried spring rolls and macarons from a few stands, alongside stands filled with nutty granola and dozens of eggs.
Walter Anderson Museum of Art– A charming museum about an interesting and possibly very troubled man. You can follow his story throughout the natural-lit museum and see the community theater he painted himself after he couldn't even get school children to help him. He was paid $1 for his time, a check he never cashed.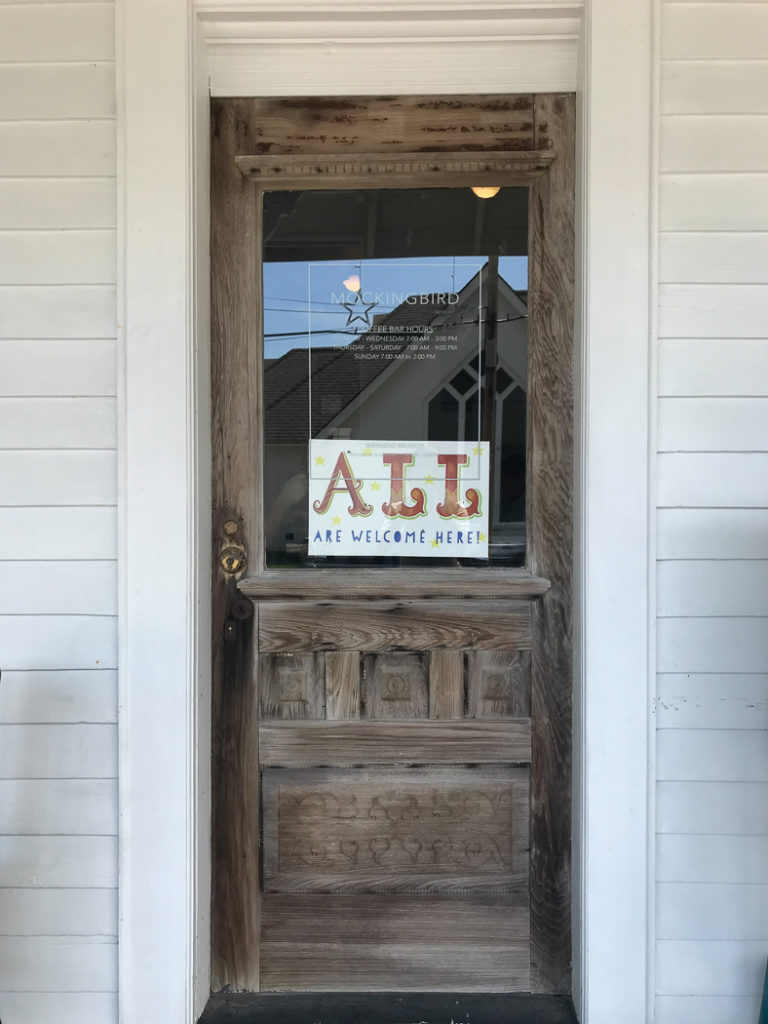 Mockingbird Cafe in Bay St. Louis
Best Things To Do and Eat in Bay St. Louis and Pass Christian
As we drove west along Highway 90 towards New Orleans, the first thing I noticed about Bay St. Louis and Pass Christian were the impossibly beautiful old-southern style homes which I knew had to have been most lovingly restored since Hurricane Katrina hit these towns harder than most. The second thing I noticed were all the boats and rental homes. I knew this was a place for those who love to get out on the water. Stop into Pop Bros for an artisan popsicle and then go out for a fishing trip with  Shore Thing Fishing Charters.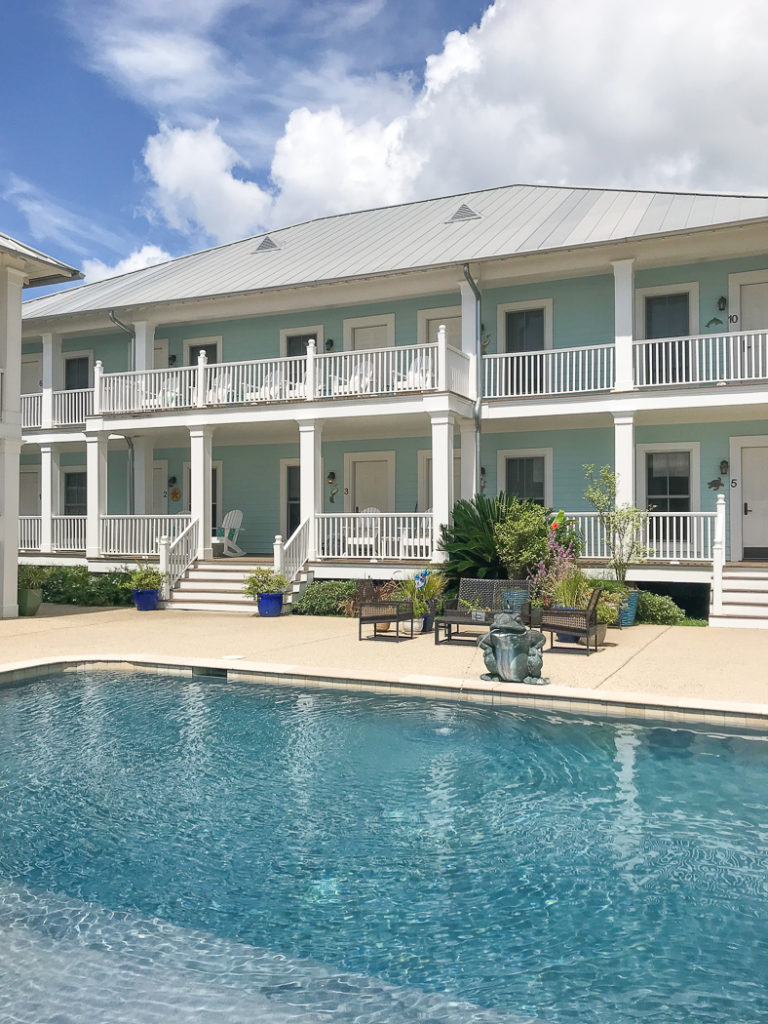 Bay Town Inn 
Best Hotels and Bed & Breakfasts in Bay St. Louis and Pass Christian
Bay Town Inn– The wonderful owner Nikki actually lives on property here making this truly a bed and breakfast. She even makes homemade breakfasts for guests and delivers it to each room every morning. Nikki lives in the front house which is also the office and across the pool are the guest rooms fitted with a living space, fridge stocked with soft drinks and a bathroom and bedroom with a king bed.
Hotel Whiskey– This boutique hotel sits back from the water in Pass Christian. The modern style has broad appeal and reasonable prices.

Sea Level in Pass Christian 
Best Places to Eat and Drink in Bay St. Louis and Pass Christian
Sea Level– This beach shack serves up gourmet hot dogs, burgers and even does a pretty darn good salad with blackened shrimp. Sno-cones, or in my case, a shaved ice coffee was a perfect sweet afternoon treat. They serve canned beers and there is a little sand beach with corn hole and other games for hanging out for while.
Pass Christian Books– Just across the highway from Sea Level is Pass Christian Books. A charming bookstore that serves coffees, matcha lattes and light sandwiches and salads. It seemed to be a meeting place for friends and locals. I definitely got lots of You've Got Mail vibes here.
Mockingbird Café– This plastic-free café and diner was hopping on a Monday morning when we visited. We got the chicken and waffles and it was delicious. A great spot to start the day or get a little work done if you need to.

Old Southern home on Spanish Trail drive along Hwy 90 
Best Things To Do in Bay St. Louis and Pass Christian
Drive the Spanish Trail– This drive goes all along the southern coast but in Pass Christian, the drive takes you along Highway 90. On the north side, you'll see gorgeous Southern mansions and to the south you'll have white sand beach views.
Angel Trees– These trees are dotted along the coast. Carved with a chainsaw as art pieces after Hurricane Katrina devastated Coastal Mississippi. These are a beautiful reminder that after the storm, comes the rainbow.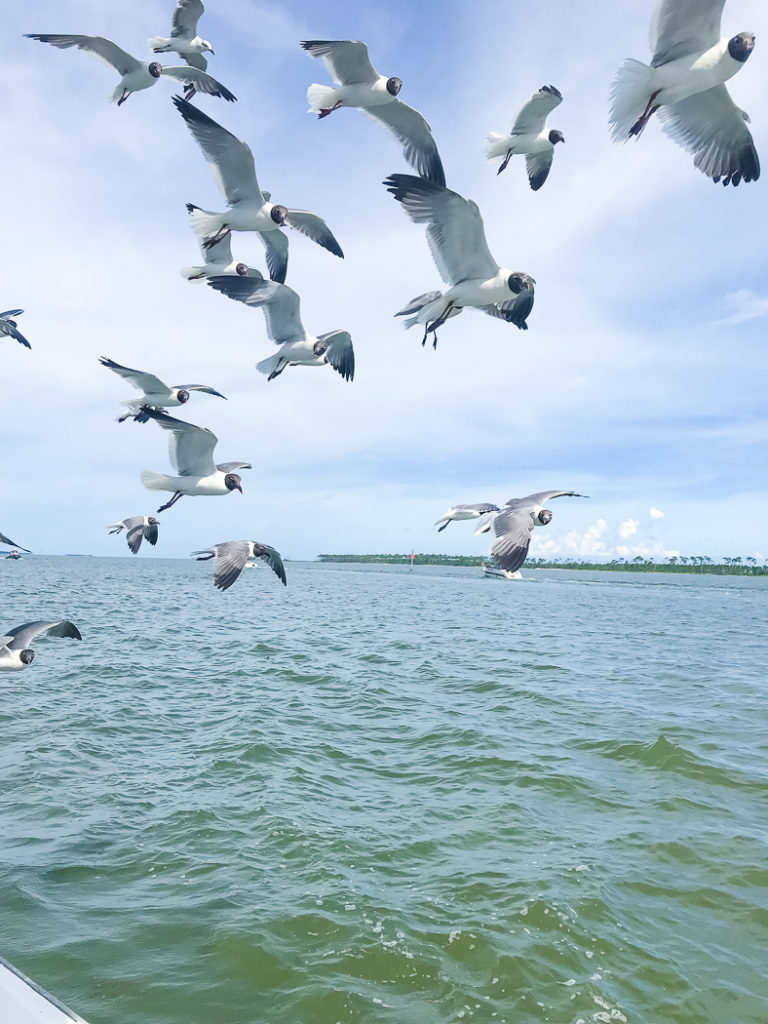 Seagulls following along during Biloxi Shrimping Trip 
Best Things To Do and Eat in Gulfport and Biloxi
The airport is located in Gulfport and where you will most likely start your trip. Not far, is Biloxi where the casinos and best beaches you can drive to are located. The beachfront is lined with restaurants like Lucy's Retired Surfer Bar and Shaggy's which are lifted up on stilts and have views of the ocean. If you're looking for kid-friendly nighttime entertainment, LUNARO at the Beau Rivage is a Cirque de Soliel-like show. In Gulfport and Biloxi, you will also find most major chain hotels like Courtyard by Marriott Gulfport Beachfront if you're looking for a spot that is centrally-located in Coastal Mississippi.

Lucy's Retired Surfers Bar
Best Hotels to Stay at in Gulfport and Biloxi
Almanett Hotel & Bistro– We didn't get a chance to tour this one but it was on our list of options for staying at! If you're looking for a non-chain, non-casino, check into this charming little hotel.
Beau Rivage Resort & Casino– Kinda feels like Vegas but in Biloxi. If you're going for the casinos, this place is located right on the beach and in the heart of everything!

New Orleans-Style Beignets at Le Café Beignet
Best Places to Eat and Drink in Gulfport and Biloxi
Mary Mahoney's– This place is a Biloxi institution. The old French house has turned every room into a dining room. The walls are lined with photos of celebrities and presidents who have visited. The menu reads straight out of 1985. Some are classics that should never change, some could use a little updating IMO. Make a meal out of the broiled crab claws and salad and a glass of wine. Be sure to order extra bread for sopping up that buttery goodness.
Le Café Beignet– Also a Biloxi mainstay, we stopped in for beignets to-go on our way out of town. The New Orleans style pastries did not disappoint. They were fried made to order, so don't be in a hurry when you come here. Trust me, they are worth the wait.
Le Bakery– This little bakery doesn't look like much from the outside but it came highly recommended by our Shrimping Tour guide, so we decided to give it a shot. We popped in early one morning and crossed our fingers they would be serving the poboy- hint they were- and it was great. We got the lemongrass and sausage. As we waited for our food, there was a line forming out the door of locals, some speaking English, some speaking Vietnamese, picking up orders of dozens (literally) of loaves of fresh french baguettes and trays of boba teas to go. As we finished up our meal, I noticed a framed magazine article hanging on the wall, and there was Le Bakery's owner right inside the latest issue of Southern Living.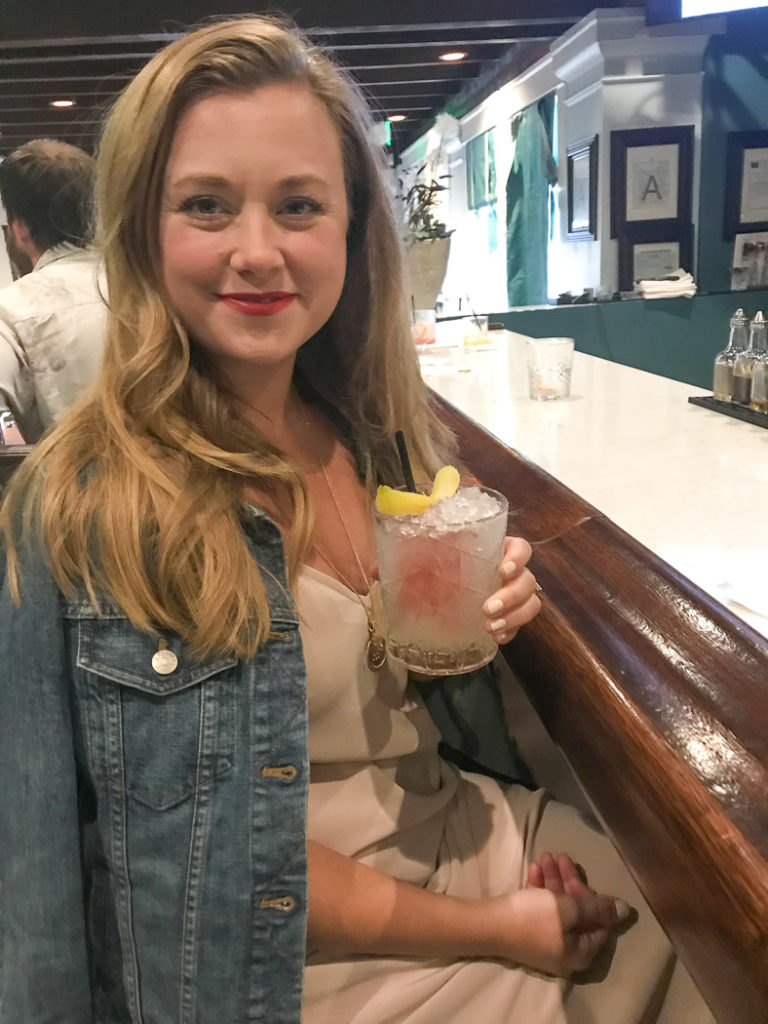 New Orleans-Style Cocktails at White Pillars in Biloxi 
White Pillars– If you're looking for a cocktail and live music, pull up a seat at the long bar at White Pillars. This family coastal retreat had been abandoned for several generations before being recently restored to its old southern glory. The bartenders wear jackets and specialize in New Orleans-style cocktails like Sazeracs and Brambles.
The Chimneys– This charming spot sits across from the beach and is the perfect place for a long Sunday brunch.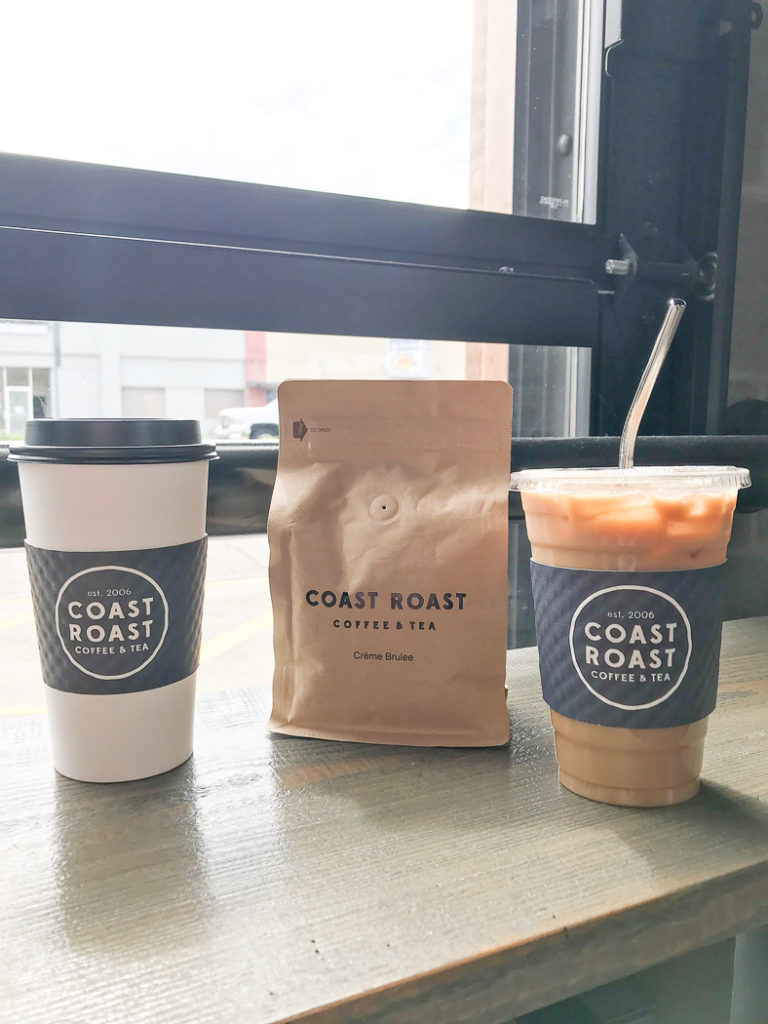 Coast Roast– This family-owned organic coffee roaster is also one of the only vintage coffee roasters in the US! And that kind of care and quality definitely come through in the taste. We started our weekend off here and loved the coffee so much, we brought a bag home with us!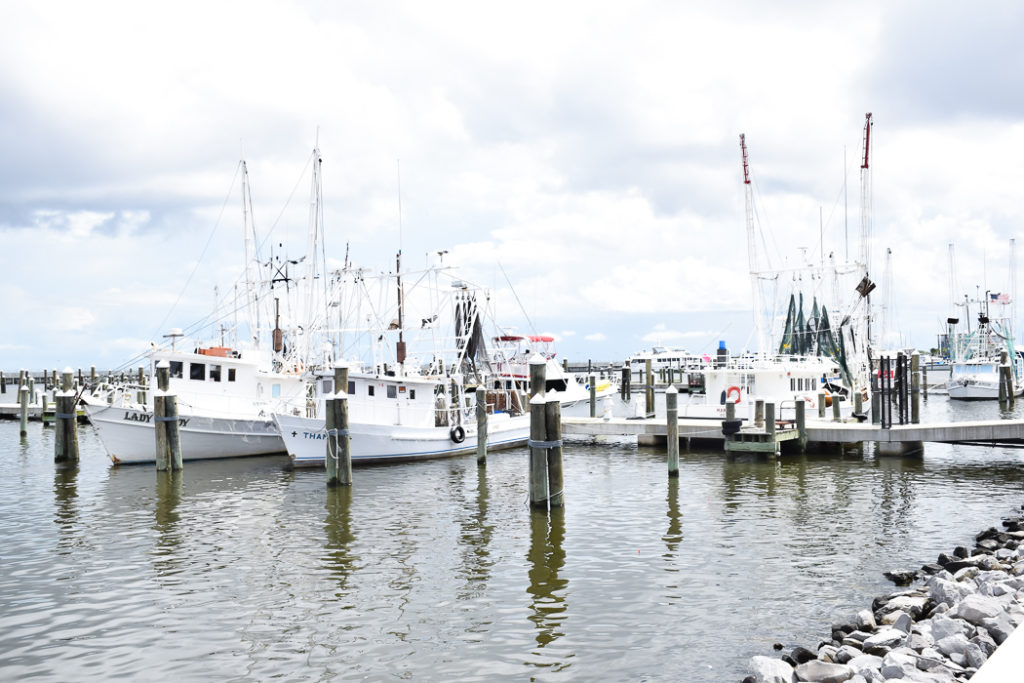 Shrimp boats in Pass Christian Harbor 
Best Things To Do in Gulfport and Biloxi
Beach Day– When you arrive to Coastal Mississippi, you'll most likely want to add a few days for beach time to your itinerary. There are beach chair rentals but you can also bring your own.
Fishbone Alley– Once you've had enough beach time, head over to the bay and Fishbone Alley. Here you'll find lots of street art for those Instagram photos.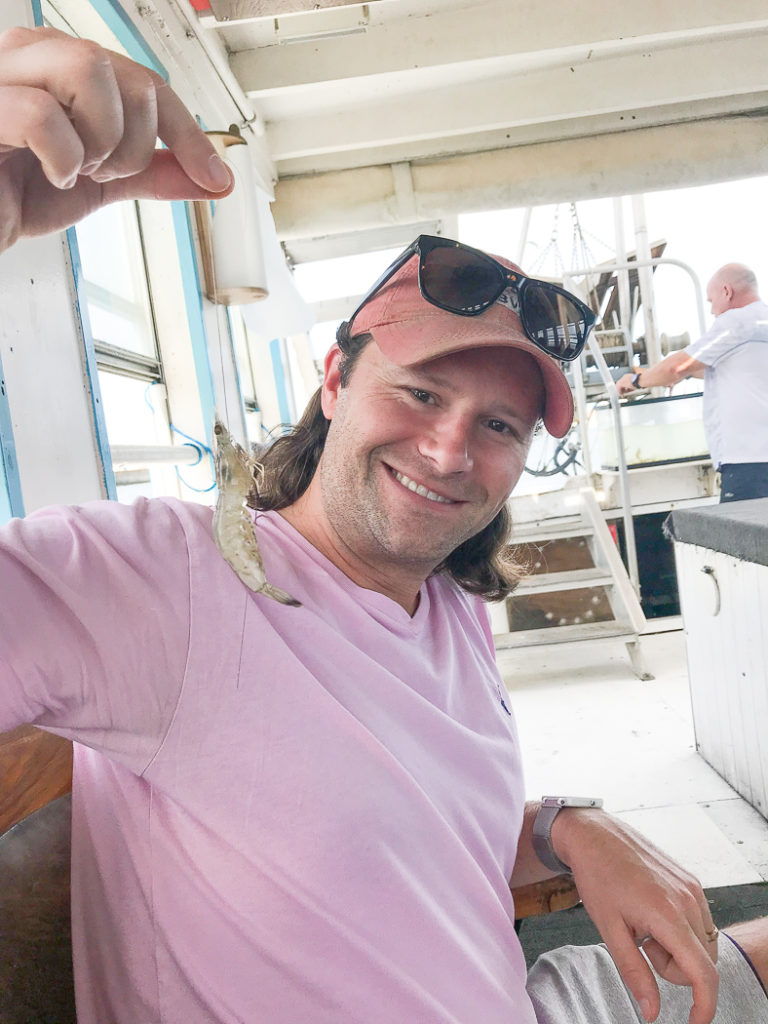 BMW playing with shrimp on the Biloxi Shrimping Trip 
Biloxi Shrimping Trip– This shrimping tour leaves from the harbor right next to the Beau Rivage. This is an eco-tour, so you don't get to keep what is caught, this is an informational tour. The captains take turns giving lessons on the shrimp, marine life, and of course all their favorite recommendations for what is best to do around town. Watch out for the seagulls!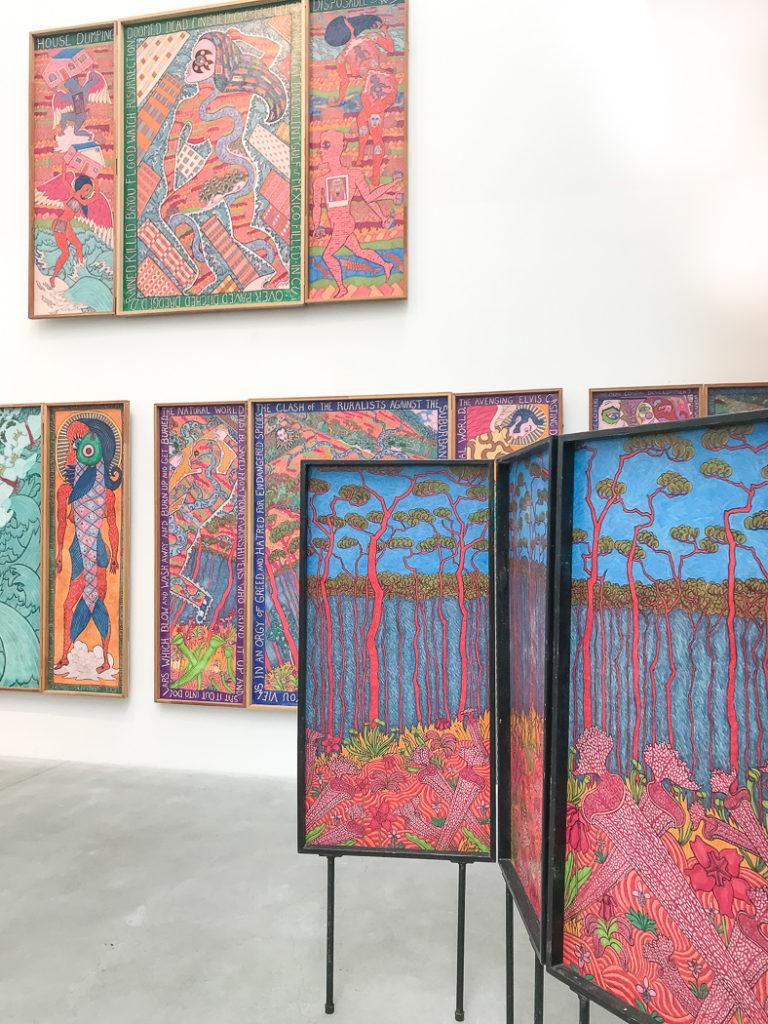 Ohr-O'Keefe Museum of Art 
Ohr-O'Keefe Museum of Art– You'll likely notice the giant steel domes when you drive past on Highway 90. They are home to the works of George Ohr, better known as the Mad Potter of Biloxi. The museum is also home to rotating collections of art like the one above and is hosted by the friendliest and most knowledgable staff I have met in a long time.
Play Craps at The Casino– The Beau Rivage casino has $5 craps tables and BMW took the opportunity to try and teach me. They definitely have much higher tables but it was fun to try and learn the game when it didn't hit us as hard in the pocketbook!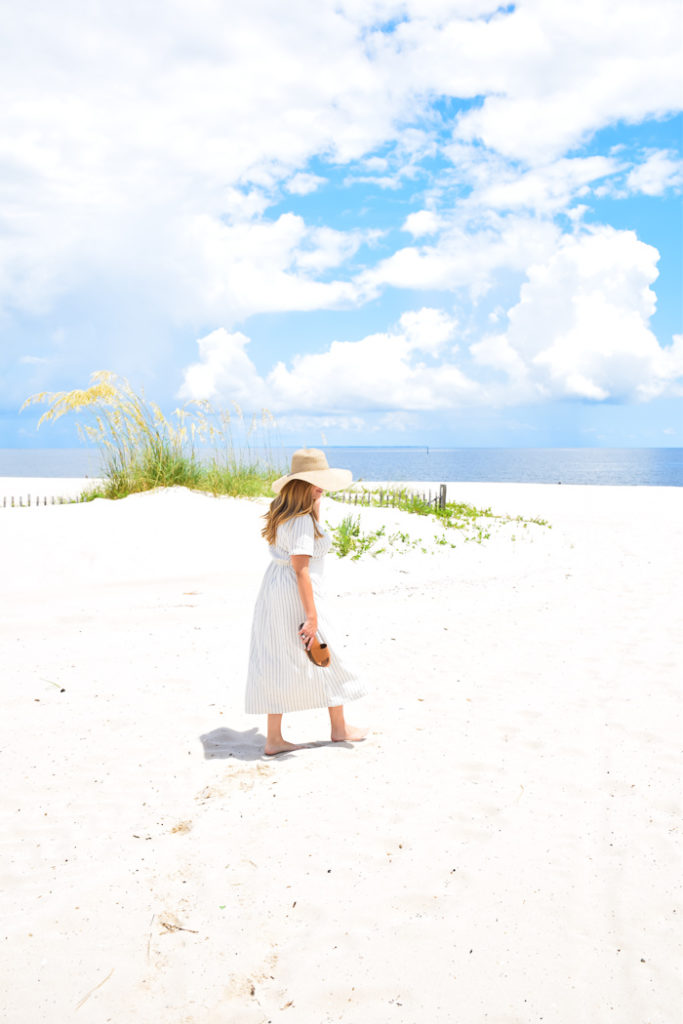 Have you visited Coastal Mississippi? Do you have any favorite spots that I missed?