Sharing the entire itinerary of Our Babymoon in Rome! We ate and walked away our way through the Eternal City during Valentine's Day weekend!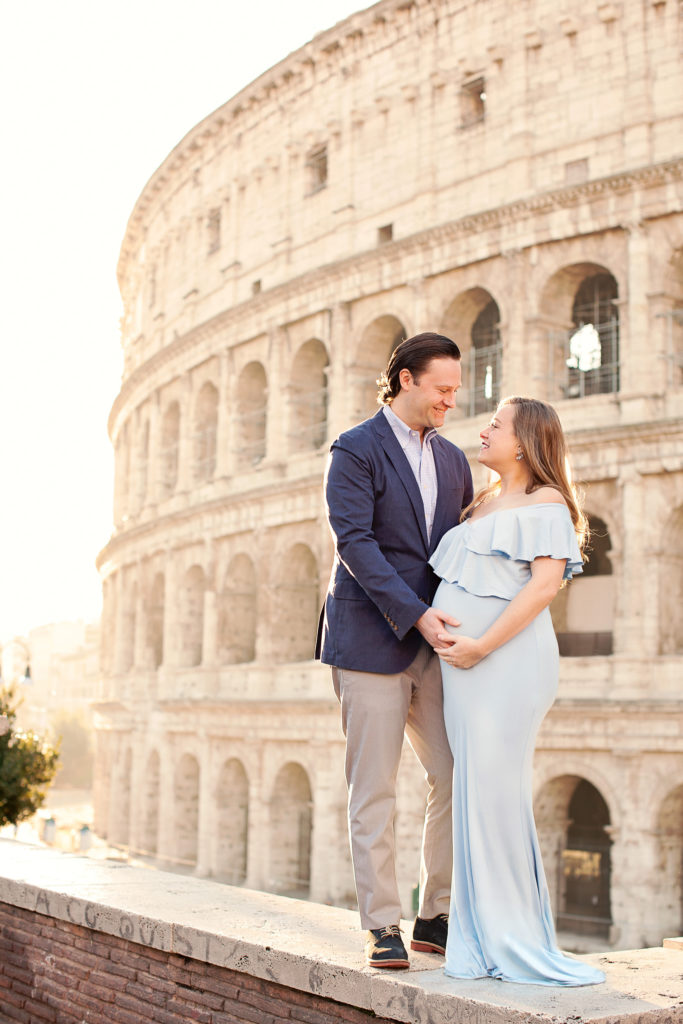 It seems like a lifetime ago that we went on our last international trip which just happened to be our babymoon to Rome, Italy in February 2020 for Valentine's Day and an early anniversary trip! Wow, how much our world and the whole world has changed since then. It's hard to wrap my mind around it all. Anyways, once we returned from our trip it became clear that things were changing fast and it just never felt like the right time to share this post. But now that Italy is opening travel again, it feels like it's time to share all the amazing things we did and ate while we were in Rome!
This post contains affiliate links. If you purchase a product through these links I may earn a few pennies. Thanks for keeping this free blog going!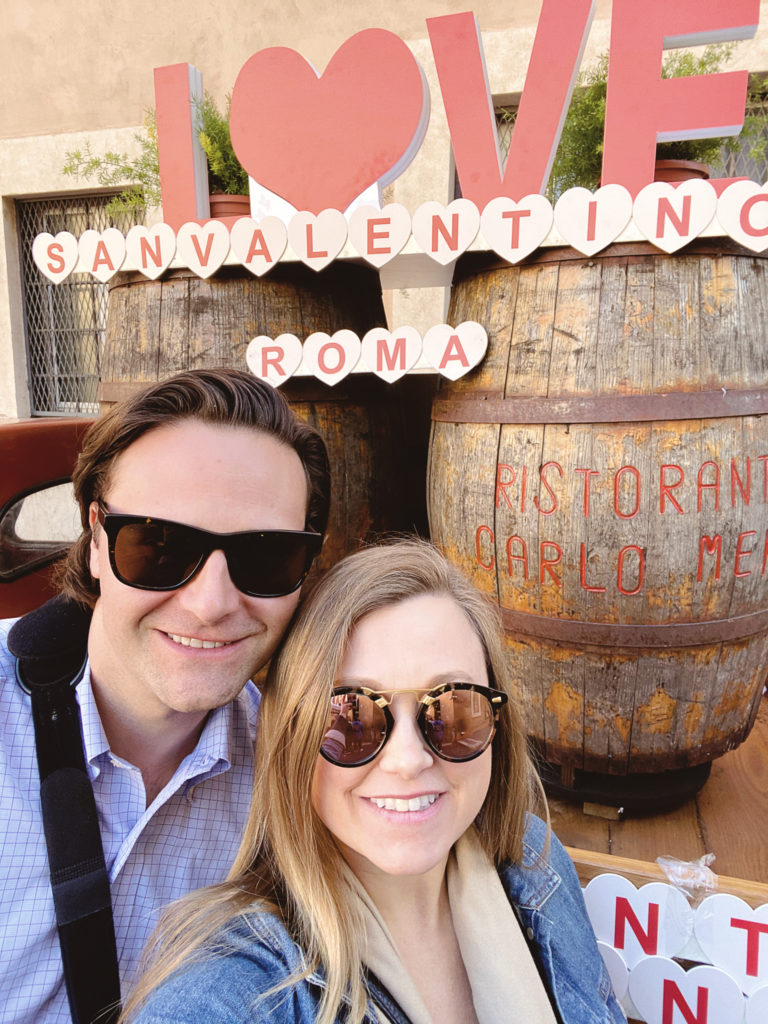 Our Babymoon in Rome
As most of you know, BMW and I are big travelers! So it only seemed right… well right at the time, haha… that we planned one big last trip before bébé arrived. Well, boy aren't we glad that we got that one last trip in!
We decided to spend a whole week in Rome. No traveling around to different cities, no changing hotel rooms and no crazy schedules trying to cram everything in. Since I was at the beginning of my 3rd trimester and BMW had just had shoulder surgery, we decided we wanted to take it slow, eat our way through the city and not really do much else but just enjoy without feeling stressed. It was a whole new way to travel for us!
Ultimately, I think if you are planning a big trip to Italy and you only have a limited amount of time, two or three days in Rome will probably suffice. However, I am breaking down our slow and leisurely trip day by day. If you've got the time, I think a week in Rome was really nice! There is SO much good food and lots and lots of sights to see. Basically, there is plenty to keep you busy.
I included mostly restaurants and museums since that is what we focused on for this trip since I was drinking much. I did include a few spots we stopped by that would be good for drink if you like to imbibe. And of course, during our trip there was lots of gelato and I included those stops here!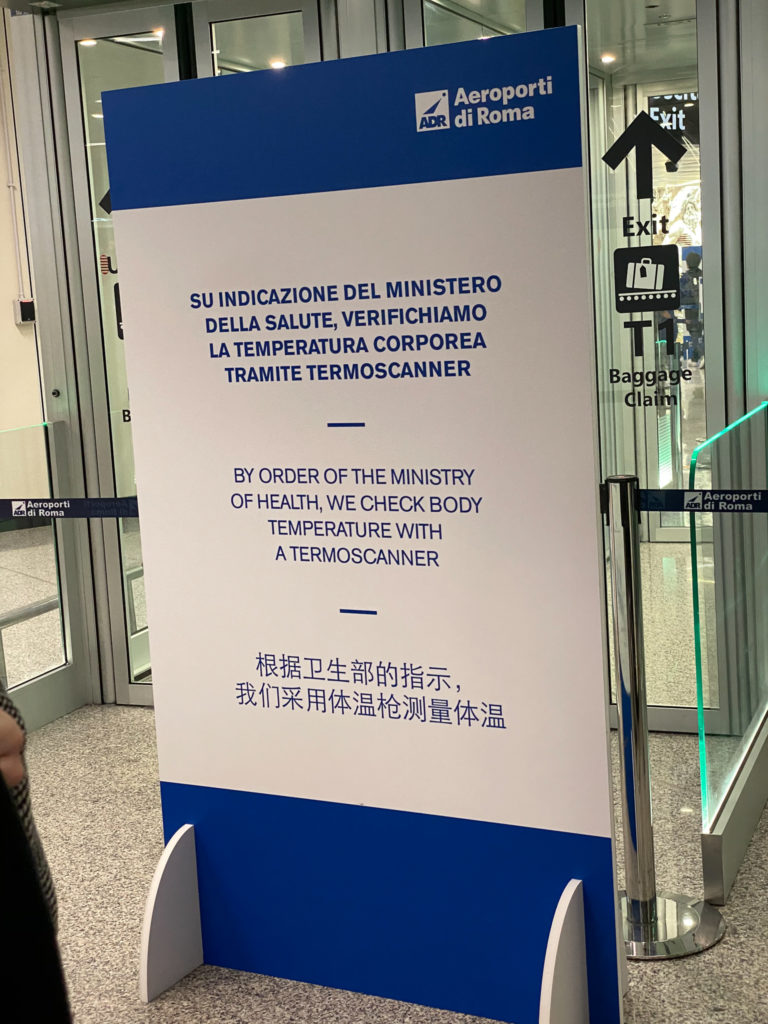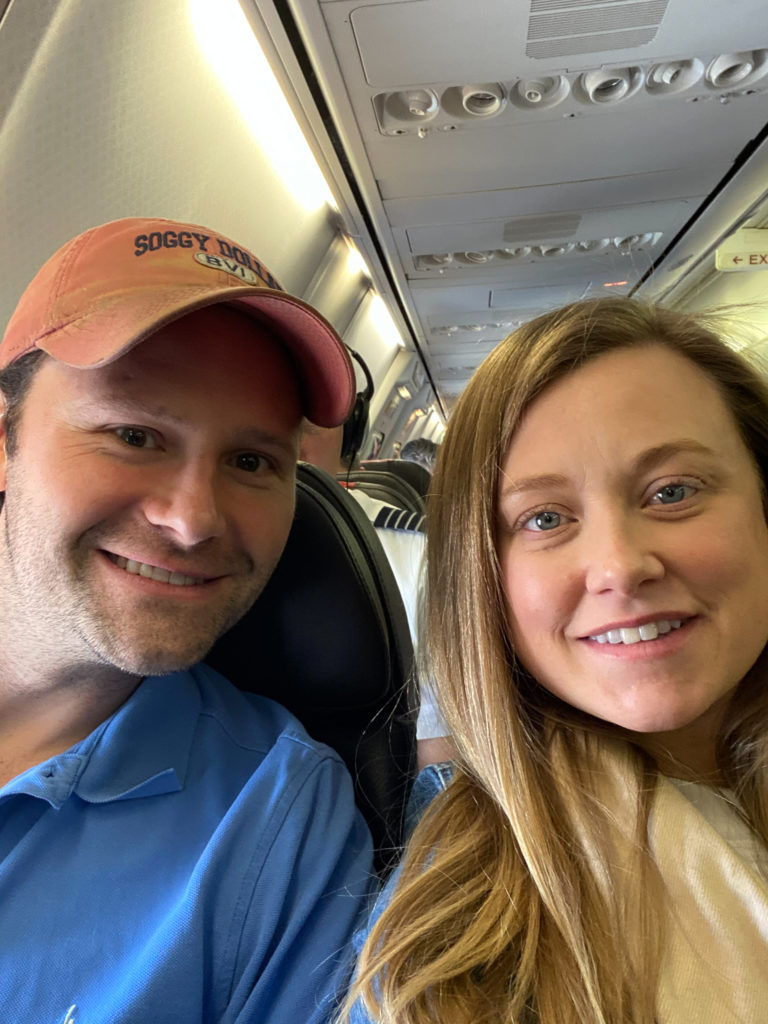 Every Where We Ate In Rome Day By Day
We arrived in Rome in the late afternoon. We went straight to our hotel to check in and freshen up for dinner. We stayed in the Prati neighborhood at a Marriott because we had lots of points that we needed to use. This neighborhood isn't the hippest part of town but it's centrally located, pretty quiet and really safe. The staff were super helpful and hotel was updated and clean. It's very much a Marriott with lots of American amenities but it lacks charm. If we weren't using points, we probably would not have chosen this particular hotel or neighborhood to be completely transparent. Sometimes you gotta make the economical decision and save your money for all the food and activities which is exactly what we did!
Rome in February
We really enjoyed the weather while we visited Rome in February. It barely rained and the temperatures were quite mild and really comfortable for walking around. Plus, February is considered low season, so while I still recommend booking everything in advance, there wasn't an overwhelming feeling of tourists everywhere. Except for the Vatican which was packed. Plus, I really dislike being hot, so if we had visited during the heat of the summer, I am not sure if I would have enjoyed all the walking and tours as much!
I included that photo from the airport because upon arrival we had to go through a temperature screen. At the time, that seemed really strange to us. Of course now in the world we are living in, going through a temperature scan seems really par for the course, haha.
Below I am running down day by day where we ate and what we did! I linked to everything I could, some things just didn't have proper websites or social media. If you have any tips, suggestions or questions, be sure and leave them in the comments!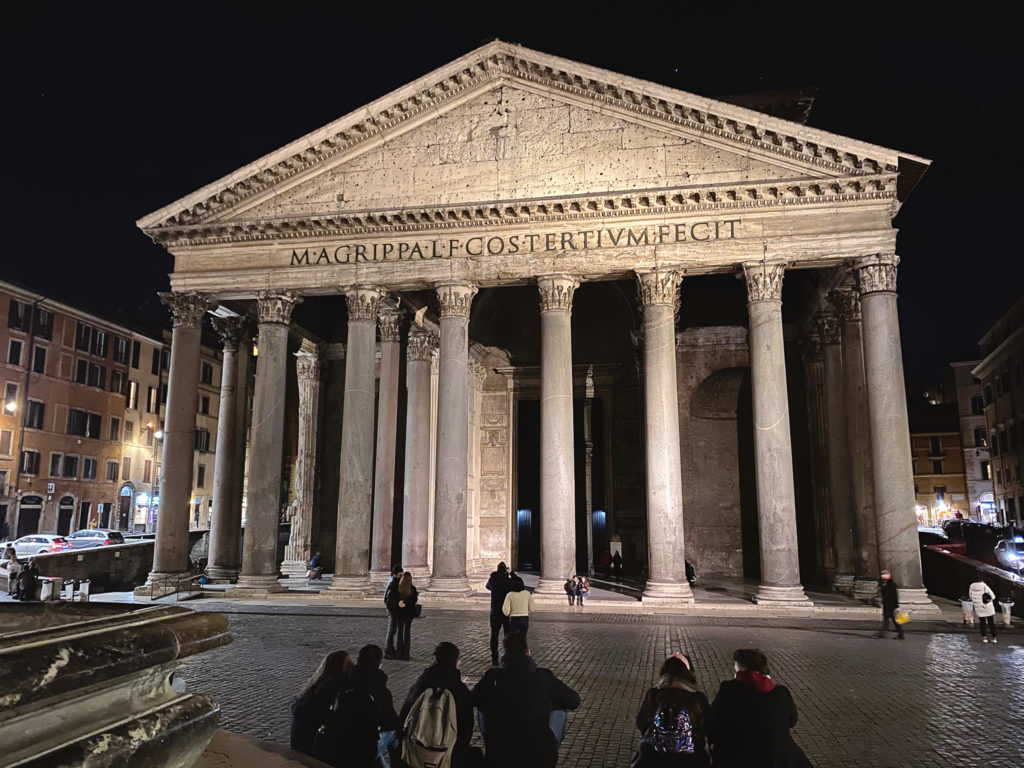 The Pantheon at Night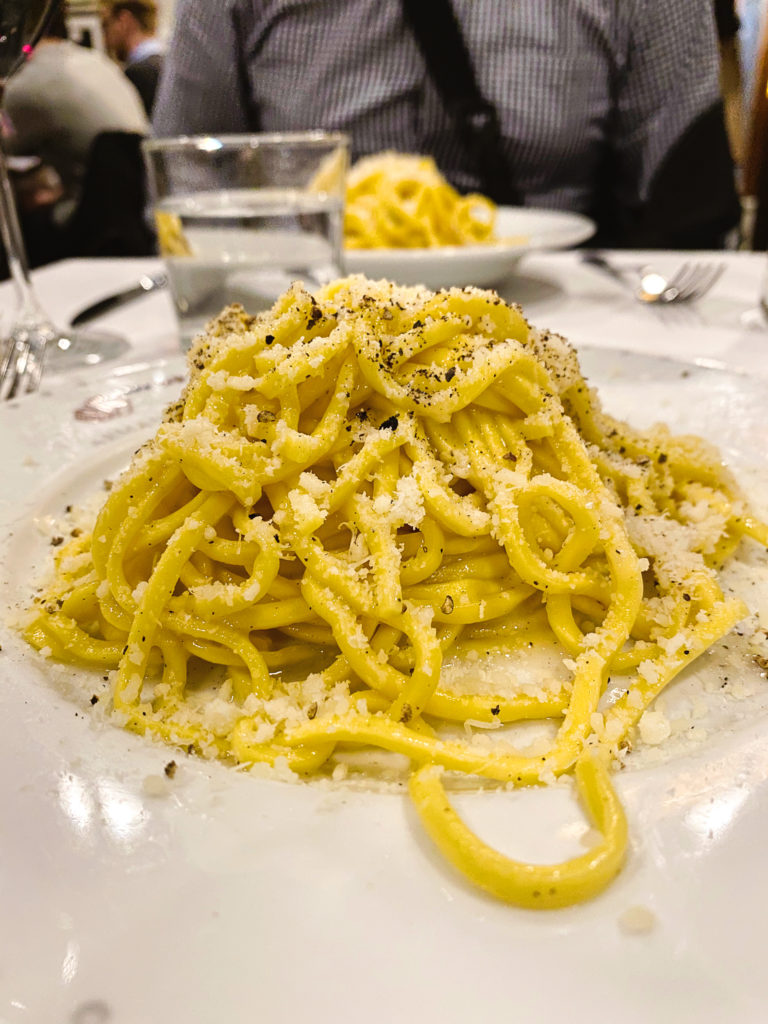 Cacio e Pepe at Armando Al Pantheon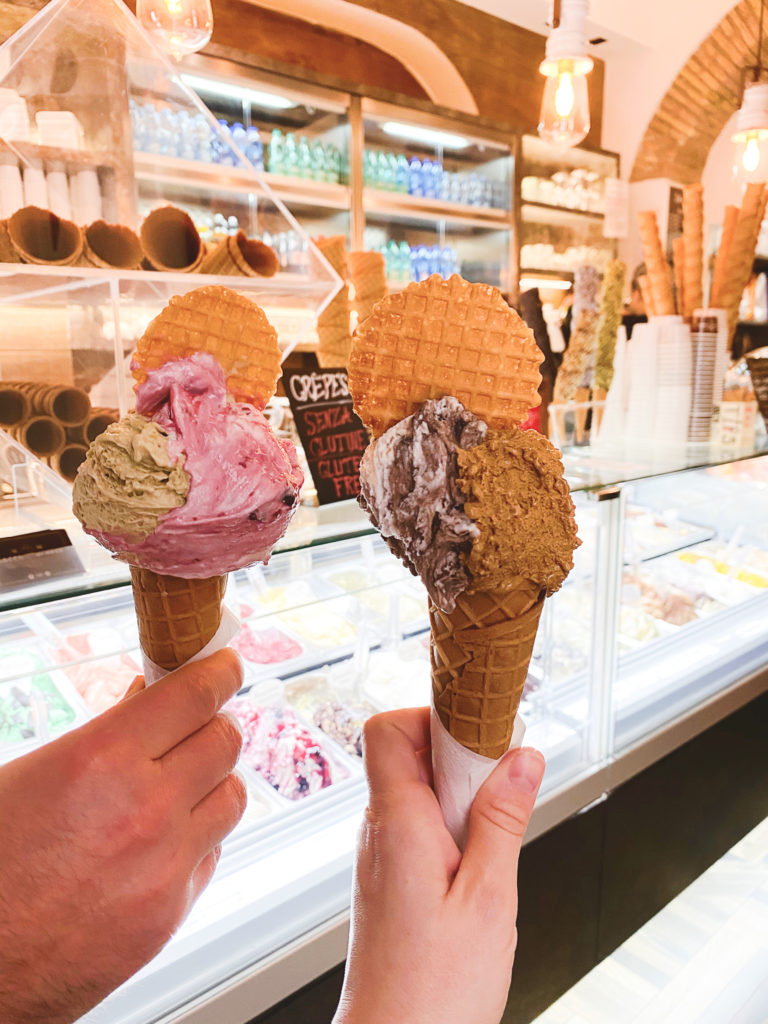 First Gelato at Fiocco di Neve Roma right near the Pantheon
First Night:
Pantheon by Night
Dinner at Armando al Pantheon
Gelato at Fiocco di Neve Roma
We arrived on Valentine's Day and had our dinner at Armando al Pantheon. We saw dozens of couples who walked in without a reservation get turned away, so I would definitely recommend a reservation. Actually, I would recommend reservations everywhere.
We absolutely LOVED our dinner at Armando al Pantheon and I would definitely recommend it. I was enchanted with seeing all the sites both during the day and at night. Rome by night is so beautiful. All the gelato we had was delicious!
1st Day Look
Cafe Sciasia and a cute pup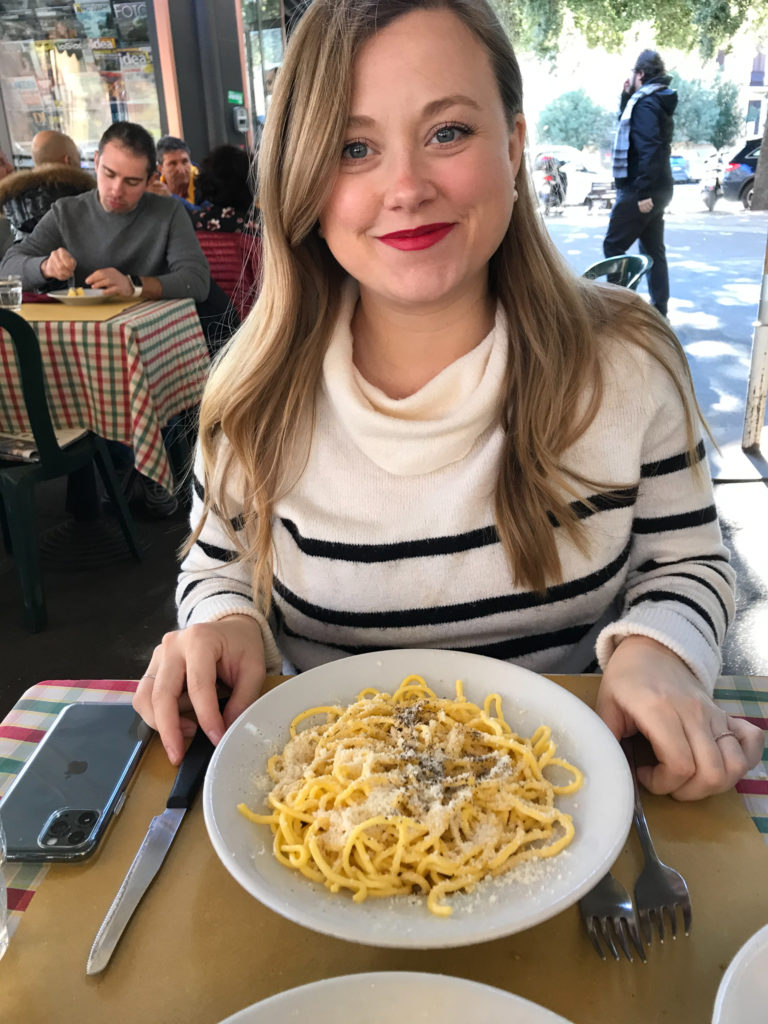 Cacio e Pepe at Cacio e Pepe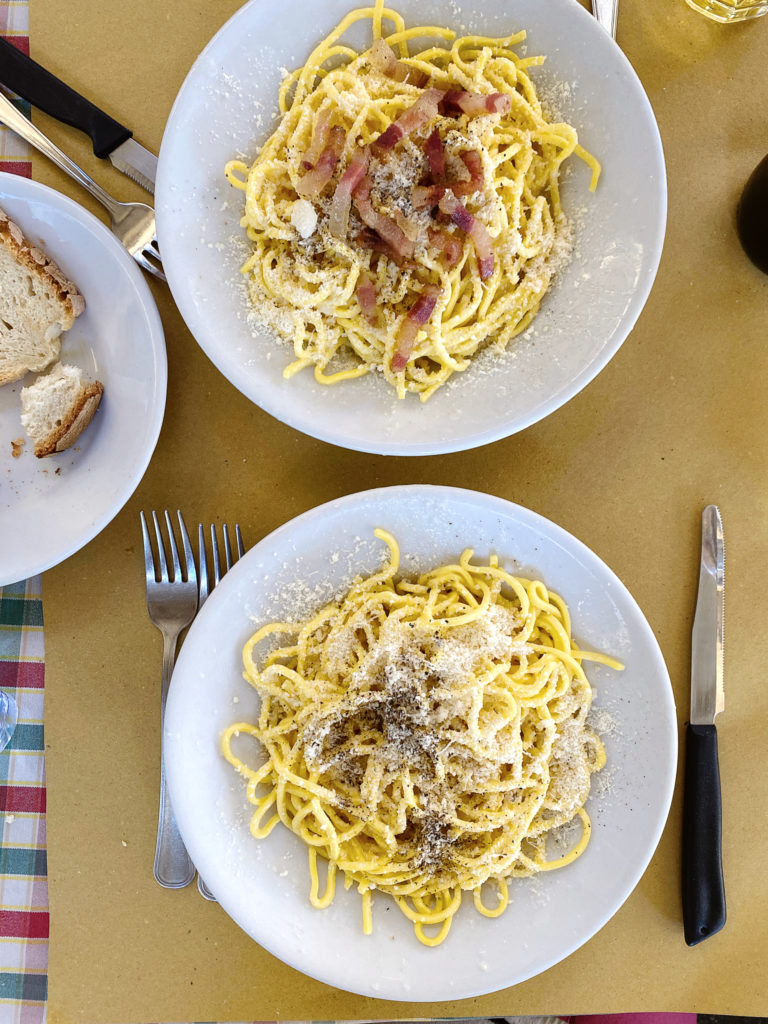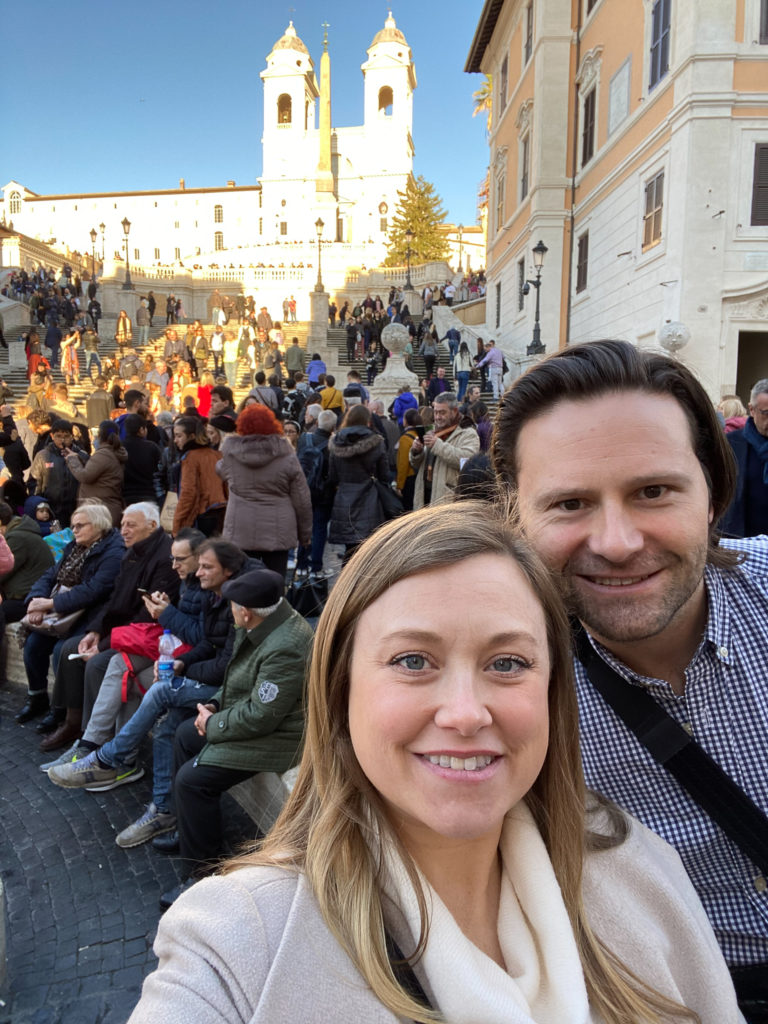 Spanish Steps by Day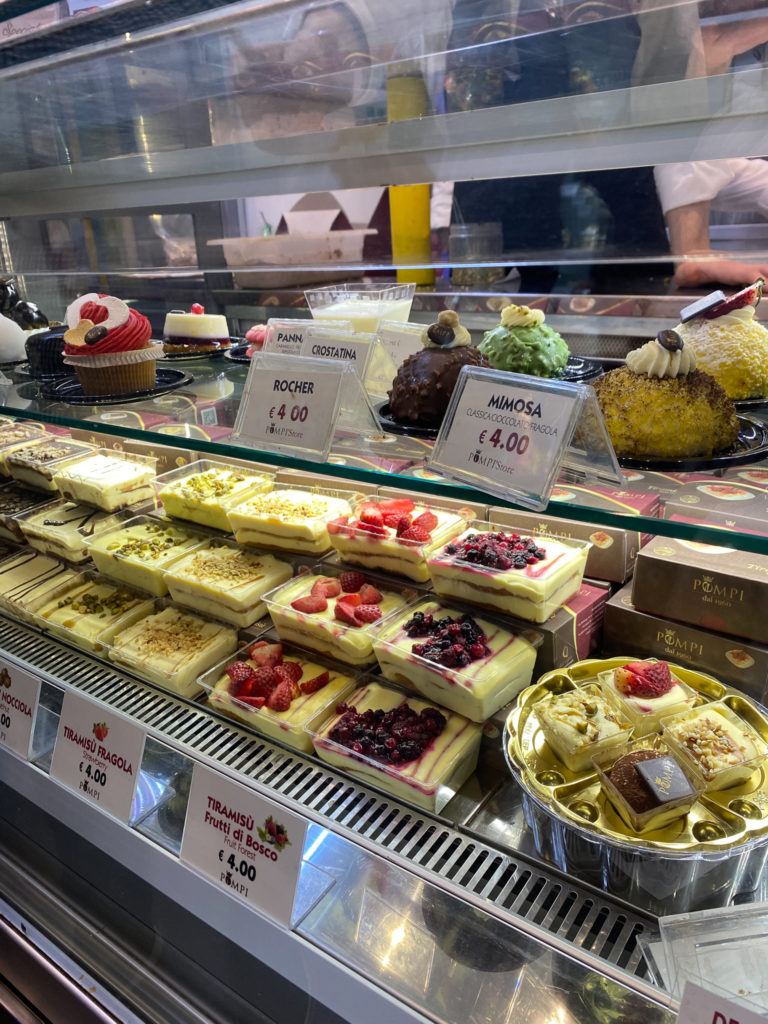 "Vending Machine" Tiramisu near Spanish Steps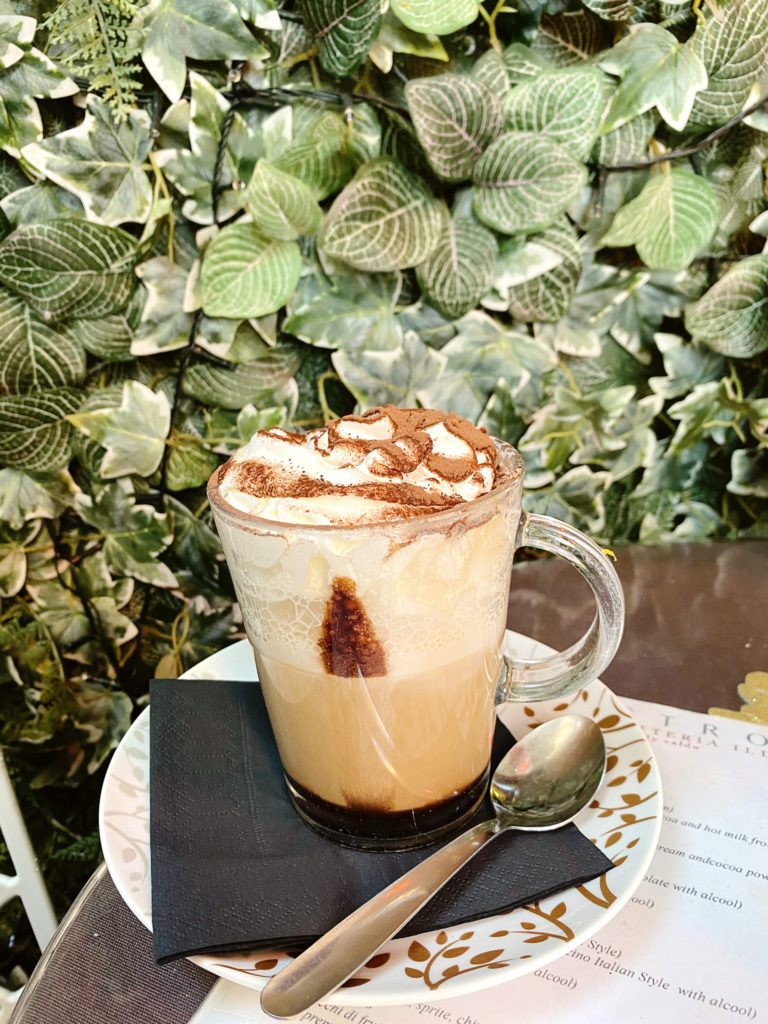 Illy Cafe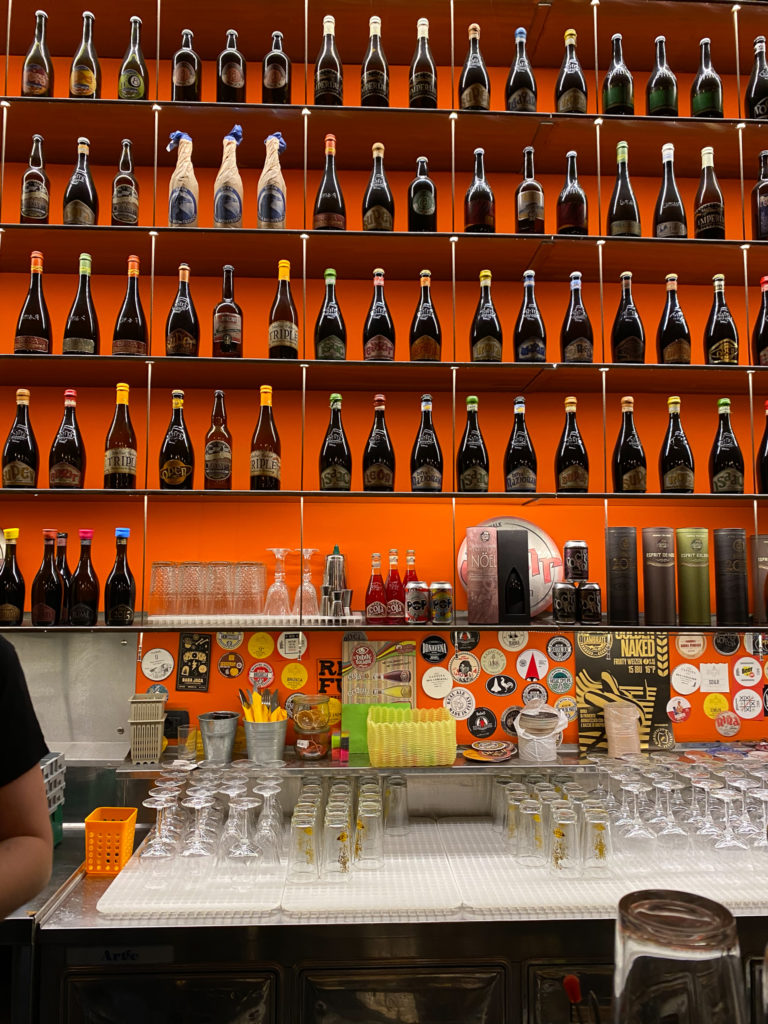 Open Balladin
Renato e Luisa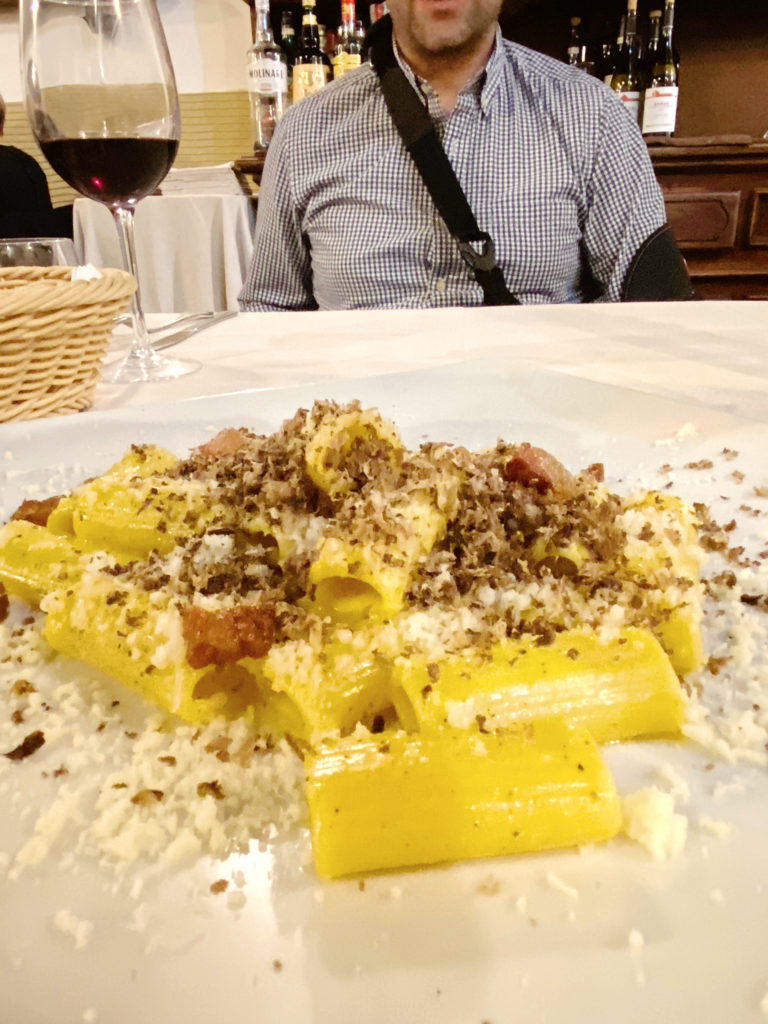 First Full Day:
Coffees at Sciascia Cafe
Pantheon by Day
Lunch at Cacio e Pepe
Afternoon Spanish Steps
Tiramisu Vending Machine
Coffees at Illy
Beers at Open Baladin
Dinner at Renato e Luisa
We started our morning with the famous chocolate espresso from Sciascia Cafe. It's a charming spot that was bustling with Italians. I loved it. Our lunch at Cacio e Pepe was good not great. BMW had heard about this vending machine Tiramisu near the Spanish Steps he wanted to try. It was actually more of a walk-thru place and it was good! I wouldn't go out of your way, but if you're near by and want a treat it was nice. Illy is chain and everywhere but we stopped in and the coffees were nice. Oopen Baladin was a new-ish beer spot and BMW enjoyed it. We stopped in for a drink before dinner. Renato e Leuisa was a darling small restaurant with old world charm. The food was incredible and I would highly recommend it! It was that classic red sauce some might associated with Italian food but if you're traveling for food then I definitely recommend it!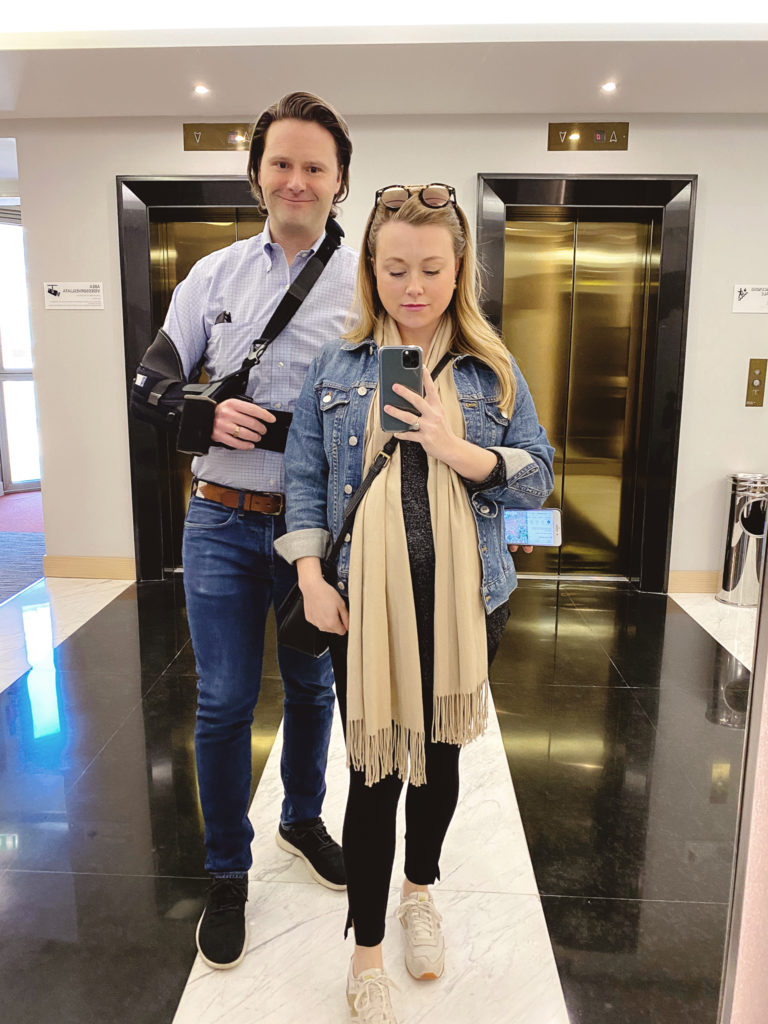 Day 2 Looks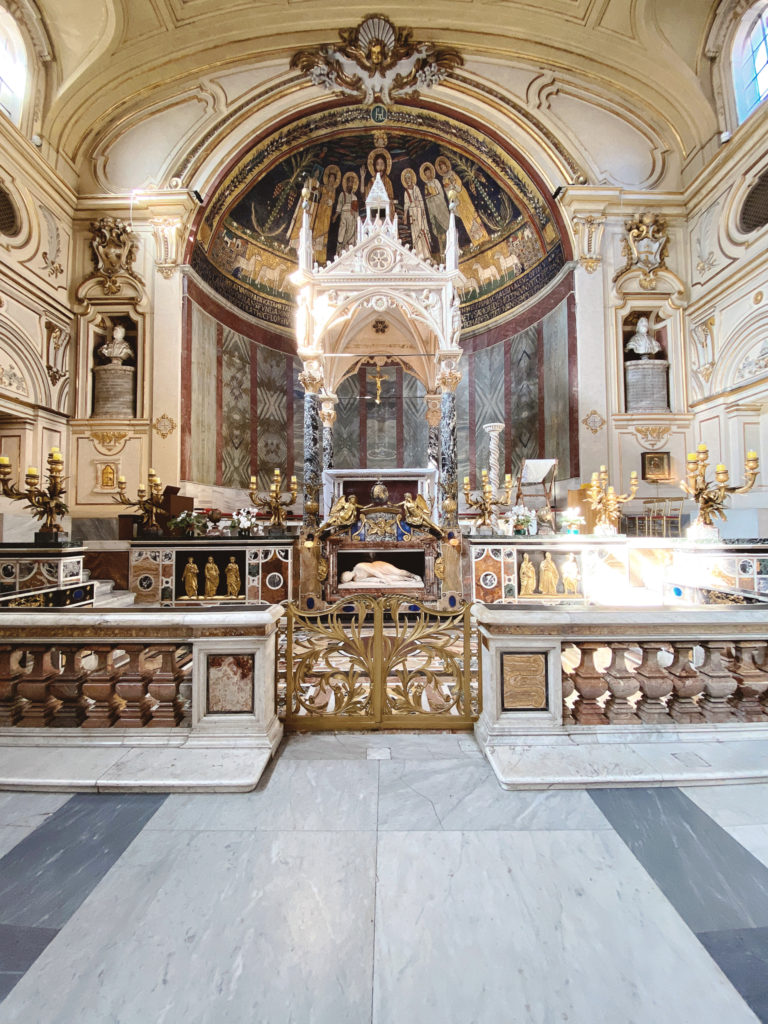 Cecilia Basilica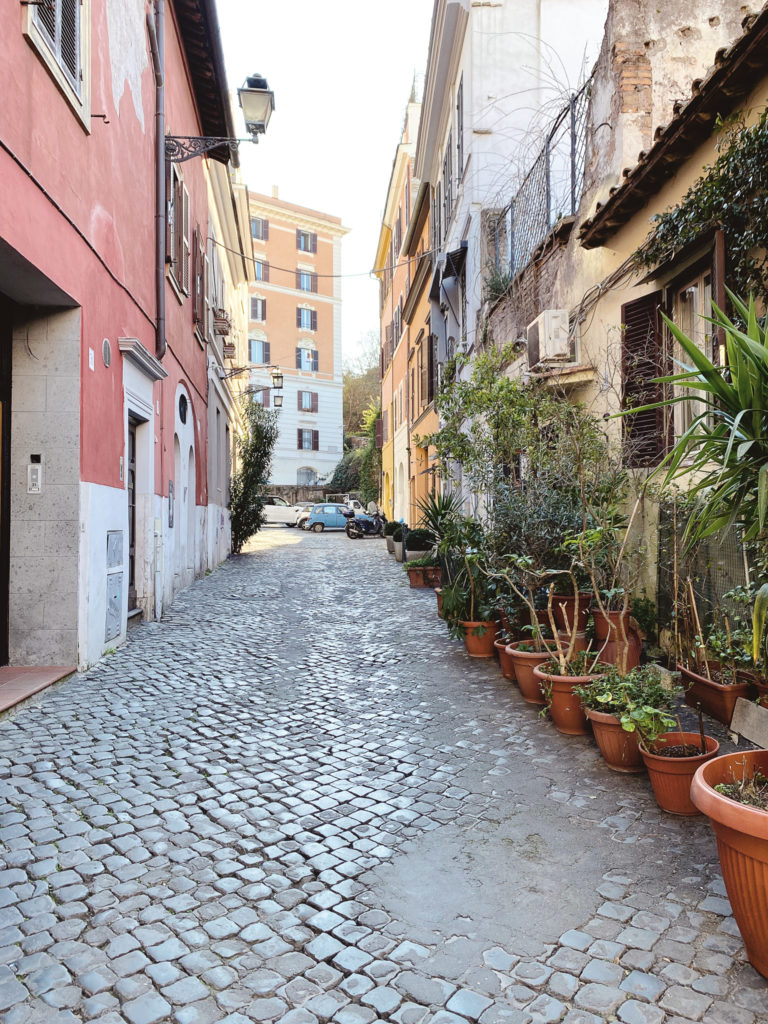 Traverste Neighborhood Stroll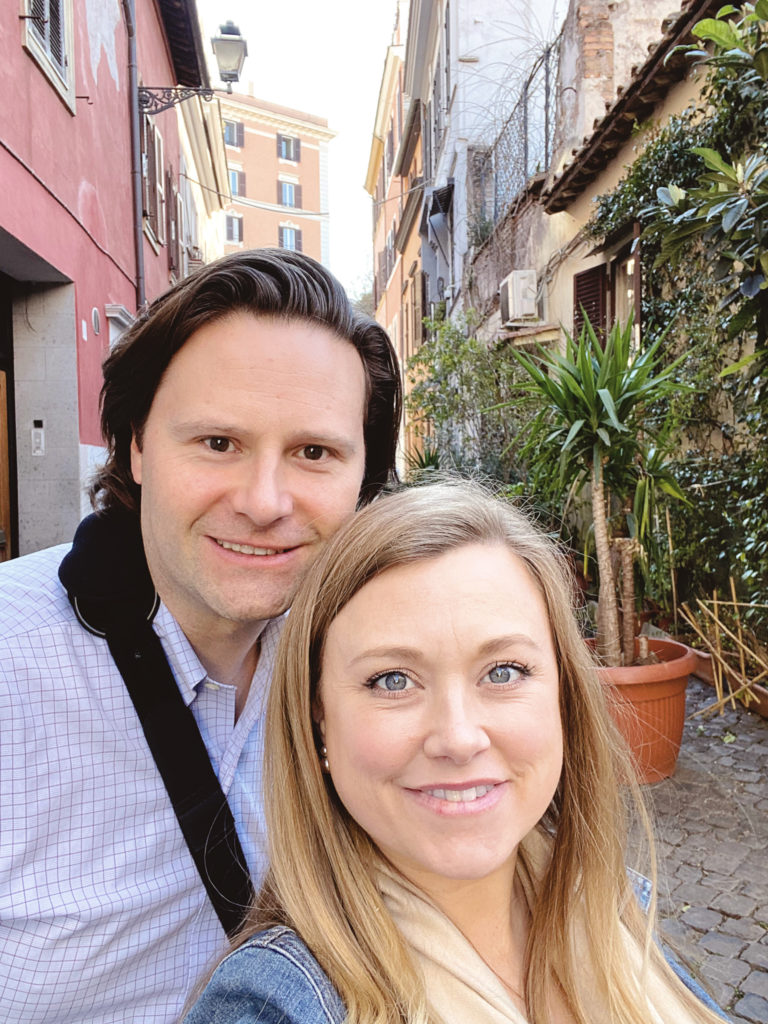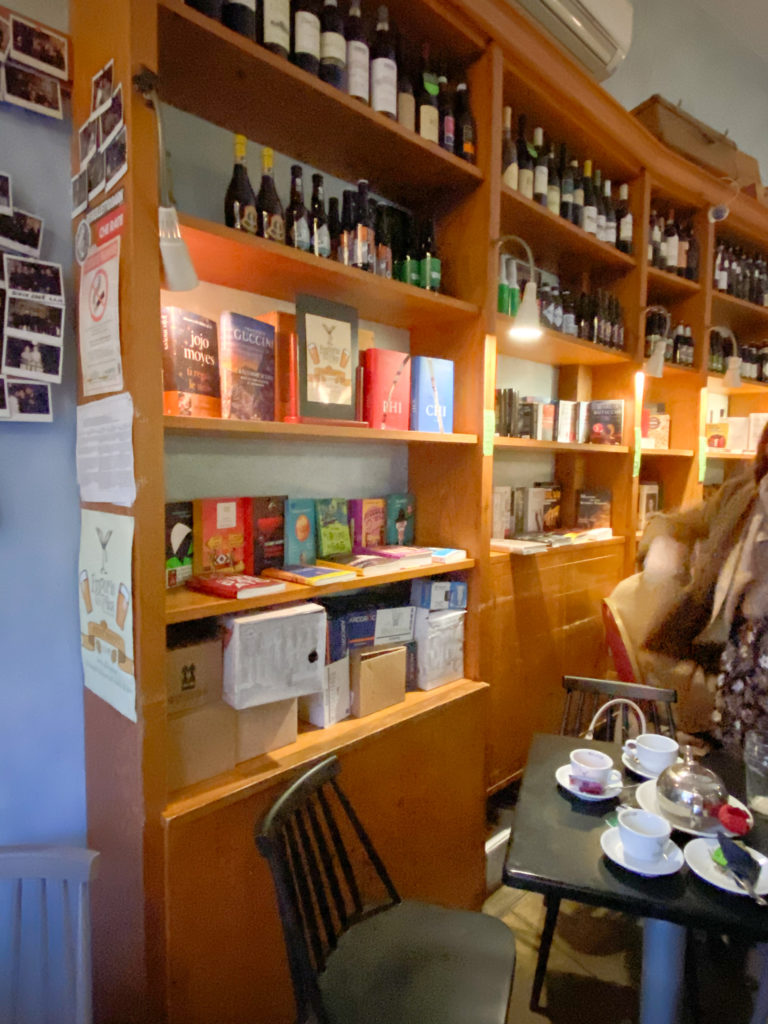 L'Emporio alla Pace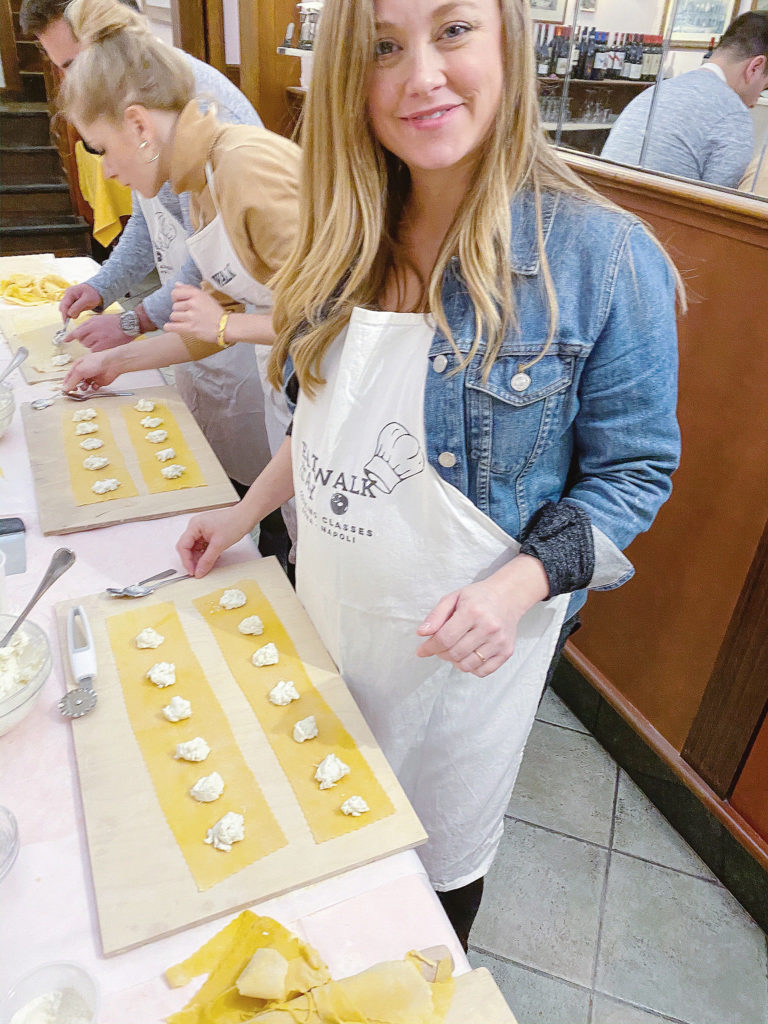 Day Two:
Lunch at Roma Sparita (where we should have lunched)
Wander Traverste Neighborhood
Coffee and Drinks around the corner from Piazza Nova at L'Emporio alla Pace
Cooking Class at Eat Walk Italy
Day 2 started off with our maternity photos which were just incredible. Highly recommend working with the photographer we used if you're in Rome! We went back to the hotel and changed and tried to walk into Roma Sparita for lunch but were turned away. Instead we were able to make a reservation for another day. We ate somewhere else nearby that was a major disappointment. We did happen upon Cecilia Basilica which turned out to be a great little tour that was only two euros or something. If you're in the neighborhood, it was a cool place to pop into.
Later wandered around the Traverste neighborhood which good for a stroll. Then we headed to Piazza Nova for our cooking class which was also our dinner. We had some time to kill so we popped into L'Emporio alla Pace which I would definitely recommend over the other touristy spots in the area. We had our cooking class at Eat Walk Italy. While the chef was indeed Italian and the dishes were authentic, it was very touristy. Not sure if I would do it again but it fit our schedule and was a nice activity to do together.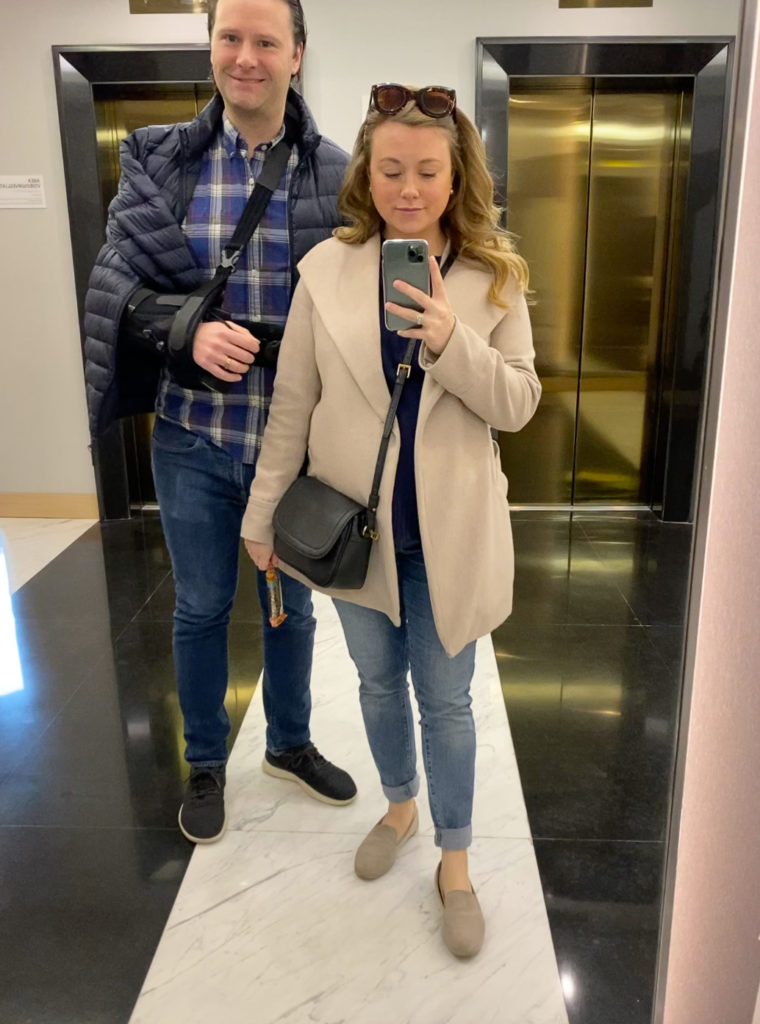 Day 3 Looks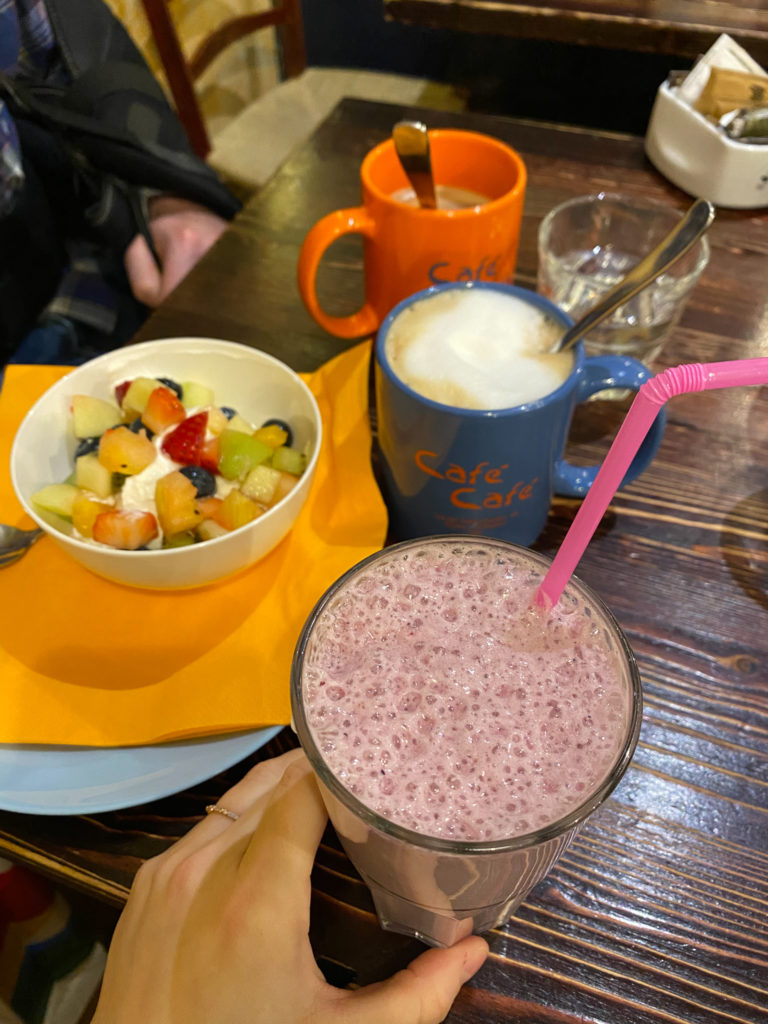 Cafe Bistro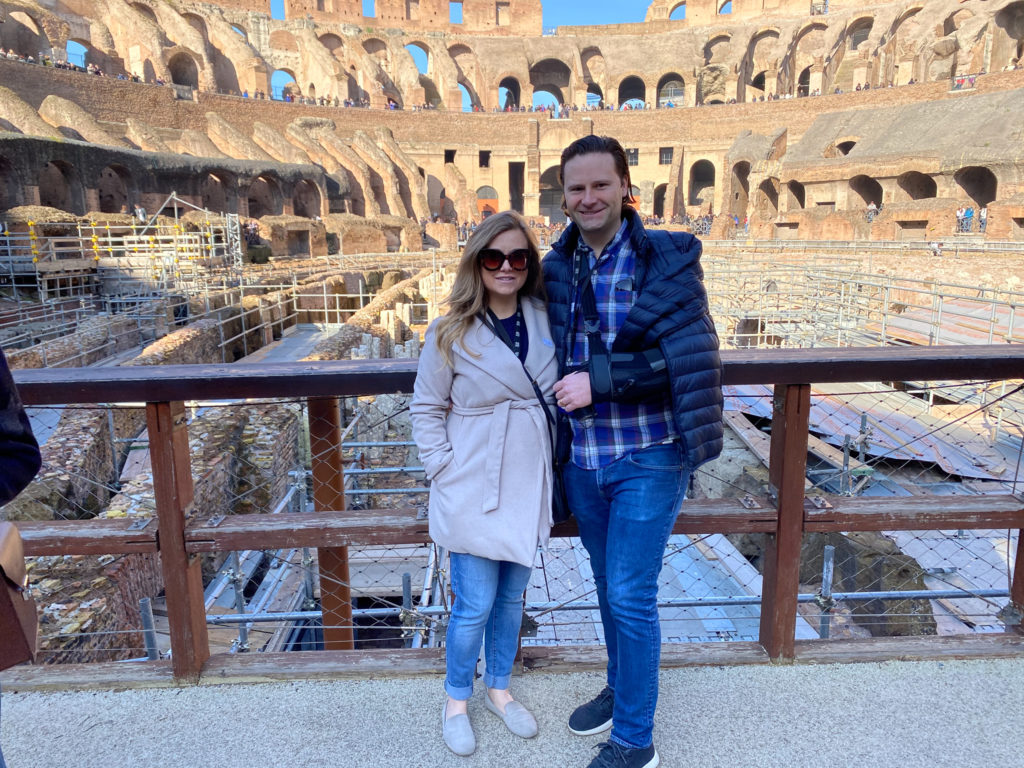 Colosseum Tour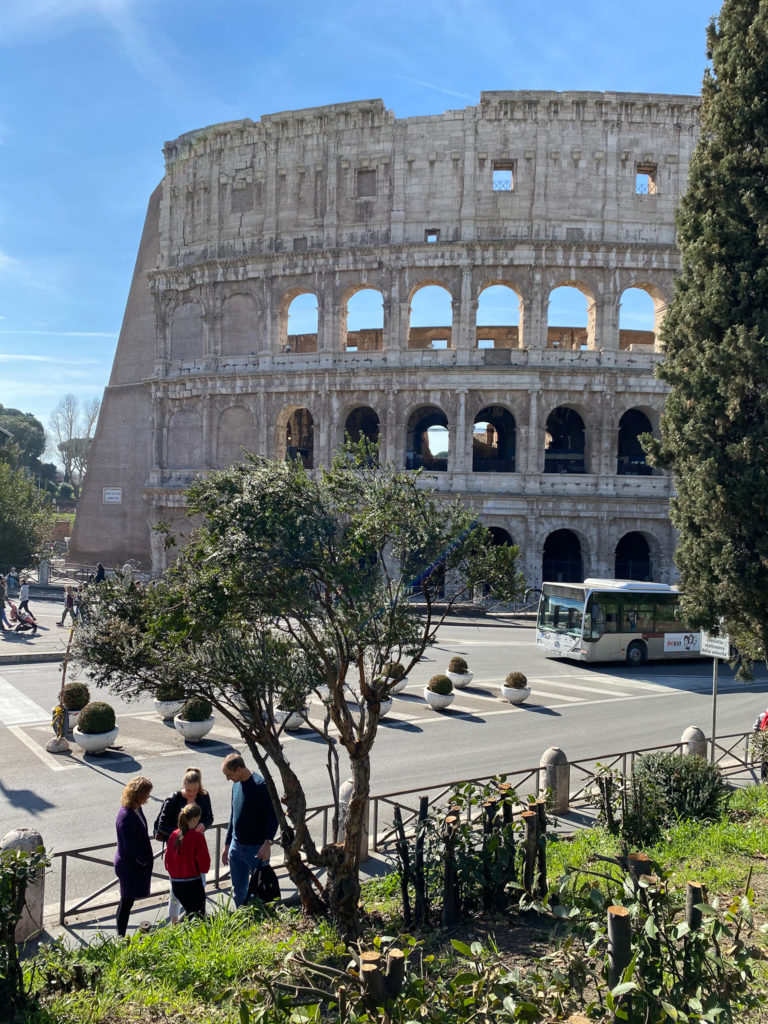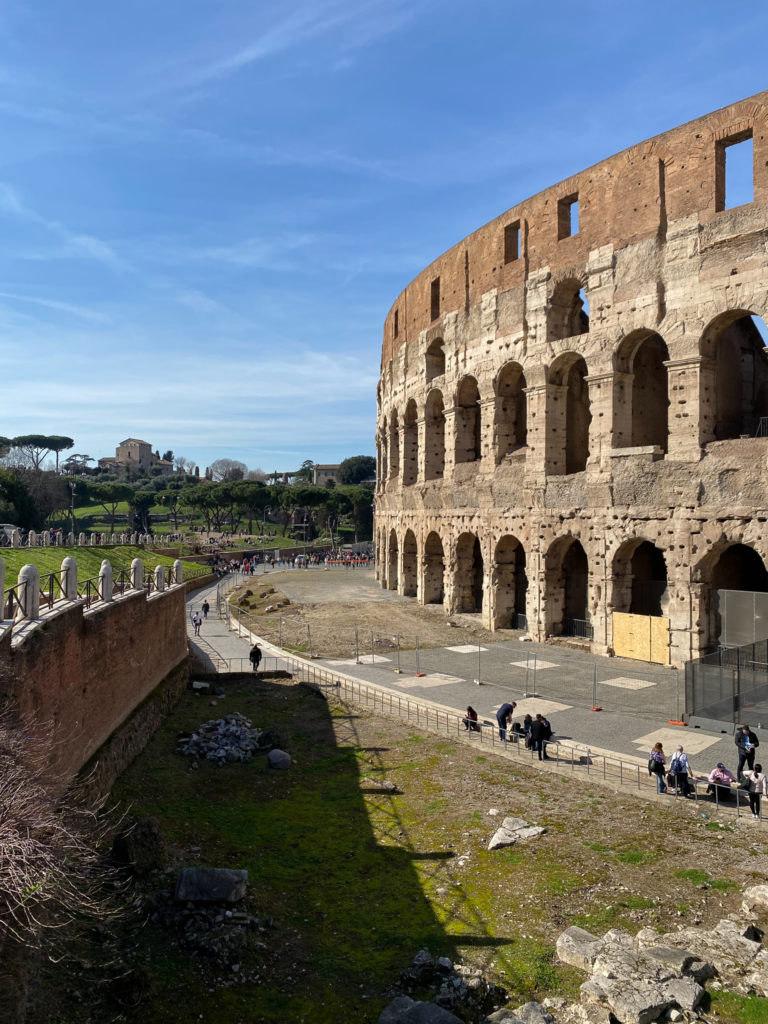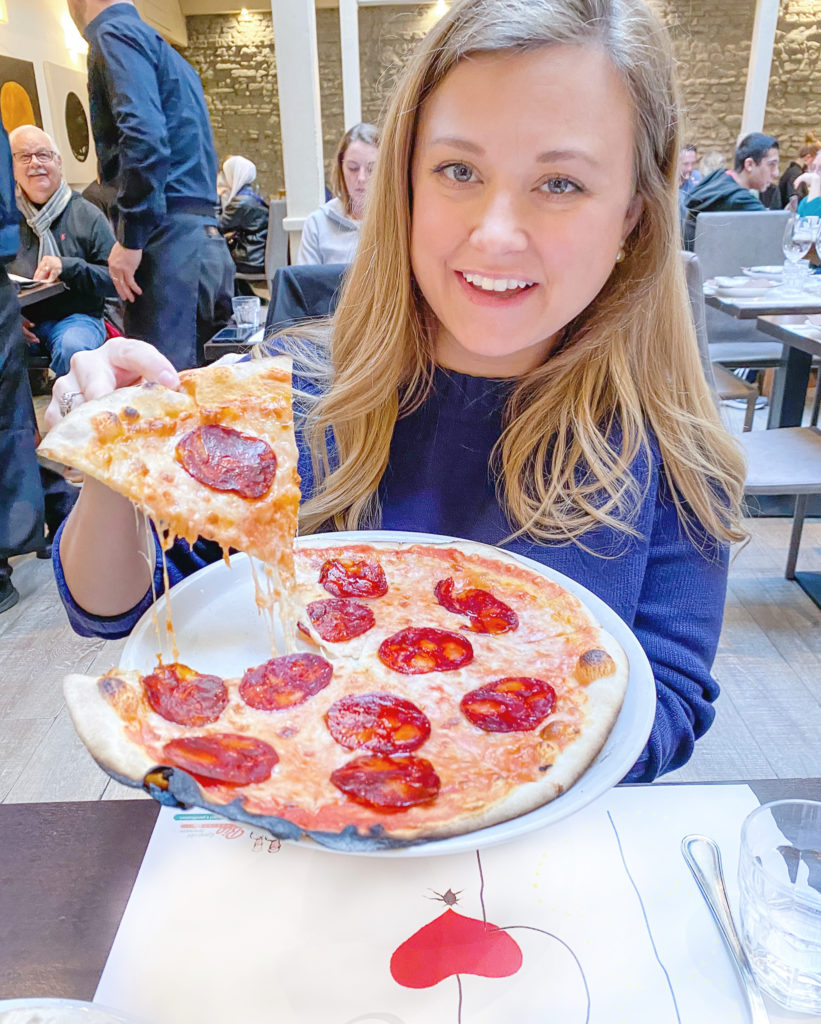 Lunch at Emma Pizzeria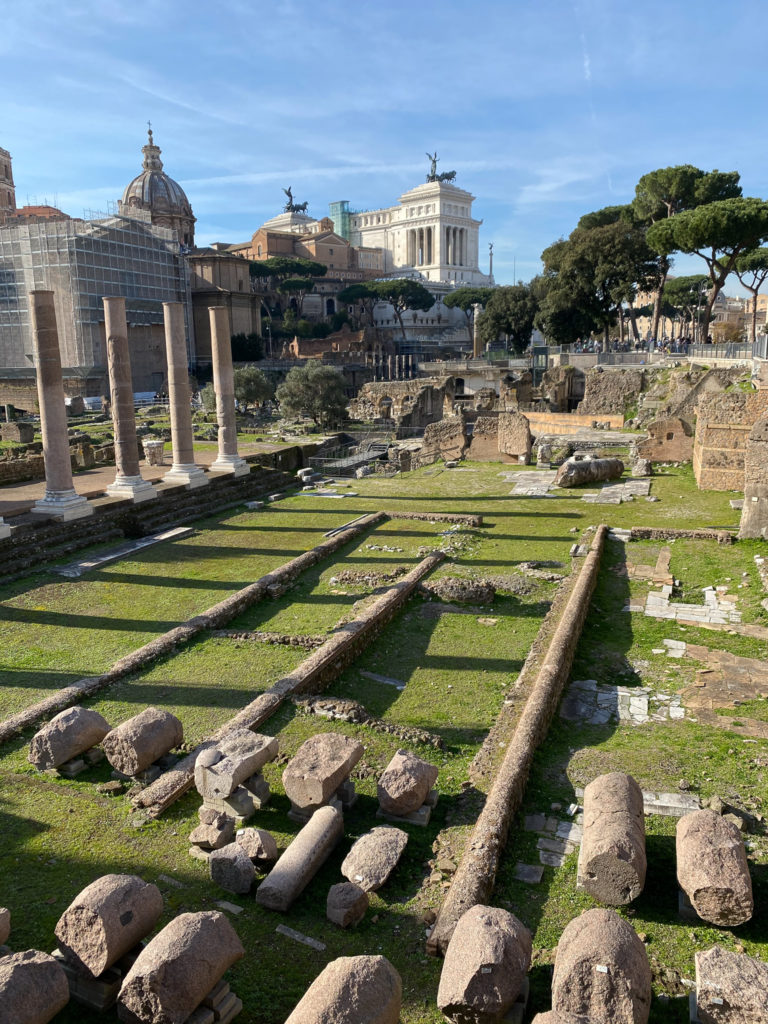 Roman Forum and Palatine Hill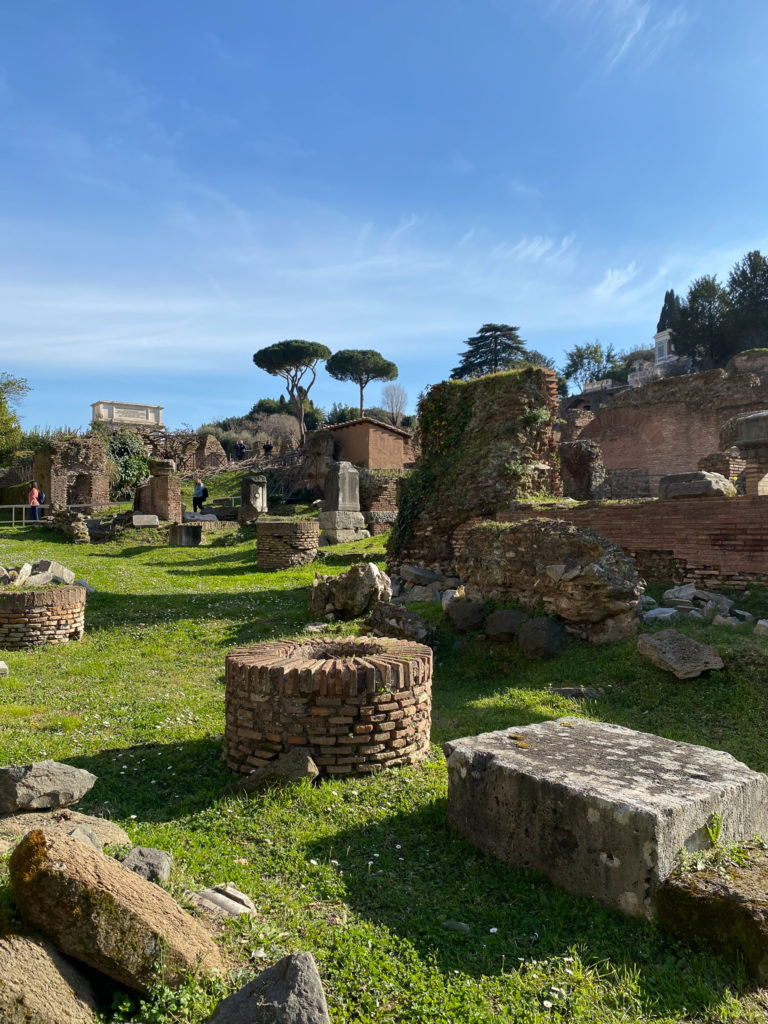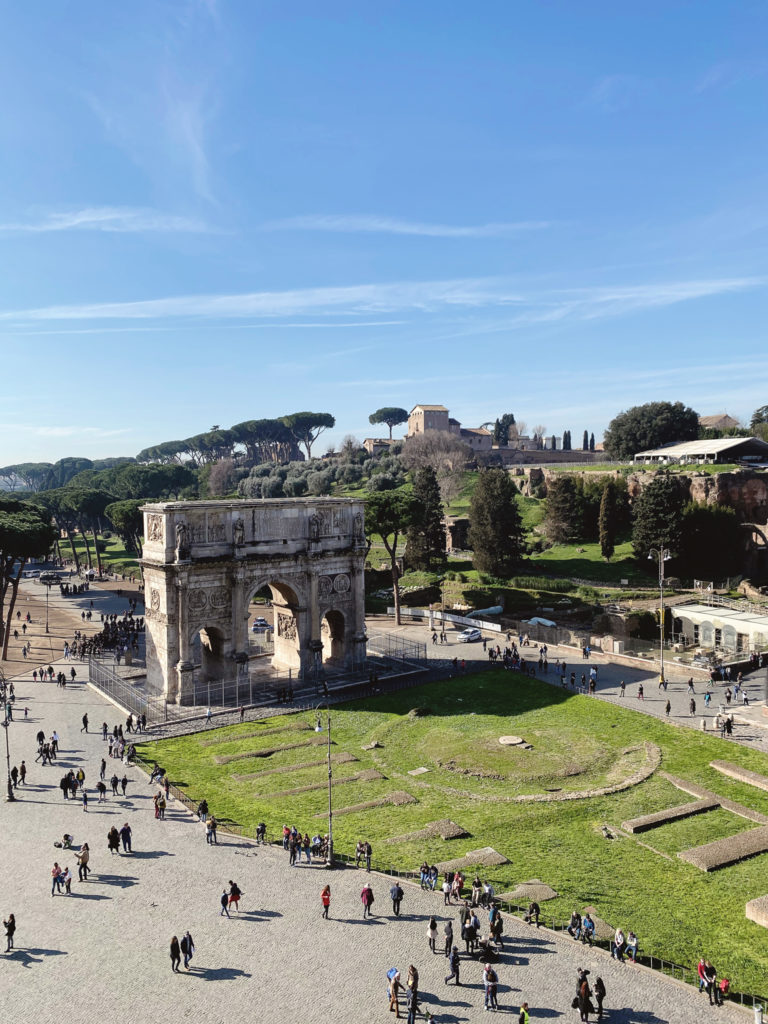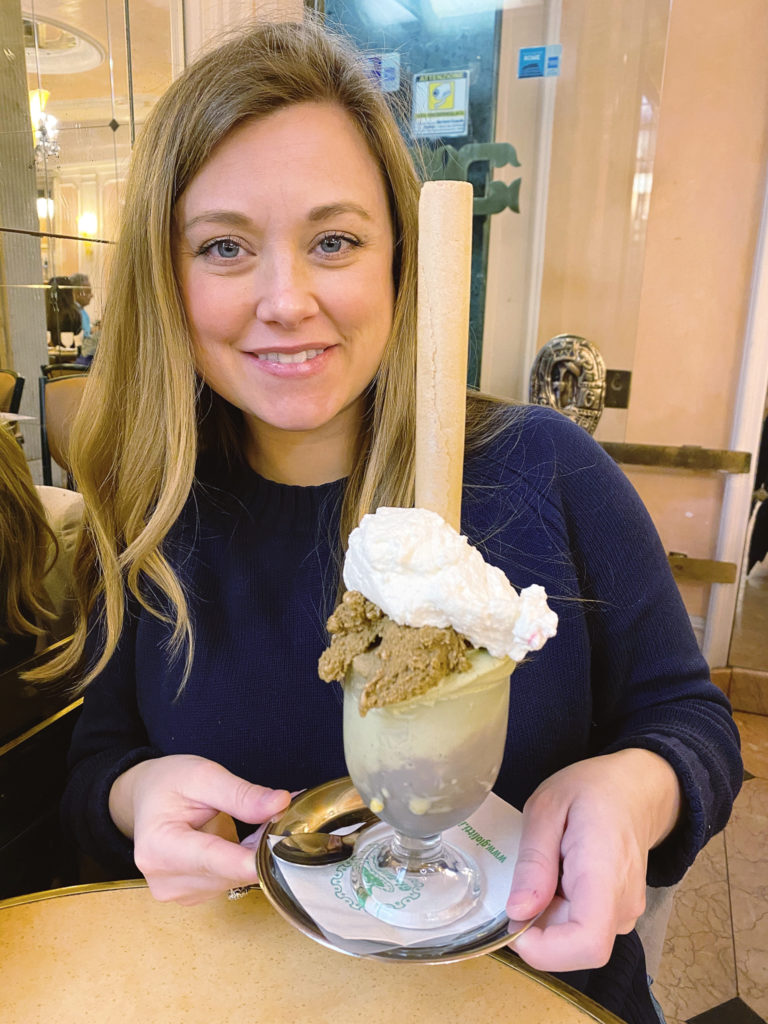 Giolitti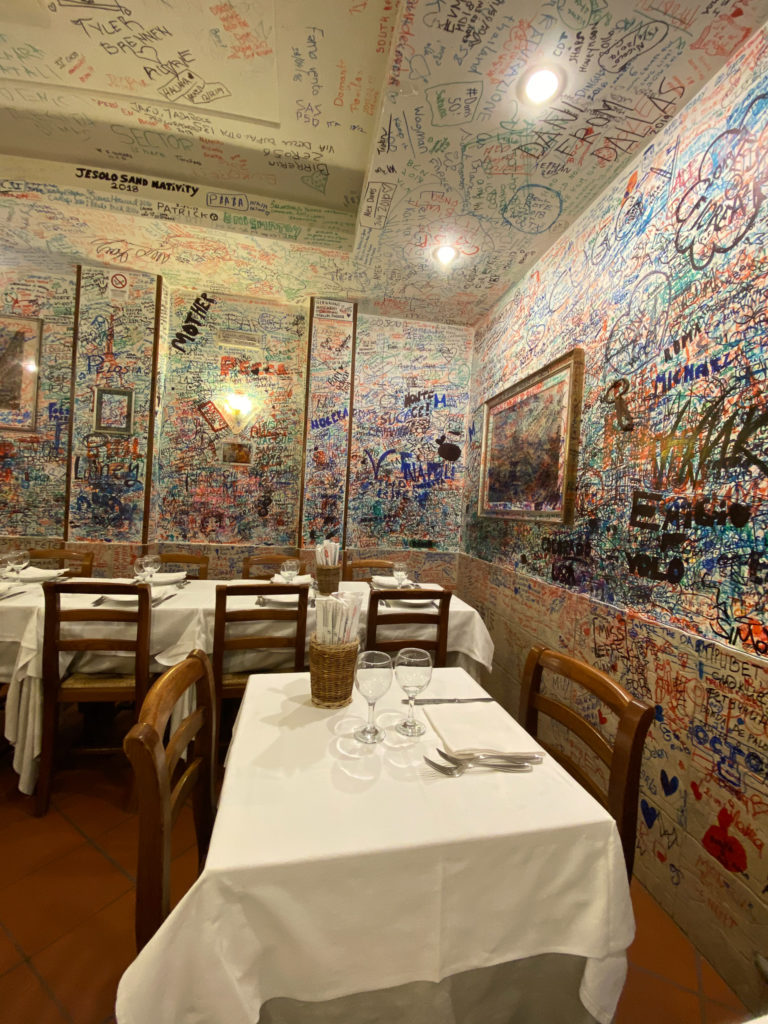 Dinner at Hostaria Romana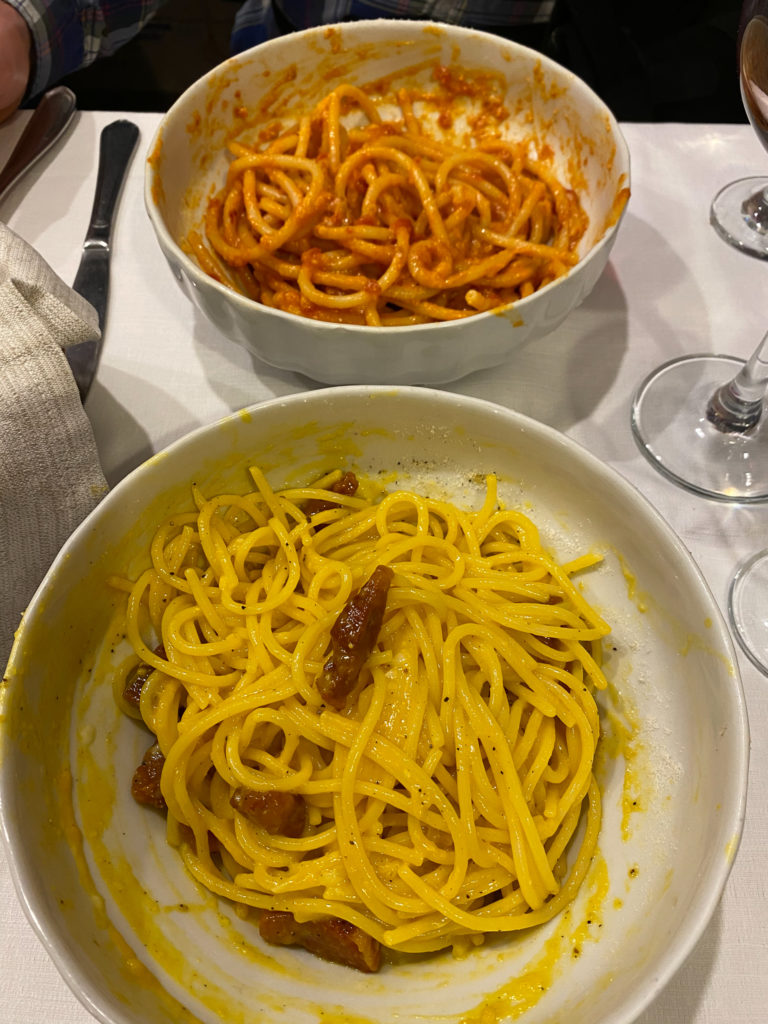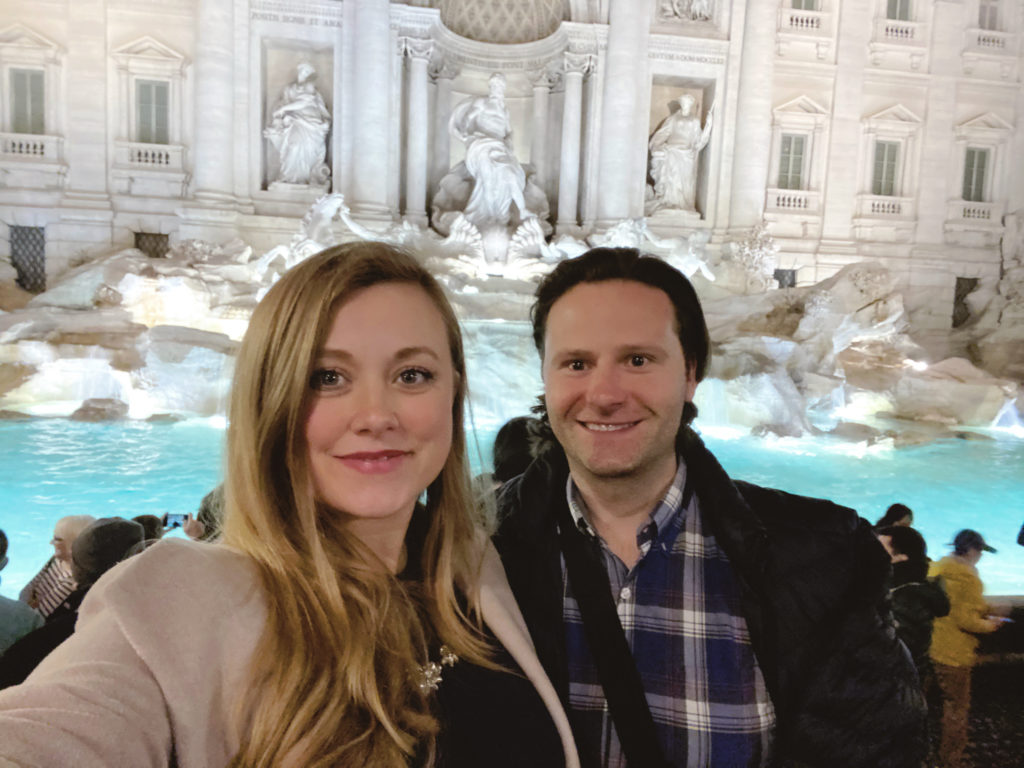 Trevi by Night
Day Three:
Breakfast at Cafe Cafe Bistro
Up early to tour Colosseum
Lunch at Emma Pizzeria
Roman Forum and Palatine Hill
Gelato at Giolitti
Dinner at Hostaria Romana
Trevi by Night
We kicked off day three with an early tour of the Colosseum. We paid extra for the guided tour and got to go below and that was definitely worth it. We stopped into Cafe Bistro for breakfast before and it was nice to have a smoothie and fruit bowl to break up all the pasta. Pro Tip: break for lunch then come back and visit the Roman Forum and Palatine Hill which is included as part of your ticket with Colosseum. It will be way less crowded. We loved Emma Pizzeria for lunch. It was bougie and modern but we still really enjoyed it.
After we walked around the Roman Forum and Palatine Hill, we made our way to Giolitti for gelato. This was by far the most classic and old school of all the gelato spots and I absolutely loved it. Even though it was packed with tourists, I still found it charming. My tip is to pay the extra to sit at table. Brandon was able to order a beer and some snacks and I had the most epic, over-the-top gelato. Plus, it was worth the few extra dollars to have table service and a place to rest our feet.
For dinner we went to Hostaria Romana. Again, you will 100% need a reservation. We sat in the basement with all the graffiti and def felt it was the best room in the house! We also both agree this was probably our favorite meal of the trip. However, every place we had dinner I would recommend without hesitation but Hostaria Romana I would insist upon. Let's just say that I won't be visiting Roma without visiting Hostaria Romana! It's close to Trevi Fountain, so we stopped by there after dinner. Trevi was definitely so beautiful at night! Probably even better than during the day!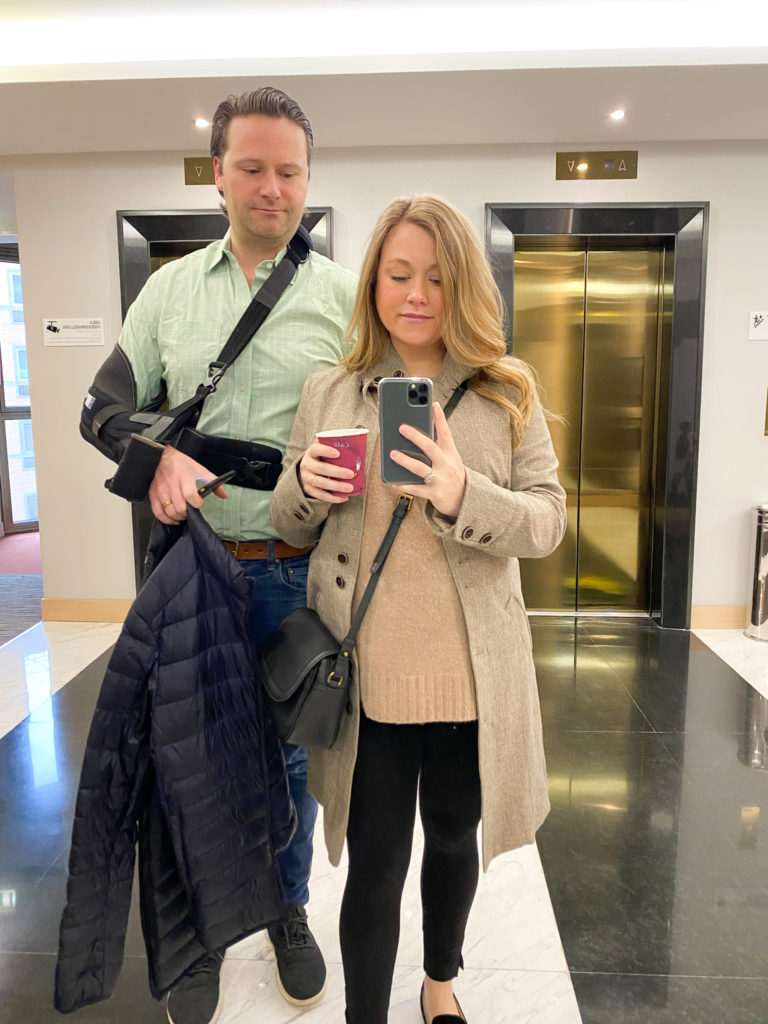 Day Four Looks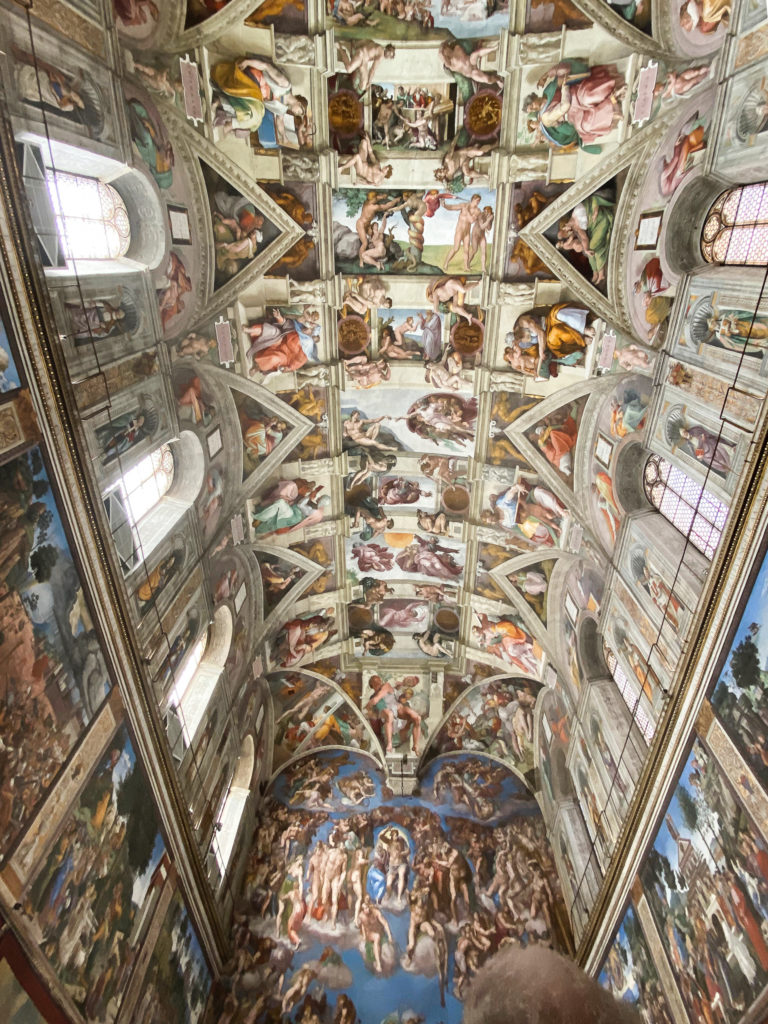 The Vatican and Sistine Chapel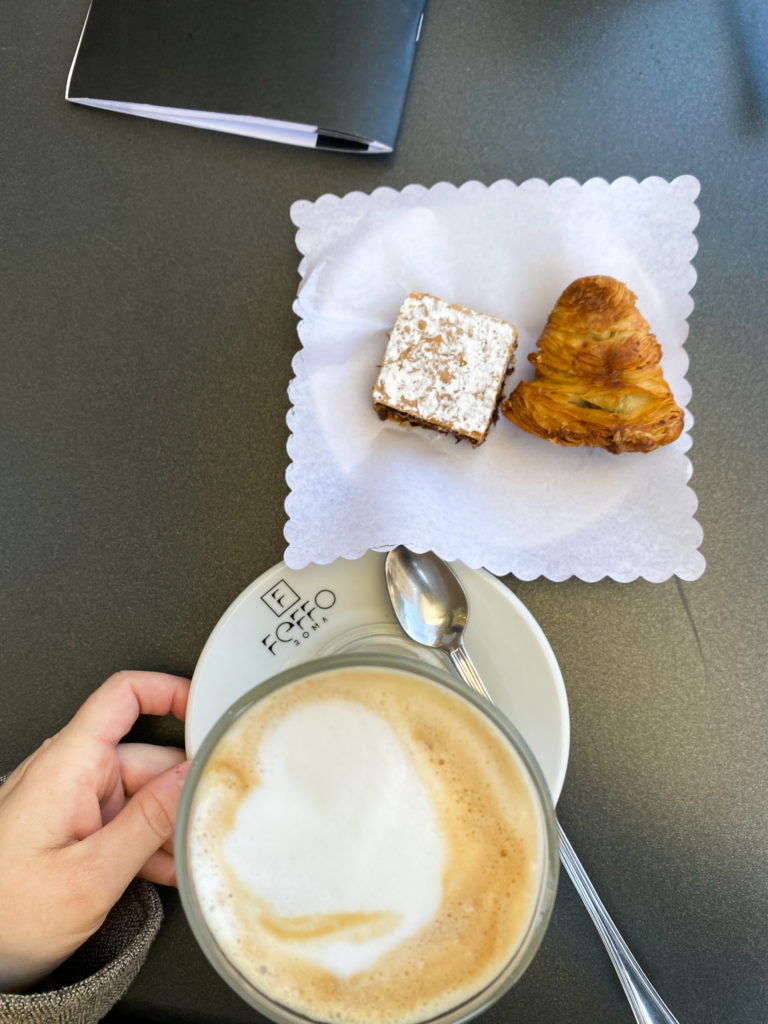 Feffo Roma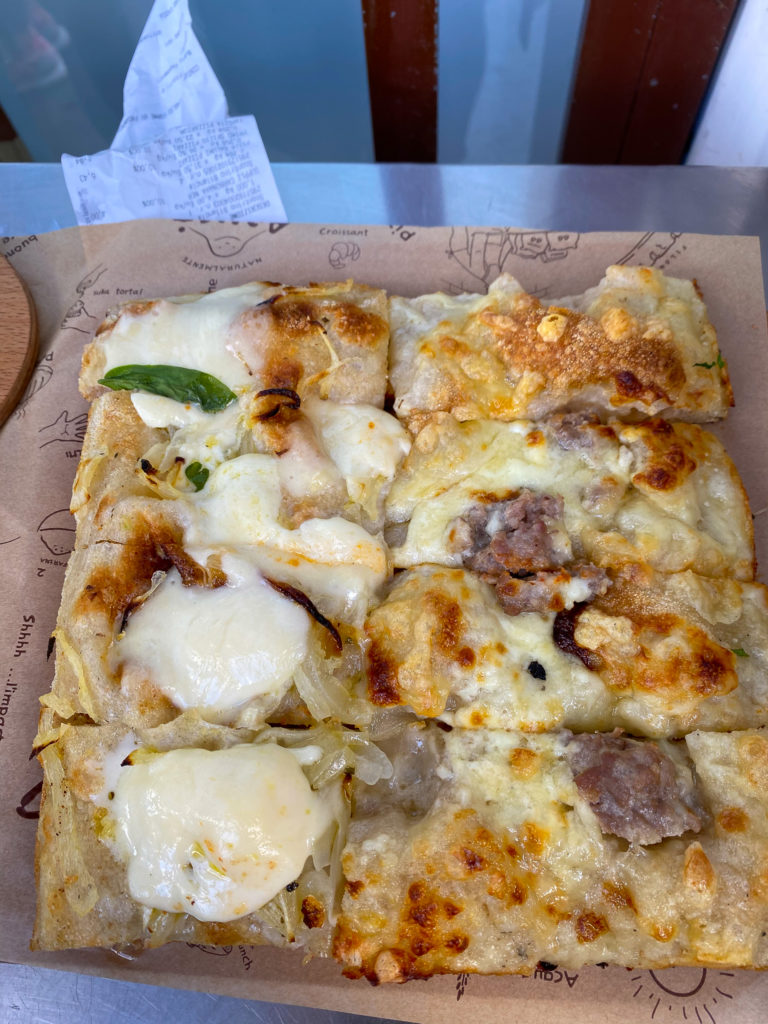 Pizzarium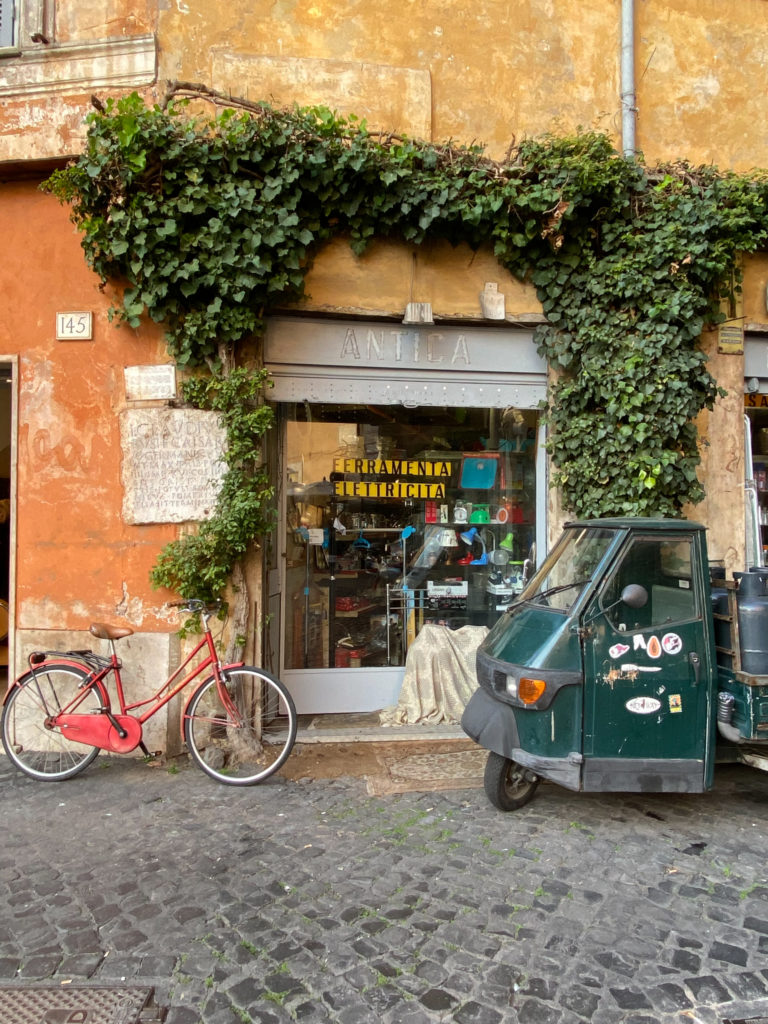 Centro Storico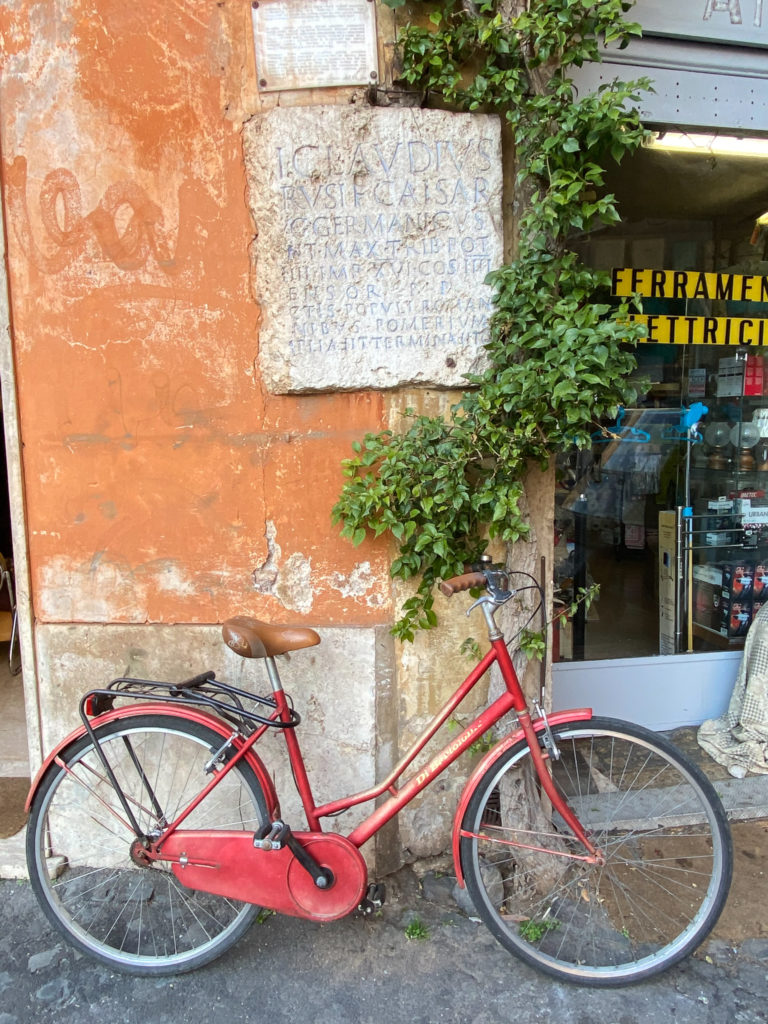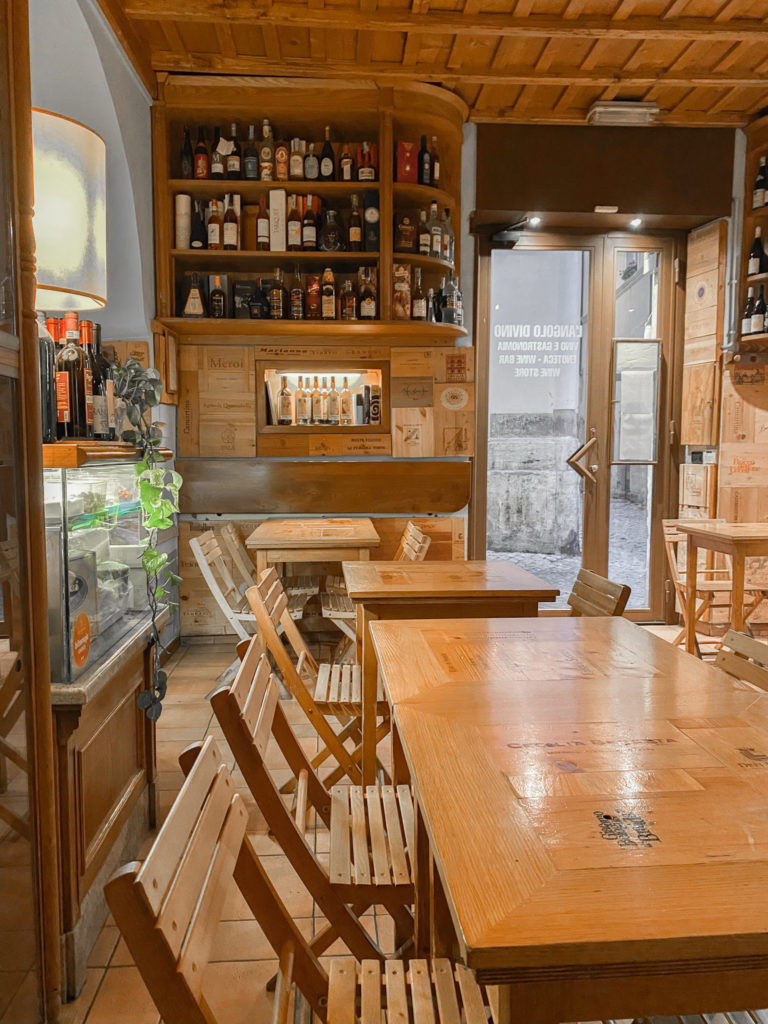 Langolo Divino Roma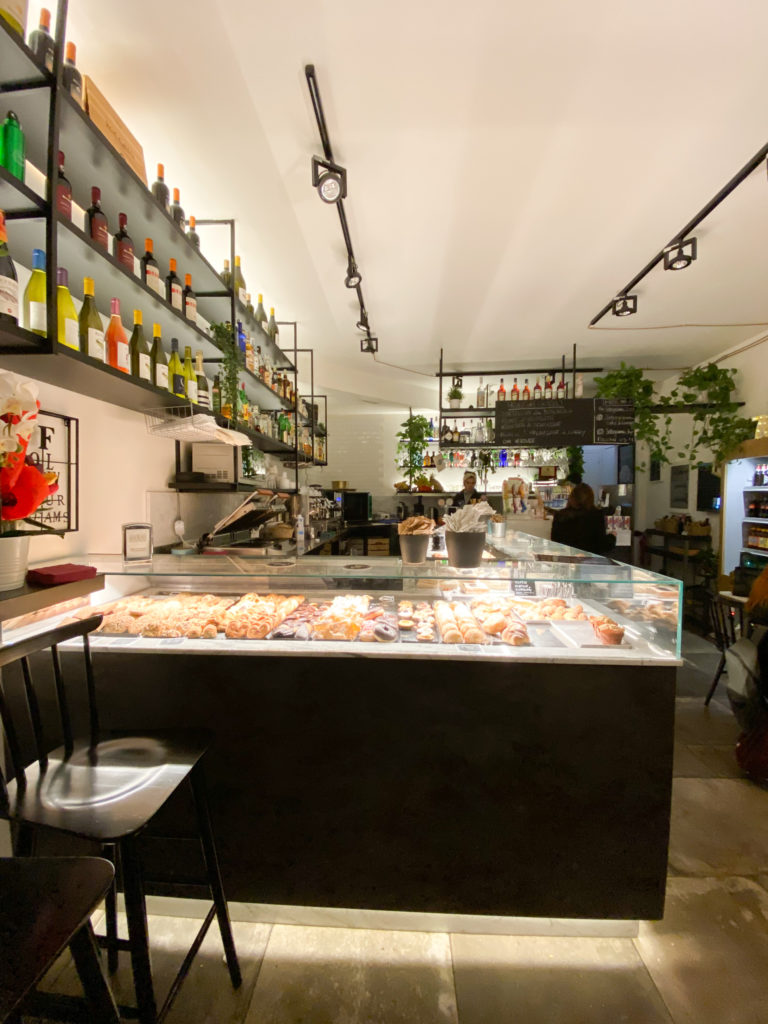 7 Grammi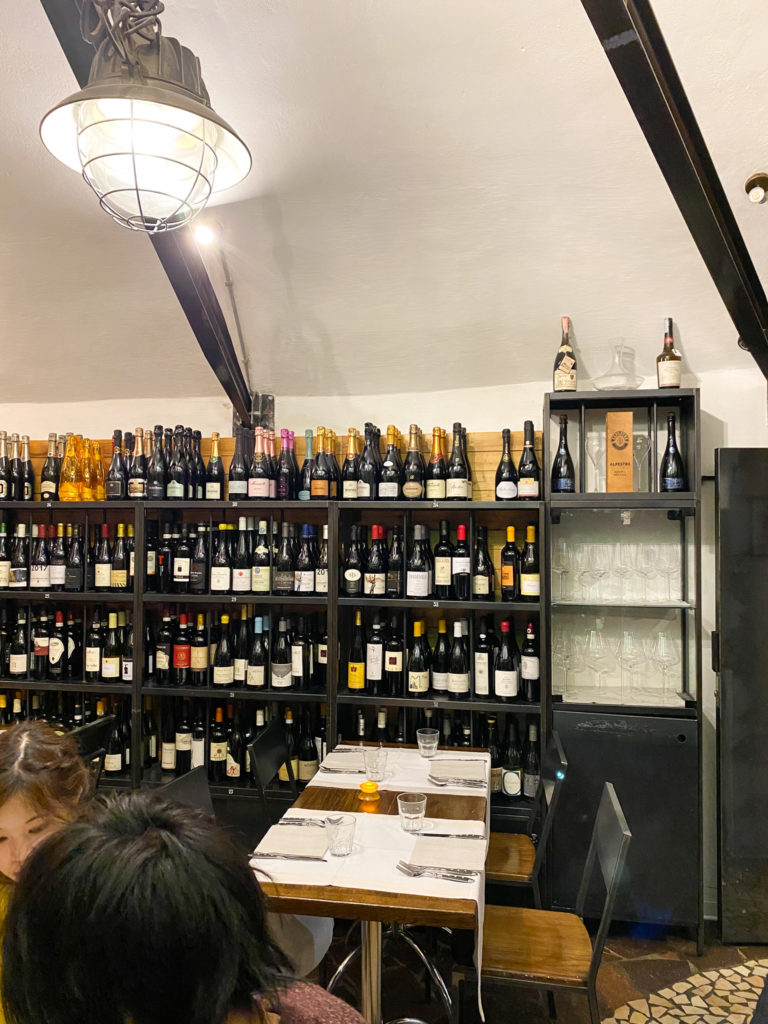 Salumeria Roscioli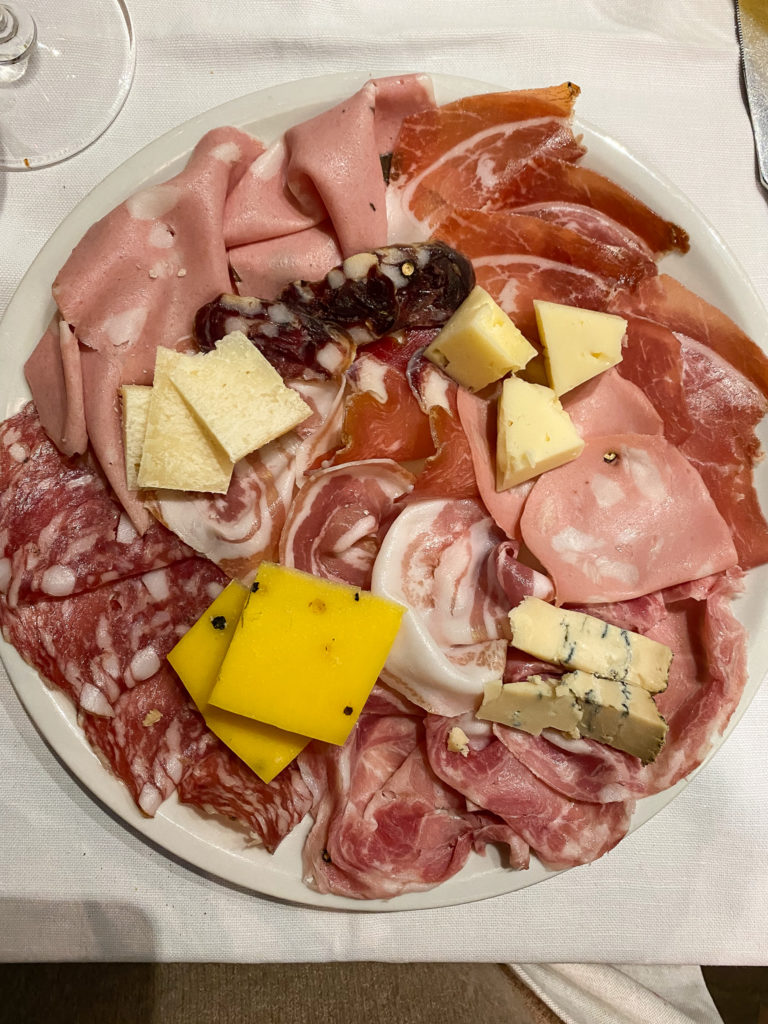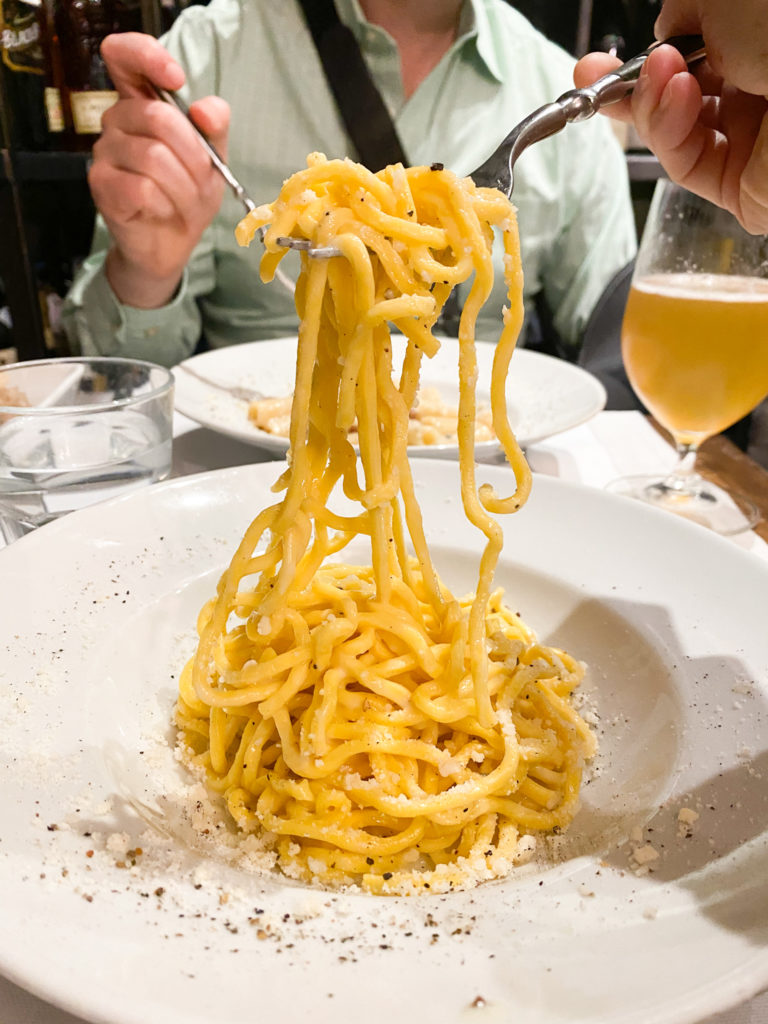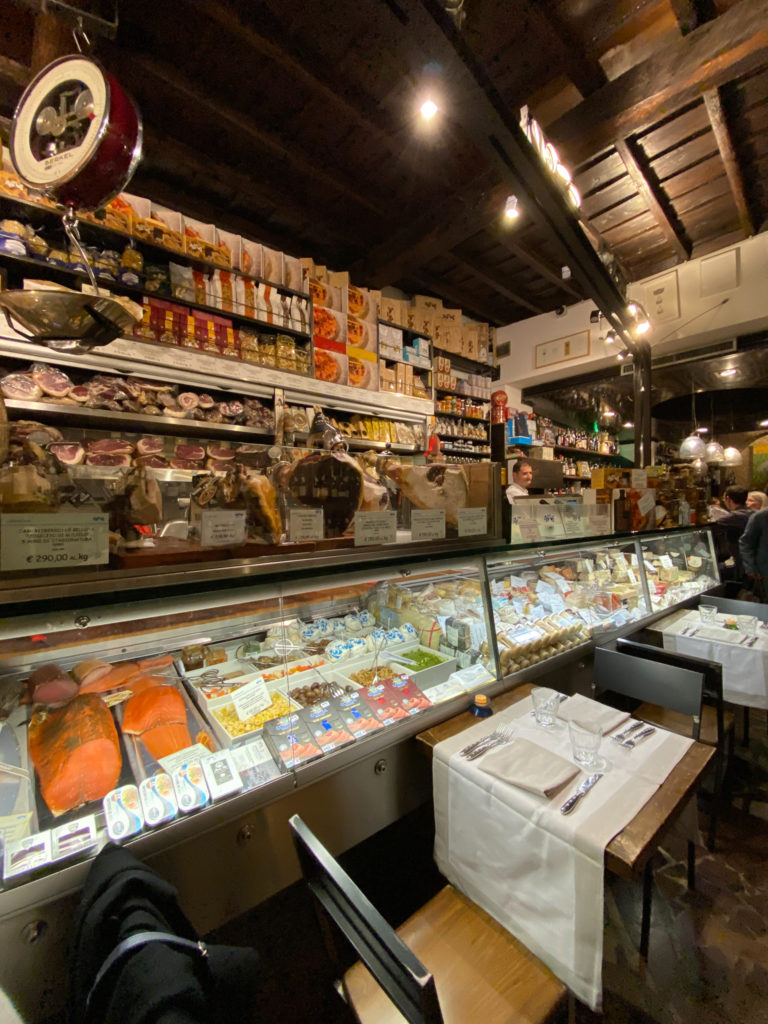 Salumeria RoscioliDay Four:
Tour of Vatican and St. Peter's Basilica
Coffee break at Feffo Roma
Lunch at Pizzarium
Afternoon strolling in Centro Storico
Wine stop at Langolo Divino Roma
Pre dinner coffees at 7 Grammi
Dinner at Salumeria Roscioli
Day four was a big day because we did our Vatican Tour! Talk about a machine… the whole process felt like cattle being herded and this was during low season! I absolutely cannot imagine how chaotic it would have been during the summer! The Vatican is basically a must if you're visiting Rome for the first time. I mean SO MUCH HISTORY but if I am being completely honest I didn't love our experience. I think I just wasn't prepared to be shuffled through so quickly. Although the tour was three hours long, we were moving quick! Our guide was really knowledgable but I just didn't understand that the Vatican is basically one huge art museum. I think if I had had read up on The Vatican beforehand I may have enjoyed the tour more.
After our tour, I was really ready to sit down. I mean three hours of walking in the 3rd trimester haha! Feffo Roma was a cute cafe just outside the Vatican and was perfect for grabbing a coffee and a bite and resting our feet. After that we headed to Pizzarium which was insanely delicious. Be warned, it is literally a walk up counter situation. There is no seating, just people hanging out outside. No bathrooms. But the server did tell me that any bar in Italy has to also serve as a public restroom, so if you need to use the loo, anywhere that serves alcohol has to let you. Pizzarium is fluffy pizza, closer to cheesy bread with toppings then NY style pizza. They cut it with scissors and you pay by the ounce. I loved this because we tried nearly everything they had to offer that day!
After that, we took an Uber to Centro Storico to walk off our pizza. This neighborhood was delightfully charming and bustling with people, cafes and shops. It was a great place to spend a sunny afternoon. We made our way to Langolo Divina Roma which was a really nice wine bar. It was a great spot tucked away that we happened upon. I wish I could have partaken in more of the wine but the selection looked amazing.
We had a late dinner reservation so we popped into 7 Grammi before our dinner. It was so darling and all the food looked great. It would have been perfect for a casual, lighter meal. We had pre-dinner coffees and they were great. Then we had dinner at Salumeria Roscioli. This was by far the hardest reservation to get but I am so glad we did! Everything was pure perfection. The restaurant itself was charming and the food was impeccable. This place definitely was a very, very, very close second to being my favorite meal of the trip. Even as I am writing this I am rethinking my rankings! Anyways, this is the restaurant that changed the way I think about mortadella. I have never been keen on it before but this mortadella was like butter. So good. This is another spot I would gladly take a plane ride for!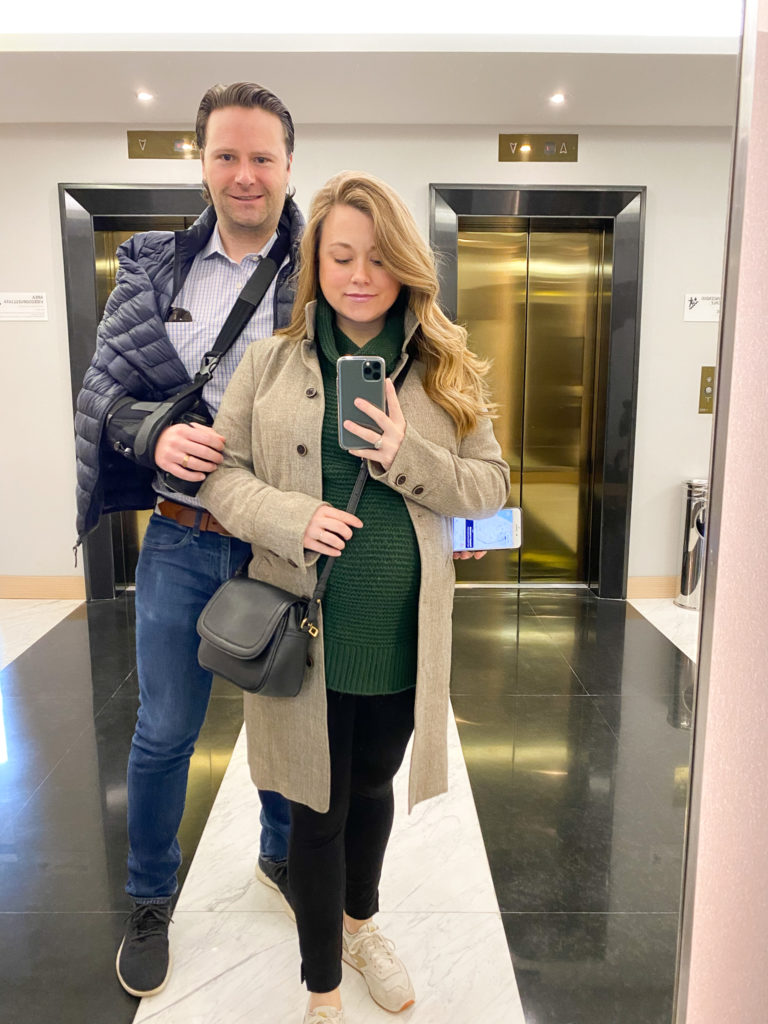 Day Five Looks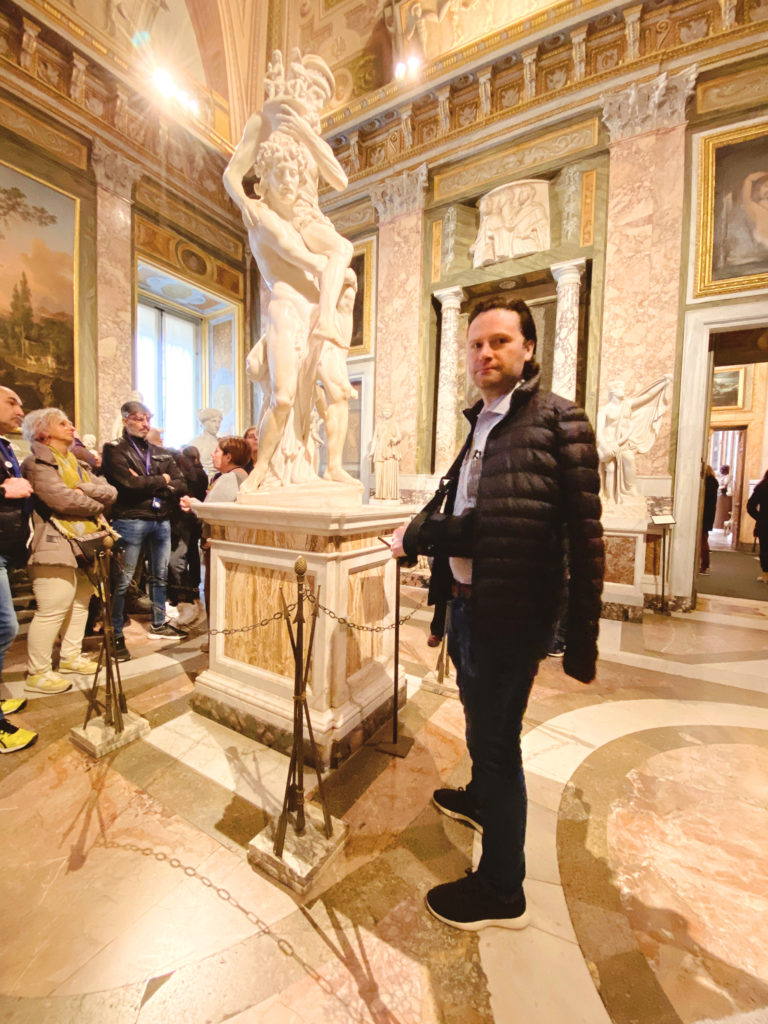 Villa Borghese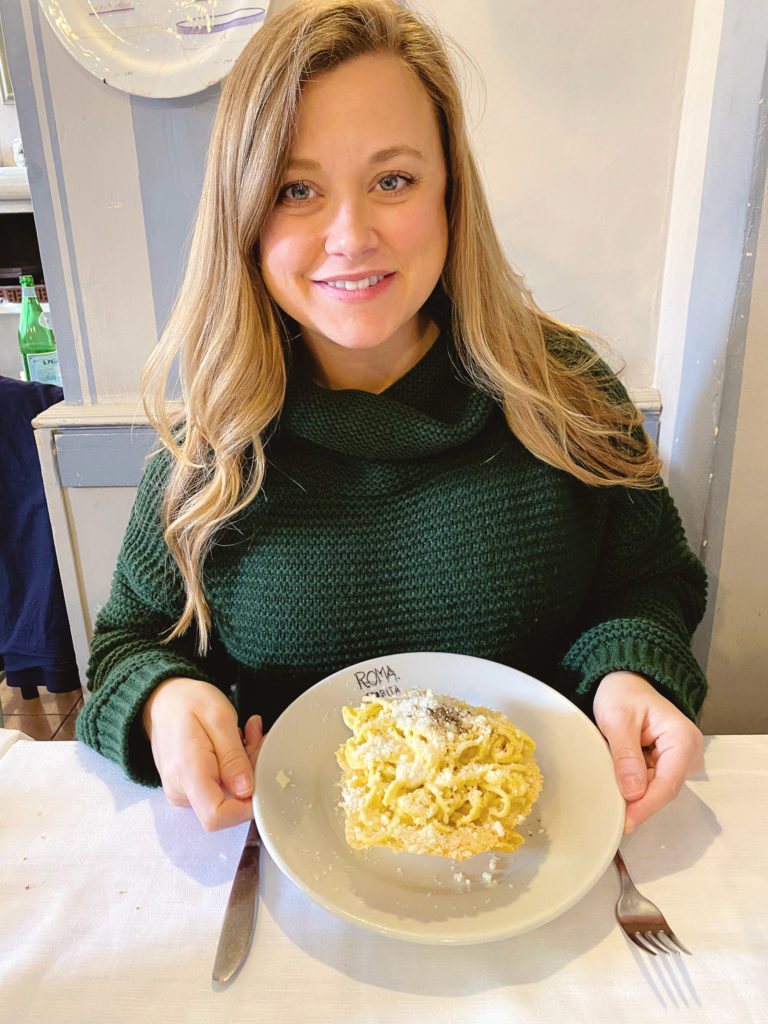 Roma Sparita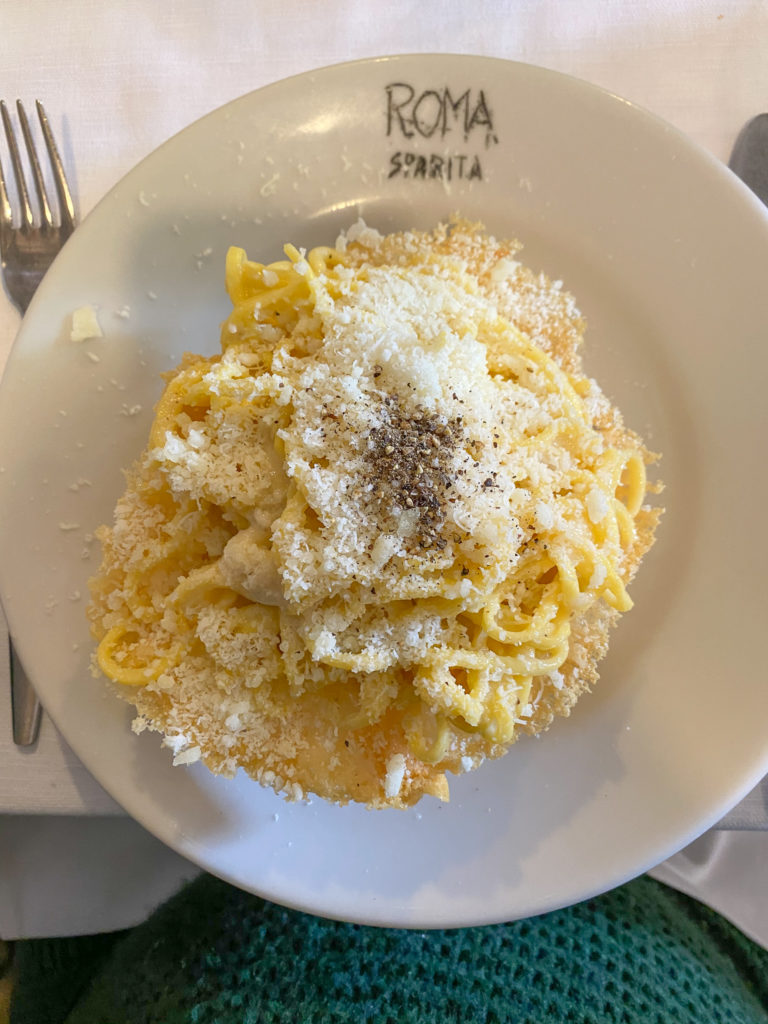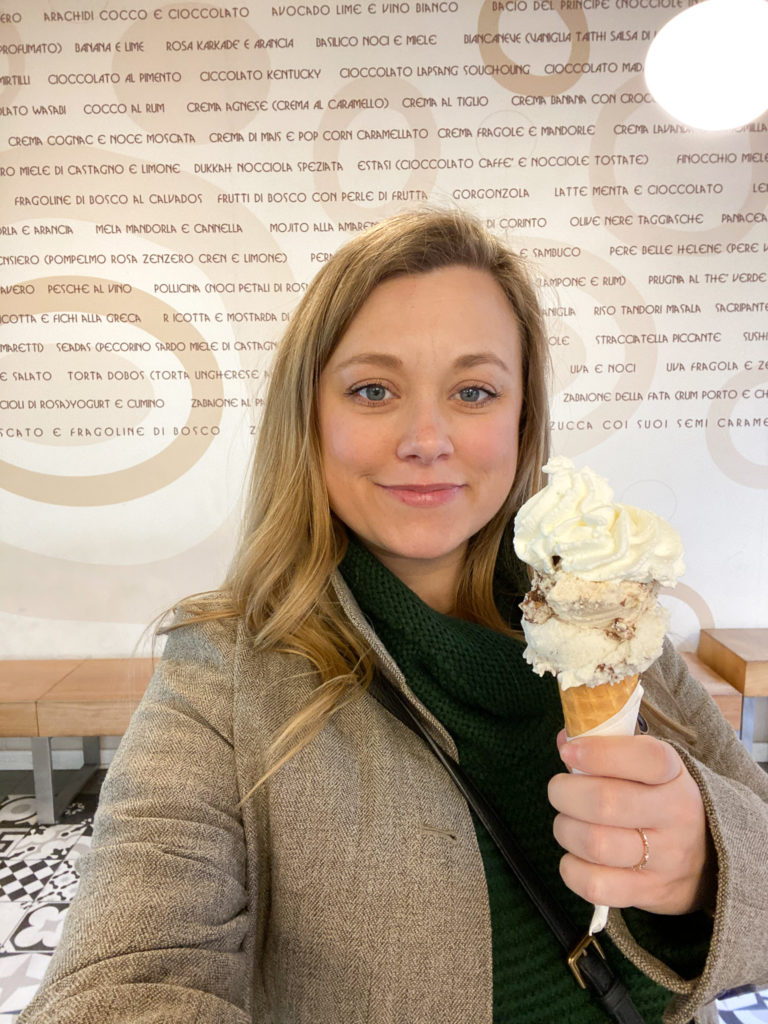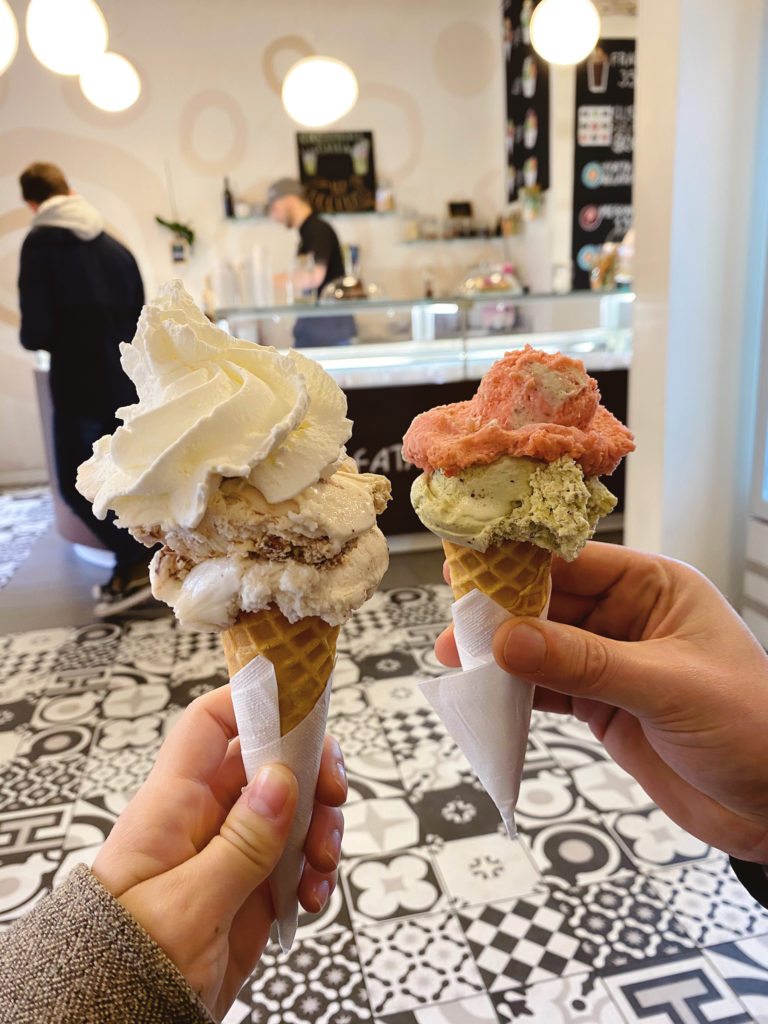 Fatamorgana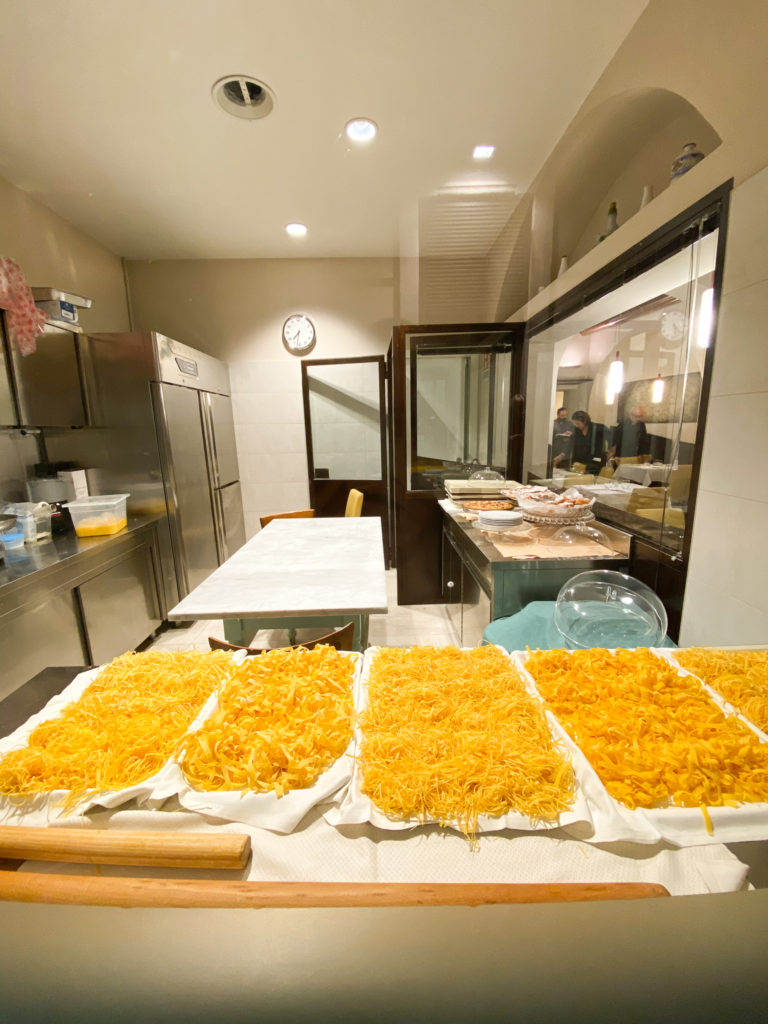 Colline Emiliana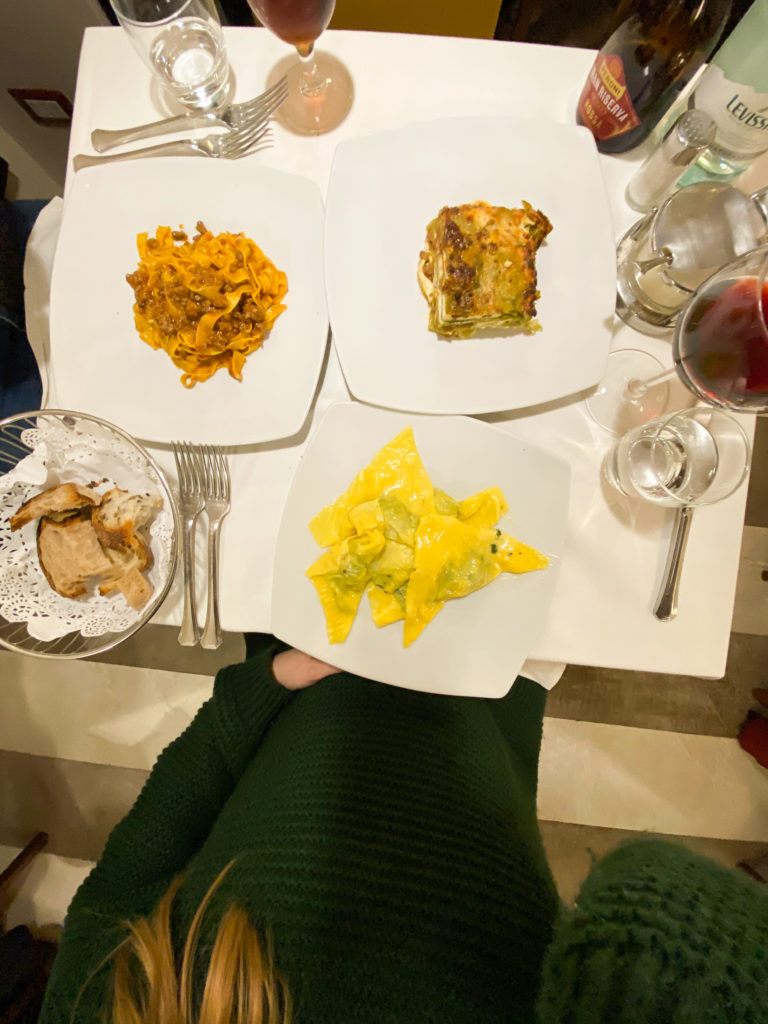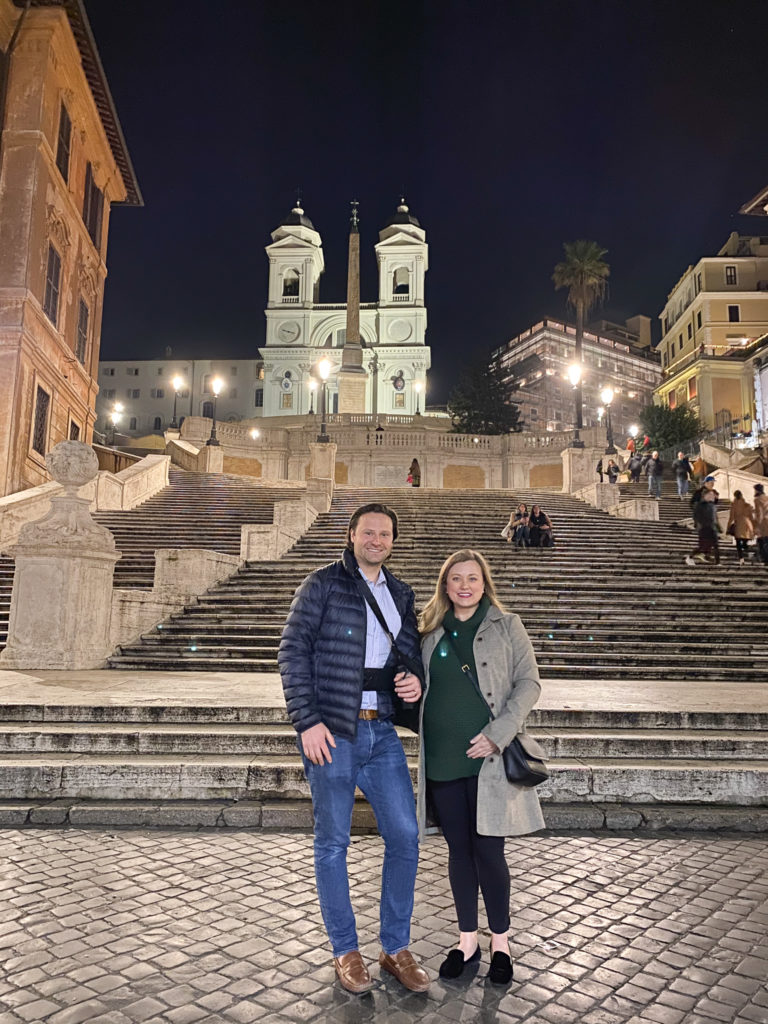 Spanish Steps by Night
Day Five:
Tour of Villa Borghese
Lunch at Roma Sparita
Gelato at Fatamorgana
Dinner at Colline Emiliane
Spanish Steps by Night
Day five started with a tour of Villa Borghese which was really nice. It's both a museum and a park. There is a nice little cafe where you can grab coffees and healthy bites. We spent the better part of the morning roaming around here. Then we headed to lunch at Roma Sparita, which again, be sure and get a reservation! The whole restaurant is dripping in light blue and white and the waiters are all decked out in cute outfits and the whole place exudes old school Italy. This is rumored to be Anthony Bourdain's favorite cacio e pepe so obviously I had to get it. It comes in a parmesan bowl which just makes it even more over the top.
After lunch we made our way to Fatamorgana for an afternoon gelato. This is a modern gelateria and I think even has locations in LA or something. It was very good though. It's a local chain so there are several locations. For dinner we went to Colline Emiliane. We saw several groups get turned away at the door, so best to make a reservation. Colliane Emiliane isn't traditional Roman pastas but is instead stuffed pastas. They were all so good and this is another spot I would recommend.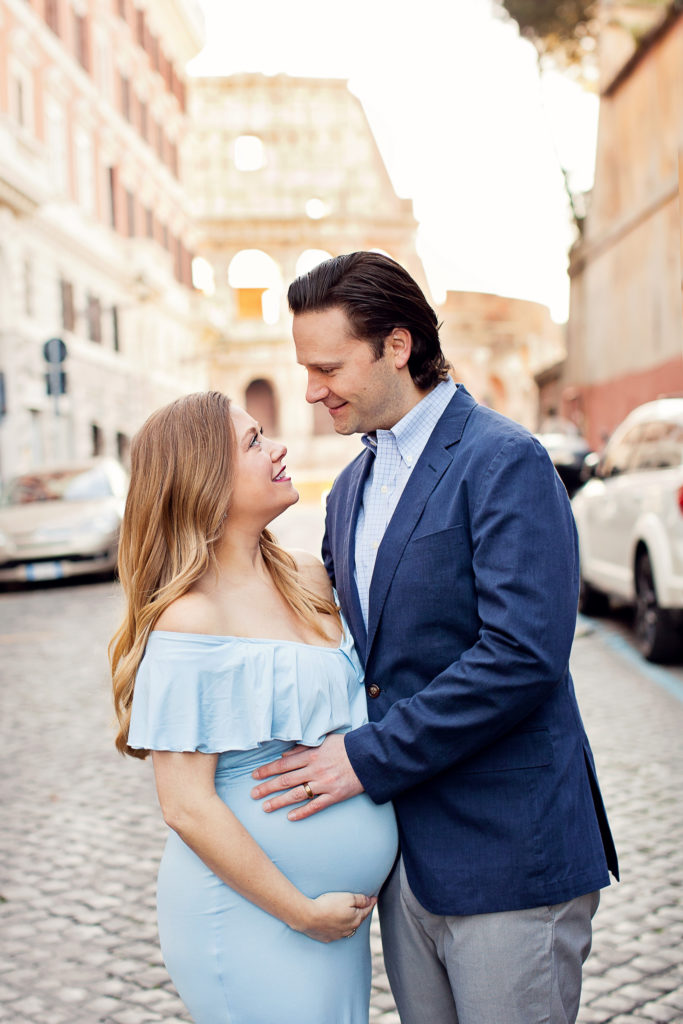 Overall, we had the absolute best time on our babymoon in Rome! We would, and plan to one day, go back again. If nothing else than to just eat! The Enternal City was just great. And somehow, knowing how all the world would change, it makes this trip all the more sweeter.