We've been to Adare, Ireland several times now as we are planning our wedding there! The town is adorable and known as the Cutest Town in Ireland! This post has everything you need to know about Adare, Ireland and Adare Manor!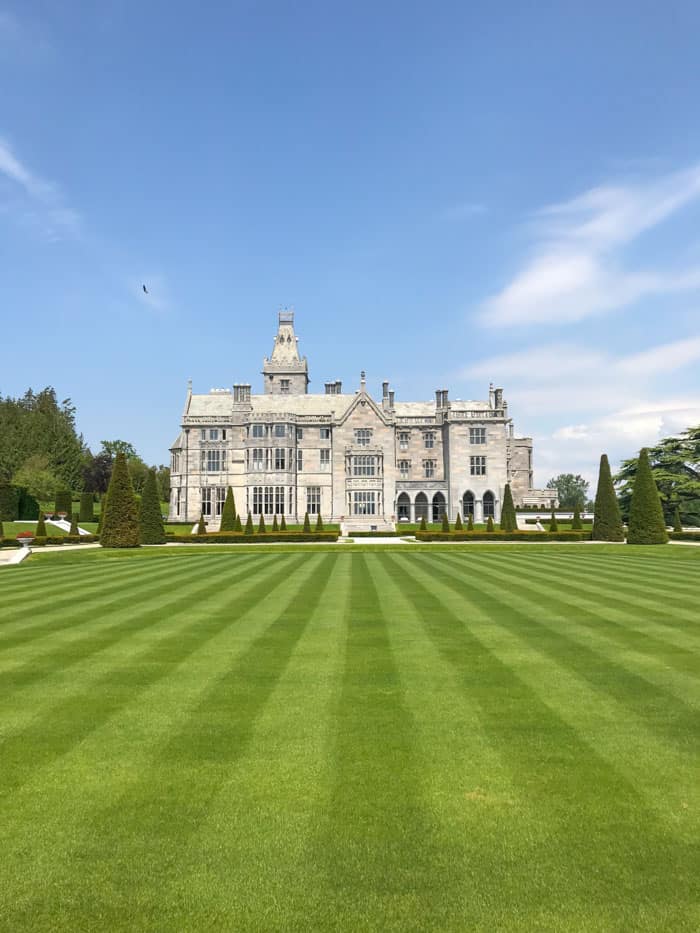 We are inching towards our wedding date this March! Over the holidays, we went back to visit our beloved Irish town, and this time we took our moms. It was the first time for both of them to visit Adare and our wedding venue. It made us all the more excited to get back there in a few short months. Now that we have stayed in this heritage Irish town a few times, we have some favorite places and spaces, and figured I would tell you all about Adare, Ireland!
All About Adare, Ireland
Adare is located in western Ireland, on the opposite side of the island from Dublin. Adare is designated as a heritage town by the Irish government and is renowned as the prettiest town in Ireland! The tiny town is located about 15-20 minute drive from Limerick but it's worlds away with it's thatched roof cottages lining the main street and the town is dotted with hotels and B&Bs and about four pubs and quite possibly the nicest, friendliest people you will ever meet.
We were charmed by the town of Adare and it's people on our first visit last year. The famous Adare Manor anchors the town with it's golf course and luxury hotel. We loved this place so much we chose to get married there!
Now that we have a few visits under our belt, I am sharing some of our favorites places to eat, drink and stay in Adare, Ireland!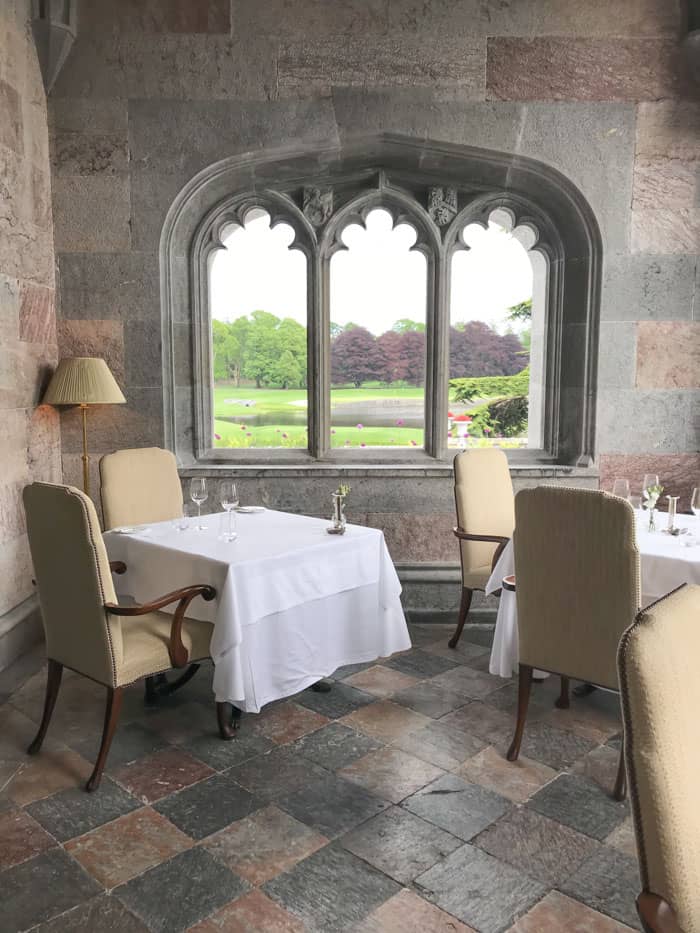 The Oak Room at Adare Manor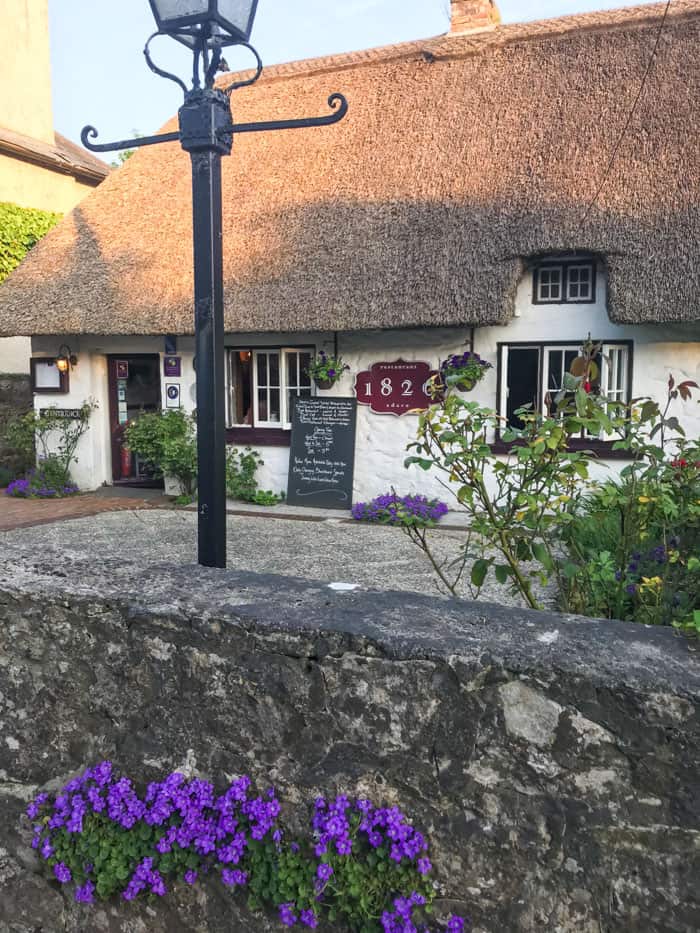 1826 Adare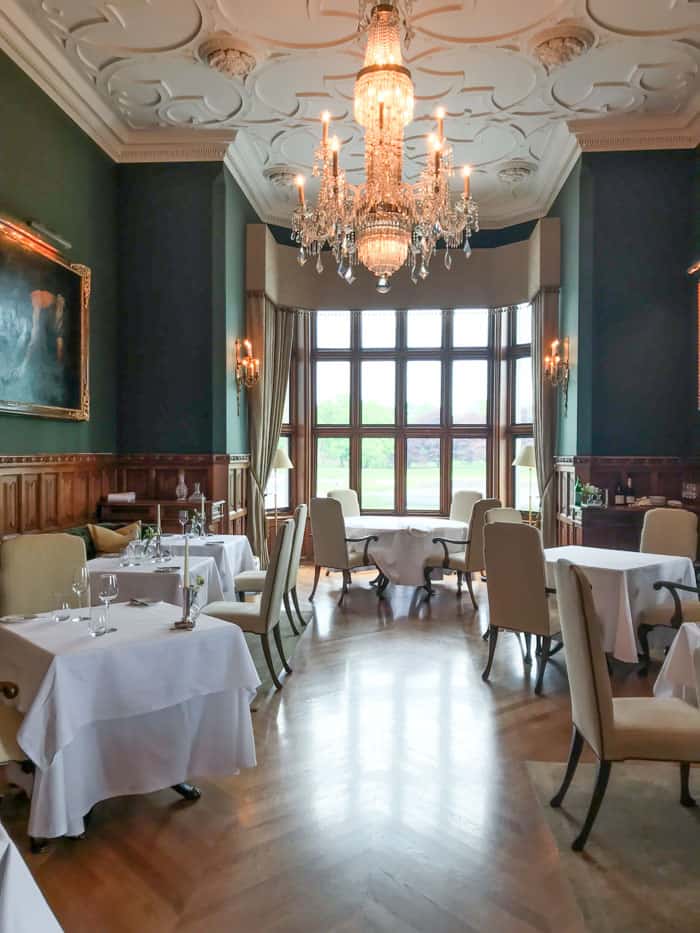 The Oak Room at Adare Manor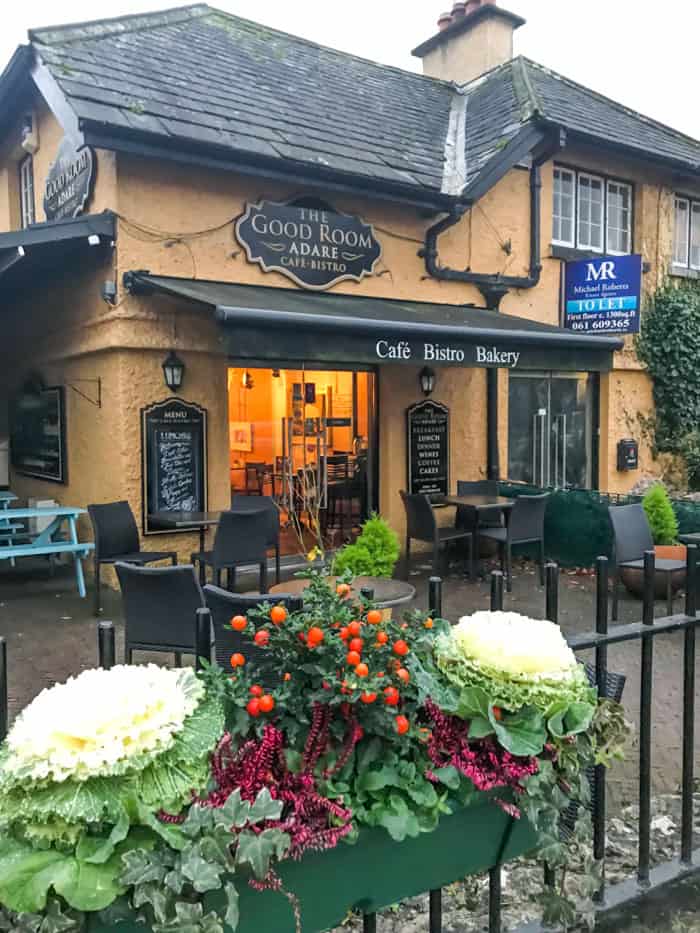 The Good Room Bistro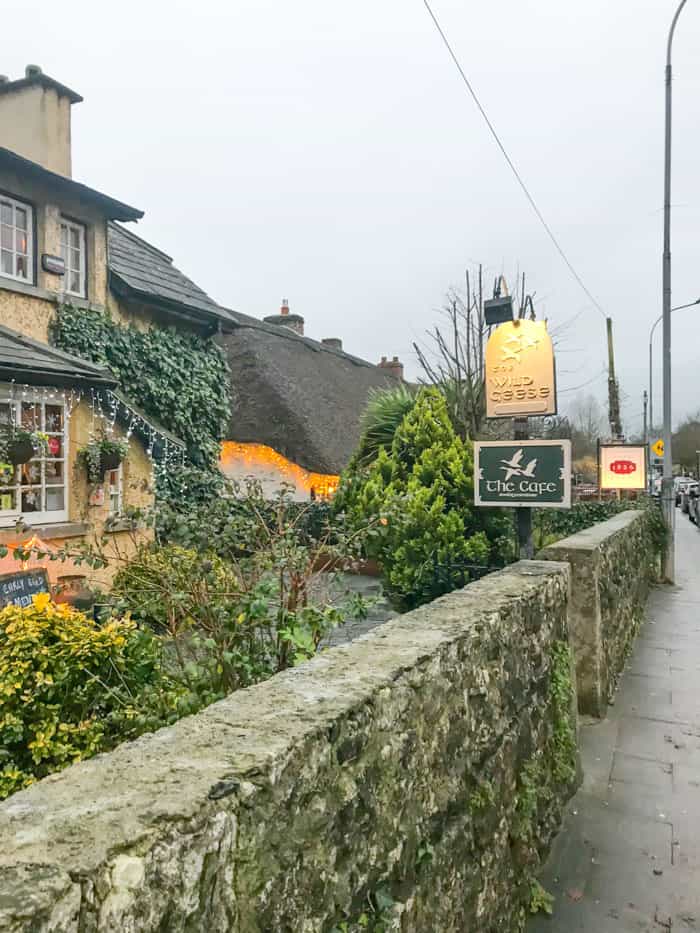 The Wild Geese Restaurant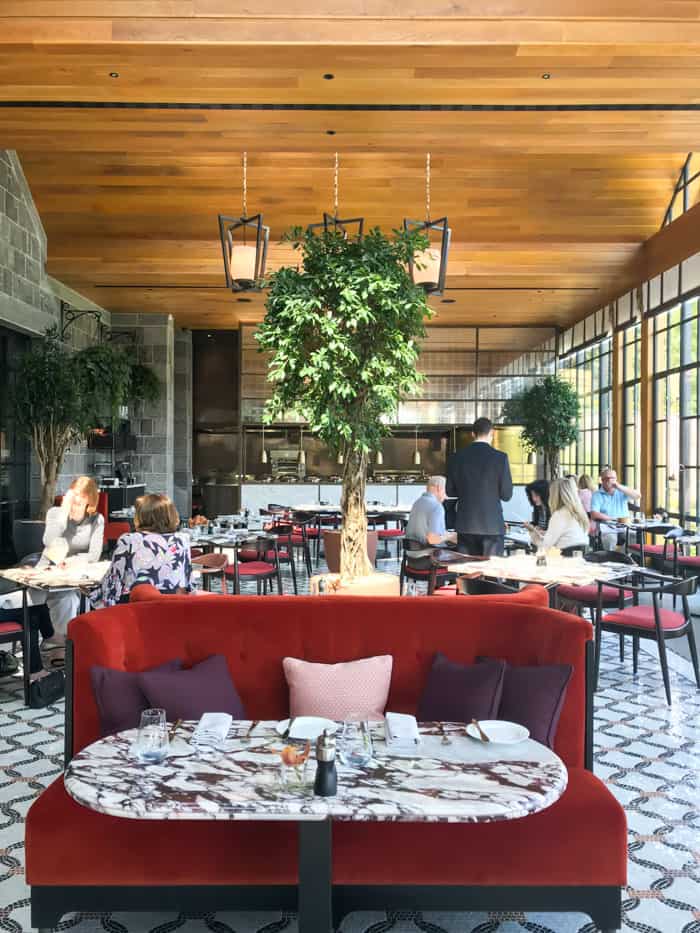 The Carriage House at Adare Manor
Where To Eat in Adare, Ireland
Despite Adare's tiny size, we have had some incredible meals! In general, we have been blown away by the food in Ireland! We weren't expecting such great food on a small island but we couldn't have been more wrong. From fine dining to pubs, Ireland, and especially Adare, has some great eats!
1826 Adare– This family run restaurant serves up modern fare for dinner. This tiny thatched roof building is putting out delicious meals with friendly service. We love this place so much we are hosting one of pre-wedding dinners here. Be sure to make reservations ahead of time to ensure you can get a table!
The Blue Door– A more casual spot, we like to pop in for lunch. They have salads, sandwiches, soups and usually some sort of daily special that will make it hard for you decide what you want!
The Wild Geese Restaurant– We love this restaurant because it feels like walking into someone's home. You will be greeted by the chef downstairs and seated next to a cozy fireplace to discuss what you'd like for dinner. Then you'll head up stairs to be seated in the dining room and treated to a wonderfully curated dinner. This one is a real treat!
The Good Room Bistro– Perfect place to pop in for a coffee and pastry! We like it for breakfast but lunch is great as well.
The Oak Room– If you're in search for one of the finest dining experiences in Ireland, then the Oak Room at Adare Manor is the place. This exquisitely restored dining room will transport you to another era only to be brought back by the modern tasting menu and impeccable wine list. Reservations required.
The Carriage House– Casual and clubby, the Carriage House at Adare Manor is where you'll grab a beer after a round of golf or a cocktail after a day of exploring the village. The Carriage House also has a dining room in the atrium that provides a wonderful indoor dining experience that feels like outside.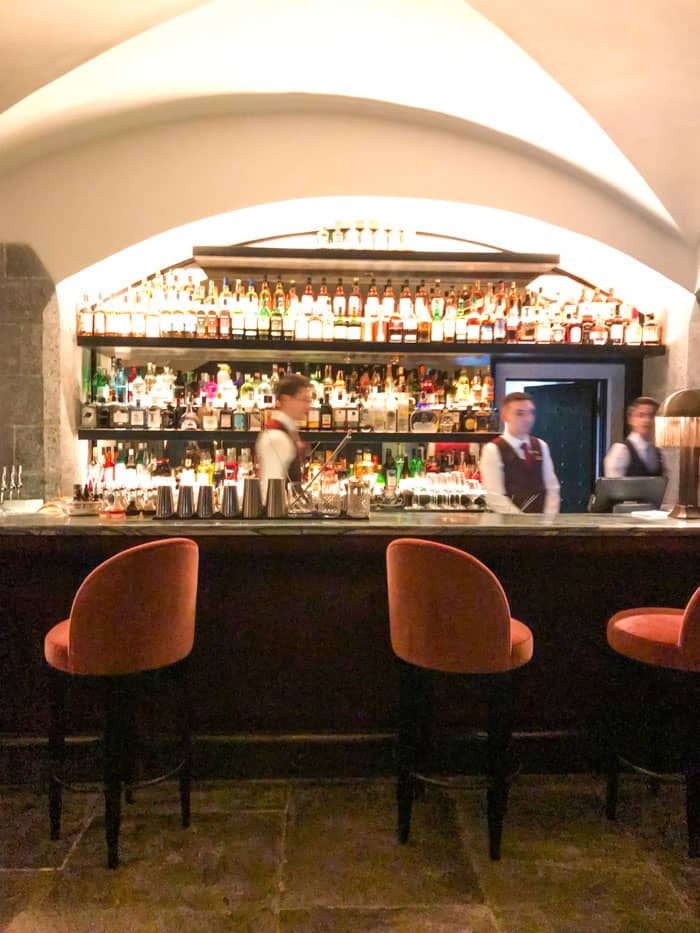 The Tack Room at Adare Manor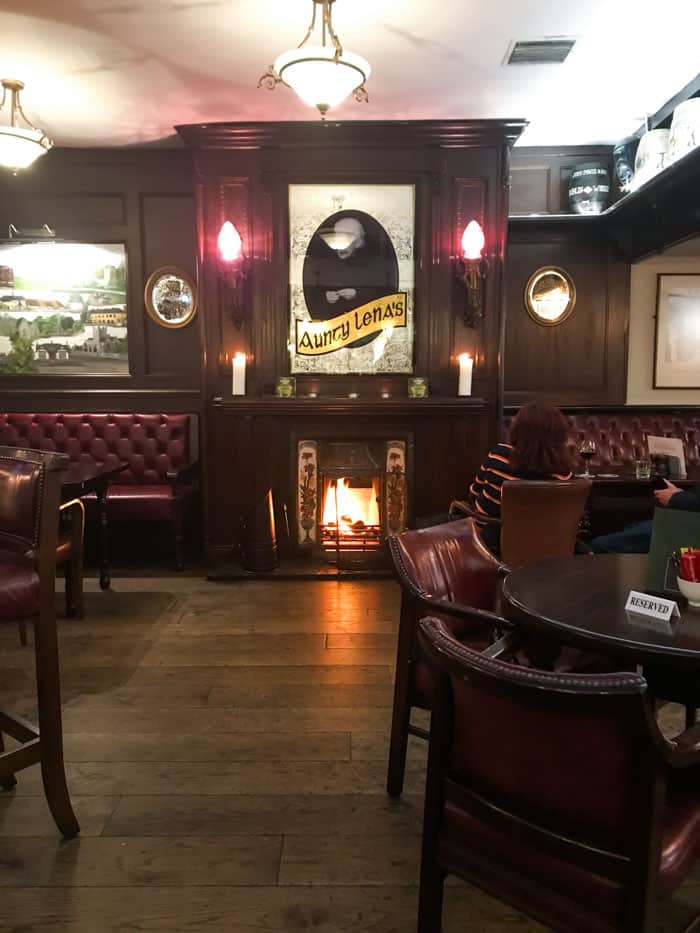 Aunty Lena's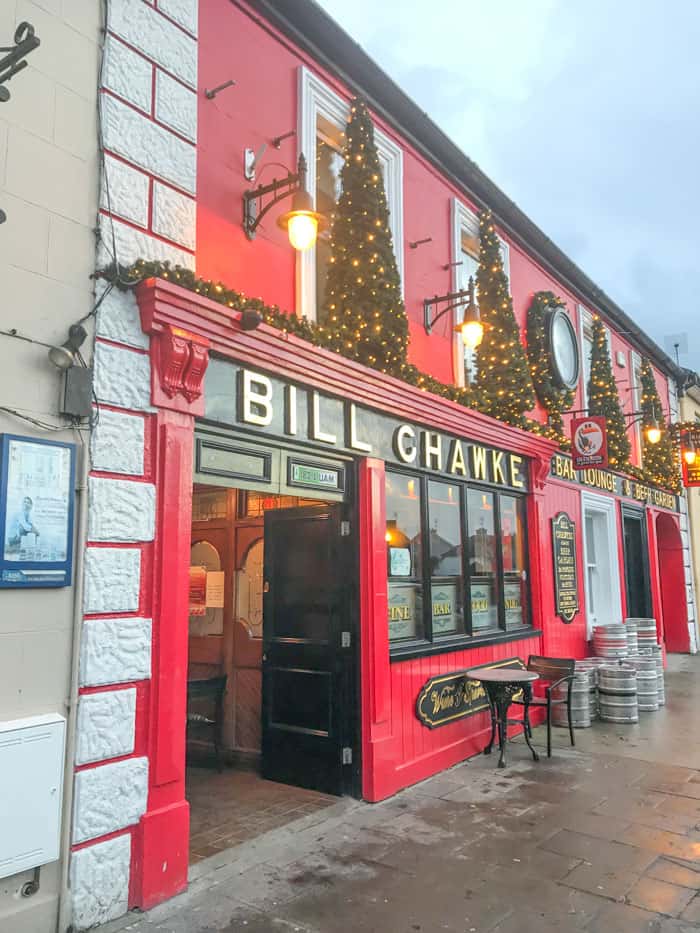 Bill Chawkes Bar
Where To Drink in Adare, Ireland
There are only a few pubs in this tiny town and they each have their own vibe. All of them serve food, which is surprisingly good, especially when you compare it to American bar food. It's pretty common to see families at pubs, especially around dinner time. There is often live Irish music as well.
Bill Chawke's Bar– This pub gives us all the feels! It's so Irish and so perfect. We are hosting our rehearsal dinner here. The owner is the absolute best and the food and drinks are traditional and just what we wanted!
Pat Collins Pub– This spot charmed our pants off, probably because we walked in out of the rain to be greeted by friendly strangers and fast services. There was a jig band playing and every time we go back to Pat Collins we get the same charming feel.
Aunty Lena's– There always seems to be a nice fire burning at Aunty Lena's and I like to pull up a bar stool and strike up a conversation with a local over an Irish coffee. BMW likes that they are usually showing sports if they are on.
The Tack Room – To score a seat here you'll need to book a room at the Adare Manor Hotel. The Tack Room is only open to guests of the hotel. This bar is tucked away in the basement of the Manor and serves craft cocktails in the most delicate glasses, each unique and special. The menu is pages and pages long and the whiskey selection is one of the nicest we have seen anywhere. Cozy up on the pink velvet couches for long, fun night! The bar often stays open to the wee hours of the morning.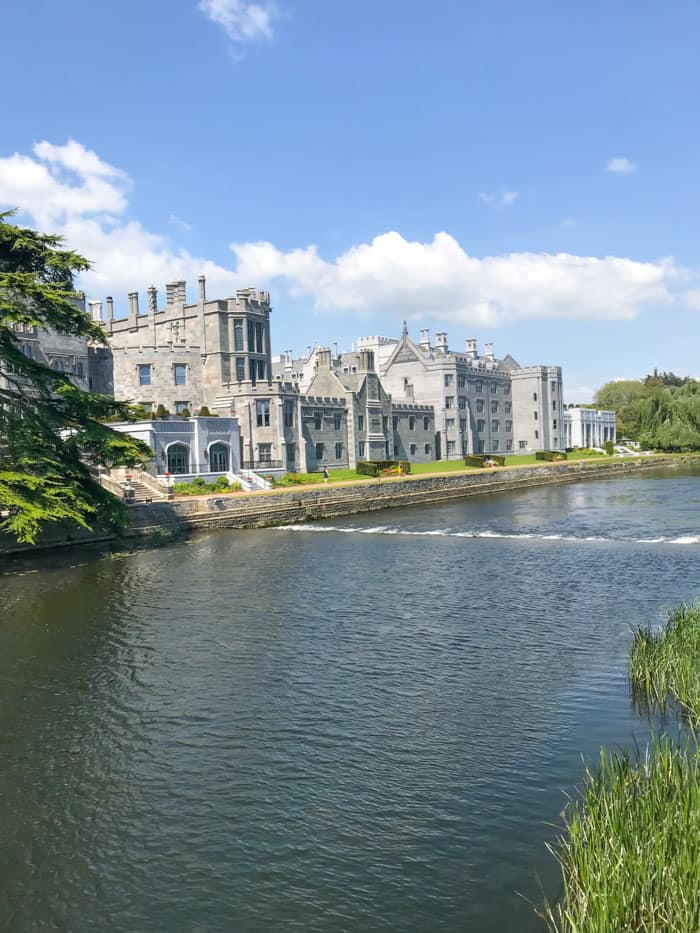 Adare Manor Hotel & Golf Resort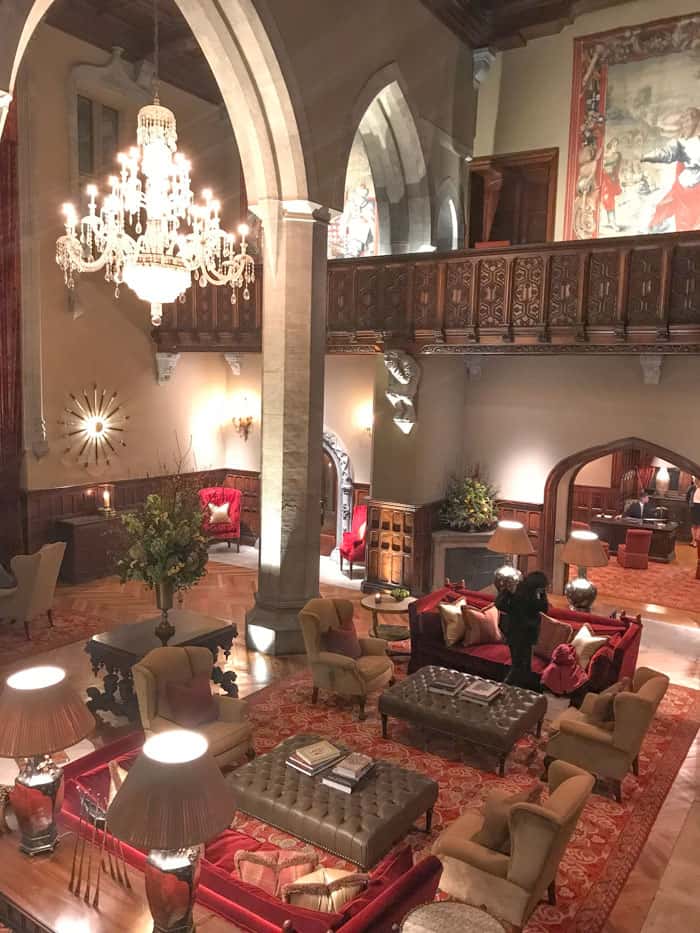 Adare Manor
The Drawing Room at Adare Manor 
Where To Stay in Adare, Ireland
While I must admit, I am bit biased here, all the hotels and B&Bs in Ireland are staffed by the friendliest, most helpful people. We have stayed at each of these spots and had a great experience at all of them.
Adare Manor Hotel & Golf Resort– The fanciest and certainly most high-end of all the hotel options in Adare, the Adare Manor compares to none. Their slogan is "Beyond Everything" and it 100% lives up to the hype. Adare Manor manages to be incredibly high-end without any of the pretentiousness. You'll find the most helpful staff, the most gorgeous hotel with every detail accounted for and several delicious restaurants and plenty of places to grab a drink.
Fitzgerald Woodlands House Hotel & Spa– We stayed here over Christmas and this hotel was incredibly charming. The rooms were quite spacious and had a homey feel. The hotel is still run by the Fitzgerald family and you'll find that many of the staff have spent their careers here.
The Dunraven Arms Hotel– This Dunraven is conveniently located right along the main street, making it a great place to check in for the night. They have a nice brunch in the morning and swimming pool and gym if you're looking to get a quick workout in over your holiday.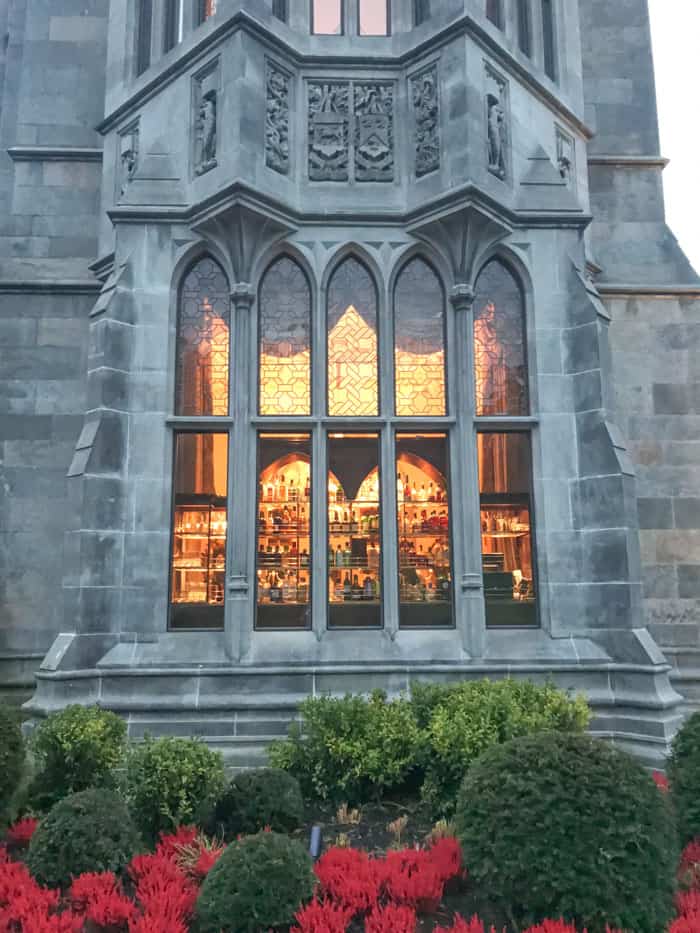 These are some of our most favorite spots in Adare, Ireland! Needless to say, we are beyond excited to share this town with our friends and family for our wedding!