These Fudgy Olive Oil Crinkle Top Brownies are easy to make and so dense and delicious! They have a rich chocolate taste that everyone will love!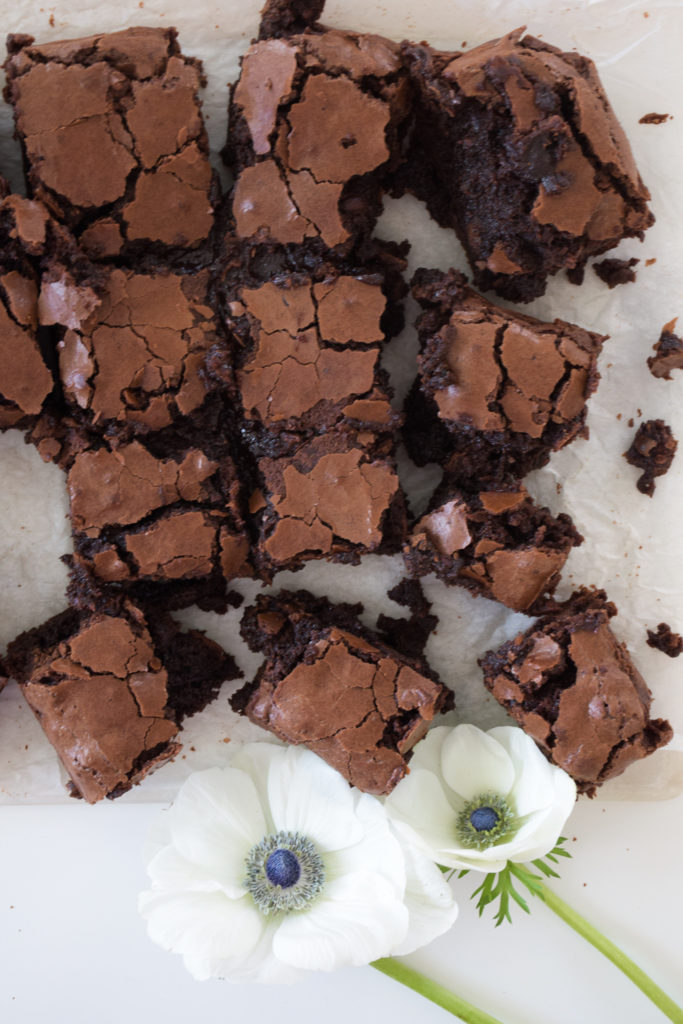 Y'all are going to fall in love with these brownies I just know it! Seriously. They are so good and this recipe never fails. Chocolatey. Dense. Delicious. When I have a hankering for a brownie let me tell ya there is not much else I can think about until I make these! This week I have been sharing all our favorite recipes that we make over and over again and these brownies are on rotation often around this casa!
This post contains affiliate links. If you purchase a product through these links I may earn a few pennies. Thanks for keeping this free blog going!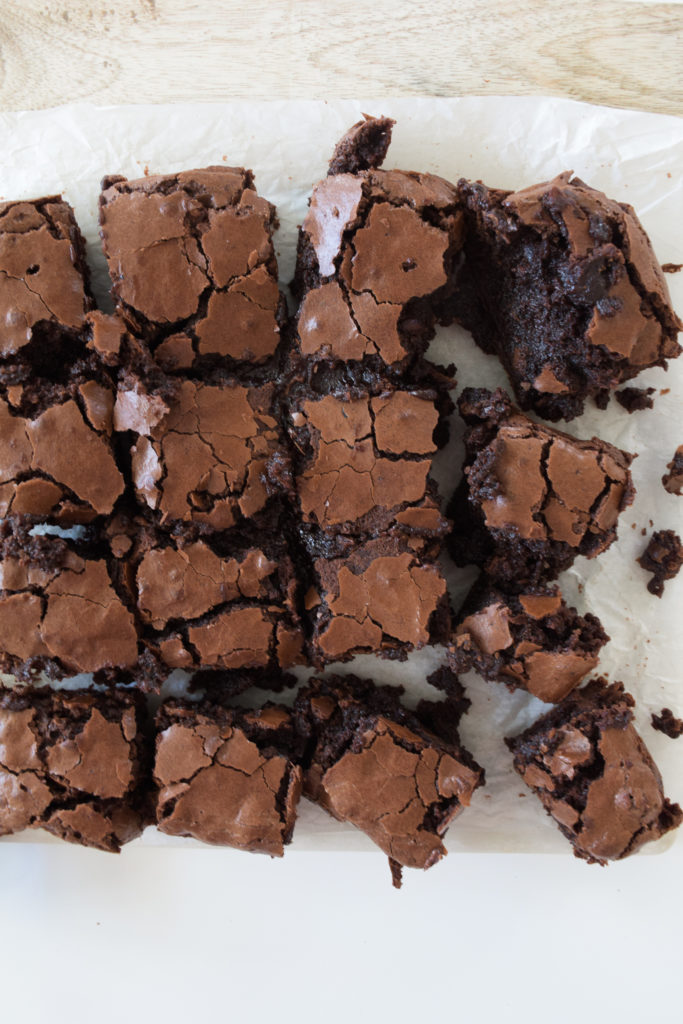 Fudgy Olive Oil Crinkle Top Brownies
That crinkle top! Gets me every time. I like to use olive oil in these brownies for the hint of flavor they impart. You can sub vegetable oil but go for the olive oil if ya can! I call for Dutch processed cocoa for the deep flavor it brings. I also use a bit butter because it helps the brownies rise ever so slightly, just enough to give me that crackly crust. A bit of espresso powder goes a long way to bring out the rich flavor of the three, yes three, different types of chocolate in this recipe!
I call for you to use mini bittersweet baking chips. This is so that you don't have to spend time chopping chocolate bars. One of my least favorite kitchen tasks because of the mess it makes and I forever find myself wiping up tiny melty shards of chocolate. Then I tell you to fold in semi sweet baking chips at the end so that there are little pockets of melty chocolate laced into these brownies– divine!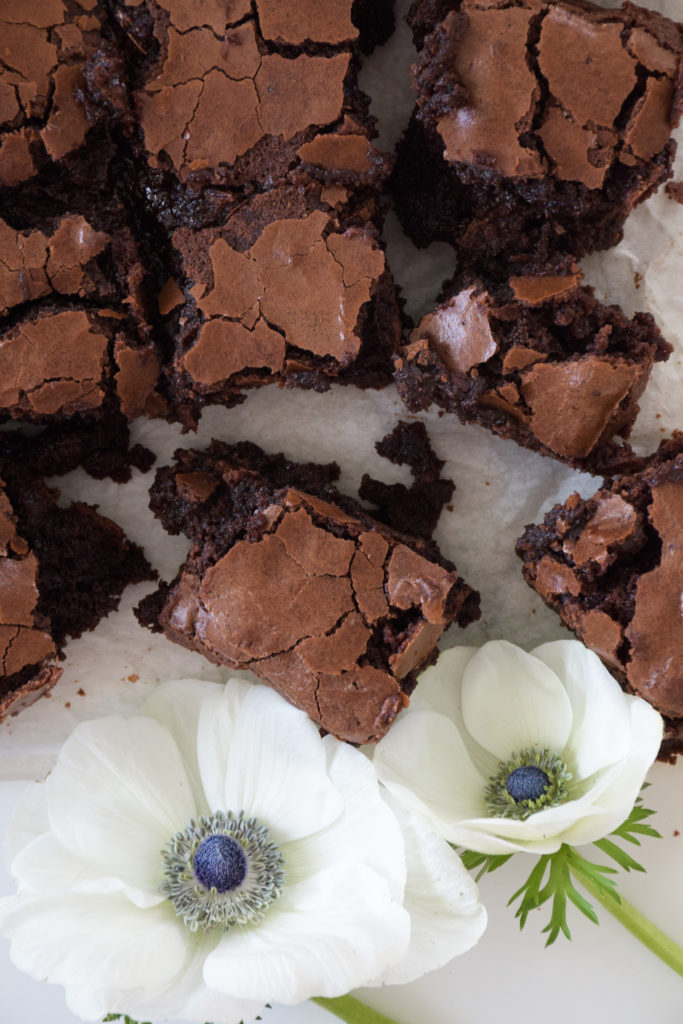 The Best Classic Fudgy Brownies
These brownies remind me those classic brownies we had growing up. But these of course are way better. Something about childhood makes brownies better, right? But then when you grow up somehow the boxed ones just aren't the same. That's where these brownies come in! They have a decadent chocolate flavor without being overpowering or too rich.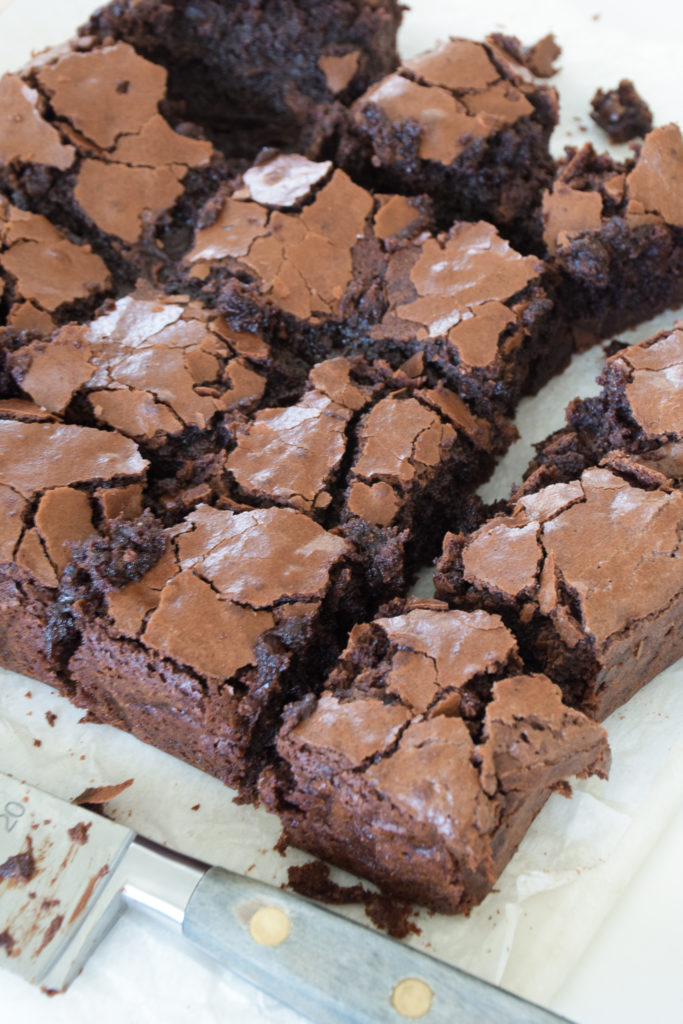 The Best Homemade Brownies
I'm telling ya, after you make these brownies you will never go back to any other kind! Definitely be sure to save and share this recipe so you have it whenever you need it! I like this recipe because it isn't fussy. It's basically just mixing a bunch of ingredients together. You don't need to worry about making sure everything is absolutely exact. This recipe just works, ya know what I am saying? It's perfect for a weekend bake!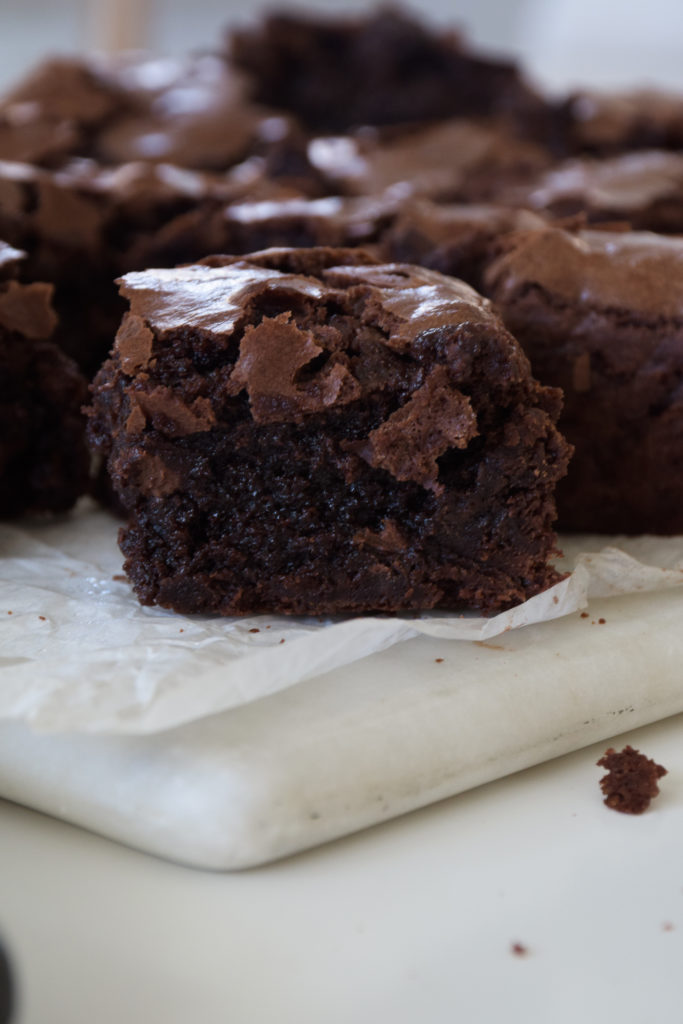 You Might Also Love
The Best Ever Mini Chocolate Chip Cookies 
No Bake Double Chocolate Cookie Pie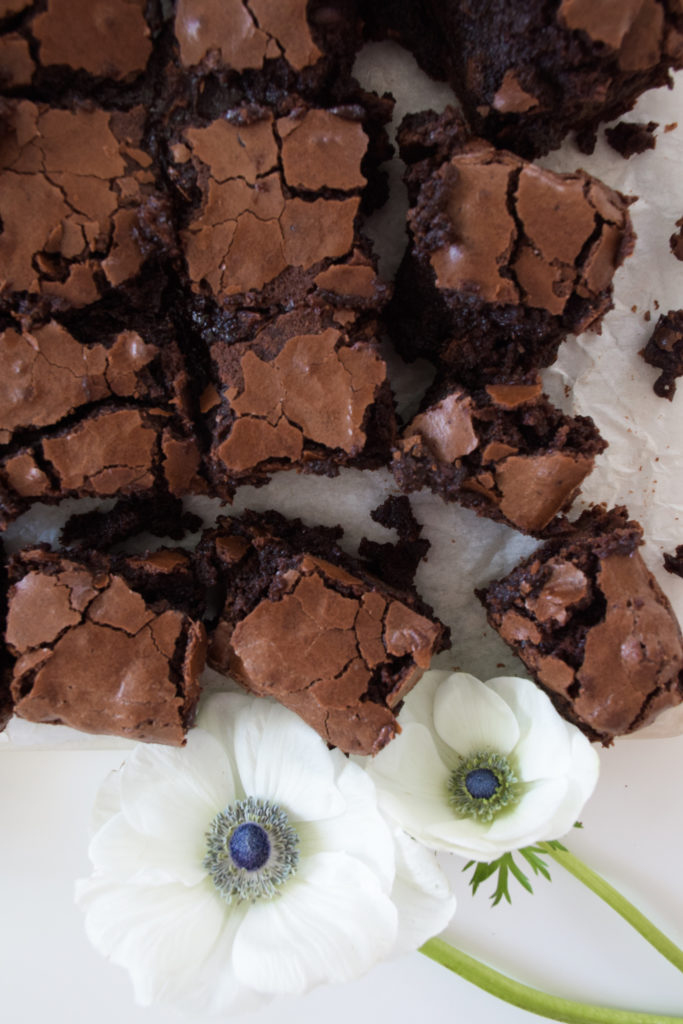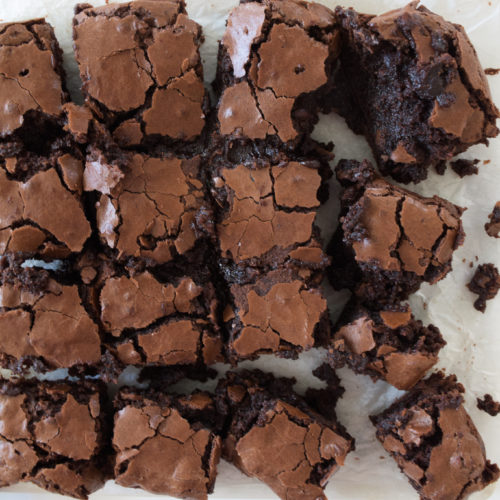 Fudgy Olive Oil Crinkle Top Brownies
These Fudgy Olive Oil Crinkle Top Brownies are easy to make and so dense and delicious! They have a rich chocolate taste that everyone will love!
Ingredients
1/3

cup

Dutch Processed Cocoa Powder

1.5

tsp

instant espresso powder

1/2

cup

boiling water

1/4

cup

bittersweet mini chocolate chips

or 2oz bittersweet chocolate finely chopped

1/2

cup

olive oil

4

tbsp

unsalted butter

melted

2

large

eggs

2

large

egg yolks

2

tsp

vanilla extract

2.5

cups

granulated sugar

1.75

cups

all purpose flour

3/4

tsp

kosher salt

3/4

cup

semi sweet baking chips

or 6oz semi sweet chocolate diced
Instructions
Preheat oven to 350° and prepare a baking dish with parchment paper and sprayed with non-stick spray. The parchment paper or foil will help to remove brownies after baking.

In a small bowl, whisk together the flour and salt and set aside. Melt butter.

In a large bowl, combine cocoa powder with espresso powder and pour over boiling water. Whisk until smooth.

Add in bittersweet mini chips and stir until melted and smooth.

Next, add olive oil and melted butter. Whisk together until well combined. If mixture appears slightly curdled it's ok.

Whisk in eggs, egg yolks and vanilla extract until well combined.

Then stir until sugar, followed by flour, scraping down sides of bowl to ensure no flour pockets remain. Fold in semi sweet chocolate chips.

Transfer mixture to prepared pan and bake for 30-35 minutes if pan is 9x13. It will be closer to 40-45 minutes if you use a smaller pan, like 8x8, and brownies are thicker. Test for doneness by inserting a toothpick or knife into center. Thick, moist crumbs should appear. If in doubt, under bake brownies slightly. Let cool for 30 minutes in pan. If you use a glass baking pan, be sure to remove after 10 minutes since glass hold heats much longer than other baking materials. Let cool completely on a wire rack. Then cut and serve. Store for up to five days in an air tight container.
Nutrition
Calories:
227
kcal
Carbohydrates:
33
g
Protein:
2
g
Fat:
10
g
Saturated Fat:
4
g
Trans Fat:
1
g
Cholesterol:
36
mg
Sodium:
83
mg
Potassium:
83
mg
Fiber:
1
g
Sugar:
24
g
Vitamin A:
104
IU
Vitamin C:
1
mg
Calcium:
17
mg
Iron:
1
mg