This Easy Make Ahead Pesto Chicken is great for a meal and adding to veggies, quinoa, salads or pasta dishes for a vibrant, flavorful protein!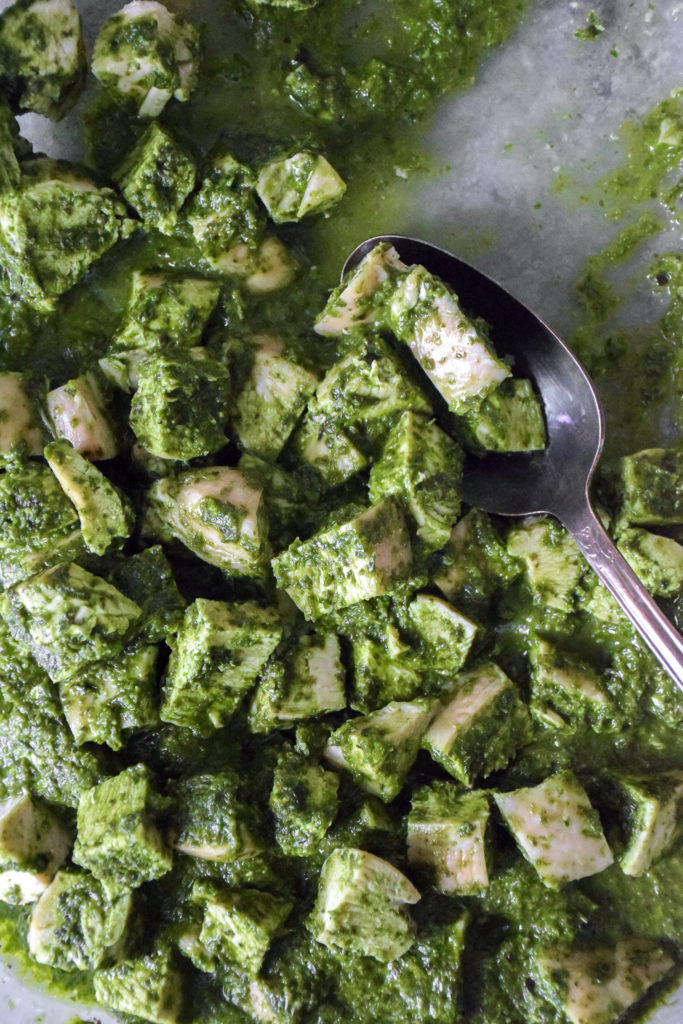 As life gets busier and busier again I am leaning into my favorite quick and easy recipes to make life a little more simple. I've been making lots of recipes that can do double duty as dinner one night and some lunches during the week. This Easy Make Ahead Pesto Chicken is just that! It's a simple recipe and you can make as much or as little as you need at the time. This flavor combination is really versatile, which is nice if you're like me and you don't want to eat the exact same thing over and over again all week! 
This post contains affiliate links. If you purchase a product through these links I may earn a few pennies. Thanks for keeping this free blog going!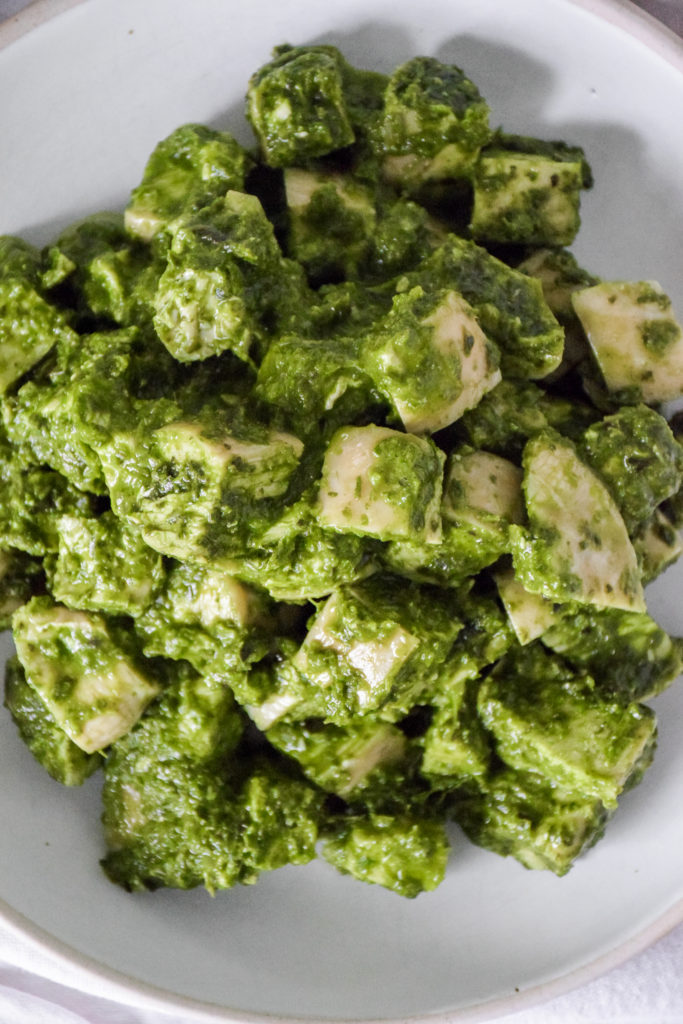 Easy Make Ahead Pesto Chicken
I'm really into big, bold flavors. Nothing boring around here. This chicken pesto get a big bright flavor punch from lots of garlic and of course fresh basil. Add a little salt, squeeze of lemon and some good olive oil
 and that's it. 
That's the great thing about using quality, fresh ingredients is that you don't need a lot to go a long way. Using fresh ingredients, you get lots of flavor without too much fuss. You can use pre-made stuff but if it's shelf stable, it almost always has preservatives or is pasteurized and those things are flavor killers. 
Ok, I'll step down off my soapbox now but the point is, you can get lots of extra flavor for minimal extra effort. That is my main goal of my blog and these recipes is to show how simple, yet delicious, fresh food is!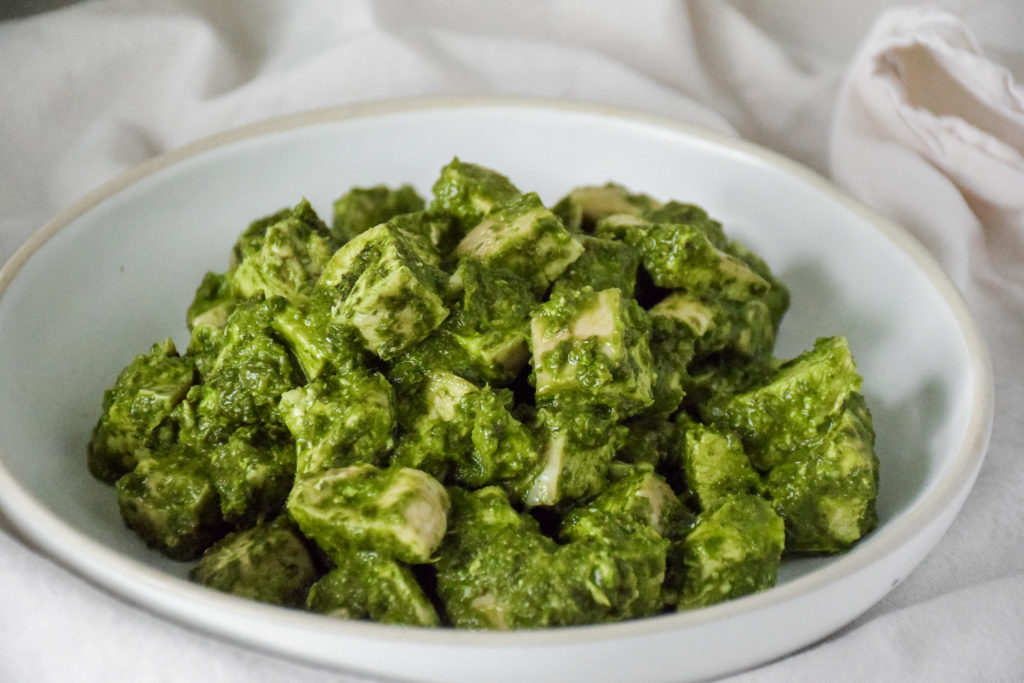 Flavorful Chicken That Goes With Everything
Like I said before, I don't always love to eat the same thing over and over again in a row. My one exception is breakfast. Other than that, I typically like to switch things up. That can make meal prepping a challenge. Because usually you'd meal prep and have the same thing for lunch or dinners several other times that week. That's usually a non-starter for me. 
But this chicken is a little different. You can definitely pair with it a veggie couscous or pasta. It's great with a big salad or even  as a little snack. I always catch BMW munching on the pesto chicken bites cold, straight out of the fridge come mid-afternoon.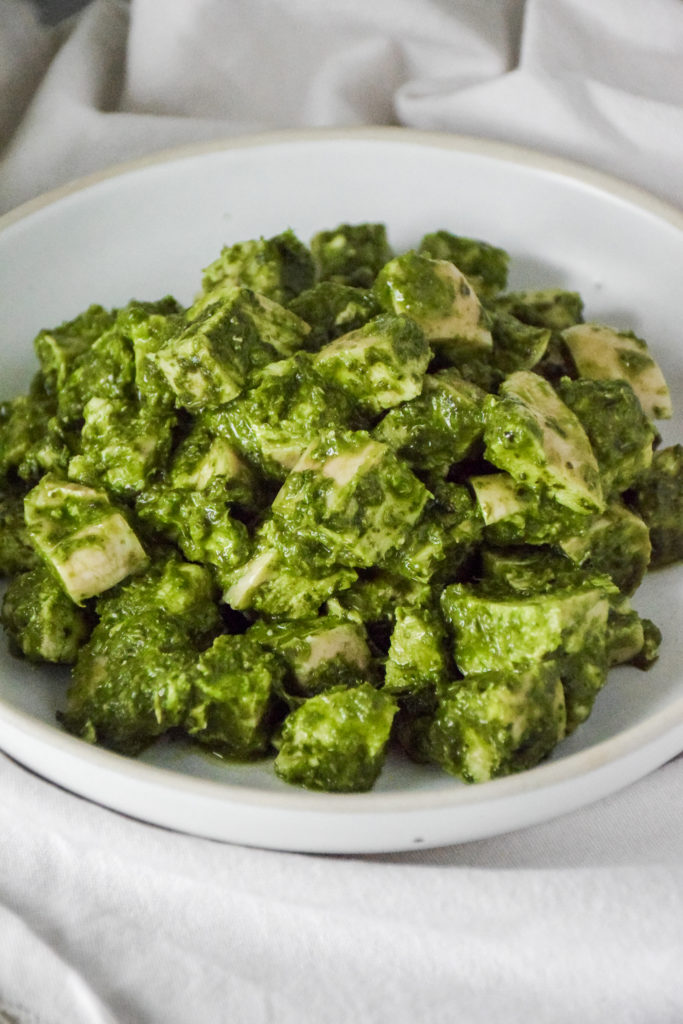 Easy Meal Prep Ideas 
I used to loathe the idea of meal prep. All I would think about are those people who would post photos of like 12 plastic containers all filled with exactly the same meal. While I appreciated the time, effort and organization it took to create those identical meals, I never found them appealing. I find myself always wanting to switch things up it comes to food. 
So for me, meal prep looks a lot more like prepping a few ingredients and figuring out the best way to incorporate them throughout the week to make my life easier. That's where this Easy Pesto Chicken comes in! If you're looking for something even more versatile, you can make just the pesto and use it as a dressing or dip. I hope this helps to get your week off to a healthy start!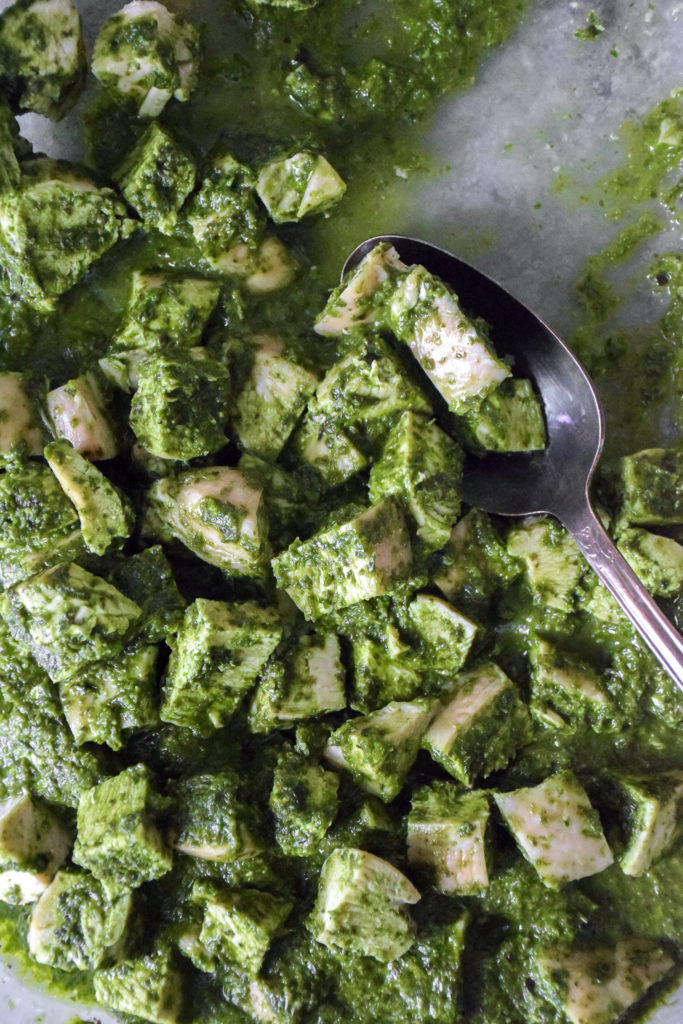 You Might Also Love
Couscous Broccolini Salad with Olives and Feta
Shredded Carrot Salad with Dates and Pistachios 
Shrimp and Avocado Spring Rolls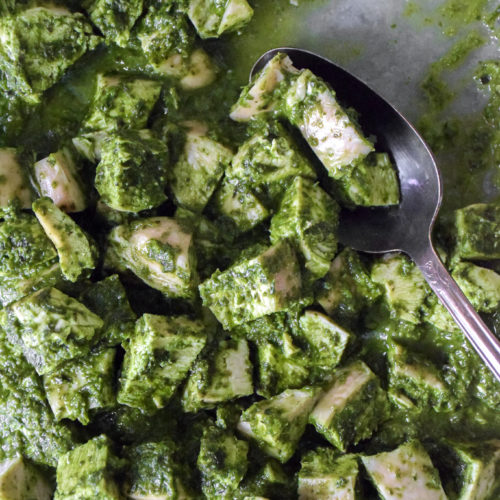 Easy Make Ahead Pesto Chicken
Ingredients
3

chicken breasts

approx 8oz each

1

tbsp

olive oil

1/2

tsp

kosher salt

8

oz

fresh basil pesto
Instructions
Drizzle chicken breasts with 1 tbsp olive oil and 1/2 tsp kosher salt, place into a baking dish and cook for 35-40 minutes at 350F until cooked through.

Once chicken is cooked, dice into bite-sized chunks, then toss with the pesto to coat. Serve warm or cold with pasta, salads or veggies!
Notes
Nutritional values are approximate. 
Nutrition
Calories:
217
kcal
Carbohydrates:
1
g
Protein:
24
g
Fat:
12
g
Saturated Fat:
2
g
Trans Fat:
1
g
Cholesterol:
72
mg
Sodium:
713
mg
Potassium:
455
mg
Fiber:
1
g
Sugar:
1
g
Vitamin A:
456
IU
Vitamin C:
5
mg
Calcium:
24
mg
Iron:
1
mg